Print a macaron guide to pipe perfectly round macarons every time. This template will allow you to pipe various-sized macarons with just one printable sheet.
Macarons are a type of meringue cookie that have a delicate texture and almond flavor. If you've ever tried to make macarons, you know this dessert is known for being temperamental and finicky.
With the stress that comes with baking macarons, you need a reliable macaron guide sheet to make the task of piping evenly sized macarons a breeze.
I hope this printable macaron PDF template will make your journey of baking macarons just a little bit easier! Don't forget to check out my 15 tips for troubleshooting macarons if you're having any trouble.
Jump to:
How To Use This Template
The first step to using this template is to sign up below to receive the template in your email inbox. When you sign up for the free macaron guide, you'll gain access to two printable PDFs.
You'll have the option of printing an 8.5" x 11" guide or an 11" x 17" guide.
If you're using a standard half-sheet pan, you'll have the option of printing two 8.5" x 11" guides or one 11" x 17" guide to get the maximum number of macarons the pan can hold.
Once you receive the email, simply download the desired PDF you'd like. Then print at 100% scale to ensure your template is at the correct size.
This macaron template will allow you to pipe the following sizes:
Dotted line: 1.25"
Thin solid black line: 1.5"
Thick solid black line: 2"
Remember that the macaron batter will spread slightly after you finish piping. Whatever circle you pipe to, the batter will spread to the next largest circle.
For example, if you want 1.5 inch macarons, only pipe to the 1.25 inch dotted line since the batter will slowly spread to the 1.5 inch line.
Supplies You'll Need
In order to pipe beautiful and perfect macaron circles, you'll need a few supplies. These are my tried and true supplies that I use to bake all my favorite macaron recipes.
Parchment paper: You'll need some parchment paper to place on top of the reusable template. Pre-cut parchment paper sheets make preparing the baking sheets a breeze.
Baking sheets: I love using Nordic Ware pans since they are perfectly sized and are made with high-quality materials. This will ensure your macarons evenly bake.
Piping bag: You'll need some sort of piping bag for the macaron batter. I personally use reusable piping bags for a more environmentally friendly option. I suggest purchasing a large piping bag (around 16 inches) so you're not constantly refilling the piping bag.
Piping tip: The Wilton 2A round tip is my go-to for piping macaron batter. This tip is 7/16 inches. It allows me to have good control over the batter when piping.
Silicone spatula: You'll need a silicone spatula for several steps when making macarons, including filling the piping bag. This large spatula is my favorite for the macronage process.
Large cup: A helpful tip for filling your piping bag is to use a large cup. Push part of the side of the piping bag into the piping tip to ensure nothing leaks out. Set the bag inside a tall glass, and pull the remaining top of the piping bag out over the outside of the glass to make pouring the batter easy and clean.
Proper Macaron Piping Technique
One technique you'll want to master in order to make perfect macarons is how to pipe the macaron batter. Here are some helpful tips to improve your piping:
Hold the bag at a 90-degree angle about ¼ inch above the baking sheet.
Do not move the piping bag while squeezing out the batter to ensure an even circle. This macaron template has a dot in the center of the guide to help you pipe perfect circles.
Pipe the macarons .25" smaller than you want them to be after they have been baked since the batter will slightly spread.
Once you have piped your desired macaron size, release pressure on the piping bag and flick your wrist without lifting up. This is a skill that takes time and practice to master but will leave you without tails or peaks on the macaron shell.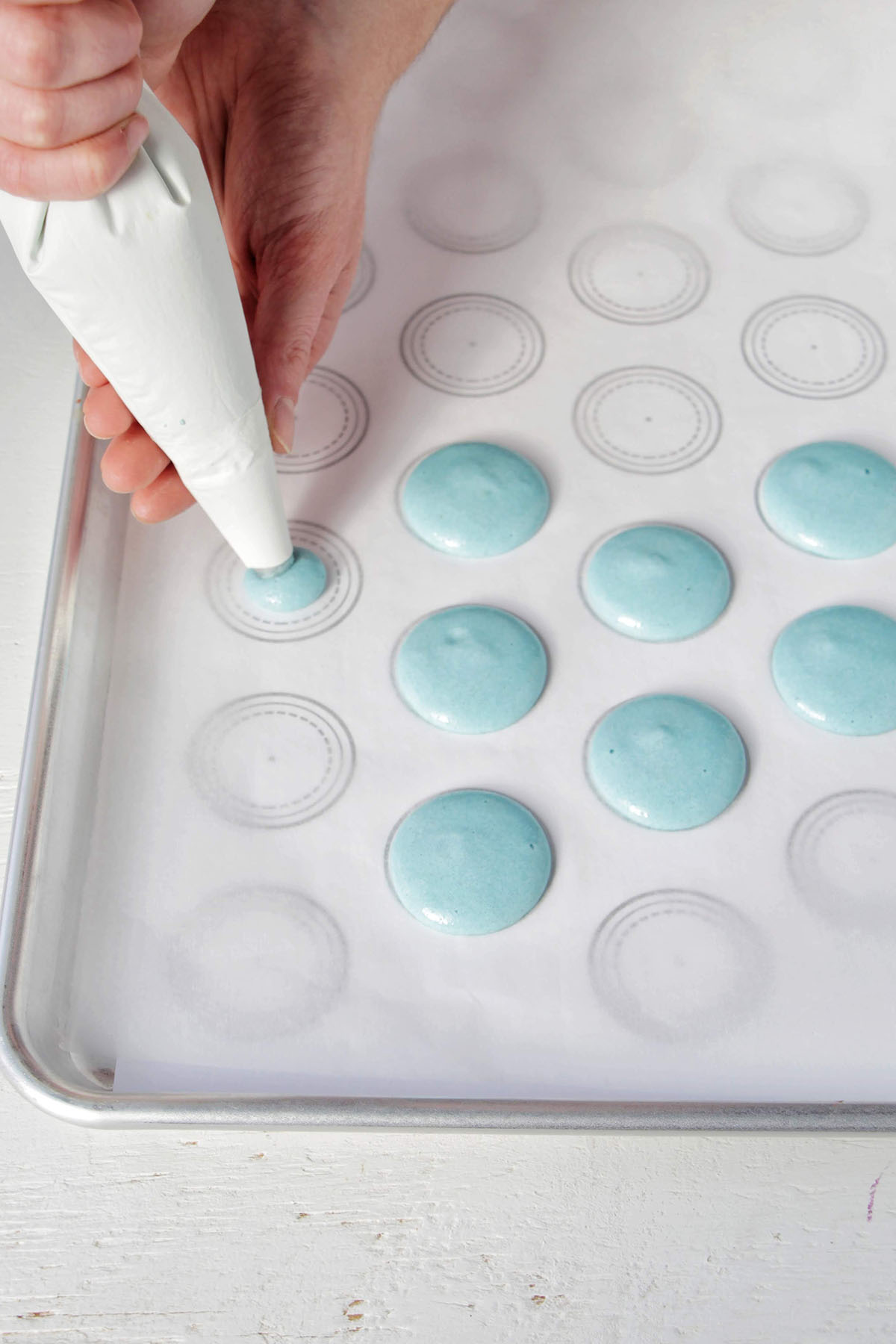 Macaron Shell Sizing
The beauty of making macarons at home is that you can decide on your perfect macaron shell size.
This template has various-sized circles to give you the opportunity to create whatever size macarons you desire.
While the standard macarons are sized around 1.5 inches to 2 inches, you can also create mini macarons (½ inch) or small macarons (around 1 inch).
Remember that the baking time and temperature will vary depending on the size of the macarons you make.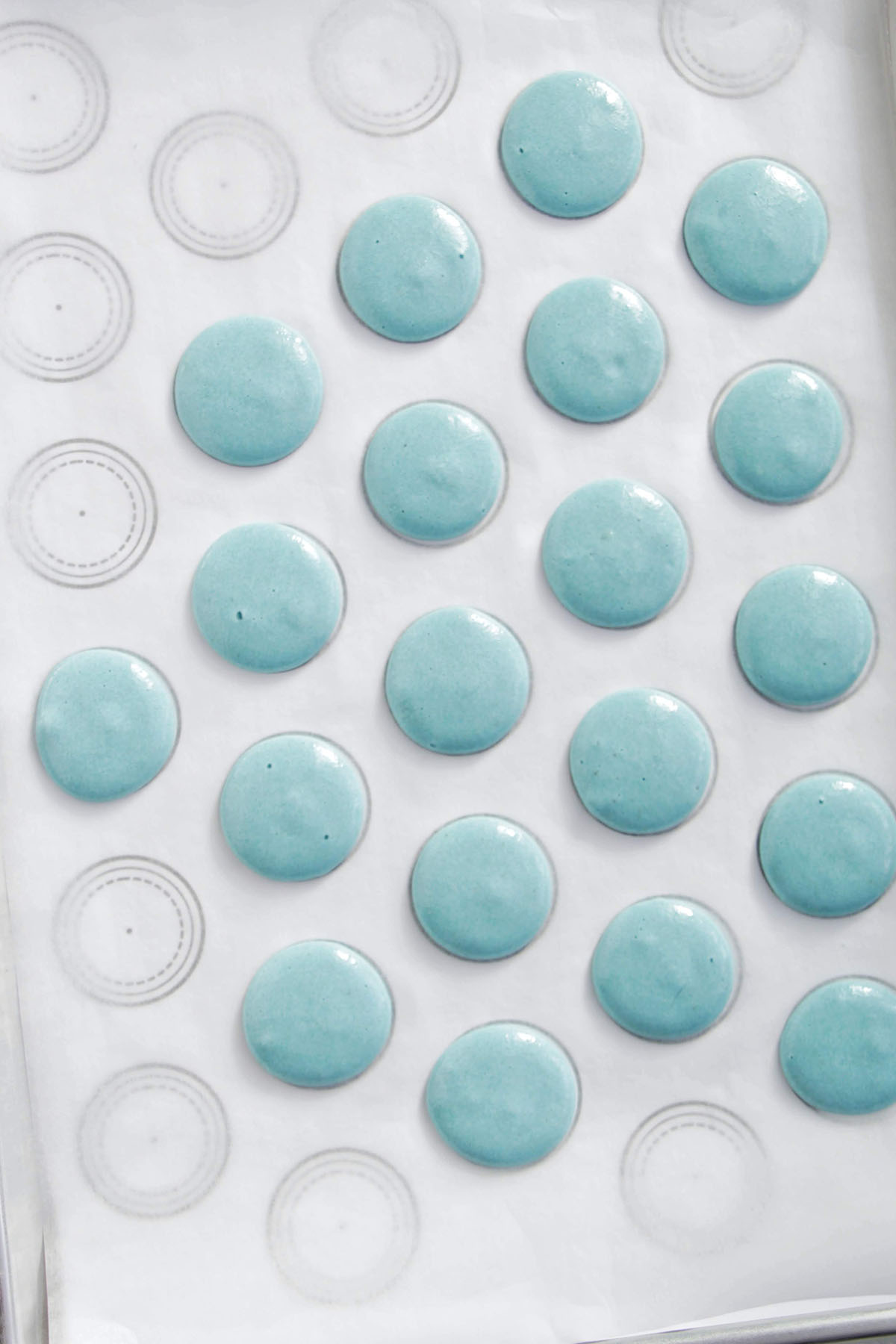 Expert Tips
Use a plastic bowl scraper to squeeze out every last bit of macaron batter when you're piping. Start from the top of the piping bag and push down any excess batter to the piping tip. This is a baker's trick to ensure you don't waste any batter.
Print out a template for each baking sheet. This will make the piping process quick, so you're not transferring the template from one pan to another.
Don't squeeze on the macaron batter too intensely when piping. This could cause the macaron batter to become too thin and runny.
FAQs
Why should I use a macaron guide or template?
Using a macaron guide helps to ensure all of your macarons are piped to approximately the same size. Unless you have lots and lots of practice free-handing macaron sizes, you'll likely need a template to help you with the sizing.

Evenly-sized macaron shells will bake in the same time frame and look more visually appealing.
Do you have to remove the paper template before baking?
Yes, I would suggest removing the paper template before baking the macarons. You should be able to carefully and slowly slip the template out from underneath the parchment paper.
What is the standard macaron size?
Macarons can vary in size depending on who makes them. Generally, most macarons will be about 1.5 inches - 2 inches.

However, you can also make mini macarons that are around ½ inch or small macarons around 1 inch.
What size should I pipe my macarons?
This is completely up to you and what size you want your final macarons to be. Generally, the macaron batter will spread slightly after you finish piping. I recommend piping your macarons .25" smaller than you want them to be after they have been baked. Common macaron sizes are generally 1.5 inches - 2 inches.
Love this guide? Please leave a comment below. Don't forget to follow along on Instagram, Facebook, YouTube, and Pinterest for more recipes.