Try out these easy and delicious filling recipes for macarons
Looking for easy fillings for macarons? Check out these 52 recipes full of the best filling ideas including chocolate flavored, holiday-inspired, and fruit-infused. You'll be so impressed with these fillings for macarons, and you'll have endless combinations to try!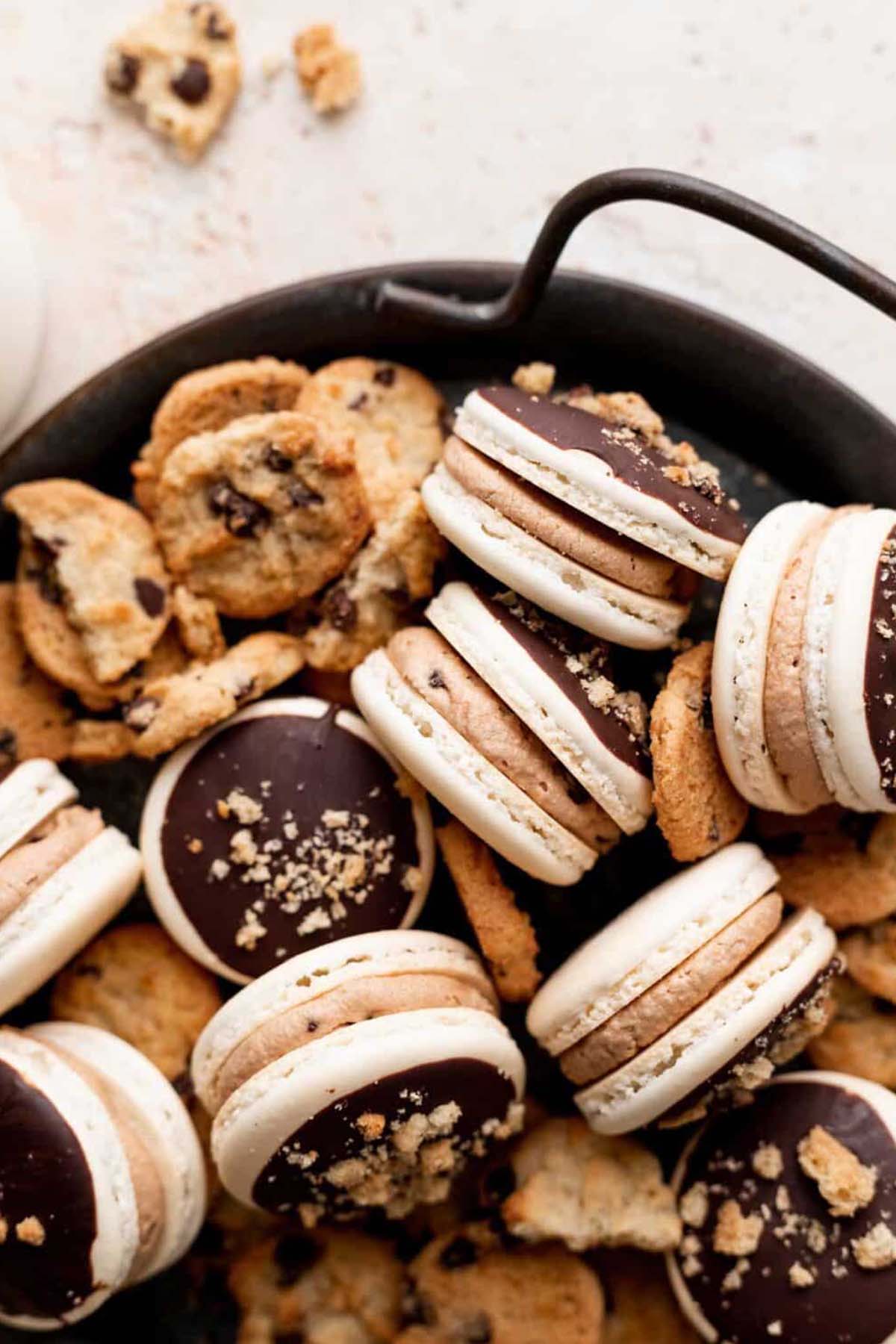 Jump to:
If you're obsessed with making homemade macarons, you're going to love all these macaron filling ideas! Since the shell (cookie) is usually fairly neutral in flavor, the filling is where you can pack a punch and add lots of character and variety to the macaron.
Below you'll find a list filling ideas broken up by different categories. You can use your favorite macaron recipe for the shells, then spice things up with one of the fillings below.
Don't forget to sign up for my free macaron piping template to help you pipe perfectly round macarons every time. This template will allow you to pipe various-sized macarons with just one printable sheet.
What are Macarons Traditionally Filled With?
There are many different filling options. Here are some of the common and best fillings for macarons:
Buttercream: American, Swiss meringue, Italian meringue, etc. If you're looking for a classic buttercream filling, try my vanilla buttercream recipe.
Ganache: You can vary the flavor using different types of chocolate.
Curd: Made with a variety of citrus and fruit flavors.
Jam: Can be used as a filling on its own or piped inside a ring of buttercream.
Caramel: Can be used on its own, piped inside a ring of buttercream, or incorporated completely into buttercream.
Fillings For Macarons
Chocolate Based
Chocolate Mint: You can't go wrong with a classic peppermint buttercream with a hint of chocolate.
Chocolate Salted Caramel: Mix chocolate ganache and caramel for a classic, yet delicious, combination.
Hot Chocolate: Combine chocolate ganache with marshmallow fluff for a heavenly flavor.
Malted Chocolate Ganache: Malted milk powder creates a thick and luxurious chocolate filling.
M&M's: A chocolate buttercream with crushed up M&M's is the ultimate candy treat.
Nutella: Nutella buttercream will be a crowd pleaser filling!
Oreo: This beloved cookie is the perfect addition to a buttercream filling.
Dessert Flavored
Banana Pudding: This frosting is vegan friendly and packed with vanilla pudding and freeze-dried bananas.
Boston Cream Pie: Pastry cream and chocolate ganache mix together to form the perfect, decadent macaron filling.
Cookie Dough: This brown sugar and chocolate chip buttercream pairs perfectly with a cold glass of milk.
Dulce De Leche: This recipe (made two ways) gives a twist to the classic caramel filling.
Peanut Butter: This peanut butter buttercream would pair with chocolate or vanilla macaron shells.
Strawberry Cheesecake: Recreate your favorite cheesecake flavor with a cream cheese and strawberry jam filling.
Fruit Infused
Blackberry: Blackberry jam infuses perfectly in buttercream for a bright, summer flavor.
Guava: This is a tropical twist on the classic buttercream using guava paste.
Lemon White Chocolate Ganache: Chocolate and lemon may seem like an unusual combination, but it blends together perfectly!
Lime Curd: Lime curd gives a sour bite to your macarons.
Orange Lemon: The burst of citrus provides a nice pop of flavor in the buttercream!
Plum: Sweet and tart plum jam surrounded by a sugary buttercream is an easy filling idea.
Raspberry: Combine some raspberry jam with buttercream for a classic macaron filling.
Strawberry: Another classic flavor! This pink buttercream is made with freeze dried strawberry powder.
Holiday Inspired
Apple Pie: A classic Thanksgiving pie also makes a great macaron filling.
Candy Corn: Melt in some candy corn to chocolate ganache for an easy Halloween treat.
Cranberry White Chocolate: Pair together cranberry sauce and white chocolate swiss meringue buttercream.
Eggnog: Dress up white chocolate ganache with some eggnog during the holiday months.
Gingerbread: A classic Christmas cookie also makes a luxurious holiday macaron filling.
Chocolate Pecan Pie: This chocolate ganache has a crunchy filling full of pecan bits.
Peppermint Bark: This chocolate pastry cream is filled with cocoa, espresso, and most importantly peppermint!
Snickerdoodle: There's nothing better than a buttercream filled with brown sugar and cinnamon.
Sophisticated Flavors
Earl Grey Ganache: A classic white chocolate ganache infused with early grey tea.
Espresso: Espresso powder is a delicious addition to buttercream.
Lemon Lavender: A beautiful yellow colored buttercream with a hint of lavender.
Maple Pecan: This fall-inspired filling has a sweet touch of maple and a crunchy bite from the nuts.
Matcha: Matcha ganache is the perfect combination of sweet and bitter. The lovely green color really makes the macarons pop!
Pistacho: This cream cheese filling is flavored with finely ground pistachios.
Pumpkin Ganache: A creamy pumpkin spiced ganache is the perfect fall flavored filling.
Tiramisu: Mascarpone is the base of this decadent filling.
Spiked With Alcohol
Baileys: A buttercream infused with Baileys Irish Cream would be perfect for a St. Patrick's Day celebration.
Champagne White Chocolate Ganache: A light and easy option that would be perfect for a party.
Guinness: Irish stout is a unique, boozy macaron filling that makes the perfect addition to the buttercream.
Jameson: This is a simple buttercream with a hint of Irish whiskey.
Kahlúa: A boozy, coffee flavored liqueur buttercream would be delicious with a chocolate macaron shell.
Margarita: This tequila and lime-infused buttercream will make you feel like you're sipping a drink on the beach.
Wacky & Fun
Birthday Cake: Buttercream with boxed cake mix and rainbow sprinkles is a fun combination.
Cinnamon Toast Crunch: A cinnamon sugar buttercream that tastes like cereal.
Cotton Candy: This cotton candy flavored swiss meringue buttercream would pair perfectly with a brightly colored macaron shell.
Fruity Pebbles: Mix up some fruity pebbles cereal into buttercream for a fun texture and flavor.
Maple Bacon: This is the perfect combination of sweet and salty!
PB&J: A classic childhood flavor with peanut butter buttercream and jelly.
Piña Colada: This non-alcoholic filling combines pineapple jam and coconut buttercream.
S'mores: A combination of chocolate ganache and marshmallow fluff creates a s'more macaron.
Watermelon KoolAid: Relive a childhood favorite flavor with this watermelon buttercream.
Macaron Filling Frequently Asked Questions
What is macaron filling made of?
There are many different options for macaron fillings including buttercream, caramel, ganache, curd, and jam. The possibilities are endless! The key is making sure the filling doesn't slide off the macaron shell.
What are some macaron fillings that don't need refrigeration?
The best filling to keep at room temperature is American buttercream.

Common American buttercream that's made with butter and confectioners' sugar can last about 2- 3 days outside of the refrigerator. Just make sure there isn't any added dairy, like milk or cream, in the recipe.
How do I pick the color of the macaron shell?
Typically, the color of the shell signals the flavor of the macaron. For example, if you're making a macaron with blueberry filling, you would want to consider coloring the macaron batter blue!
Can I make the macaron filling ahead of time?
Yes, many of the filling recipes listed above can be made ahead of time. Refer to the recipe notes for more specific details.
Can I pipe the macaron filling into using a piping tip?
Yes! Many of the macaron fillings, especially buttercream, can be piped into fun and creative designs. I love using the extra-large Wilton tips to make fun piping designs on my macarons.
Other Articles You May Enjoy
Be sure to check out these other macaron related articles: