Learn to make an easy homemade vanilla coffee syrup recipe that only requires 3 ingredients and is better than Starbucks. You'll be able to enjoy your favorite coffee drinks like cold brew, lattes, and iced coffee with a splash of this homemade syrup.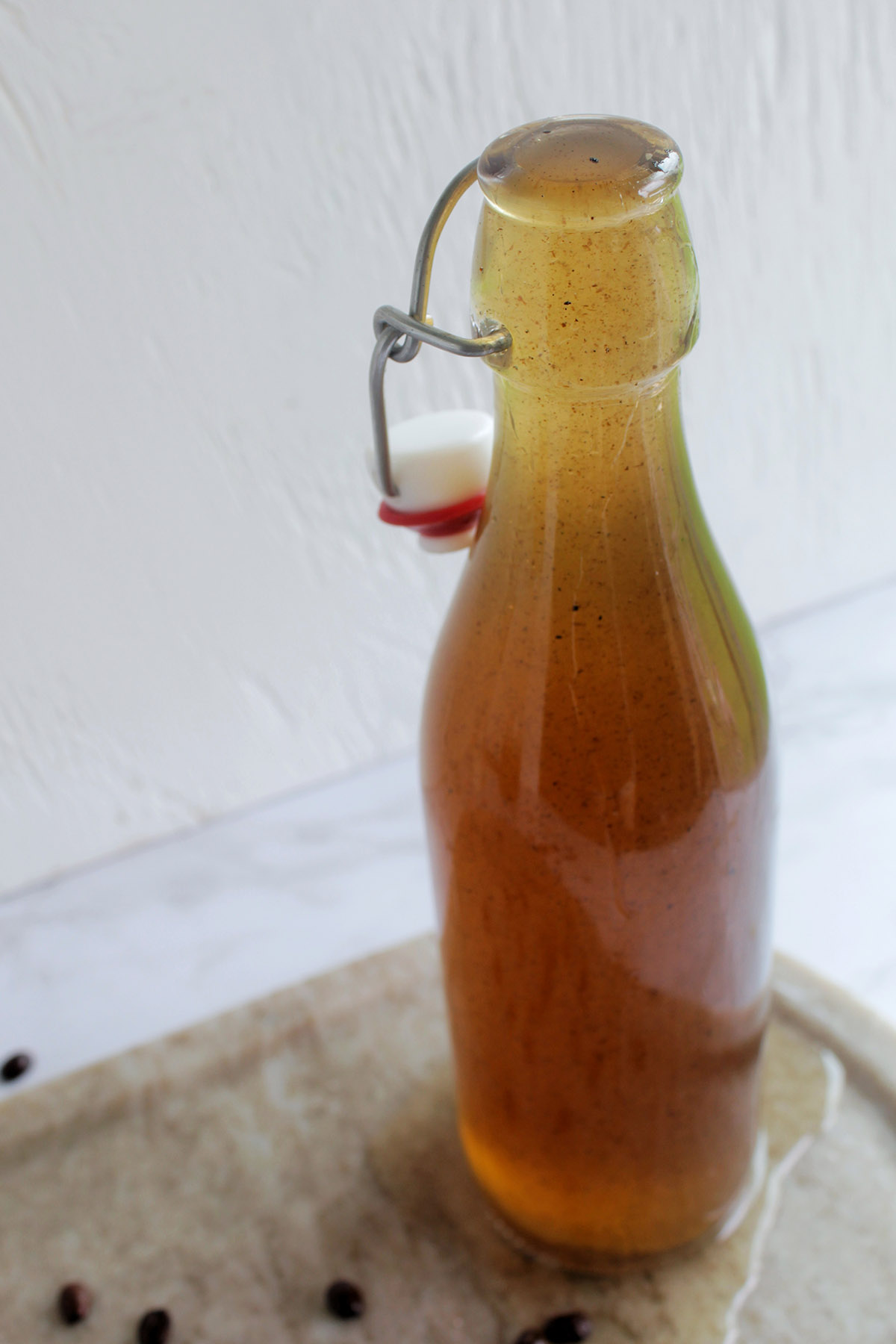 There's something so simple yet delicious about vanilla-flavored coffee. It's almost as if vanilla and coffee were made to pair together! It's such a great flavor combination.
Since vanilla is such a beloved coffee flavoring, I was determined to find the best way to make homemade vanilla coffee syrup. A syrup that was rich, delicious, and full of vanilla bean seeds.
You can use this sweetener to make all of your favorite Starbucks drinks at home including the blonde vanilla latte, vanilla sweet cream cold foam, London fog tea latte, and so many others.
It's the ultimate coffee syrup recipe that can be paired with many coffee flavors and drinks! Any coffee lover has to try this recipe.
Jump to:
What You'll Learn In This Recipe
What simple syrup is and how it can be used in your own kitchen.
How to properly store coffee syrup to ensure it lasts for a long time.
Some fun and easy vanilla flavored coffee drink recipes.
For more cooking knowledge sent straight to your inbox, be sure to sign up for my weekly newsletter.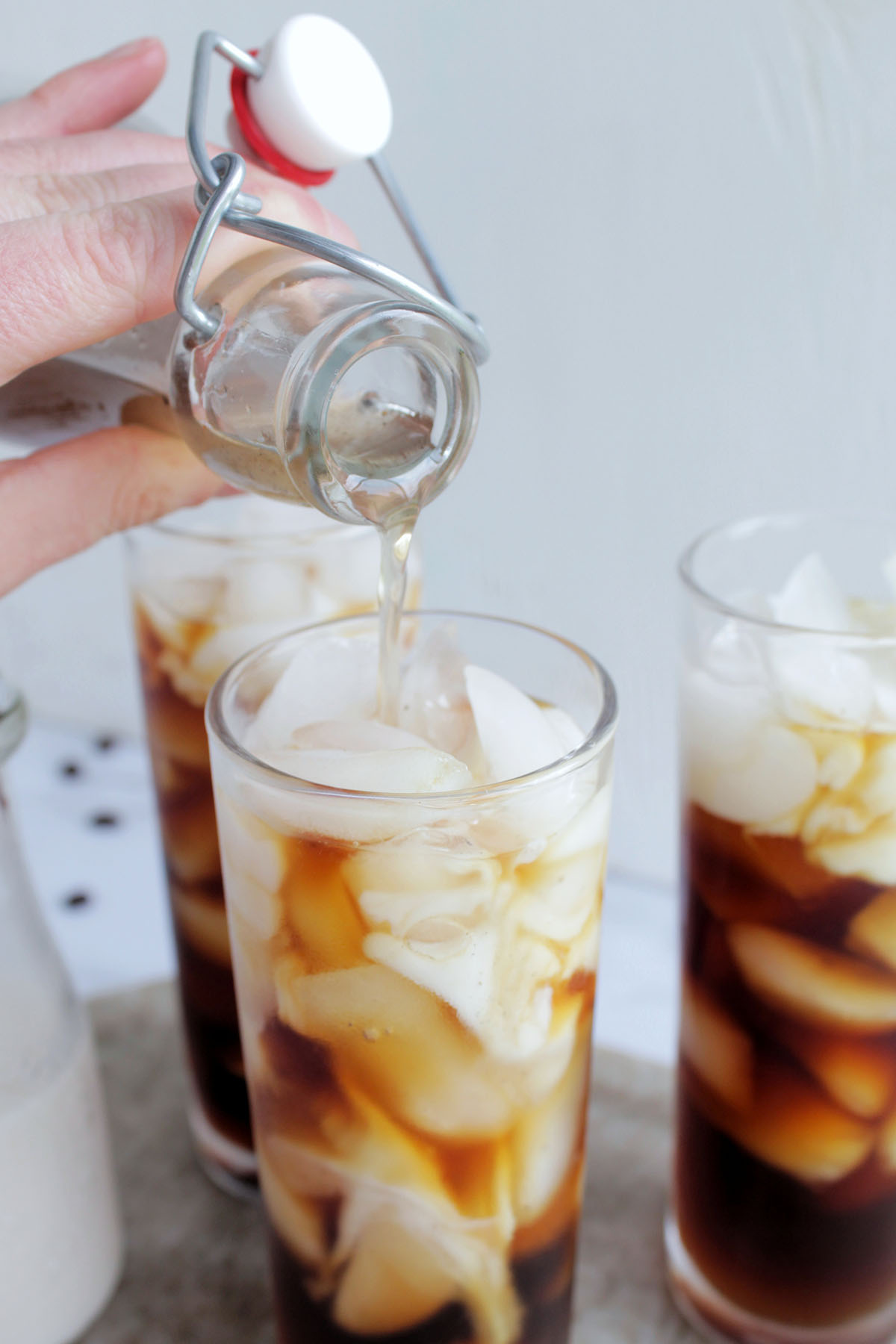 What Is Simple Syrup?
Simple syrup is a one-to-one mixture (equal parts) of water and sugar that is cooked down into a liquid sweetener.
A basic simple syrup is generally made with granulated sugar. However, you can experiment with making simple syrups with other types of sugar.
You may also hear about rich simple syrup. This is a variation that uses two parts sugar to one part water. This ratio of water to sugar results in a sweeter and thicker simple syrup.
Simple syrups can be used in many ways around the kitchen including:
To sweeten coffee (both iced coffee and hot coffee)
To sweeten drinks such as cocktails, lemonade, and tea
Brushed on top of cake layers to keep them moist
Added to marinades for a touch of sweetness
Any time you need to add a touch of sugar
Ingredients You Need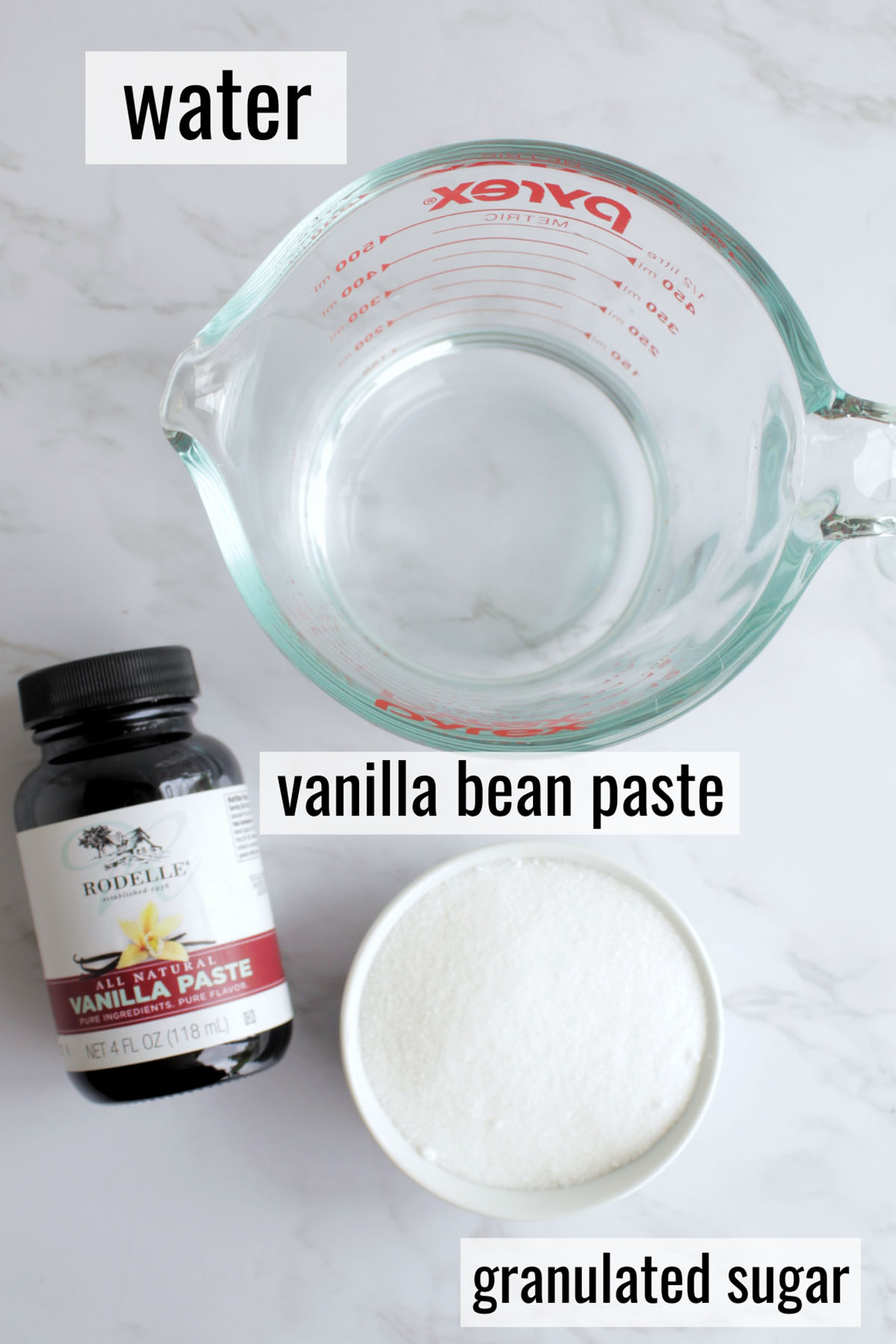 Now that you know what simple syrup is, let's talk about the ingredients you'll need to make this vanilla coffee syrup recipe.
Surprisingly, it only requires three basic ingredients including:
Granulated Sugar: The first part of any simple syrup is, of course, sugar. This recipe just uses basic granulated sugar. However, you can also use other types of sugar in simple syrups like in this Starbucks copycat brown sugar syrup recipe.
Water: In order to help the sugar turn into a liquid sweetener, water is required. The sugar becomes dissolved in the water as it cooks.
Vanilla Bean Paste: The type of vanilla bean paste you use will determine the taste of the simple syrup. I'd suggest purchasing a high-quality vanilla paste, like Rodelle, to ensure the sweetener tastes really delicious.
How To Make This Recipe
If this is your first time making coffee syrup at home, you'll be surprised at how quickly this recipe comes together. Here are the simple steps to follow.
Mise En Place
Before you begin to make this recipe, I'd suggest measuring out all of your ingredients, as well as taking out all the equipment you'll need.
This is what we refer to in the culinary world as mise en place. It's a fancy French word meaning 'to put in place.' It allows chefs to set up and be ready for the cooking process in order to stay organized.
Cook The Simple Syrup
Once you've measured all your ingredients, it's time to combine the granulated sugar and water. Next, heat the mixture up on the stove over medium heat until the sugar dissolves in the water.
Keep an eye on the sugar water throughout the cooking process so you can remove it from the heat as soon as it is done cooking. This should only take about 1 - 2 minutes.
Finally, whisk in the vanilla bean paste to the simple syrup until well combined.
Through recipe testing, I found that the vanilla taste was more prominent by adding in the vanilla paste after cooking the simple syrup. Cooks Illustrated conducted a similar test with baked goods and found some desserts had a more intense vanilla flavor by adding in the vanilla after cooking.
Cool Syrup & Transfer To A Jar
Allow the vanilla bean syrup to cool to room temperature. Then, transfer it to a clean reusable bottle.
The syrup can be used immediately or stored in the refrigerator for up to one month. A clean storage bottle is key to making the syrup last a long time!
I've found that the vanilla flavor intensifies the longer it sits. I prefer to wait 24 - 48 hours before using the simple syrup in my coffee.
Expert Tip
If you are a person who drinks coffee almost every day, try making a double batch of this homemade vanilla coffee syrup!
This recipe will last for over a month if properly stored in the refrigerator. This will give you plenty of time to use up the syrup before it goes bad.
Plus, you won't have to constantly make more every single week.
Recipe FAQs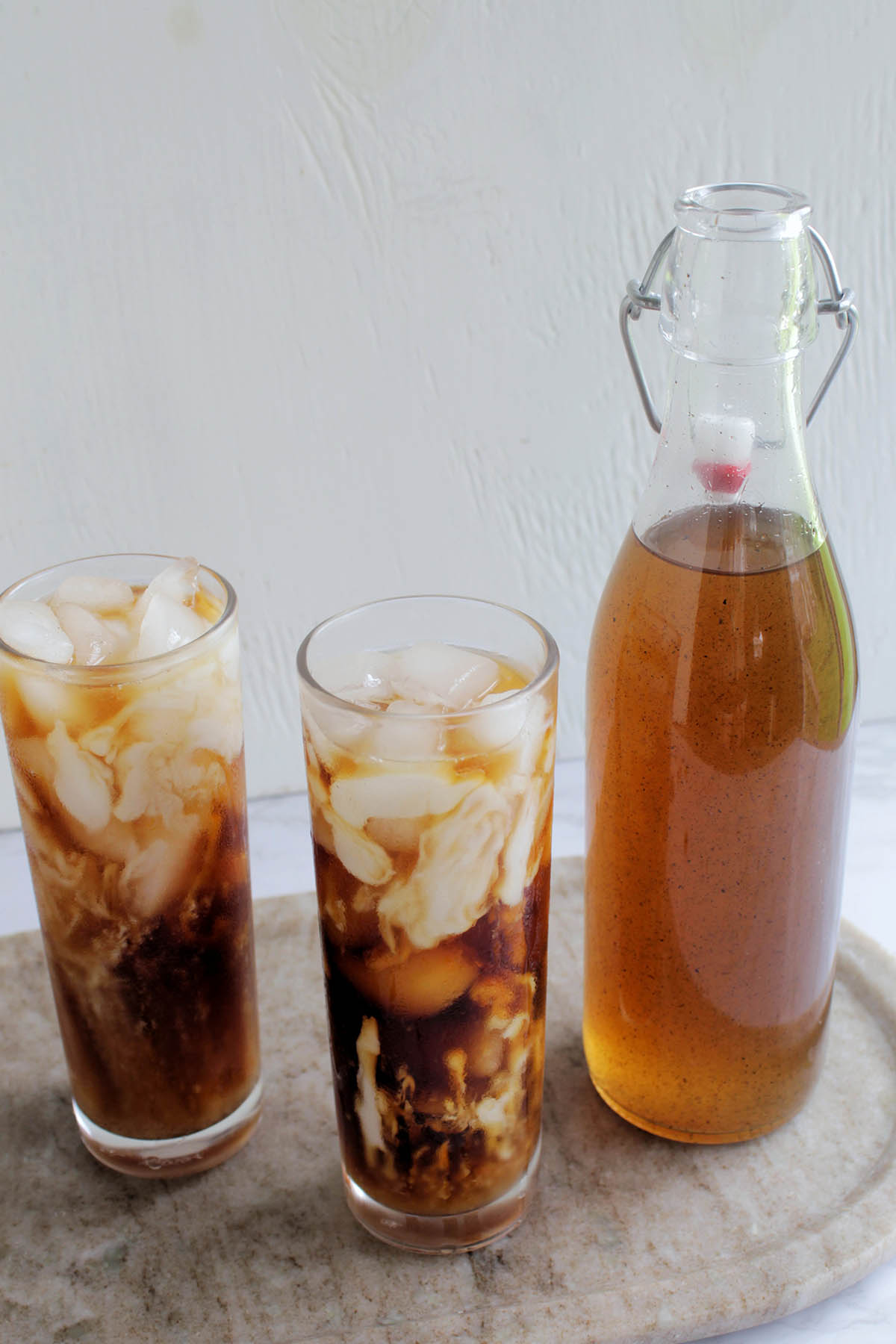 More Coffee Recipes
Try out some of these fun and delicious morning coffee recipes. The best part is that you'll feel like an at-home barista.
Love this recipe? Please leave a 5-star ⭐⭐⭐⭐⭐rating in the recipe card below. Don't forget to follow along on Instagram, Facebook, YouTube, and Pinterest for more recipes.