Learn how to refill Nespresso Vertuo pods to save money and help the environment. A weekly batch of DIY Nespresso pods can be made in under 20 minutes.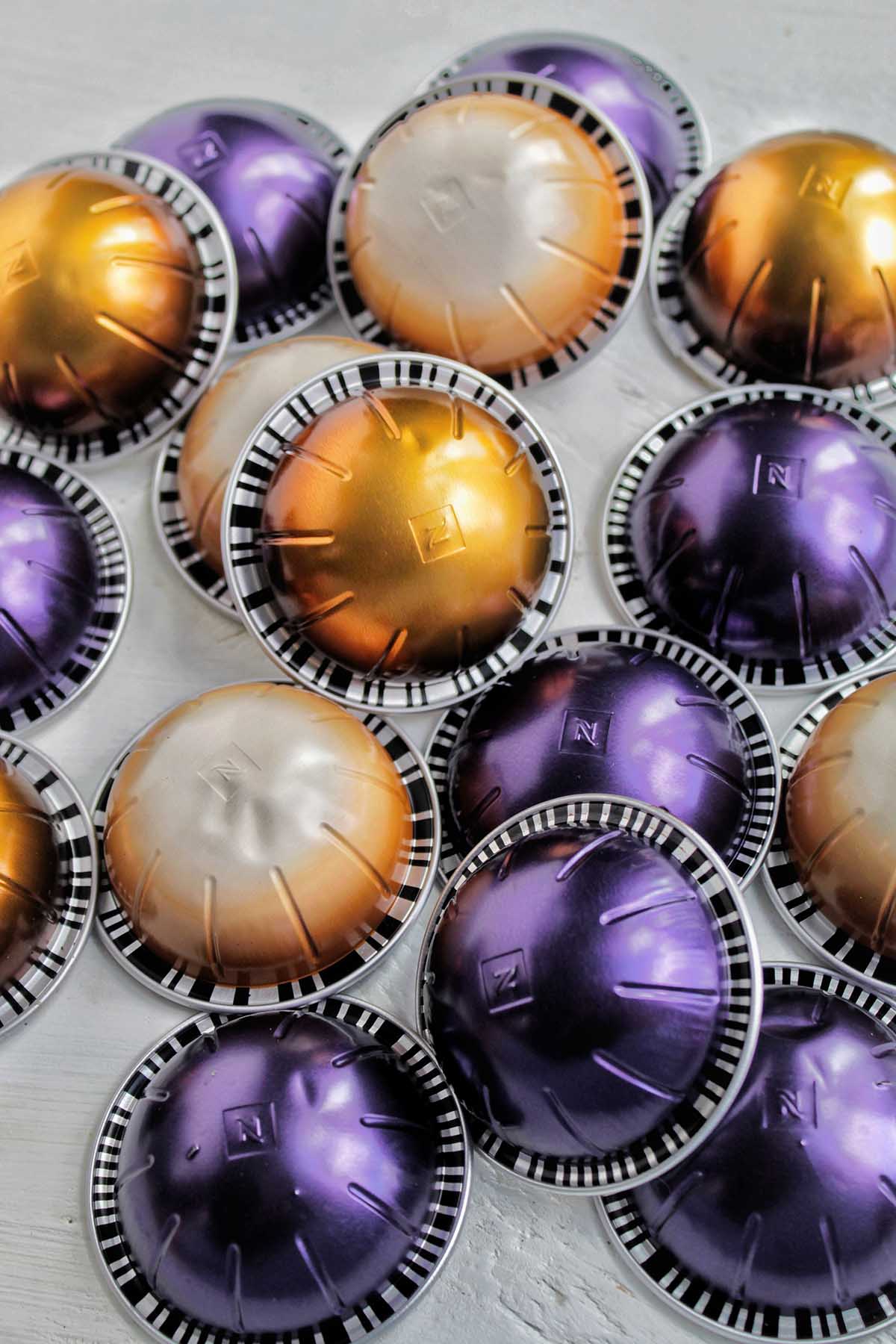 Jump to:
I absolutely love my Nespresso Vertuo machine. It makes delicious shots of espresso, with minimal effort.
However, the downside to this machine is that each pod costs anywhere from $1.00 - $1.50 per pod. When you think about how much your morning coffee is costing you after you purchase the Nespresso pods, buy your favorite milk or creamer, plus the simple syrup, the cost really starts to add up.
Luckily, it's easy to reuse Vertuo pods by refilling them with a coffee of your choice. By using this technique, the pods end up costing closer to $.23 per pod.
I'll teach you my tried and true method for refilling Nespresso pods, plus answer any questions or concerns you may have about reusing your pods.
What You'll Learn In This Post
The supply kit you'll need to make DIY Nespresso pods.
How well the refilled Nespresso pods actually work.
And, I'm answering the questions and concerns you might have about reusing your pods.
If you enjoy learning about cooking topics like this, sign up for my weekly newsletter for more tips and tricks like this.
Supplies You Need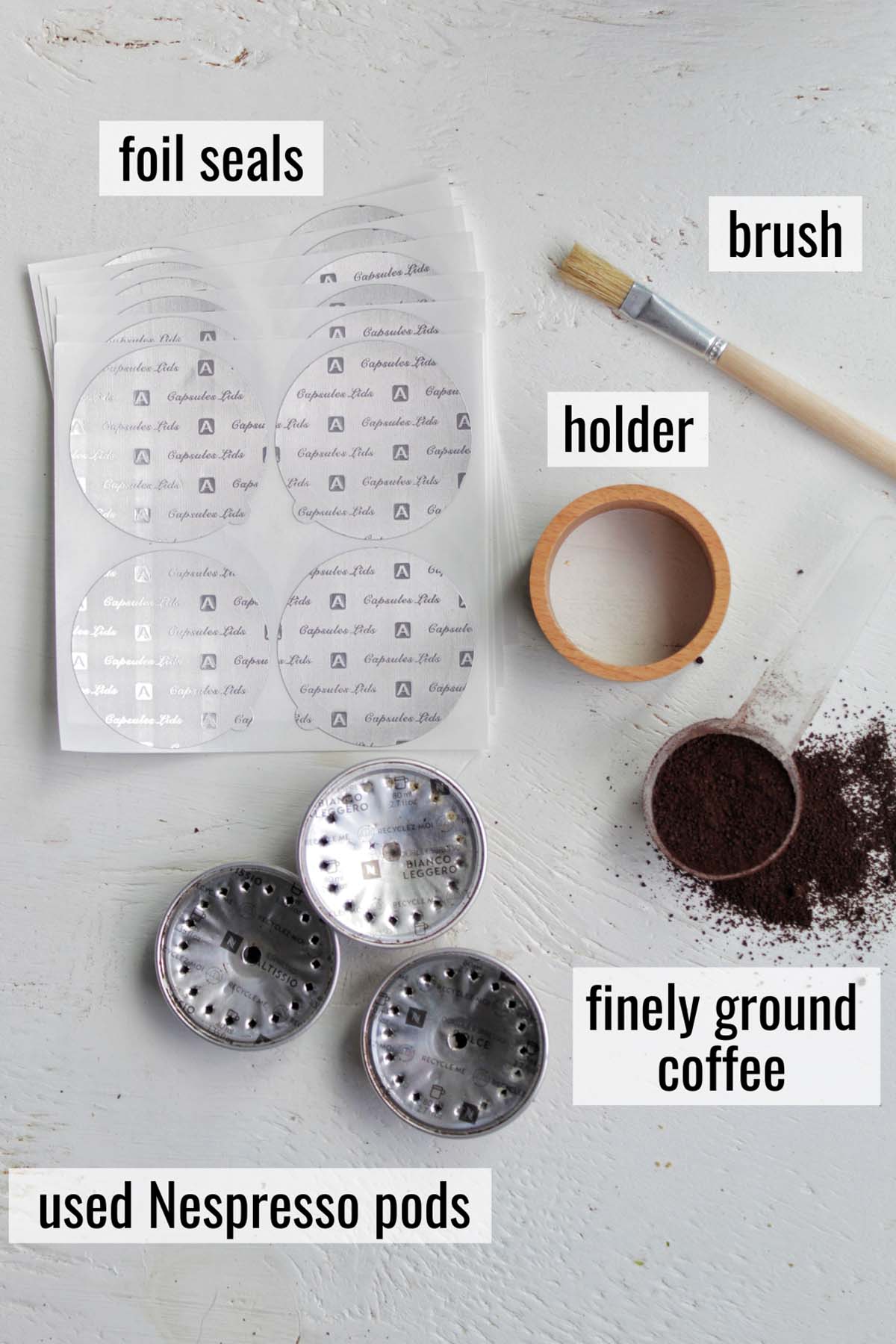 Used Nespresso pods: In order to refill the pods, you'll first need to have some previously used Vertuo pods. Make sure the pods are still in good shape. They should not have severe dents, rust, or discoloring.
Finely ground coffee: Espresso is a type of brewed coffee that uses finely ground coffee beans. I'd suggest using freshly ground coffee to ensure you'll brew a high-quality shot.
Foil seals: These are a necessity for sealing off the refilled pods.
Nespresso pod holder: This tool is super helpful to keep the pods steady throughout this refilling process.
Brush: This helps to brush away any excess coffee grounds.
You can buy all of these supplies to refill Nespresso pods in one convenient kit.
How To Refill Nespresso Pods
Here's my step-by-step process for refilling Vertuo pods.
Step 1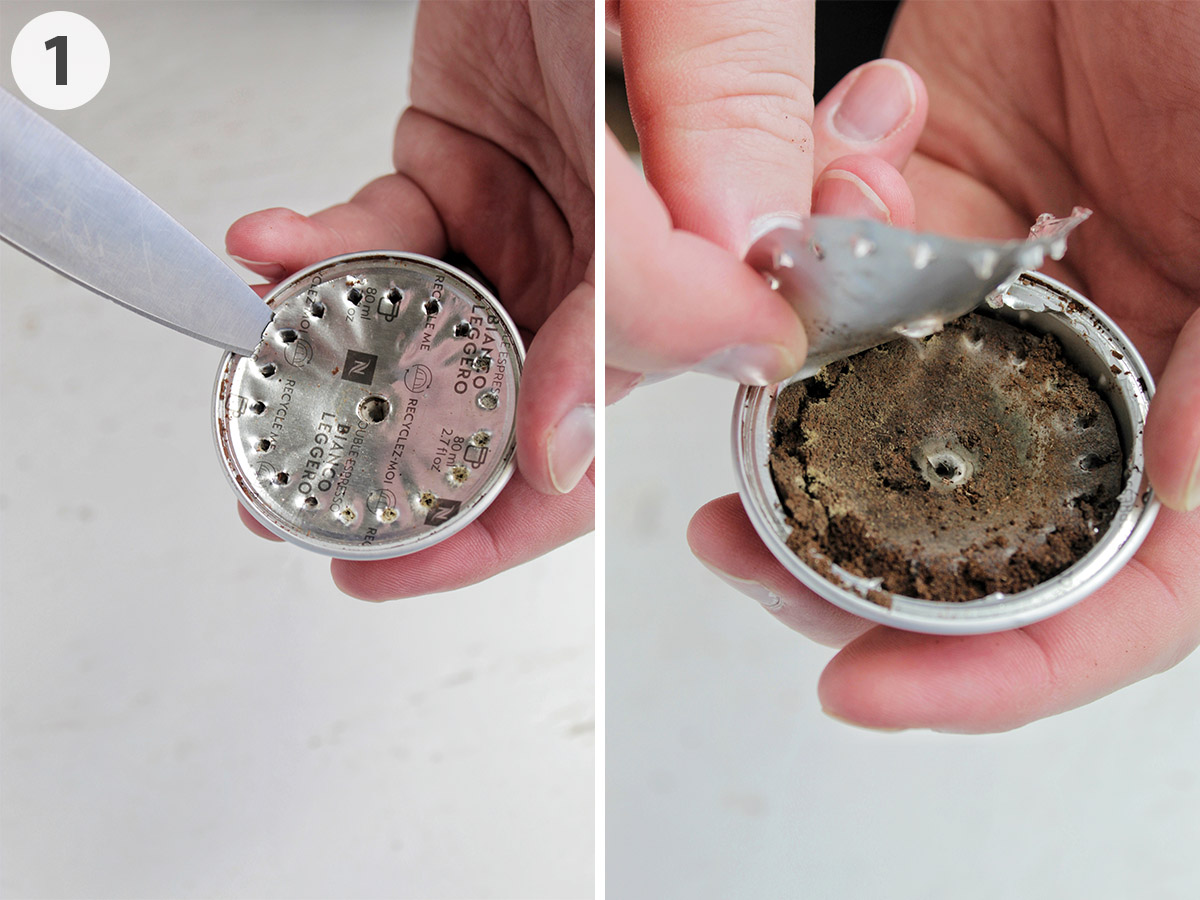 First, using a sharp paring knife, carefully cut around the edge of the pod to remove the foil seal. Once you get halfway around the pod, it becomes easy to peel off the remaining foil.
Try to remove the foil around the lip of the pod; however, if there is still a little foil on the lip, it shouldn't mess up this process.
Step 2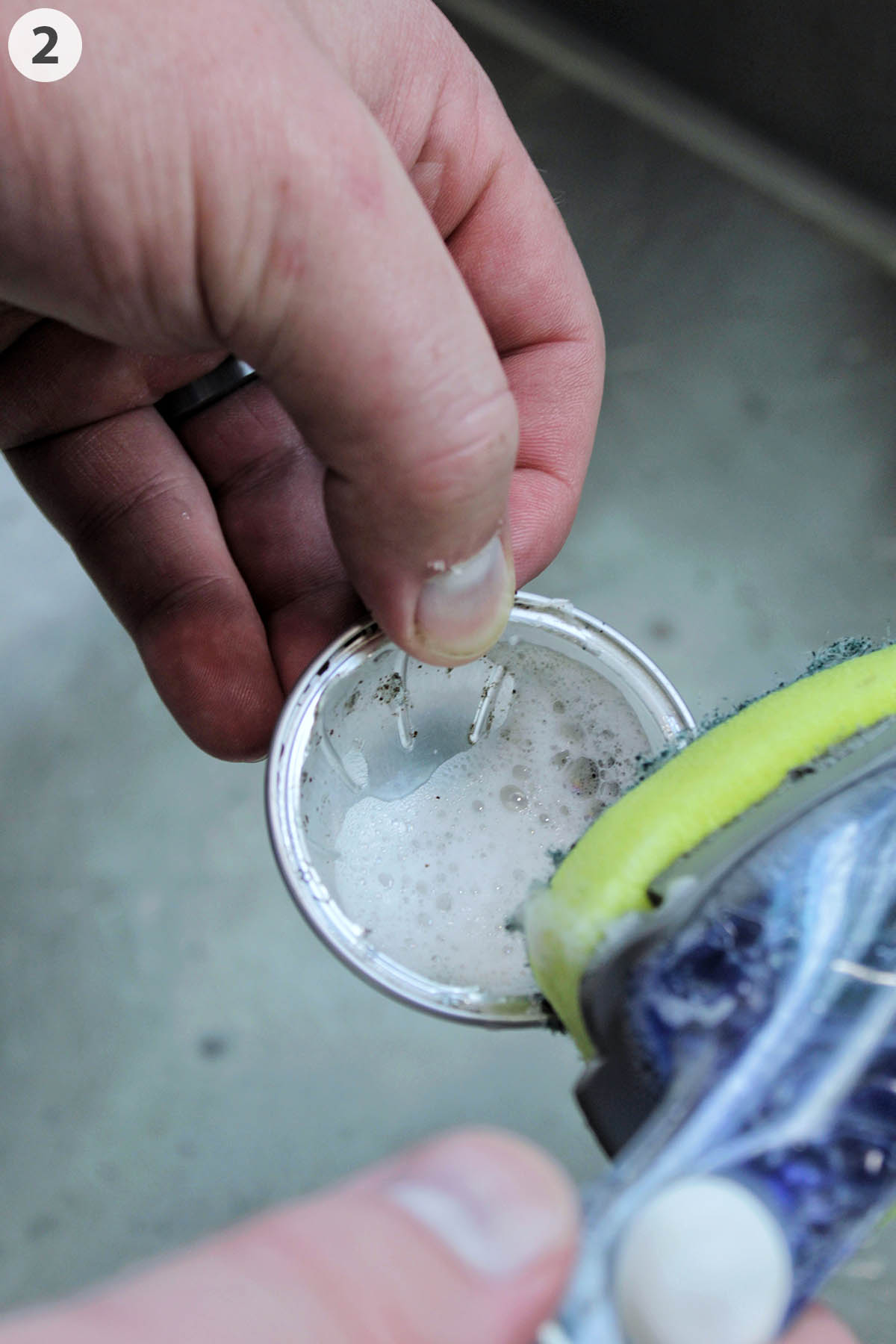 Next, remove the coffee grounds from the pod and discard them in the trash can.
You may notice some mold growing on the coffee grounds if they have been sitting around for a while. As long as you scrape out all of the grounds, the mold should not cause any problems.
Then, thoroughly wash the pods with warm water and soap. Allow the pods to fully air dry or pat dry with a towel.
During this process, try not to dent or misshape the pods.
Step 3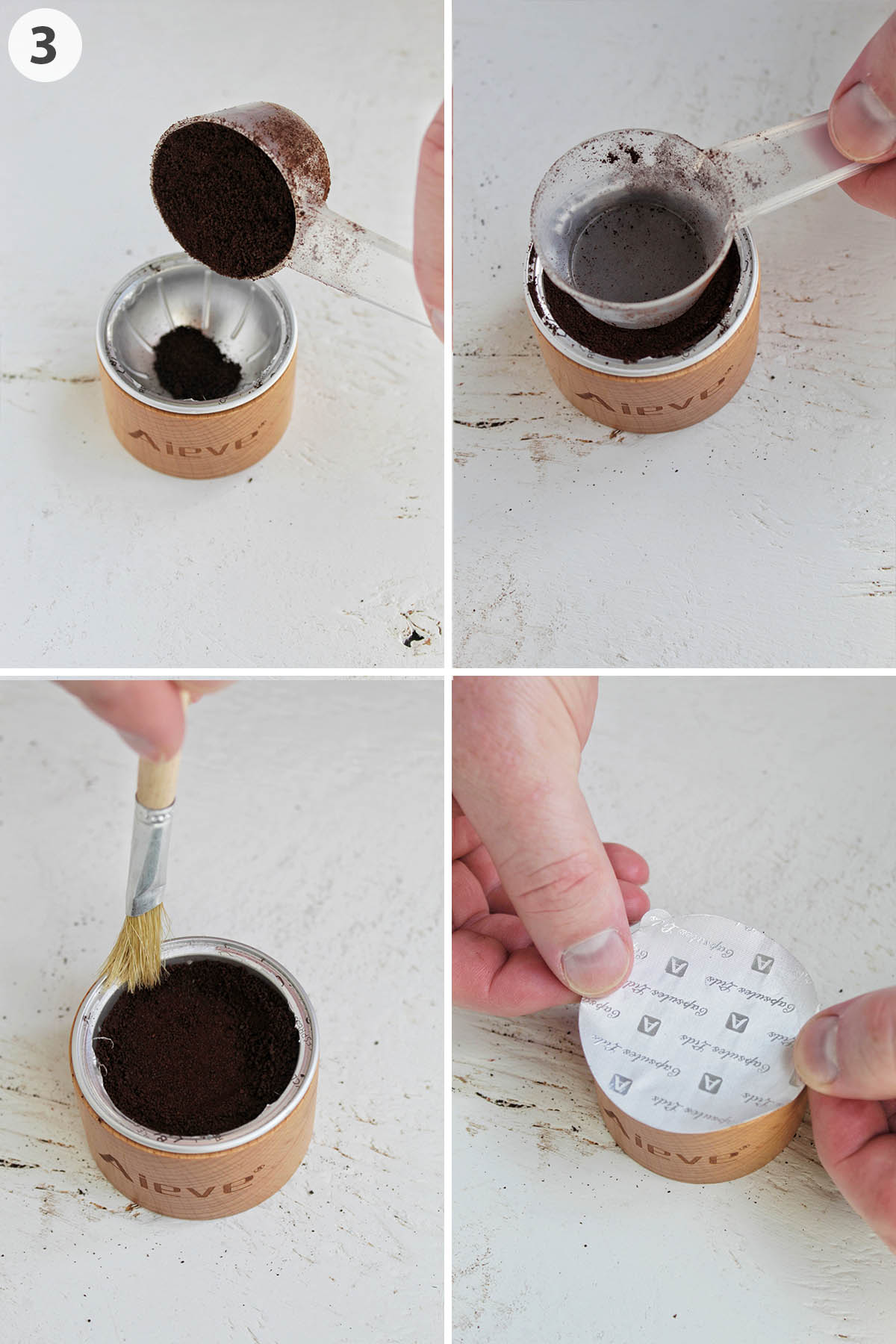 For the final step, you'll need a Nespresso pod refill kit (it costs around $20) and some finely ground coffee.
Set the bamboo holder on the counter, then place a Vertuo pod inside the holder. This technique will work for both single and double shots, so choose whichever size pod you have on hand.
Pour a scoop of finely ground coffee into the pod. Using the plastic scoop that comes with the refill kit, tamp (gently tap) down the coffee grounds into an even layer. If needed, add additional coffee until the pod is almost filled to the top.
Use a brush to sweep away any excess coffee grounds on the lip of the pod.
Then, place a foil seal on top of the pod.
Use the tip of your finger to adhere the foil seal to the pod. As long as the foil completely seals the top of the pod, it will work. Don't worry if the seal is not perfectly even.
Finally, fold over the edge of the foil underneath the lip of the pod. This is an important step to ensure the pod doesn't get stuck in your Nespresso machine.
Does This Really Work?
When I began researching if you can reuse Nespresso pods, I had a lot of questions. However, my main question was - does this really work?
Overall, this method works well! As you can see, the original pods versus the refilled pods look and function very similarly.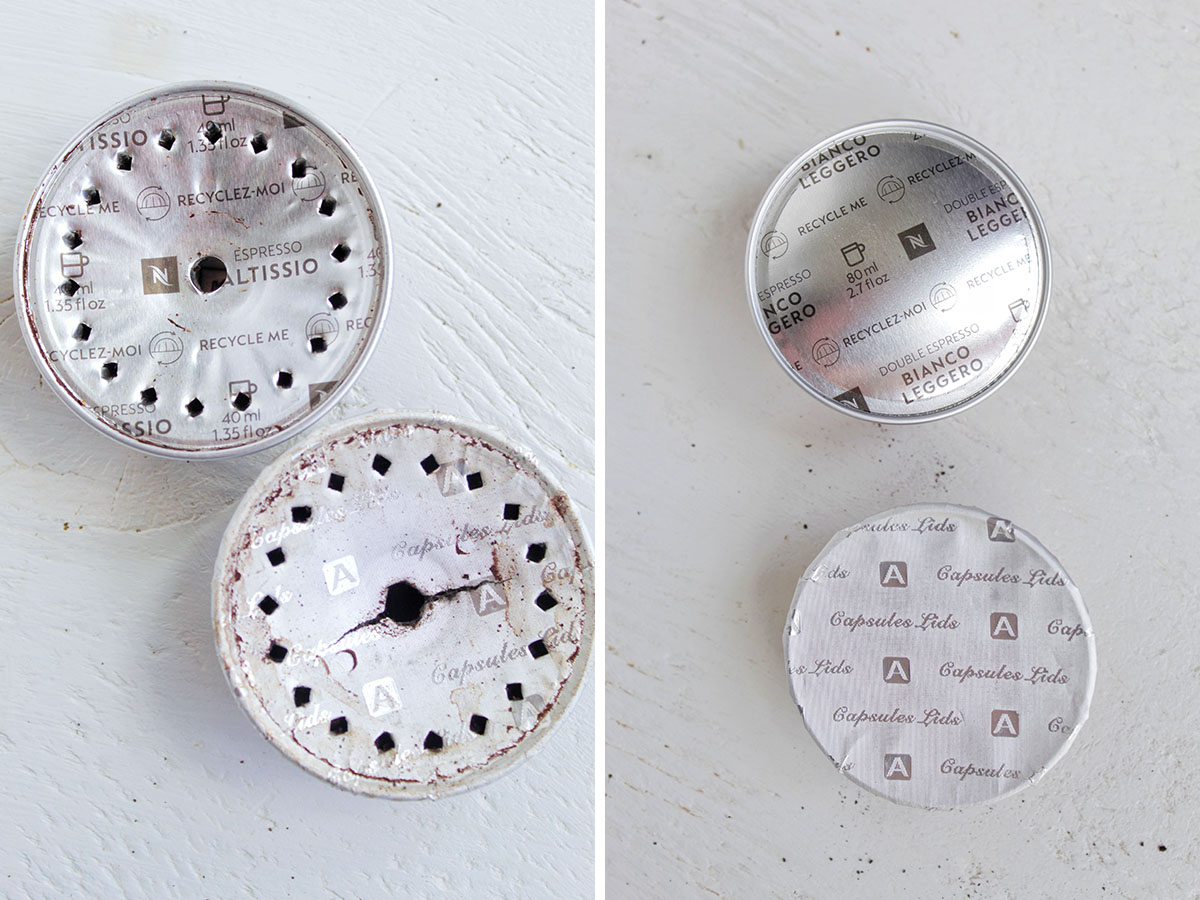 The main differences between the two pods are:
The refilled pods generally produce less crema (the foam on top of the freshly brewed espresso).
It takes additional time to refill the DIY pods versus simply purchasing them.
The espresso from the refilled pods generally tastes a little weaker (although not very noticeable) than the original pods.
Overall, I'd highly recommend this method. My Nespresso refill kit has saved me lots of money and helped me experiment with different flavored coffee.
Expert Tips
Refilling the pods can get messy. In order to avoid wasting coffee, lay out a piece of parchment paper and refill the pods on top. Any coffee that falls onto the parchment paper can easily be reused.
Making your own Nespresso Vertuo pods can seem time-consuming. However, this is an easy process to batch. I like to take 10 - 20 minutes every Sunday to refill my Nespresso pods for the week.
I'd definitely suggest purchasing a Nespresso refill kit. It has all of the supplies you need to reuse the Vertuo pods including 80 foil seals, a brush, scoop, and bamboo pod holder.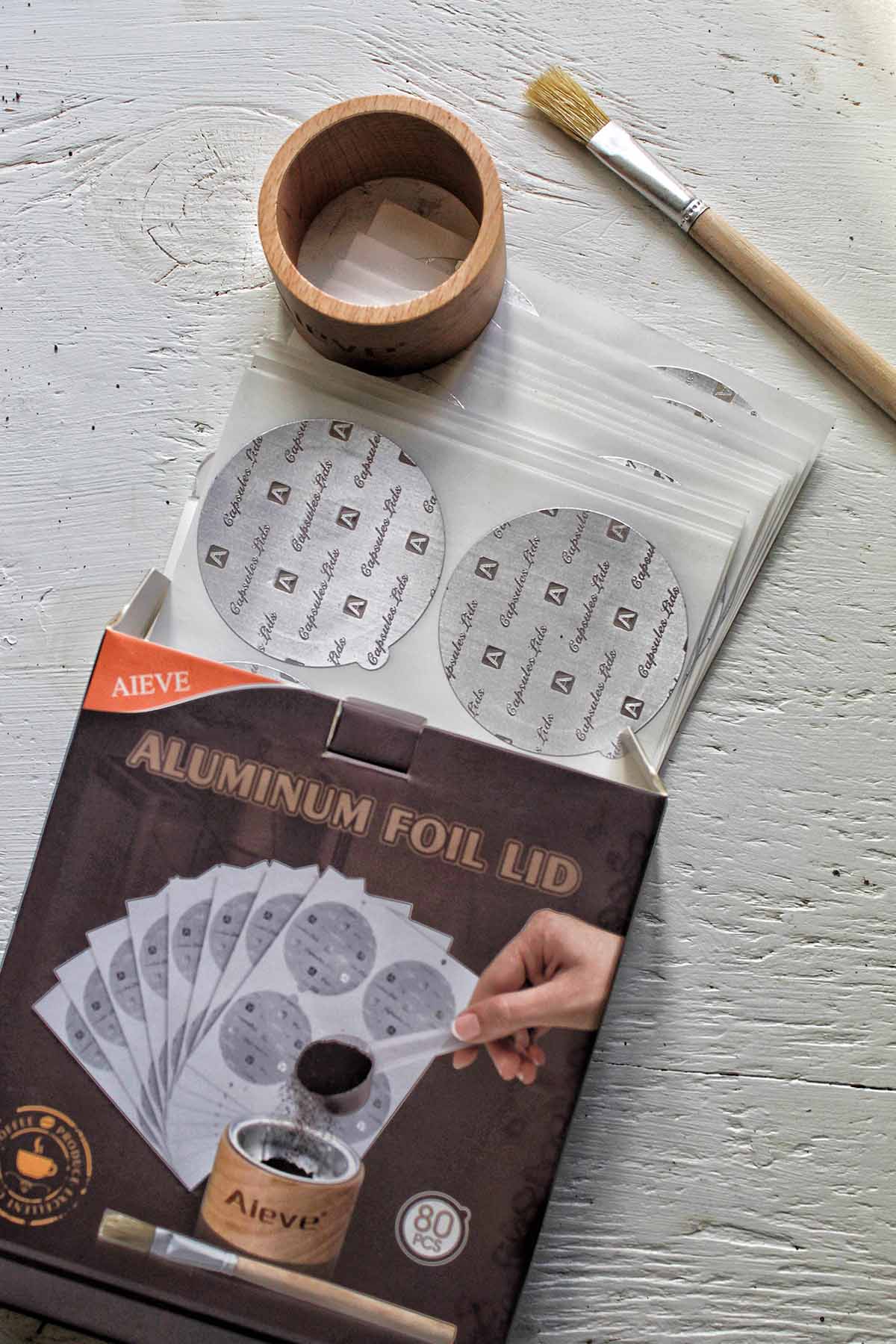 FAQs
Can Nespresso Vertuo pods be used twice?
Technically, yes, the Vertuo pods can be used twice. However, the second shot of espresso will be significantly weaker.
How many times can you reuse a Nespresso Vertuo pod?
I would suggest only using a Nespresso Vertuo pod a maximum of two times. The second shot of espresso that is brewed will be significantly weaker.
Do the DIY pods spill grounds in the Nespresso machine?
No. I have brewed hundreds of shots of espresso with these DIY pods and I have never had a pod spill or explode in the machine. As long as you ensure the edges of the foil seal are completely secured against the pod, you shouldn't have any problems.
How long does it take to refill Nespresso pods?
It takes a couple of minutes to prepare the pod by ripping off the old foil seal and washing the pod. Then, it only takes about 30 - 60 seconds to refill each Nespresso pod. The more you practice, the quicker you'll be.
What's the best type of coffee to refill Nespresso pods with?
Make sure you purchase finely ground coffee. This is the grind size you'll need to brew espresso.

The flavoring of the coffee you purchase is up to you and your personal taste. Remember, it's important to buy a high-quality coffee and grind it yourself (or at the grocery store). Good coffee comes from good beans, so don't skimp on this part.
Coffee Recipes
Love this guide? Please leave a comment below. Don't forget to follow along on Instagram, Facebook, YouTube, and Pinterest for more recipes.