Learn the best ways to flavor cold brew coffee for amazing taste
Looking for new ways to make your cold brew taste good? Here are my favorite easy and delicious ways to add flavor to cold brew coffee. These ideas include using flavored coffee beans, sweetening with simple syrup, adding spices, and so much more!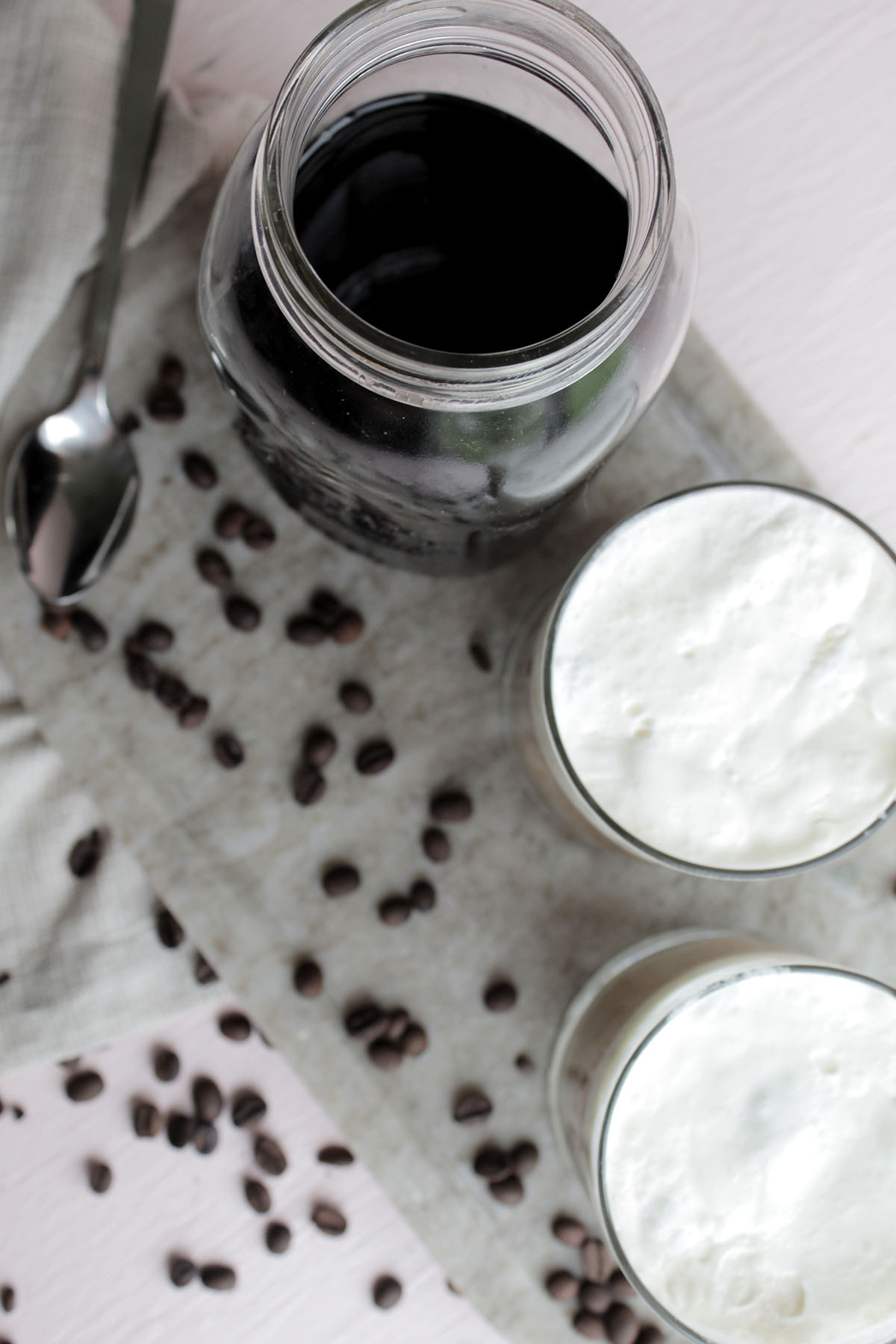 1. Use Flavored Coffee Beans
Some of the best flavored cold brew coffee comes from brewing with flavored coffee beans. You can use any flavored coffee beans you like, including exotic or fun flavors such as salted caramel, chocolate cherry, or blueberry muffin.
This technique infuses flavor directly into the coffee without having to add additional sugar, syrups, or dairy products.
When making cold brew, be sure to coarsely grind the coffee beans. This will help prevent over-extraction (when too many soluble flavors are removed from the coffee resulting in undesirable tastes).
Try this recipe: Salted Caramel Cold Brew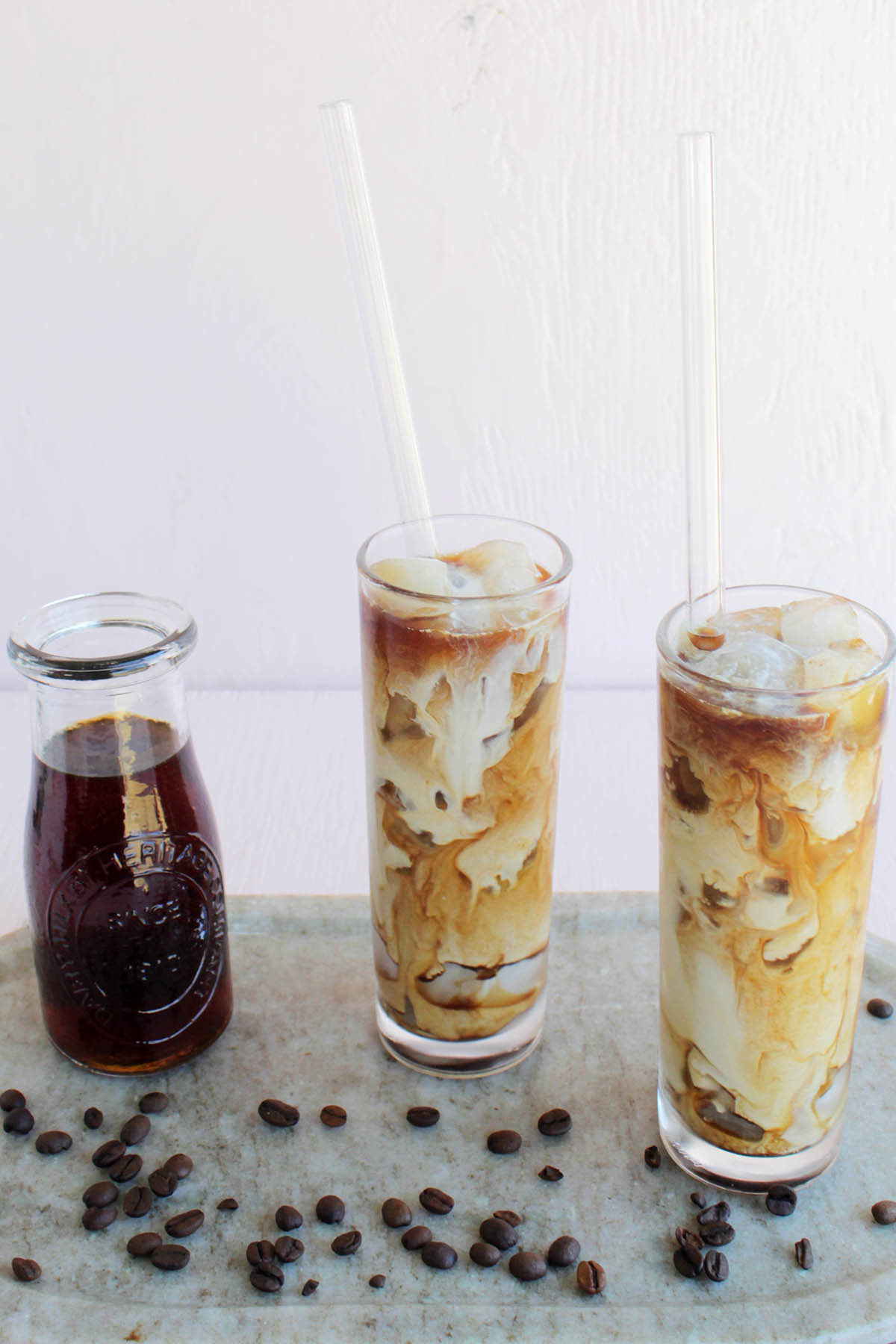 2. Brew With Shredded Coconut
Another easy way to infuse additional flavor into cold brew is by brewing shredded coconut along with the coffee beans. It helps add a unique, subtle flavor with minimal effort.
You can also try enhancing the coconut flavor by mixing the cold brew with coconut simple syrup or cream of coconut.
Try this recipe: Coconut Cold Brew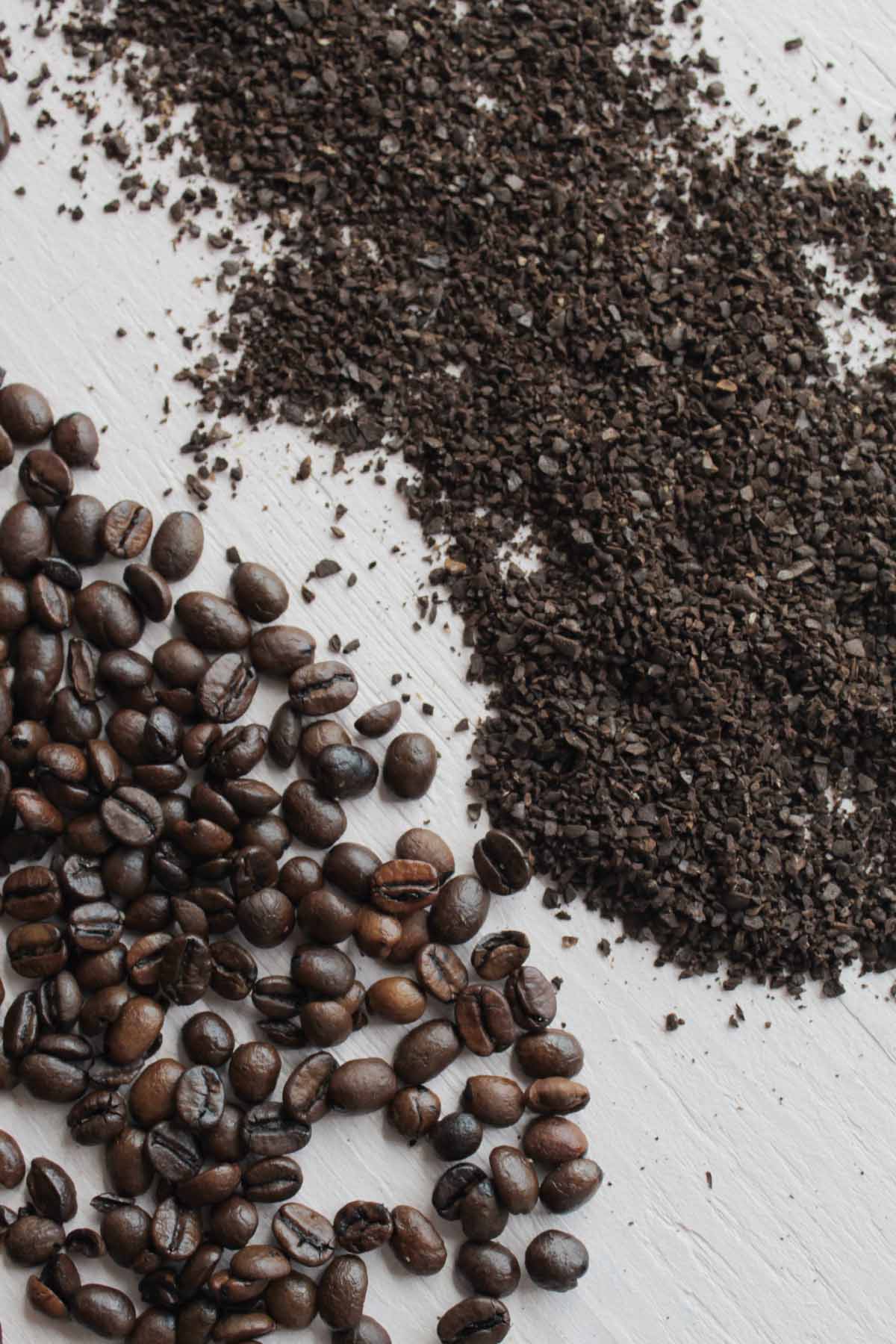 3. Add Spices While Brewing
Spices add amazing flavor to our food, so why not try adding them while making cold brew coffee?
Both ground spices and whole spices can be placed alongside the coffee grounds during the brewing process. This will enfuse additional flavor in the cold brew for a unique taste.
You can try adding in cinnamon sticks, nutmeg, ginger, or a mixture of your favorite spices.
Try this recipe: Gingerbread Coffee Cold Brew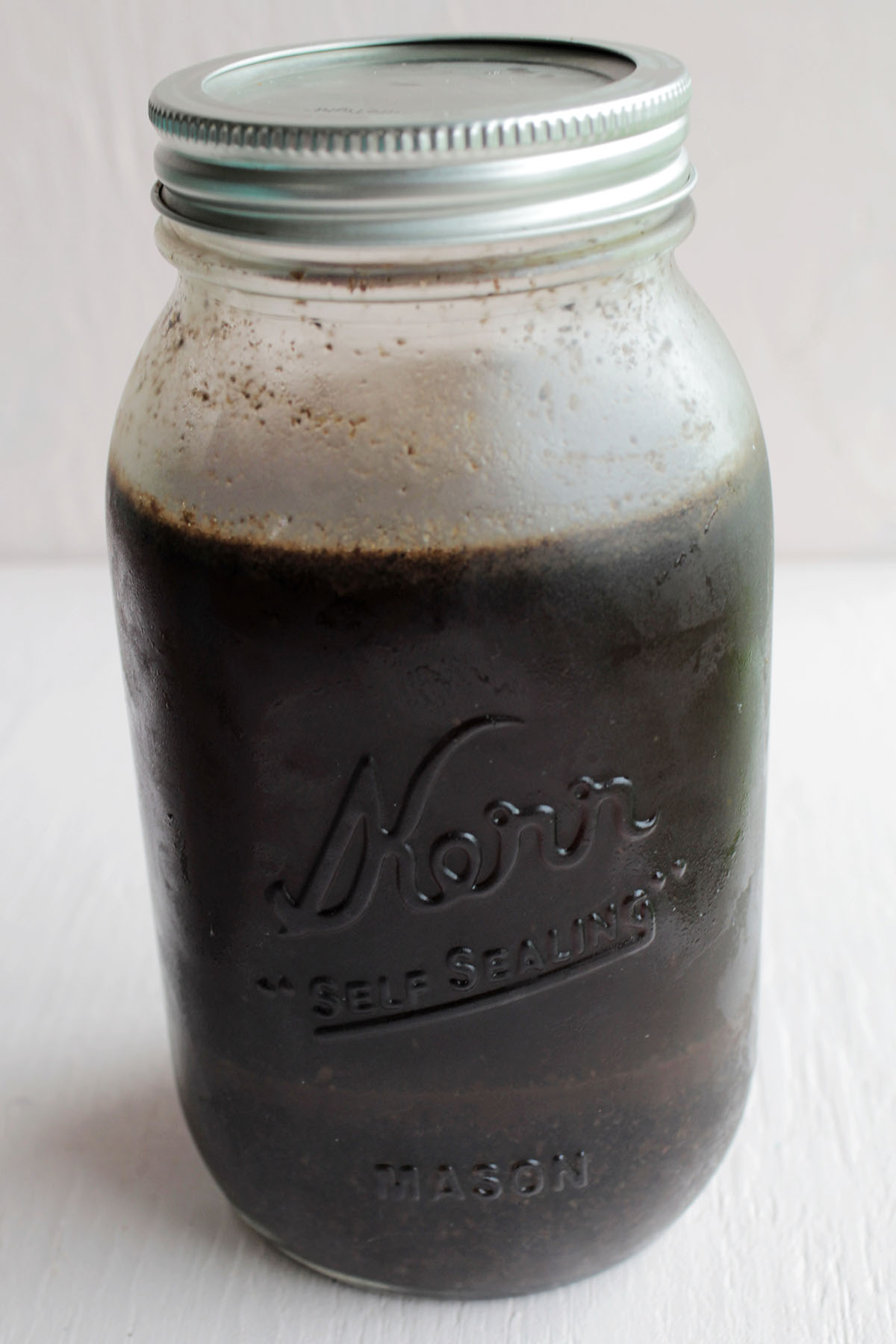 4. Make Homemade Fruit Syrup
If you prefer a sweeter cold brew coffee, try topping with a homemade fruit syrup. This can be made with blueberries, strawberries, raspberries, or blackberries.
The berries can be sweetened with as much or as little sugar as you'd prefer to add in the perfect addition of sweetness to your coffee.
The best part about this technique is that you can utilize fruit to enhance the taste and visual appeal of the drink. The bright fruit syrup looks so pretty contrasted with the coffee.
Try this recipe: Blueberry Iced Latte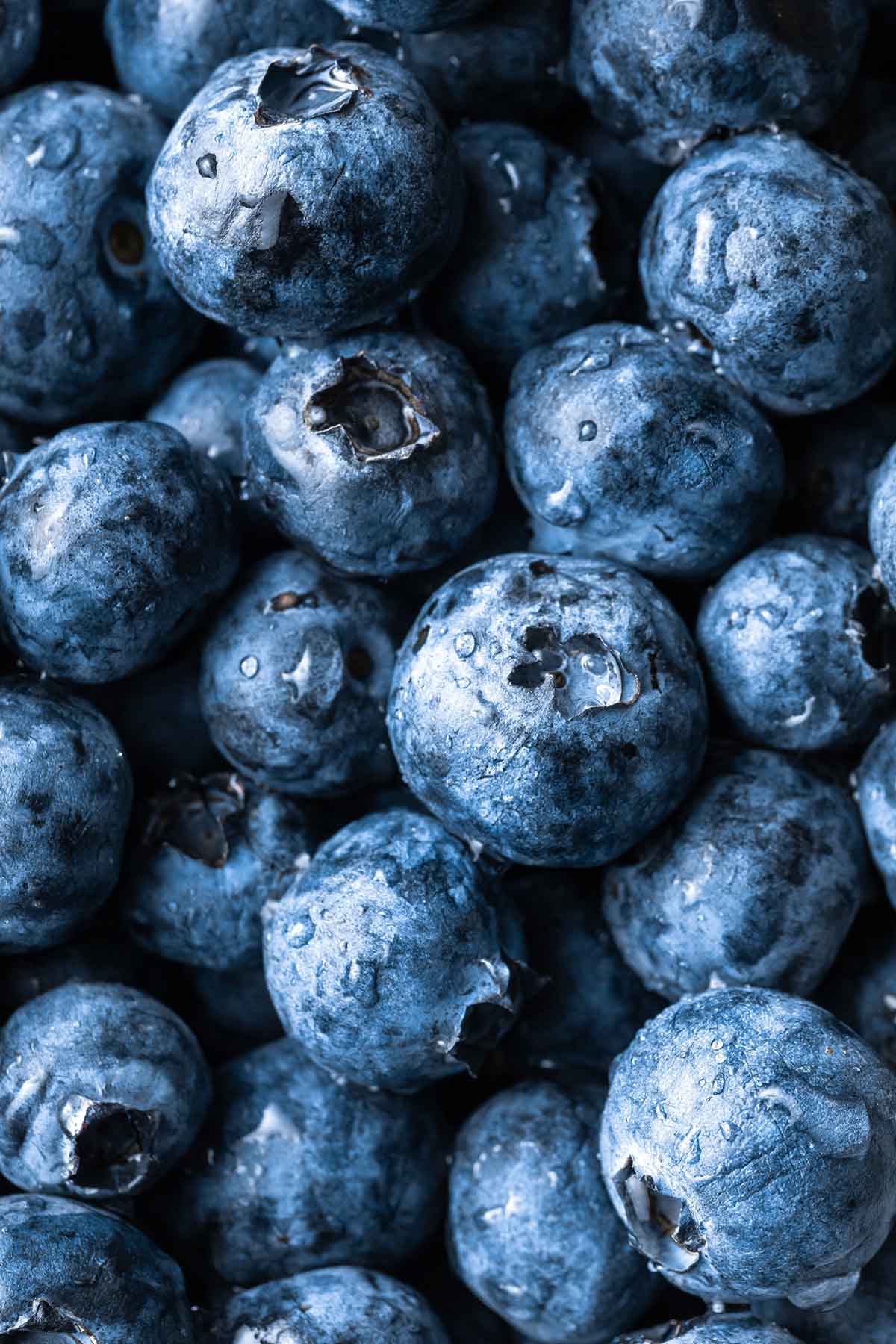 5. Top With Sweet Cream Cold Foam (like Starbucks)
Sweet cream cold foam is beloved among many Starbucks coffee drinkers. It's a type of cold foam that consists of:
4 parts: heavy cream
2 parts: 2% milk
1 part: simple syrup
This adds a creamy, rich taste to your coffee! Plus, you can add any simple syrup flavor you'd like to change up the taste depending on the cold brew you're in the mood for that day.
You can make sweet cream cold foam simply by mixing the ingredients up by hand. However, if you prefer a cold foam that sits on top of your drink, be sure you have a high powered blender on hand.
Try this recipe: Sweet Cream Cold Foam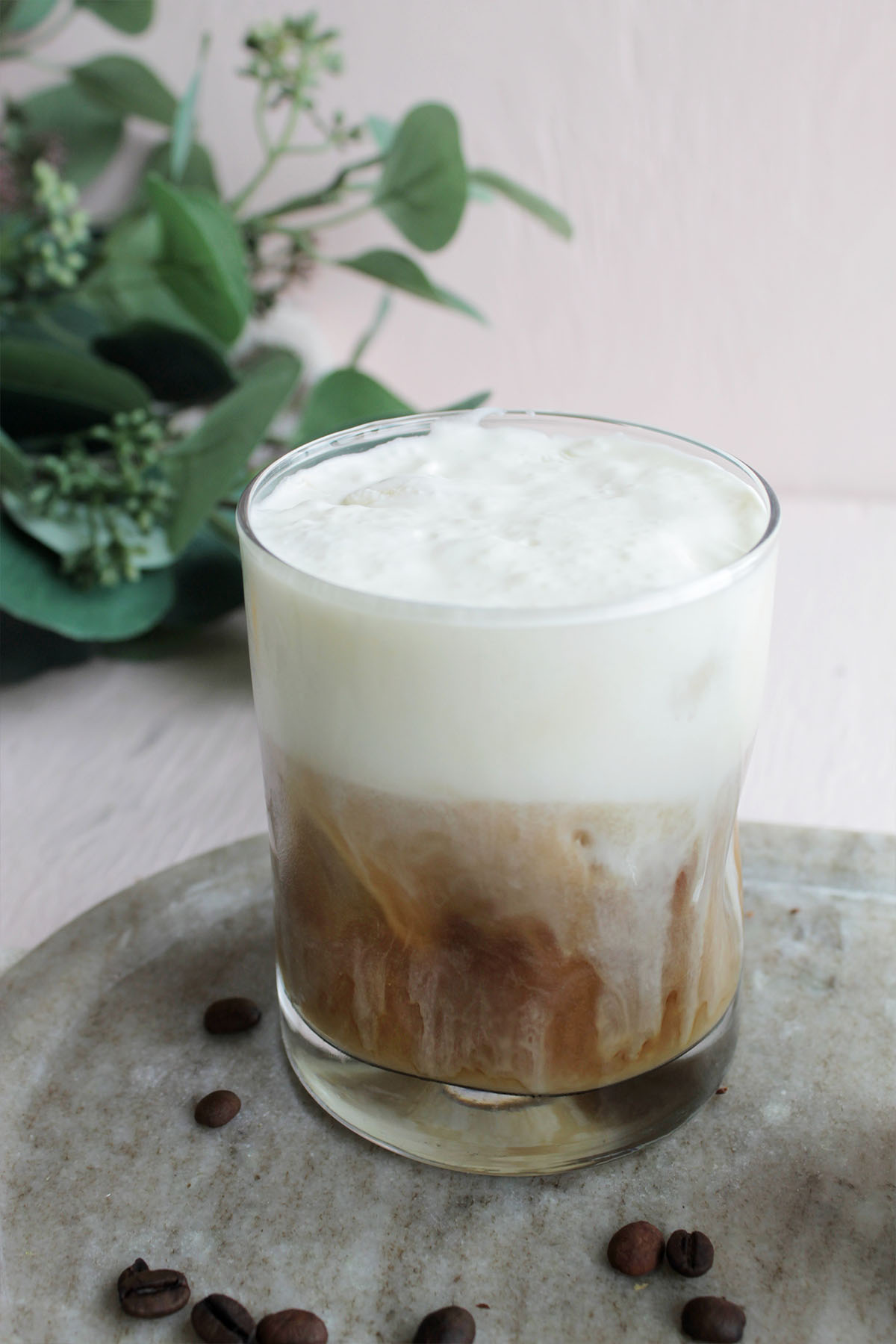 6. Mix In Sweetened Condensed Milk
If you're a fan of sweet, creamy coffee drinks, try mixing in sweetened condensed milk to your cold brew coffee concentrate.
This ingredient adds such a rich taste! It can either replace part or all of the milk that's normally added. Sweetened condensed milk also adds sweetness, so adjust the amount of simple syrup you use as needed.
Try this recipe: Thai Inspired Cold Brew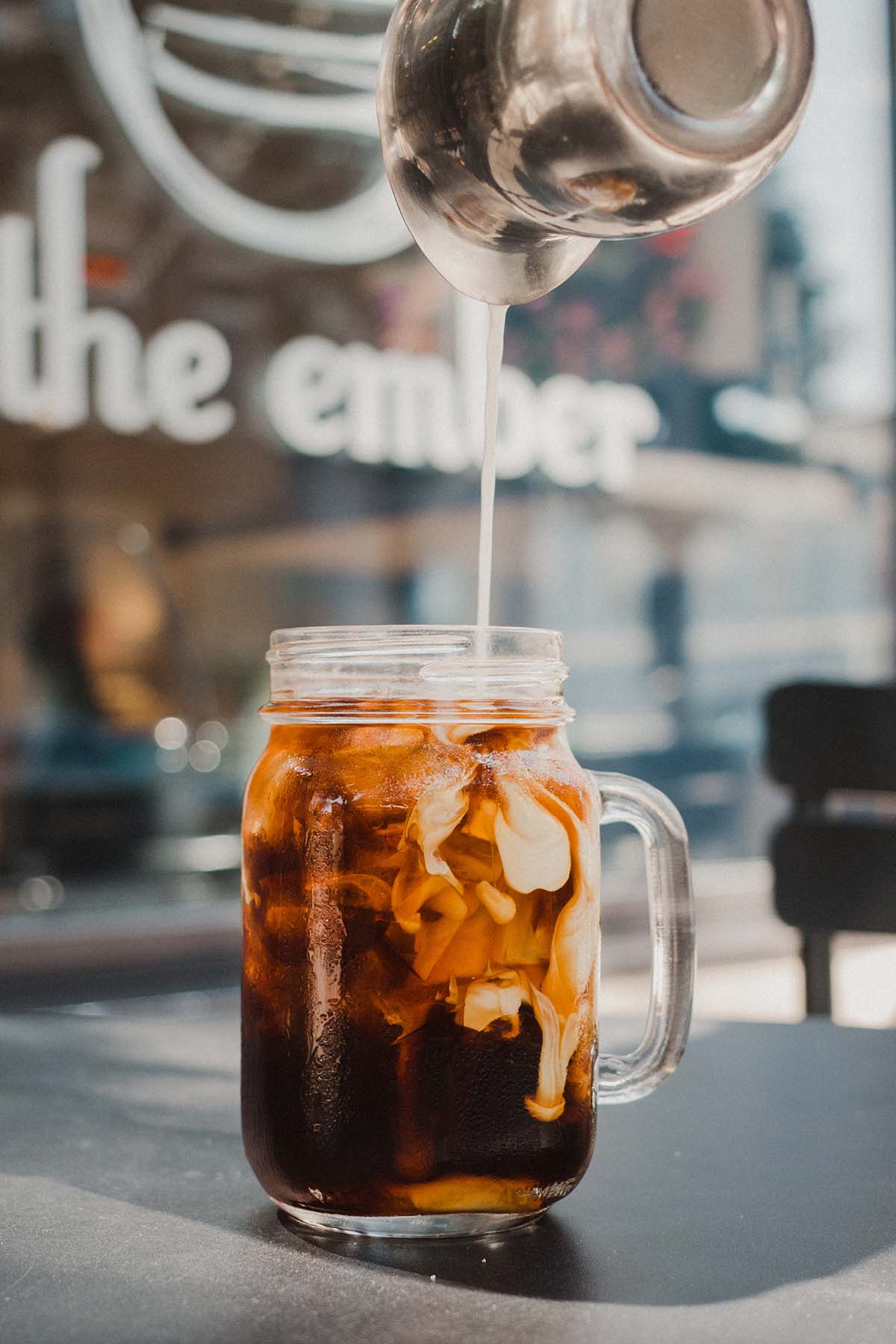 7. Top With Coconut Cream
If you're looking for a dairy-free alternative to add to cold brew coffee, try a coconut cream on top.
With the help of a blender (or a whisk and some elbow grease), coconut cream can be whipped into a creamy and smooth consistency. Optionally add in additional ground spices, simple syrup, or sugar for some sweetness.
This will provide a slight coconut flavoring and extra creaminess to your cold brew.
Try this recipe: Cinnamon Vanilla Coconut Cream Cold Brew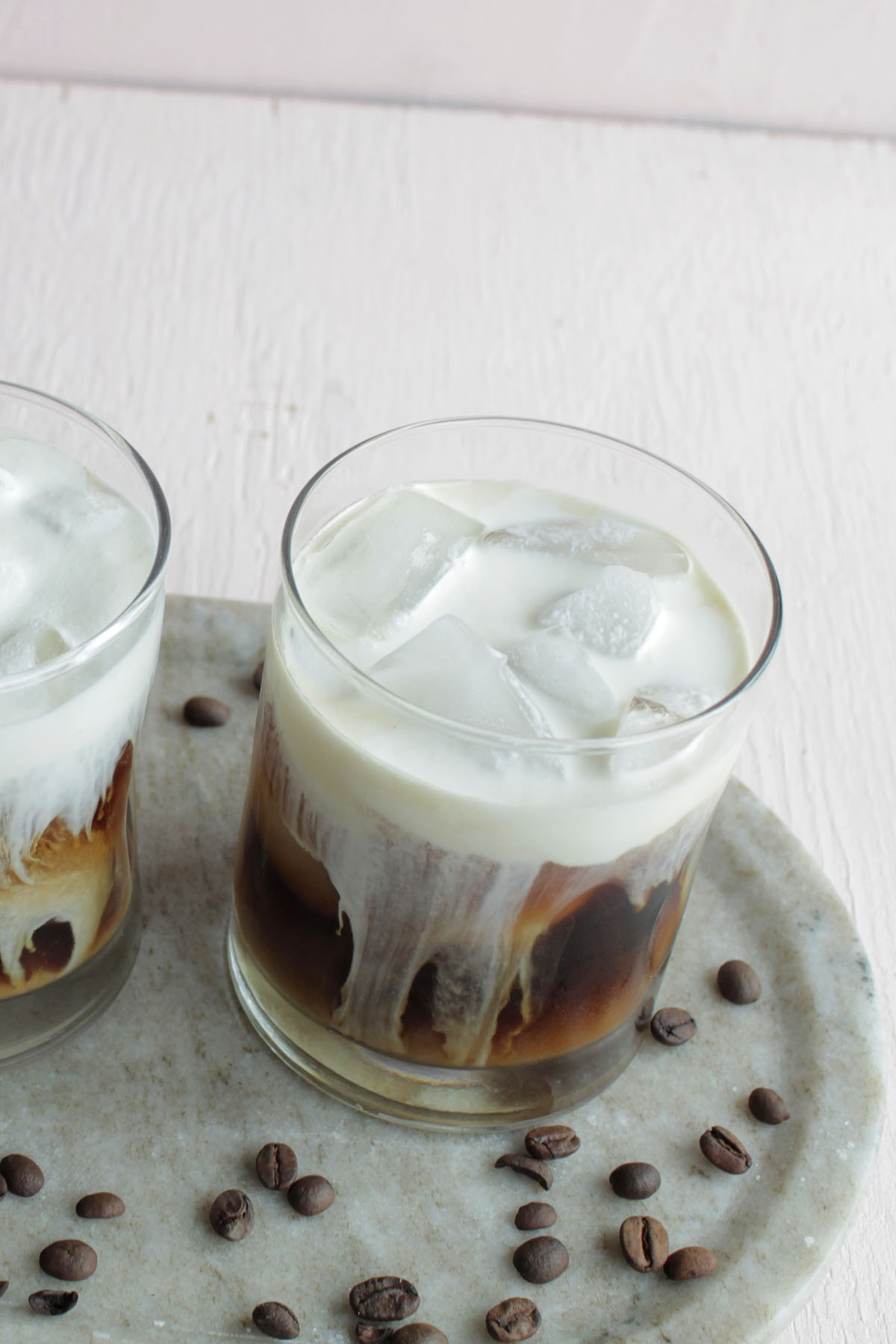 8. Use Honey As A Sweetener
Honey can be used in so many ways to make cold brew taste good! You can use honey in coffee by:
Shaking with cold brew to sweeten the coffee
Making a honey simple syrup
Adding honey to cold foam
Honey provides a different flavor profile than normal simple syrup. Plus, it could be used if you prefer a more natural sweetener.
Try this recipe: Cold Brew with Salted Honey Foam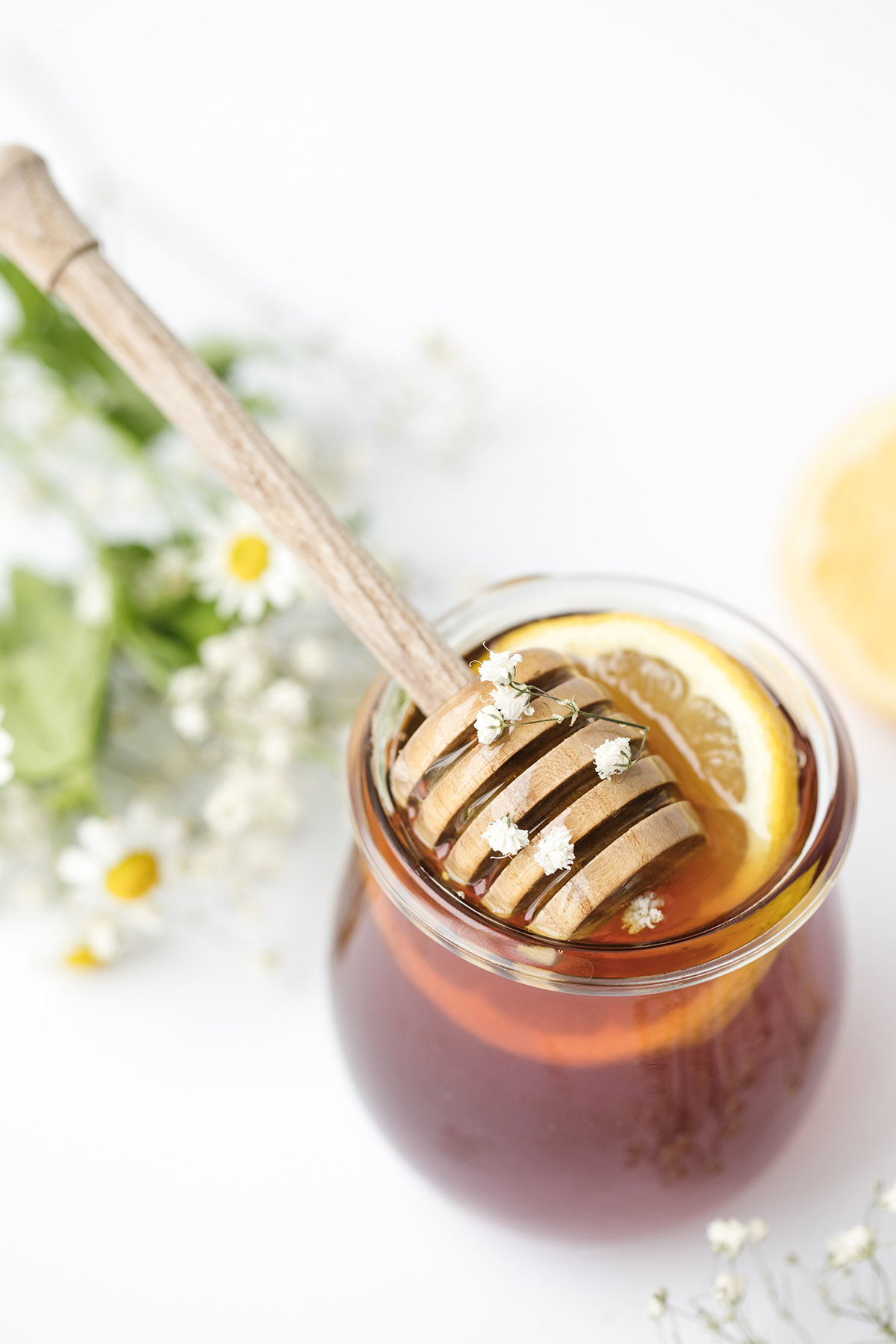 9. Add Nut Butter To Cold Foam
Cold foam doesn't have to be boring! Try adding your favorite powdered nut butter or cookie butter to your homemade cold foam.
This is a great technique if you only have plain simple syrup on hand, but still want to make a unique tasting cold brew drink. We can thank the nut butter for providing lots of flavor and creaminess to the coffee.
Try this recipe: Peanut Butter Cold Brew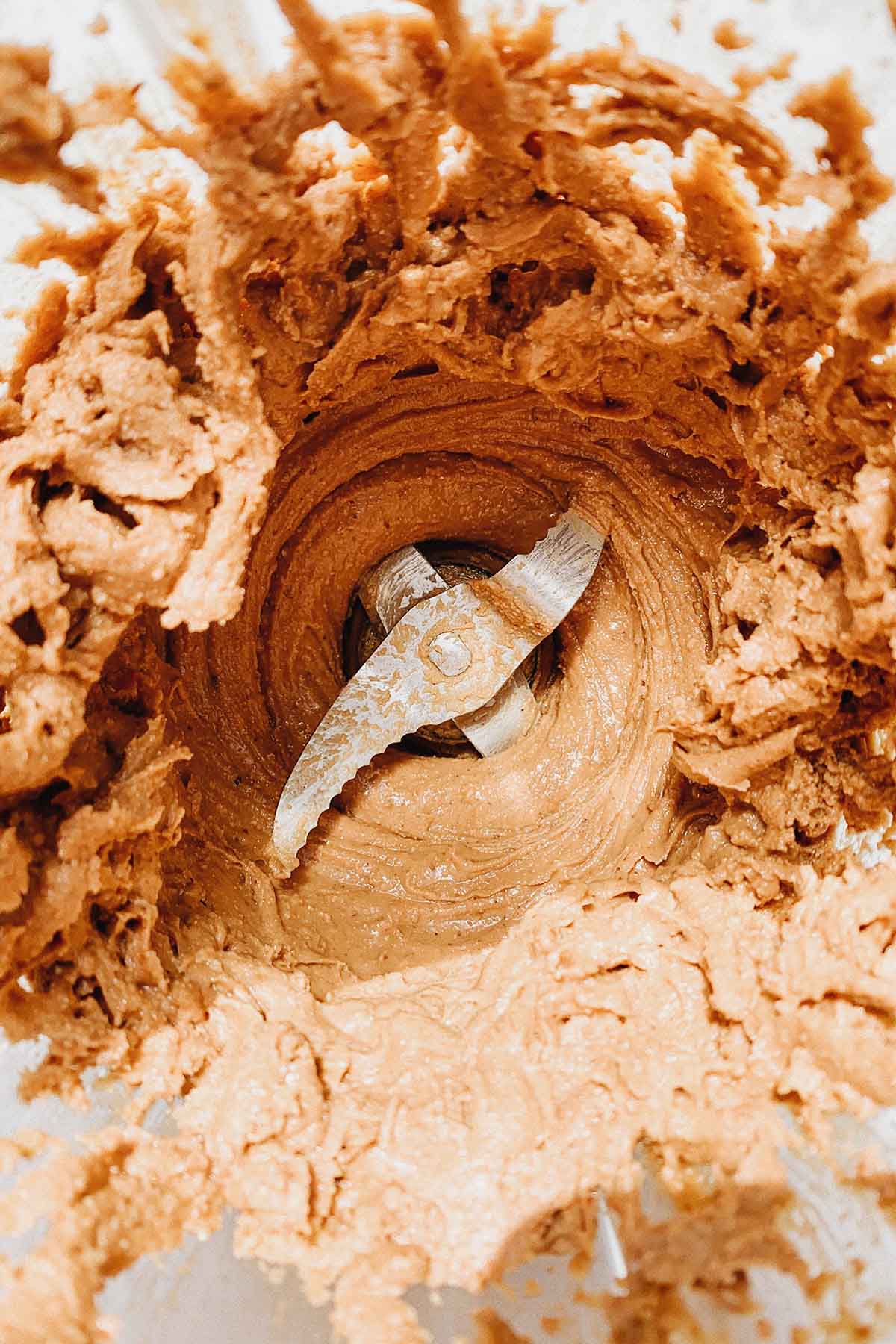 10. Sweeten With Unique Simple Syrups
Adding flavoring to cold brew coffee through simple syrup is very popular! Simple syrups enhance the taste and sweetness of the entire drink.
While we're all familiar with vanilla and caramel simple syrup, you can really change up the flavor of your coffee by mixing with uniquely flavored simple syrups. Here are some of my favorite flavors:
Pair any of these simple syrups with some cold brew coffee and you'll be amazed at the flavor it adds! Don't forget you can also add simple syrups to your cold foam for more flavor.
Try this recipe: Honey Lavender Cold Brew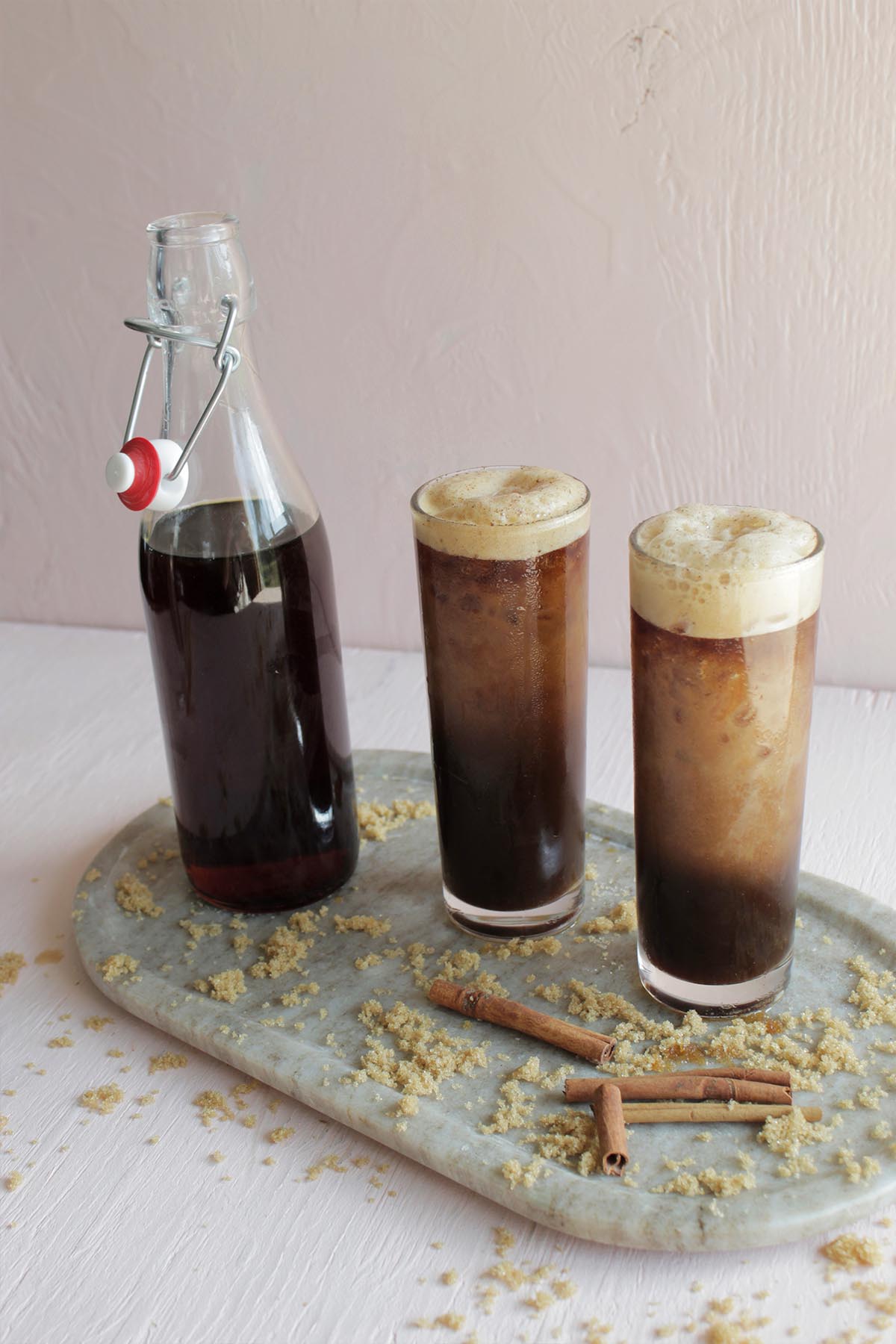 11. Shake It Up With Ground Spices
It may be hard to believe that a sprinkle of cinnamon can make cold brew taste better! But, it makes a world of difference in adding flavor to coffee.
You don't only have to use cinnamon! Spices like cardamom, ginger, nutmeg, allspice, and cloves pair really well with coffee.
Simply add your cold brew to a mason jar or cocktail shaker, sprinkle in a few shakes of your spice of choice, then shake it up!
Try this recipe: Brown Sugar Oatmilk Shaken Espresso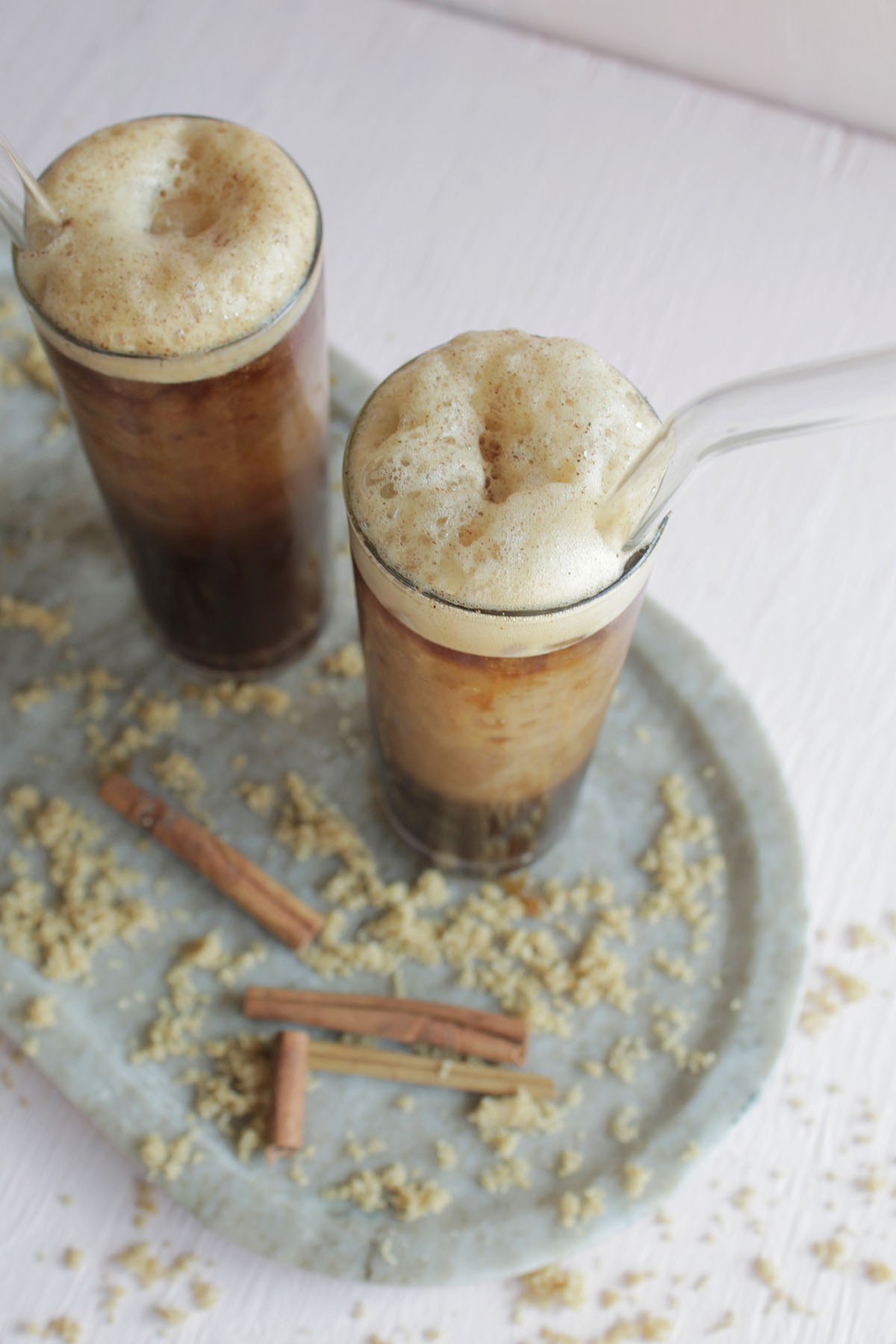 12. Drizzle Cold Foam With Sauce
Drizzling coffee with caramel or chocolate sauce is an easy way to add visual appeal and a delicious taste to cold brew coffee!
You can mimic the flavor of the drink with the sauce on top, or use a contrasting flavor. Torani makes many delicious sauces that are the perfect consistency to drizzle over coffee.
You can top cold foam or whipped cream with sauce, as well as mix it into the coffee drink itself.
Try this recipe: Salted Caramel Cold Brew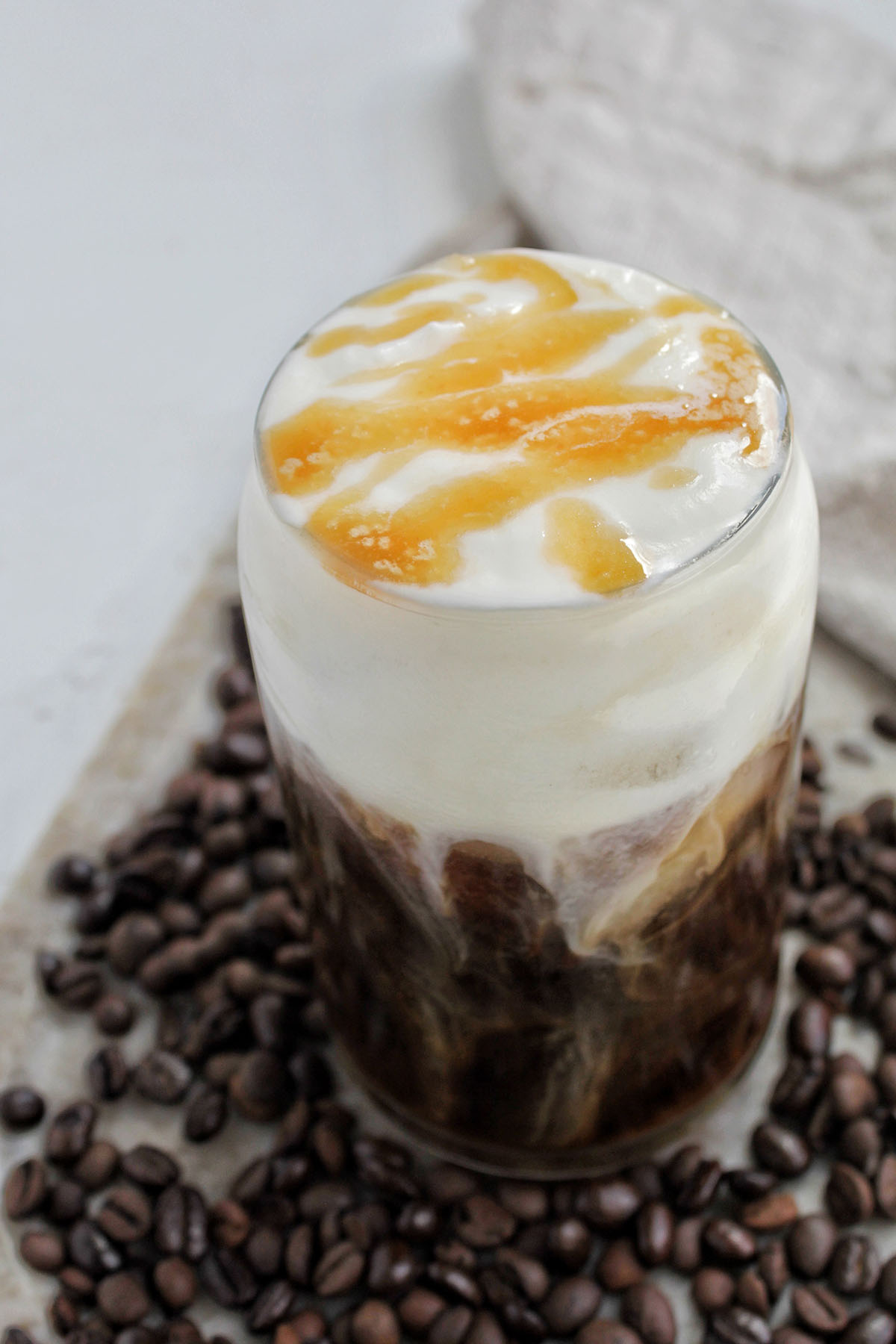 13. Sweeten With Dulce De Leche
Another unique way to sweeten up the taste of cold brew is with dulce de leche. It adds a toffee-like sweet and buttery taste to the drink.
This is also a great ingredient to drizzle on top of cold foam or whipped cream for an extra touch.
Try this recipe: Cold Brew With Dulce de Leche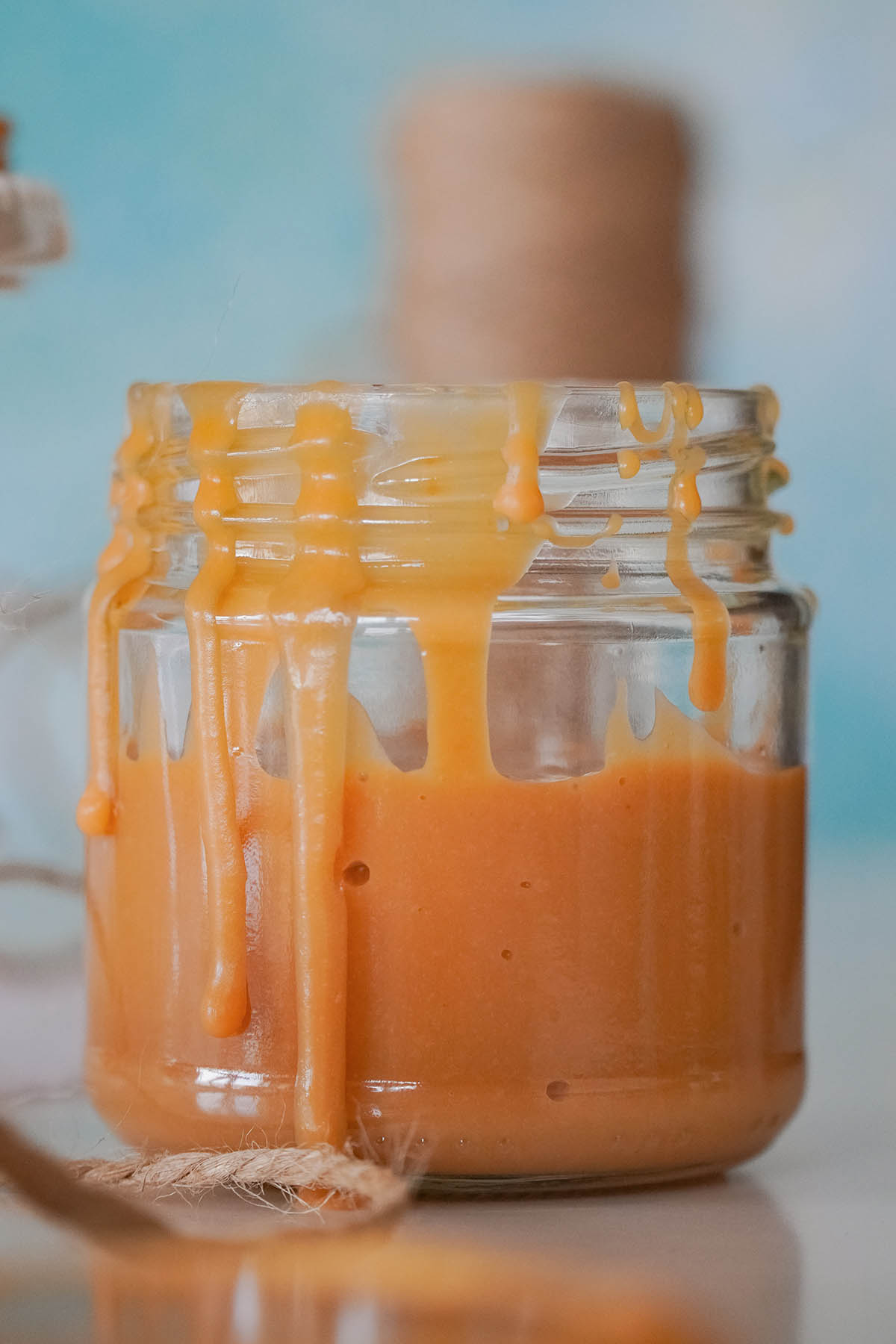 14. Mix With Pumpkin Puree
The classic Starbucks pumpkin cold brew is a flavor loved by many! Try recreating this delicious flavor by mixing pumpkin puree with milk, heavy cream, or half and half.
The pumpkin flavor is perfect for the fall! It can be paired with some cinnamon or nutmeg for an even more delicious combination.
Try this recipe: Pumpkin Cold Foam
15. Stir In Some Chocolate
There's something about chocolate and coffee that pairs so perfectly together. To flavor your cold brew, try mixing in some cacao powder or chocolate syrup for a rich and delicious taste.
The Torani chocolate hazelnut sauce is a personal favorite of mine. It's silky smooth and blends in perfectly with your coffee. Don't forget to add a drizzle on top if you're feeling fancy!
Try this recipe: Chocolate Cold Brew With Cold Foam