Grilled peach & lemon ricotta crostini is an elegant, but simple appetizer! The grill infuses just the right amount of smokiness to this dish. It's an ideal dish for entertaining because it comes together so quickly & effortlessly!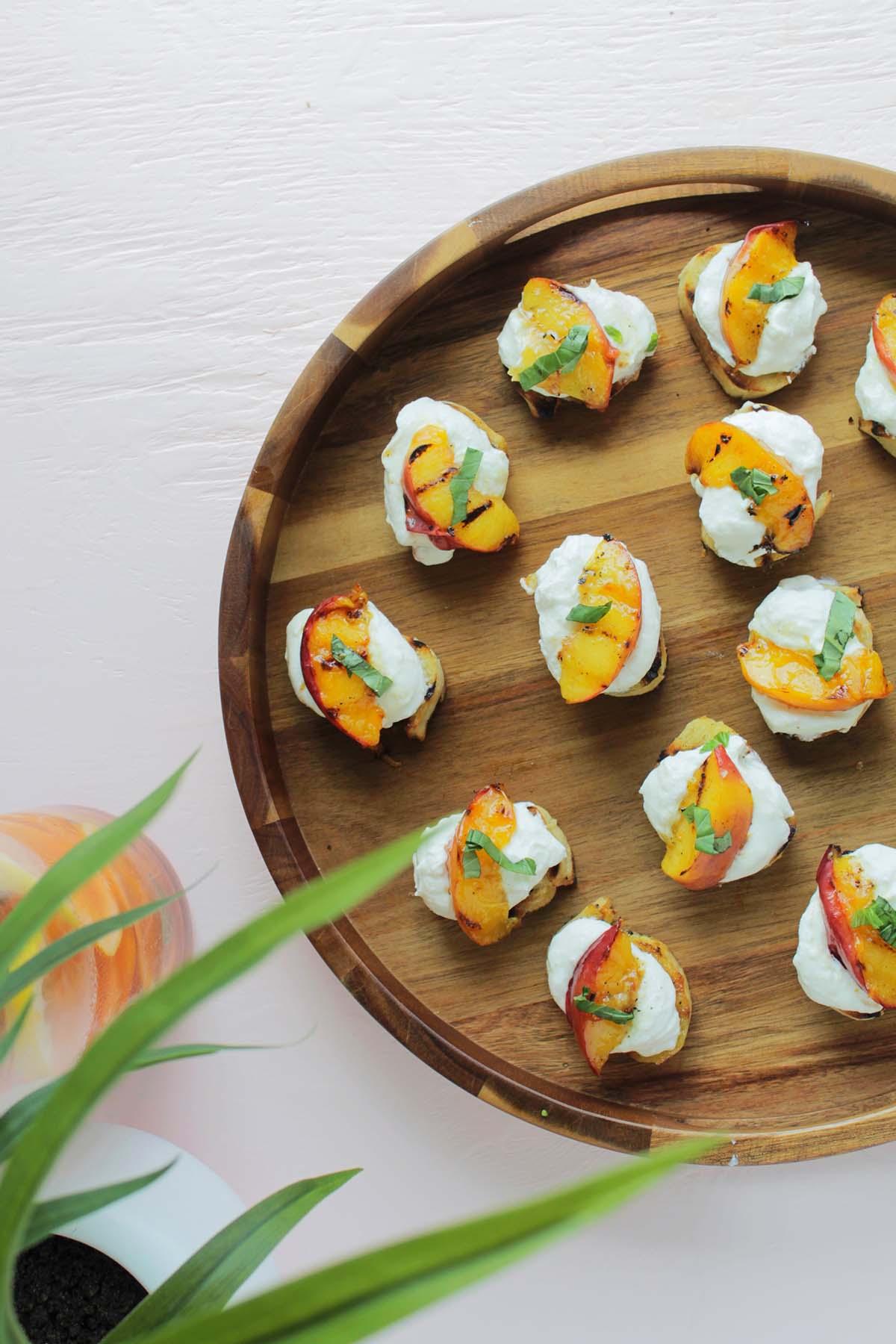 If you're looking for an appetizer to impress, this is the one! Crostini are such a fun, dainty appetizer. There's something about bite-sized hors d'oeuvres that seem so upscale and elegant...especially when they're topped with a grilled peach!


Today, I want to show you how to seamlessly and effortlessly create this ricotta and peach crostini, along with some tips about picking out the best peaches & grilling them up. This will be your new go-to appetizer after you find out just how easy this is to make!


Peaches - the Star of the Show


One of the main elements of this dish, and the star of the show in my opinion, is the peach! While peaches are in their peak of season June - August, we have to take full advantage and use them in our summer dishes!


If you don't know much about peaches, they're actually a really cool fruit! Peaches are part of the stone fruit family, characterized by a thin skin, soft flesh, and woody pit. Nectarines are a variety of the peach, just with smooth skin. They would make the perfect substitution if you can't find peaches for this dish.


When picking out peaches at the grocery store, give them a sniff. If they have a nice, sweet smell, then they should be good! You'll also want to inspect the skin - look for bright, vibrant colors. Peaches with a green tint have been picked too early, so steer clear of those! Avoid peaches with shriveled skins.


You'll know a peach is ripe when the flesh of the skin has a slight give. You can test this out by slightly squeezing on the peach. Store peaches at room-temperature, stem side down. If they ripen quickly, put them in the fridge for a few extra days. Be sure to eat before the start to wrinkle!


Preparing Your Grill


I hear so many people say they don't know how to grill, or they are scared to grill. Let me tell...you have NOTHING to be afraid of. Grilling is an easy cooking method to grasp. Let me give you a few tips!


When setting up a propane grill, make sure to clean the grill grates before each use. This will reduce the rust buildup on the grates, and ensure leftover buildup doesn't get stuck on the food.


Now that you've cleaned the grill, it's time to get it preheated. This is important! Make sure to allow the grill to preheat to the full temperature (around 400°F) before putting the food on the grill.


Prior to placing the food on the grill, oil the grill grates. This will prevent the food from sticking, especially our fragile peaches. To do this, dip a wadded up paper towel into some oil. Using tongs, wipe the oil over the grate. Just be sure the oil doesn't dip below. Too much oil will cause the fire to flare up.


Always keep an eye on the food after you put it on the grill. Don't walk away, otherwise you'll risk burning the food. The peaches and bread in this recipe grill up especially quickly.


Preparing for a Party


If you're preparing to entertain at home, these grilled crostini are a great appetizer option! Luckily, it;s very easy to prep almost all the crostini ingredients before a party. Here's what you should do:

Make the lemon, garlic ricotta the night before or the morning of the party. This will give the flavors additional time to meld!


Next, cut up the baguette and peaches into slices. Since these elements need to be grilled, I like to place them on a metal sheet tray once they're prepped. It makes it easier to bring out to the grill when you're ready. Just remember to leave the oil off until right before they are placed on the grill.


Finally, after the baguettes are grilled, add them on a cute serving tray. It looks nice and has the functionality to move around. To make things just a little extra special, drizzle the top of the crostini with some balsamic glaze. Delicious!!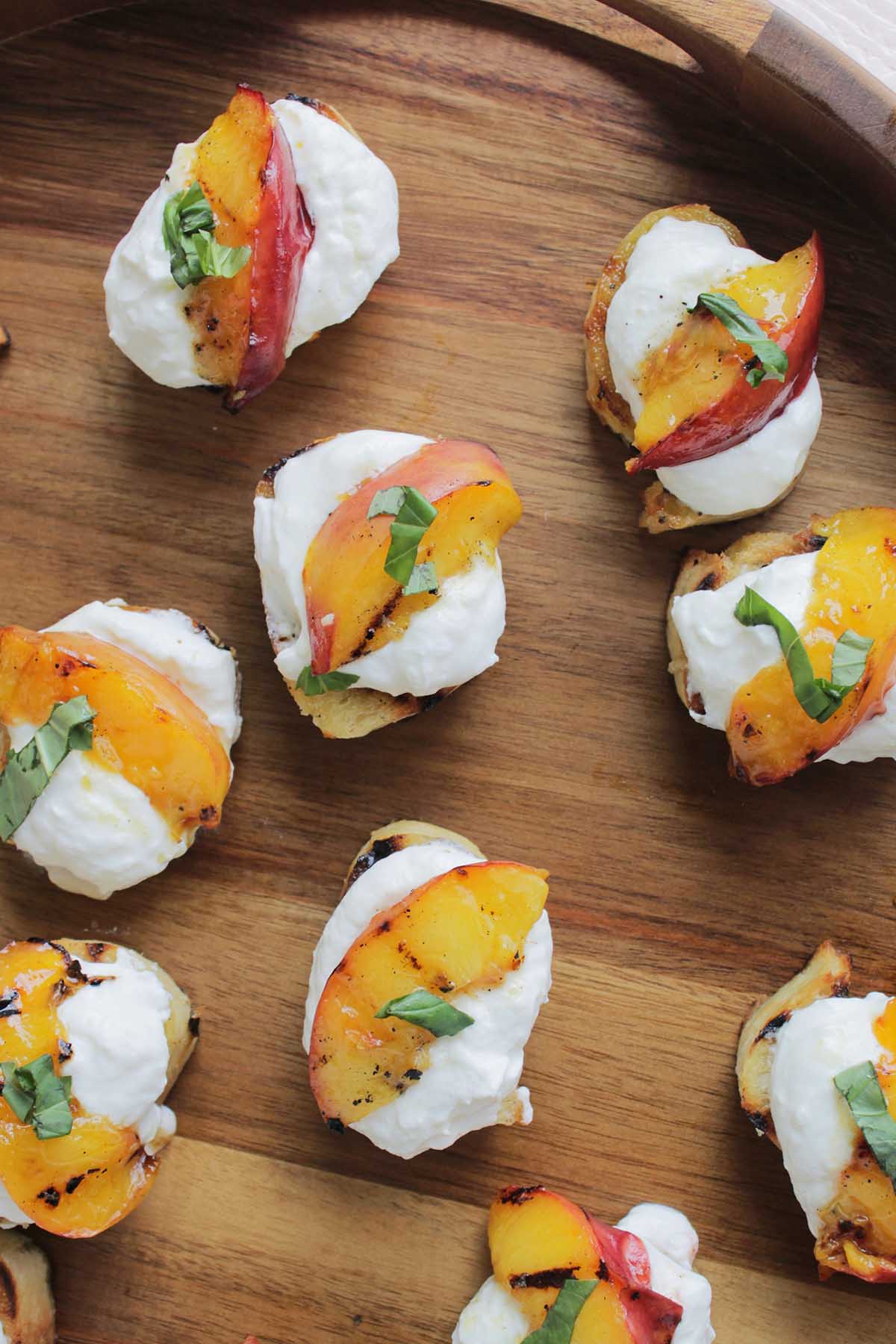 Grilled Lemon Ricotta and Peach Crostini
Grilled peach & lemon ricotta crostini is an elegant, but simple appetizer! The grill infuses just the right amount of smokiness to this dish. It's an ideal dish for entertaining because it comes together so quickly & effortlessly!
Ingredients
15

ounces

ricotta

2

cloves

garlic

finely minced

1

lemon

zested and juiced

1

baguette (or other crusty bread)

sliced into rounds

4

ripe peaches

pitted and sliced ½ inch thick

6

tablespoons

olive oil

divided

fresh basil

chiffonade (meaning cut into long, thin strips)

balsamic glaze (optional)

for topping
Instructions
Preheat grill to medium high (around 400°F).

In a medium bowl, mix together ricotta, garlic, lemon zest, and lemon juice until combined. Allow to rest in the refrigerator while other ingredients cook.

Coat sliced baguette rounds in 4 tablespoons of olive oil. Season with salt and pepper to taste. Coat peaches in 2 tablespoons of olive oil.

Grill peaches for 2-4 minutes per side. Grill bread for 1-2 minutes per side until golden brown and marked on both sides.

Lay out bread on a tray and top each piece with a smear of ricotta, a slice of peach, and piece of basil. Optionally, drizzle over balsamic glaze. Serve immediately.
Nutrition
Calories:
487
kcal
Carbohydrates:
41
g
Protein:
15
g
Fat:
30
g
Saturated Fat:
10
g
Polyunsaturated Fat:
3
g
Monounsaturated Fat:
16
g
Cholesterol:
43
mg
Sodium:
379
mg
Potassium:
407
mg
Fiber:
4
g
Sugar:
11
g
Vitamin A:
775
IU
Vitamin C:
20
mg
Calcium:
230
mg
Iron:
2
mg
Have you tried this recipe?
Tag @homebody.eats on Instagram so we can see your creations!
Other Appetizer Posts You May Like


✔ Summer Red, White, & Blue Charcuterie Board


✔ Pulled Pork Nachos With Slaw & Marinated Onions


✔ Mushroom, Leek, & Prosciutto Pizza


Let's Share Recipes


I love trying new recipes! Let's discover new recipes together on Pinterest!


P.S. If you made this recipe, share a picture with me on Instagram using #HomebodyEats. I love seeing your creations!!