Mix up a large batch cocktail (this recipe makes 4 servings) using Bacardí Limón rum, grilled peaches, and basil. This peach cocktail recipe has a refreshing and light taste, making it the perfect summer drink.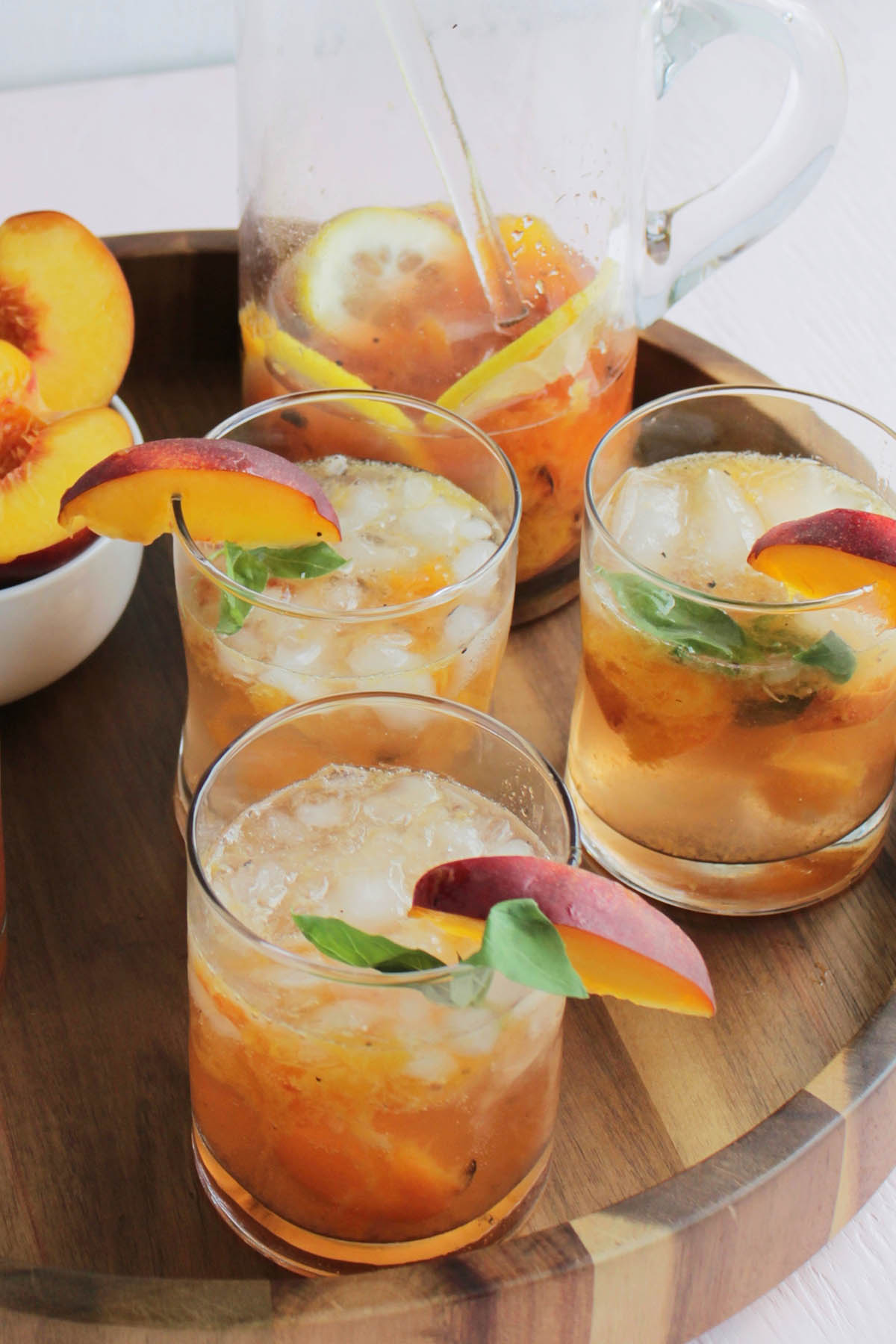 Summer is the time to sip on a refreshing cocktail. This drink combines two iconic summer flavors - peaches and basil.
The peaches are grilled, then combined with lemon citrus rum, and muddled with lemon juice, basil, and honey. The grill helps to infuse another subtle flavor into the drink.
If you love sangria and all the fruit that comes with the drink, this cocktail is precisely like that! You can add pieces of grilled peaches into the serving glass for even more flavor.
Jump to:
What You'll Learn In This Recipe
How to purchase a juicy peach from the grocery store.
Why muddling is important in this cocktail.
How to grill peaches to add additional flavor to the cocktail.
If you enjoy learning how to make cocktails at home, sign up for my free bartender cheat sheet. This guide will teach you 45 classic cocktail recipes you'll love mixing up.
Ingredients You Need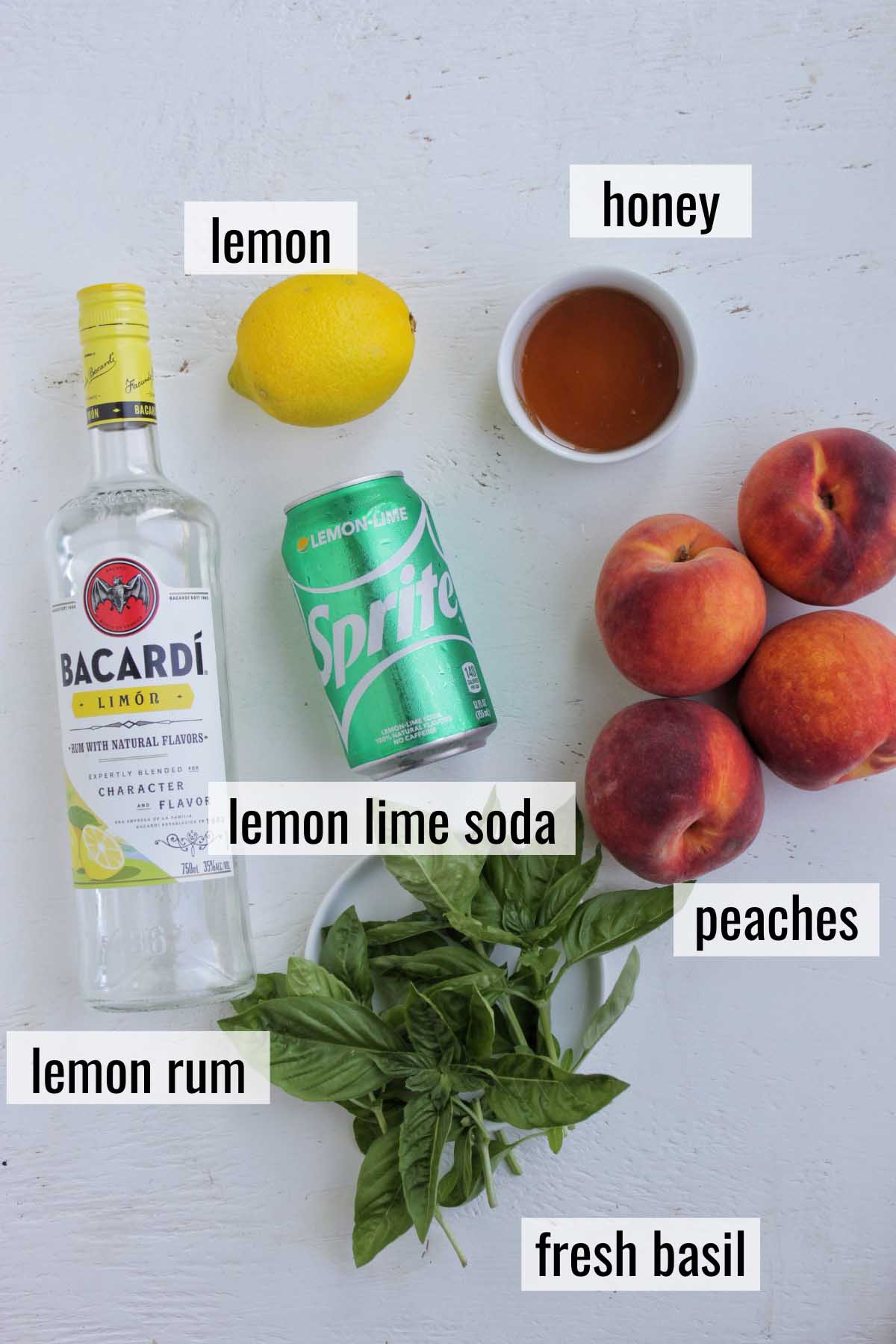 Here are the ingredients you'll need to make this peach basil cocktail:
Peaches: Peaches are in peak season during the months of June - August. When picking out peaches at the grocery store, give them a sniff. If they have a nice, sweet smell, then they should be good to purchase. You'll also want to inspect the skin to look for a bright, vibrant color.
Fresh basil leaves: Basil may seem like a weird ingredient in this cocktail, but it adds a bitter and fresh note.
Honey: This is the sweetener for the drink. Feel free to adjust with more or less honey depending on your personal preference.
Lemon juice: Freshly squeezed lemon juice enhances the lemon rum. It adds additional acidity and bite to help balance out the sweetness of the peaches. I'd suggest freshly squeezing the lemon juice rather than using the bottle version.
Lemon rum: I love using Bacardí Limón rum for this drink recipe. However, another type of white rum or citrus rum would also work.
Lemon lime soda

: This ingredient adds some bubbles to the cocktail. You can use any lemon lime soda such as Sprite, Fresca, 7Up, or Sierra Mist.
How To Make This Recipe
The first step in this recipe is grilling the peaches.
To prepare, heat up a gas grill to high heat (around 450°F - 500°F). It takes about 15 - 25 minutes for the grill to fully heat, so make sure to prepare for this added time.
Once the grill is properly heated, cook the peaches covered over direct heat for 2 - 3 minutes per side. The peaches should soften and even char up a little around the edges.
Remove the peaches from the grill and chop them into bite-sized pieces. Allow them to cool before mixing up the cocktail.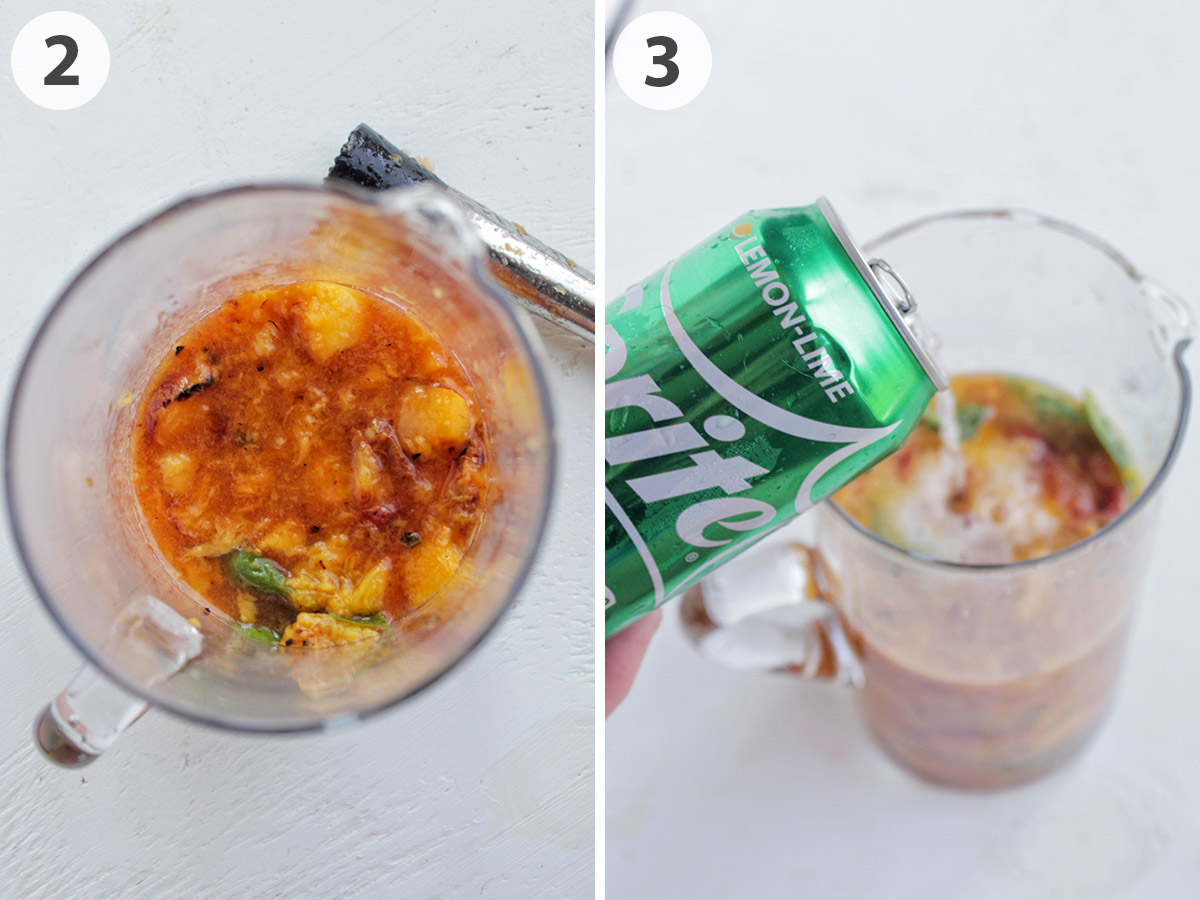 Now it's time to mix everything up for the grilled peach cocktail. Add the peaches, basil, honey, and lemon juice to a pitcher and muddle together to release the juice of the peaches and combine the flavors.
Muddling is a great bartender technique to release the natural juices from fruit and oils from herbs.
Next, pour the lemon rum and lemon lime soda into the pitcher. Give everything a stir until well combined.
To serve, grab four lowball cocktail glasses and fill them partway with ice. You can strain the cocktail into the serving glasses using a Hawthorne strainer, or allow some of the muddled peaches to fall into the serving glasses.
Expert Tips
Don't add ice to the pitcher. This will dilute the cocktail. Instead, add ice into each individual serving glass to chill the drink.
Allow the peaches to properly cool after they've been grilled. If they're still hot when you mix everything up, the whole cocktail will be warm.
Do you love an extra cold drink? Freeze the lowball glasses for 30 - 45 minutes in the freezer before serving.
If you're looking for an appetizer that would pair well with this cocktail, try making some peach and ricotta crostini appetizer bites.
Recipe FAQs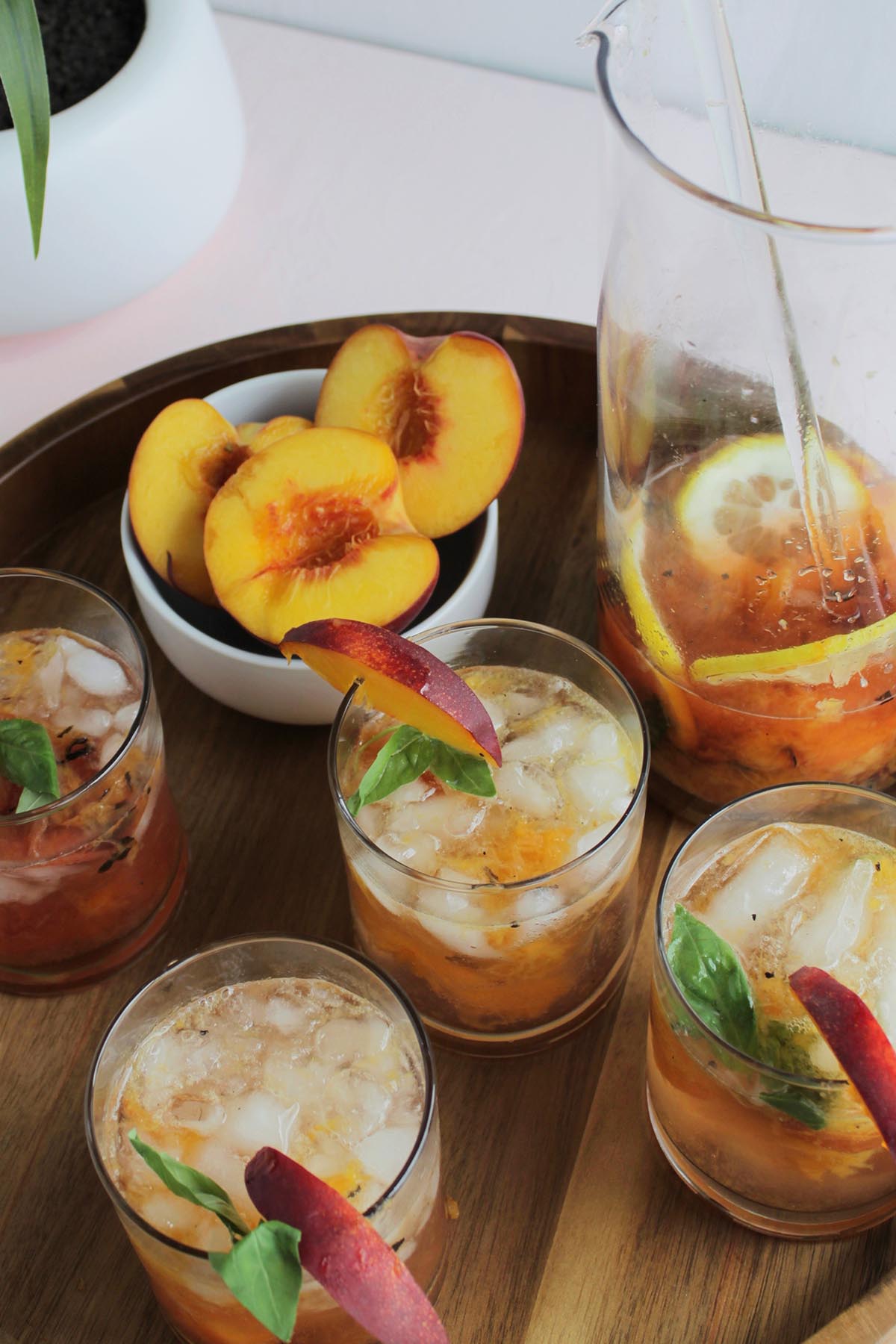 More Cocktail Recipes
Love this recipe? Please leave a 5-star ⭐⭐⭐⭐⭐rating in the recipe card below. Don't forget to follow along on Instagram, Facebook, YouTube, and Pinterest for more recipes.