Looking for unique and fun ways to decorate macarons? Check out these easy ideas for spicing up how your macarons look.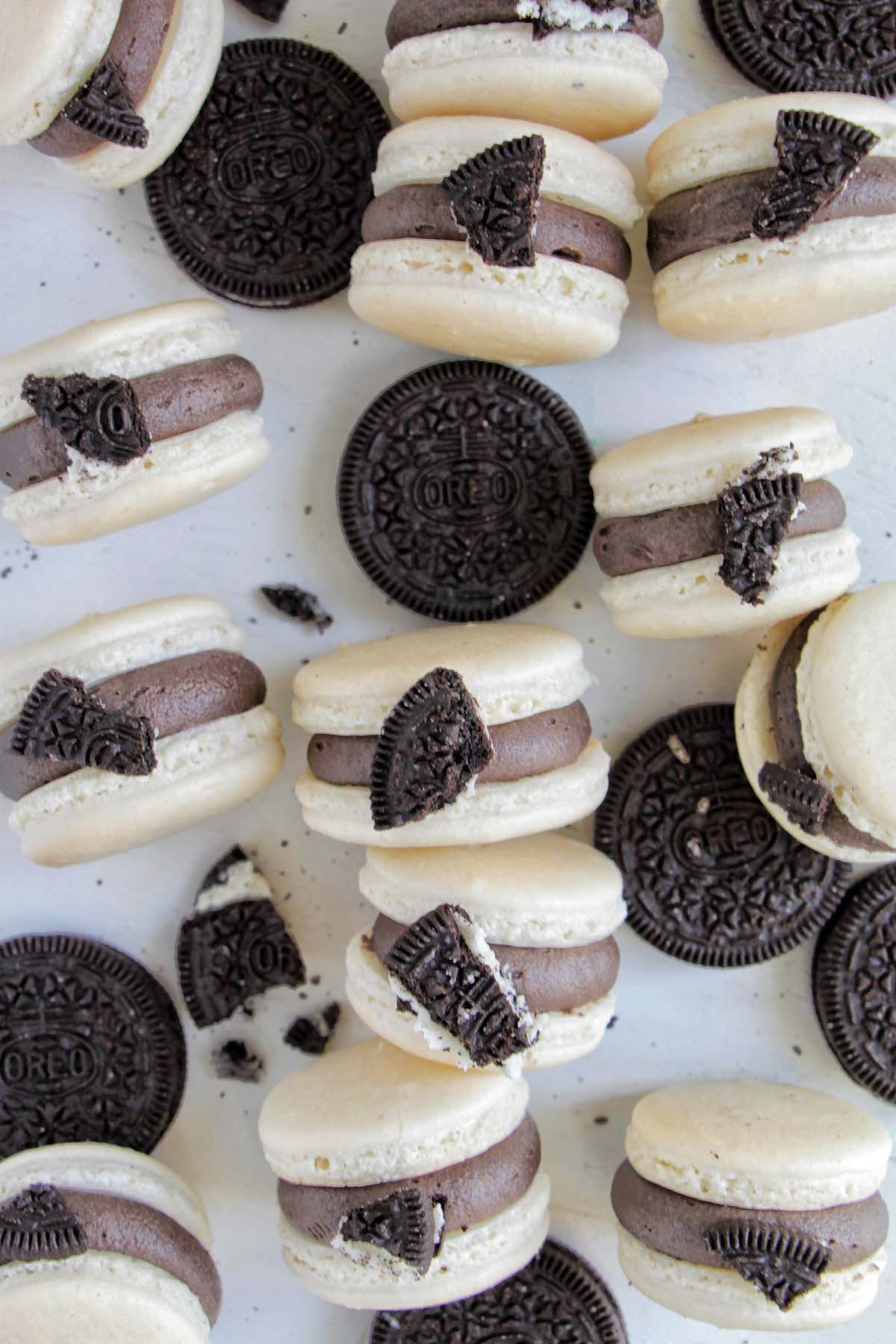 Macarons are some of the most fun desserts to make, at least in my opinion.
Once you learn how to perfect baking macarons, you'll realize just how much creativity can go into the macaron filling, flavors, and decorating.
As you know, part of the beauty of baking macarons is making them visually appealing to eat. That's why, today I'm going to show you some of my favorite ways to decorate macarons.
Each of these macaron decoration ideas can be manipulated and transformed to match your creative vision. Be sure to have fun along the way as you're baking!
Jump to:
What You'll Learn In This Article
Easy macaron decorating ideas to visually enhance your macaron shells.
How to decorate macarons with sprinkles. Plus, learn if you can bake sprinkles in the oven.
The best supplies all macaron bakers should have on hand.
Enjoy learning tips about making macarons? Sign up for my free macaron piping template and email series. You'll learn my favorite tricks for achieving perfect macarons.
Macaron Decorating Ideas
Decorating your macarons doesn't have to be hard or complicated. Here are some of my favorite easy and elegant macaron decorating ideas.
1. Mini Chocolate Chips or Cacao Nibs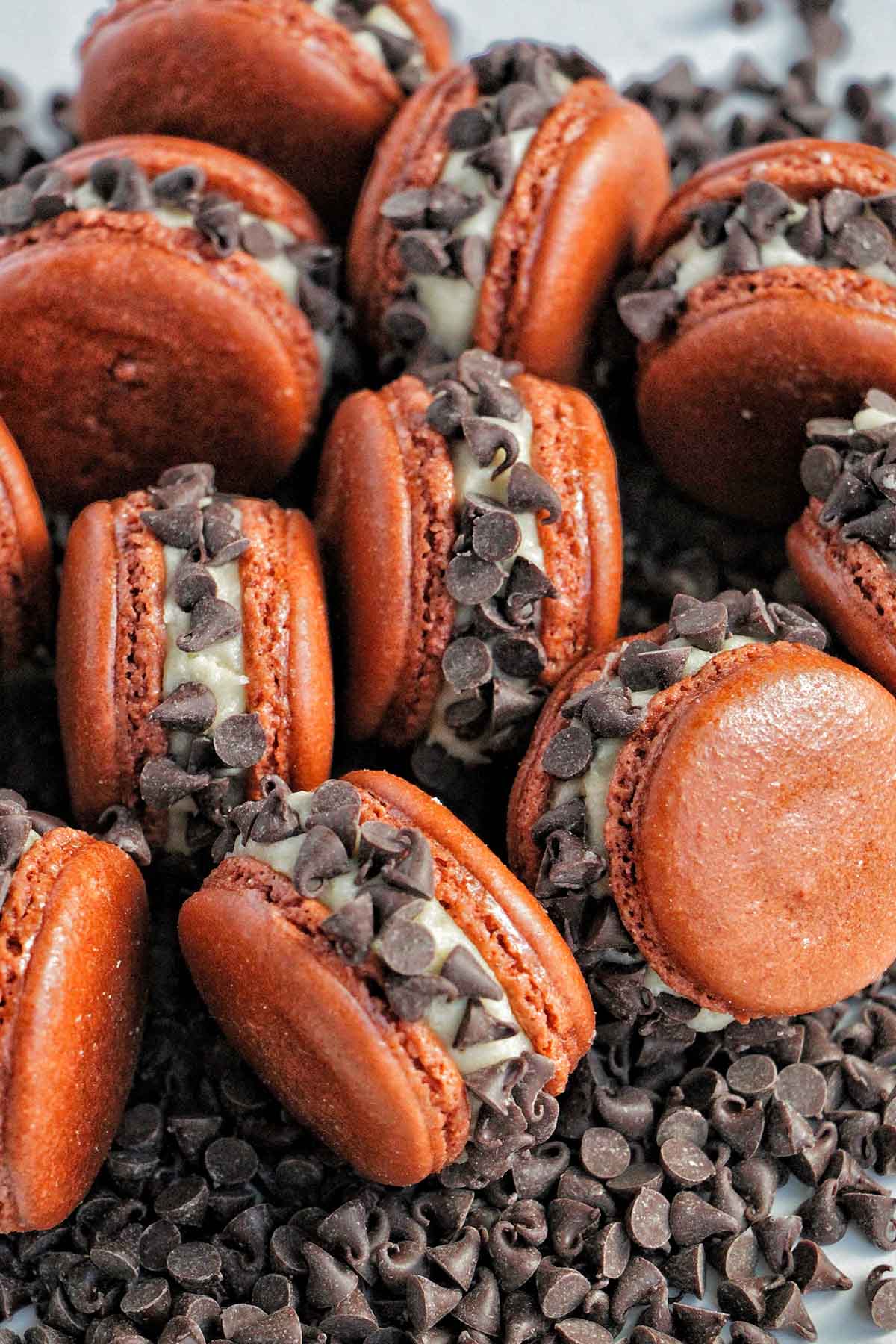 If you're baking a chocolate-based macaron or filling your macarons with chocolate ganache, adding mini chocolate chips or cacao nibs is a great option.
Not only do these elements visually enhance the macarons, but they also add some texture and extra flavor.
Feel free to mix up the type of chocolate you use for this decorating idea. You could also try shaved chocolate curls or chopped-up bits of your favorite chocolate candy bar.
For this technique, make sure you use a filling that can grab onto the chocolate along the edges of the macaron. I prefer a buttercream or ganache based filling.
2. Decorative Piping Tip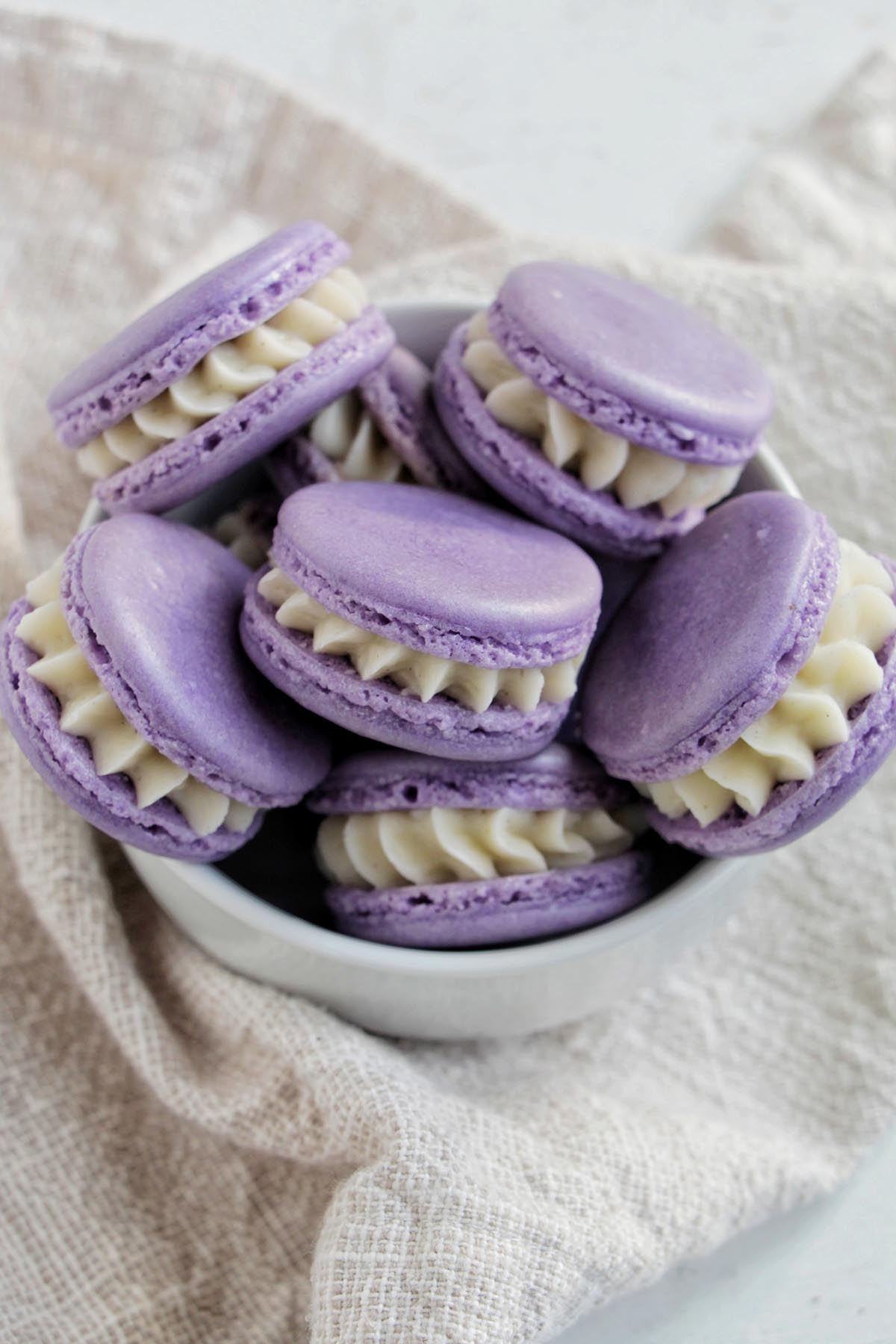 I love using different piping tips to add visual appeal to macarons. This may be one of the easiest techniques in this post.
I wrote a whole article on the best macaron piping tips, which includes my favorite piping tips to make fun designs with macaron filling. Be sure to take a look at that article so you can see photos of what each piping tip looks like.
I've found that the piping tip designs work best with buttercream and ganache fillings.
Some of my personal favorite piping tips for designs include the Ateco star family piping tips and the Wilton 1M piping tip.
3. Colorful Macaron Shells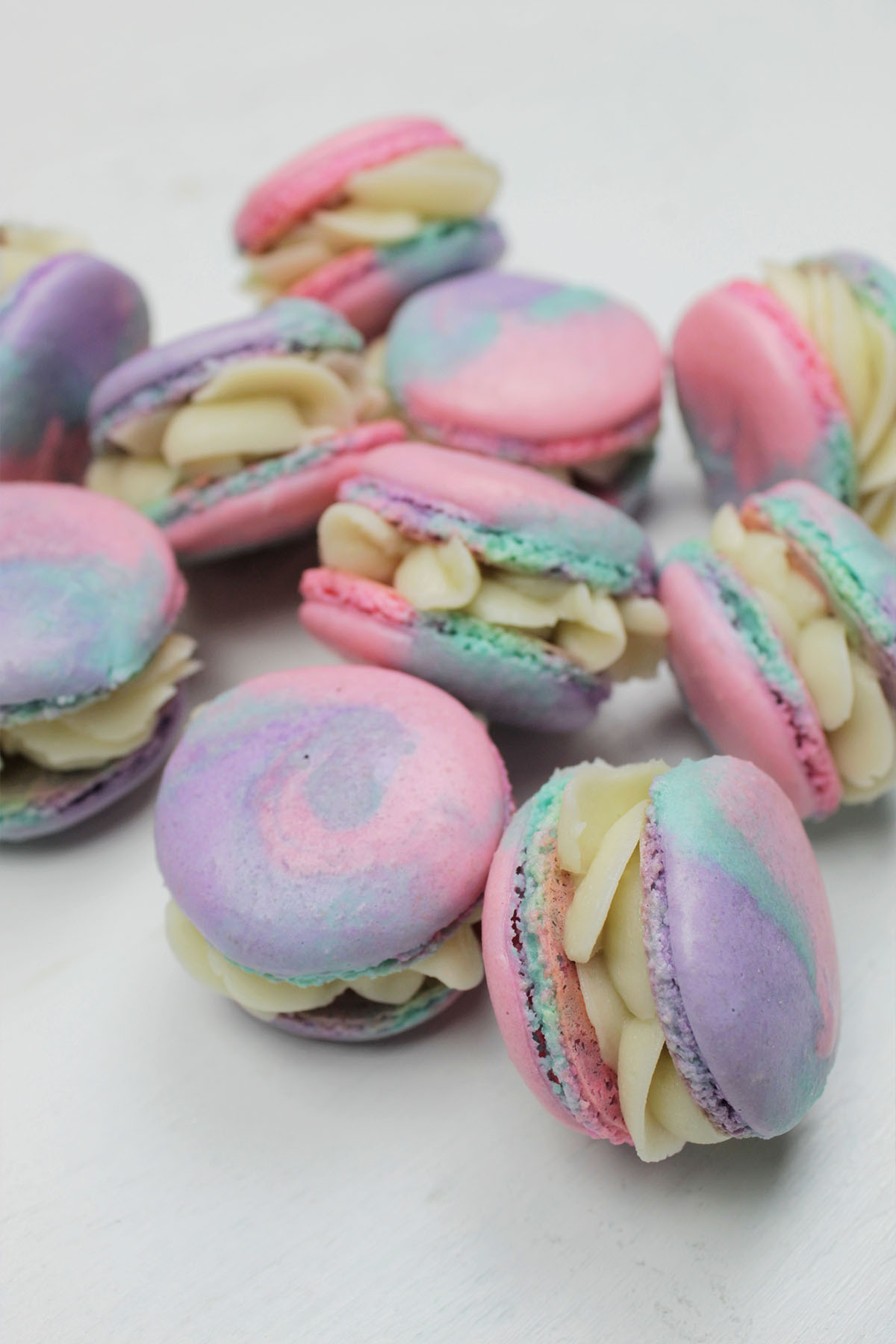 You likely already know that macaron bakers strategically dye macaron shells to match the flavor of the filling inside the shell. This helps someone visually recognize the flavor of the macaron.
Even though traditional macaron shells are dyed a singular color, you can also make a marble-like or tie-dye pattern on your macaron shells for a fun decoration.
This technique is simple, but you can read more about it in my tie-dye macaron recipe. Basically, you'll divide your macaron batter into three separate bowls, then dye each batter a different color.
From here, all the batters are layered into a singular piping bag, then piped to give the unique tie-dye effect.
This technique would be perfect for a themed birthday, Christmas, or really any holiday. Just switch up the food coloring depending on the occasion.
4. Pipe Macaron Batter Into A Shape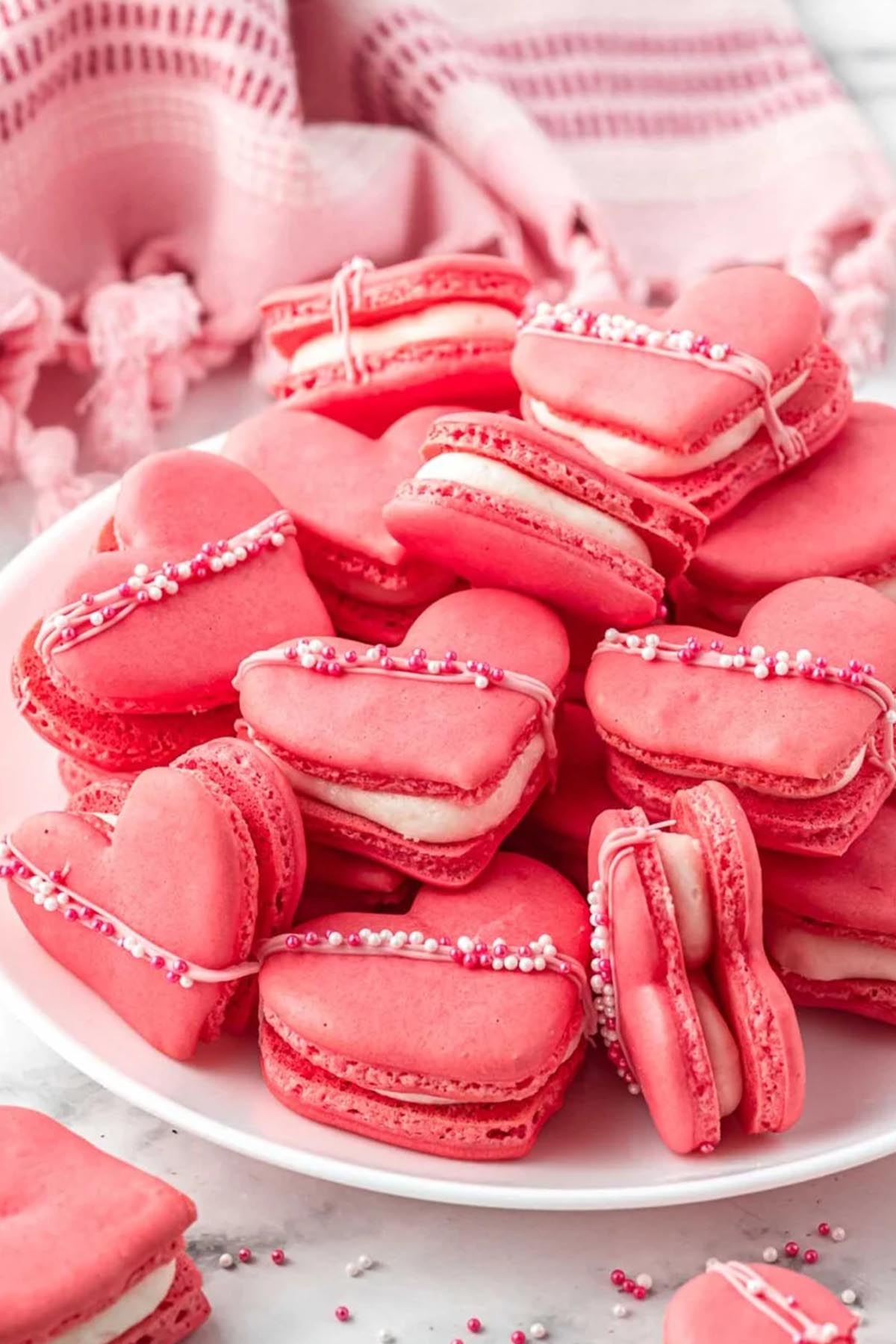 Another easy way to decorate macarons is by piping the macaron batter into a fun shape.
You can easily create your own template by copying and pasting your design onto a printable document on your computer. You might have to print off the design and adjust the size to your liking (don't make the macarons too big or they'll be hard to pick up and eat).
After you've perfected the size, use your homemade template just like you would use a normal circle template by placing it underneath a piece of parchment paper.
I'd recommend using a small piping tip when piping the macaron batter. This will make any detailed piping work a breeze.
Some of my favorite ways to use this decorating technique include:
Numbers for a birthday.
Shapes for different holidays - a heart for Valentine's Day, a tree for Christmas, or a ghost for Halloween.
An outline of your favorite character.
5. Cinnamon and Sugar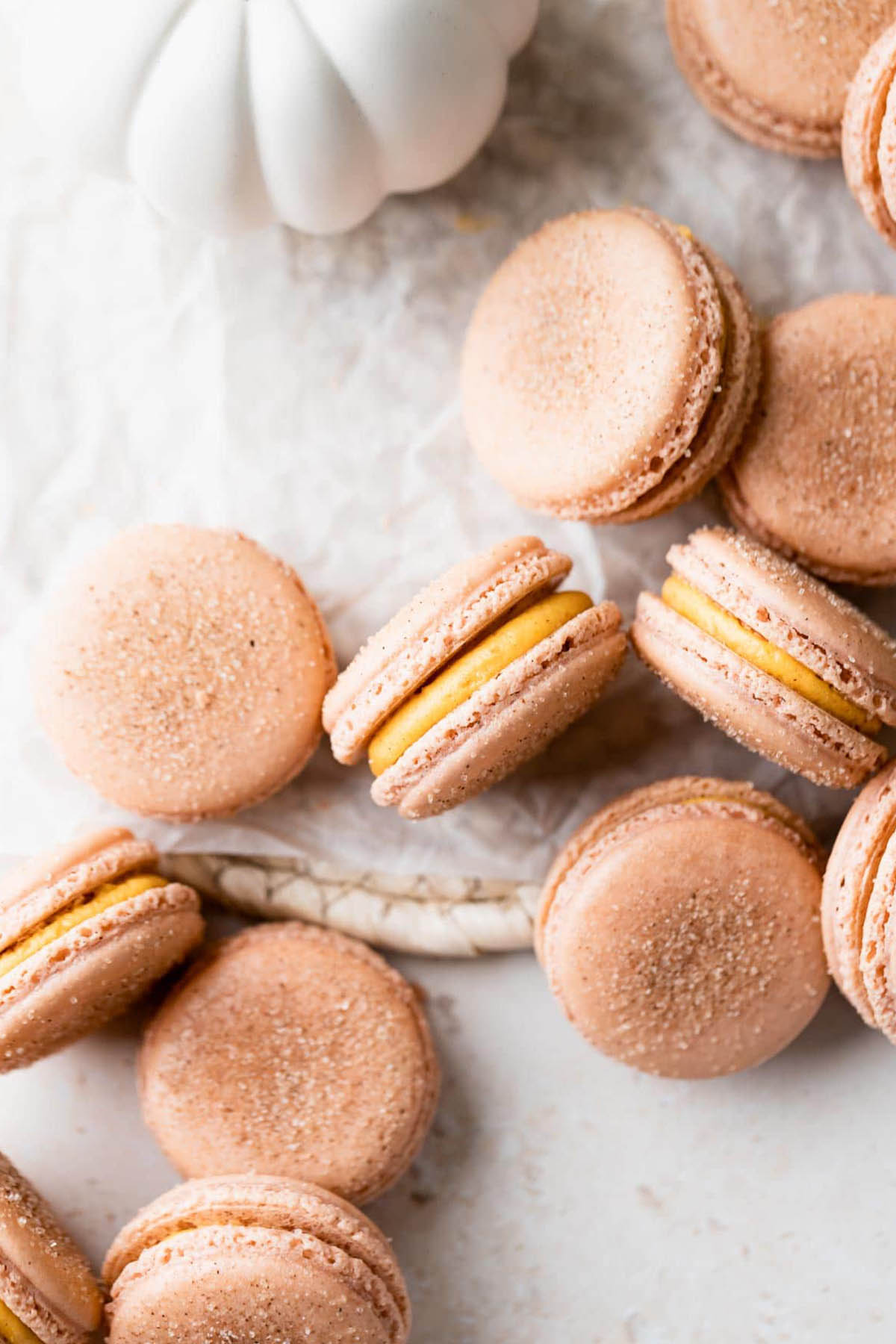 Would you prefer to decorate your macarons before baking? Then this is the technique for you!
First, mix together a cinnamon and sugar mixture. Then, after you've piped the macarons and released any air bubbles, sprinkle the cinnamon sugar mixture over the macarons.
The cinnamon and sugar will dry into the macaron shells, then you can directly bake them in the oven. Be sure to read more about this technique used for pumpkin churro macarons.
The cinnamon and sugar provide the perfect no-fuss decoration and a bit of crunch when you bite into the macaron.
Don't forget to be creative with this technique. You can switch up the type of sugar you use, or swap cinnamon for another one of your favorite spices.
6. Drizzle With Chocolate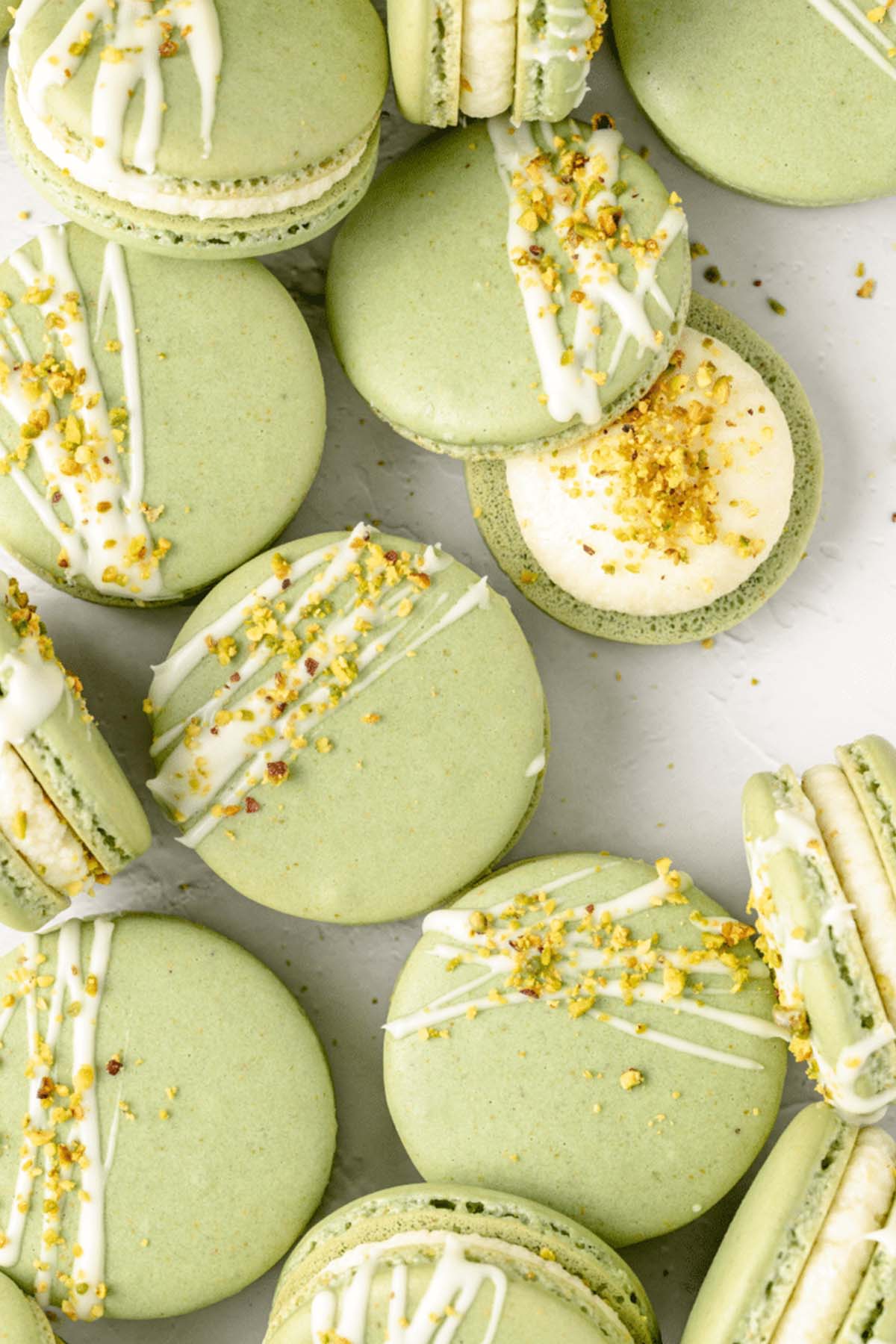 An easy, yet very elegant way to decorate macaron shells is with a drizzle of chocolate.
All you'll need to do is melt your favorite type of chocolate (white, dark, milk), then drizzle it on top of the macaron shells using a spoon or piping bag.
Feel free to make fun patterns on top, as well as sprinkle nuts, cookie crumbs, sprinkles, or other fun garnishes on top of the chocolate while it's still wet.
You can also add powdered dye or colorings to your chocolate to make it even more unique.
7. Chocolate Dipped Shells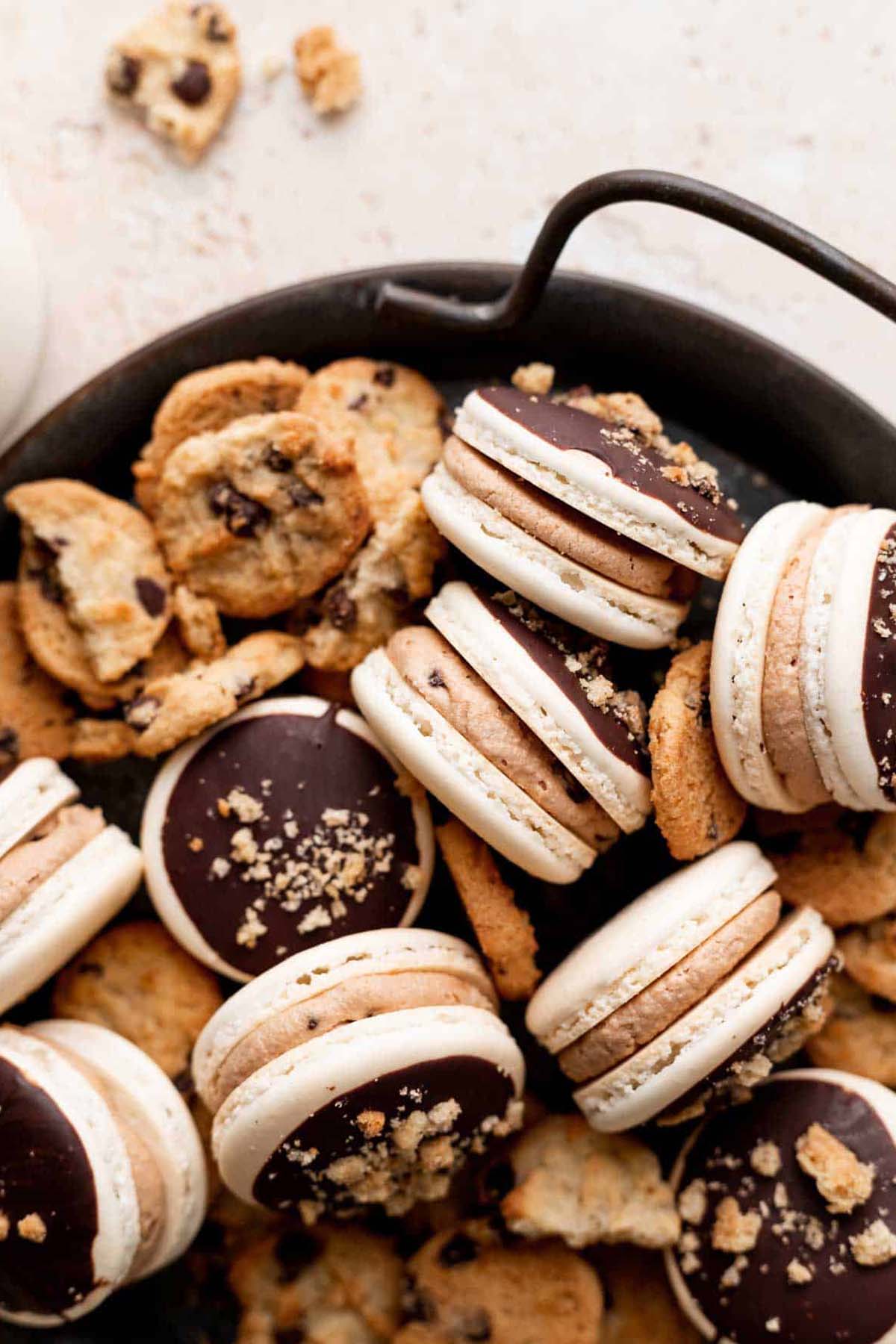 If you love chocolate, try dipping your macaron shells in a chocolate topping.
Similar to the decoration idea above, you can then sprinkle any sort of garnish on top while the chocolate is still wet. The garnish can be anything from graham crackers to a finely chopped candy bar.
For best results, remember to temper the chocolate before dipping the macaron shells. This is a technique that results in chocolate that's shiny, smooth, and snaps when you bite into it.
I love this decoration idea paired with flavors like raspberry, strawberry, or peanut butter.
8. Edible Gold Paint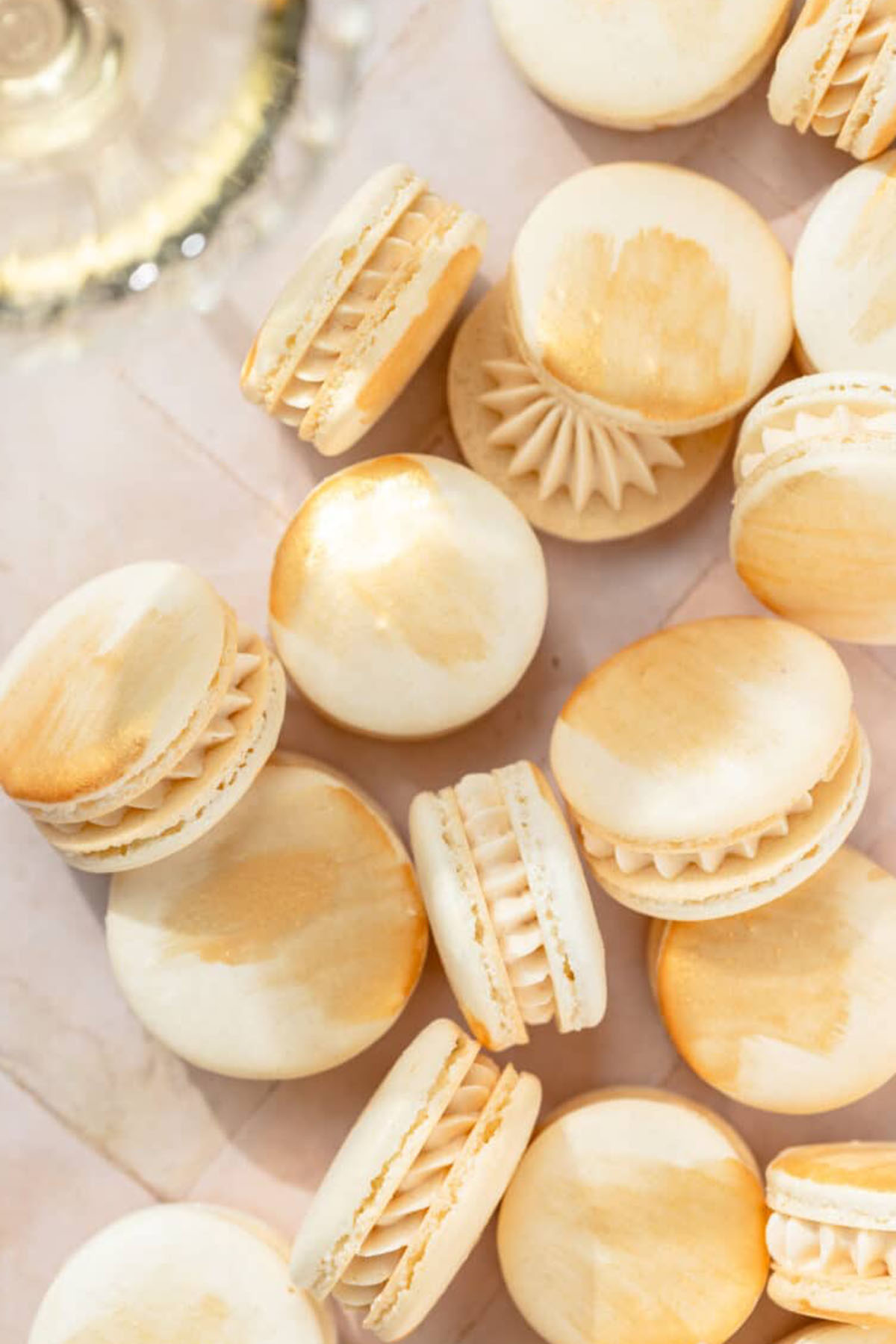 If you're making macarons for a wedding or bridal shower, this is the perfect decoration idea. All you need is some edible gold paint, a food safe paintbrush, and neutral colored macaron shells.
You can paint a decorative pattern on the macarons, then allow them to dry completely before filling.
This technique could work with any colored edible paint or even a dusting of glitter.
9. Decorative Sprinkles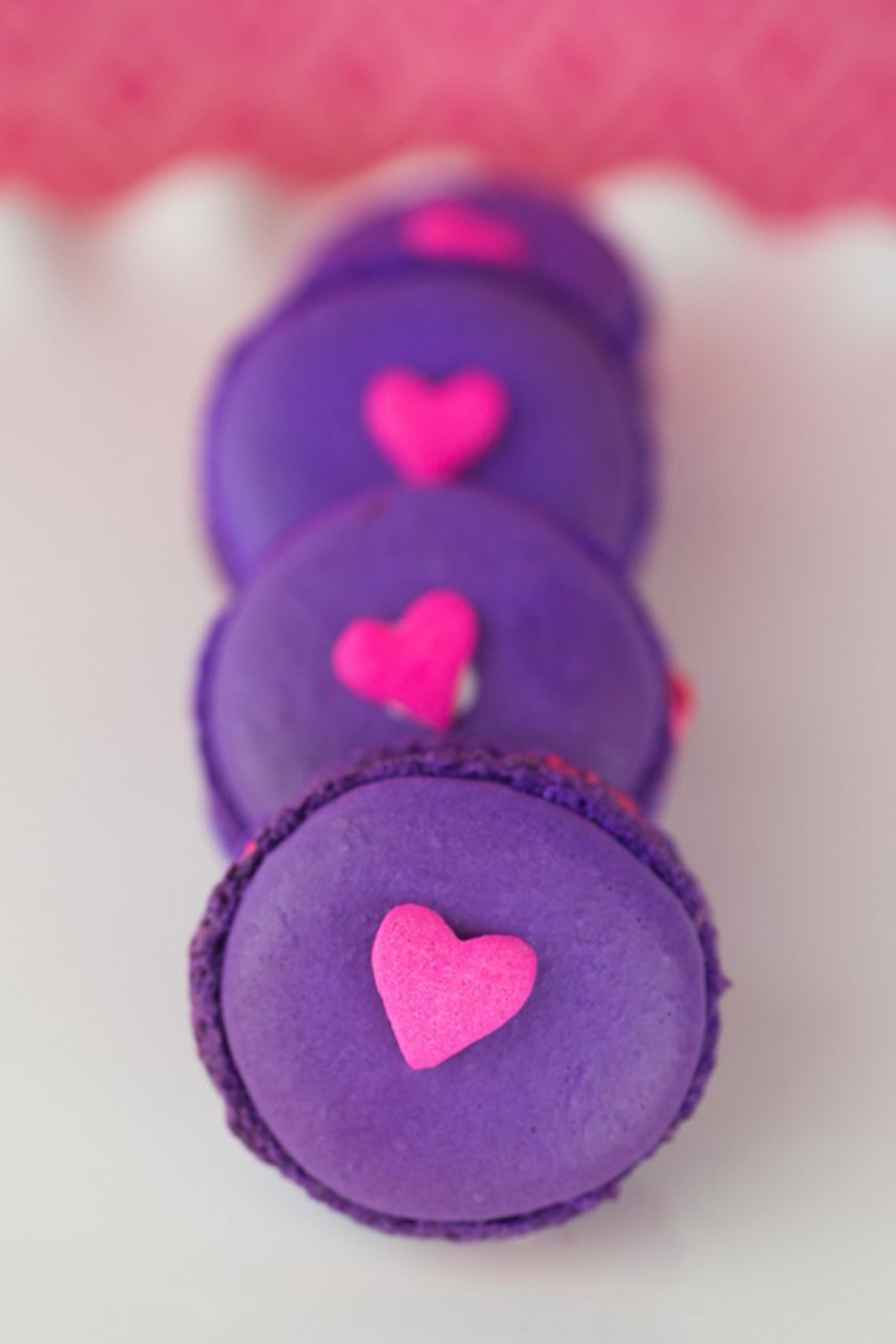 If you're a sprinkle lover, this easy decoration idea is for you. Try adding sprinkles to your macarons after you've piped the batter and released the air bubbles.
You can use a variety of sprinkles for different looks. Try using one large sprinkle in the center of the macaron for a big statement. Or, opt for sugar sprinkles, non-pariels, or jimmies all around the shell.
The great thing about decorating with sprinkles is that you can easily change the look, feel, texture, and color of the macarons. You can easily take macarons from elegant to whimsical or fun with this decoration.
10. Crushed Candies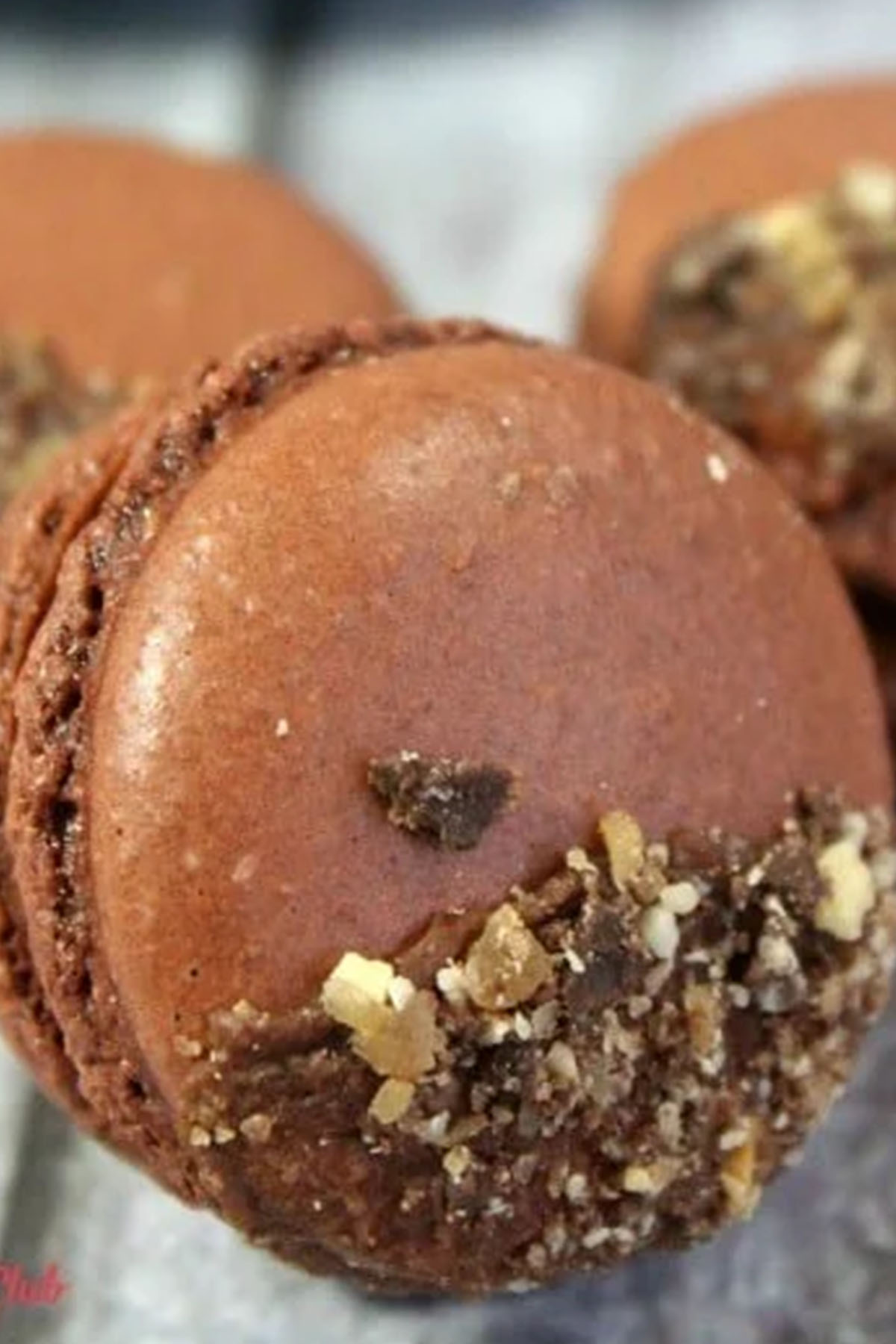 If you're a candy lover, or you're making candy-inspired macarons, consider using finely chopped candies as a macaron topping.
You can dip the finished macaron shells in chocolate, then into the finely chopped candy bar.
I wouldn't recommend adding the candy to the macaron batter before baking. The candies will melt in the oven and cause a mess.
Some of my favorite candies to use for this decoration include M&M's, Twix, Reese's peanut butter cups, and Snickers.
11. Graham Cracker Crumbs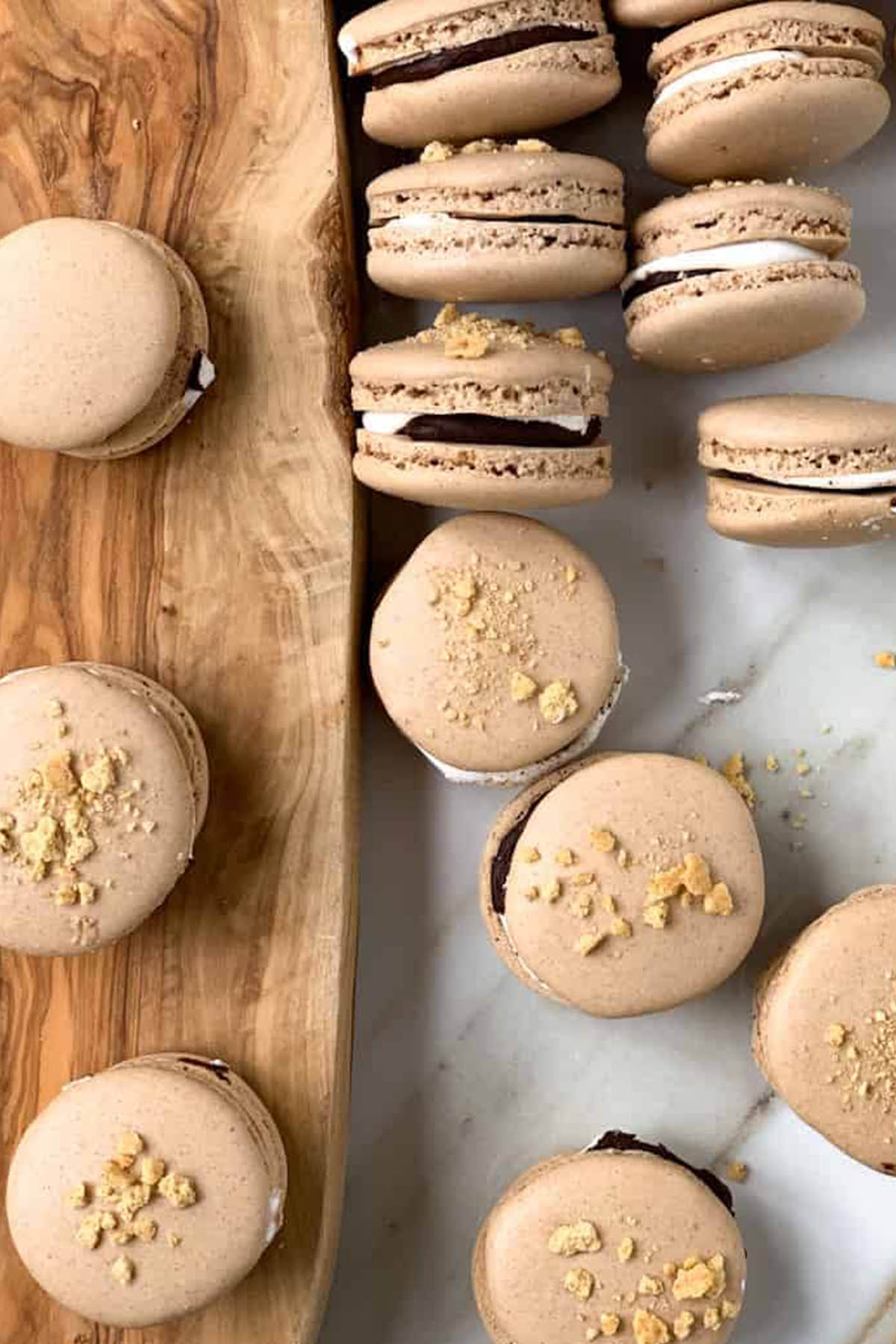 A great textural element that also serves as a decoration is graham cracker crumbs. Similarly, you could use crushed biscoff cookies, pretzels, ice cream cones, or your favorite cereal.
Add the crumbs on top of macaron batter that's been piped after the air bubbles have been released. This allows the crumbs to dry and adhere on the macaron shell.
Don't forget to bake the macarons as directly in your recipe.
Personally, I like using this technique only for the top macaron shells. This adds a beautiful garnish and some extra crunch to the macarons.
12. Sprinkle of Spice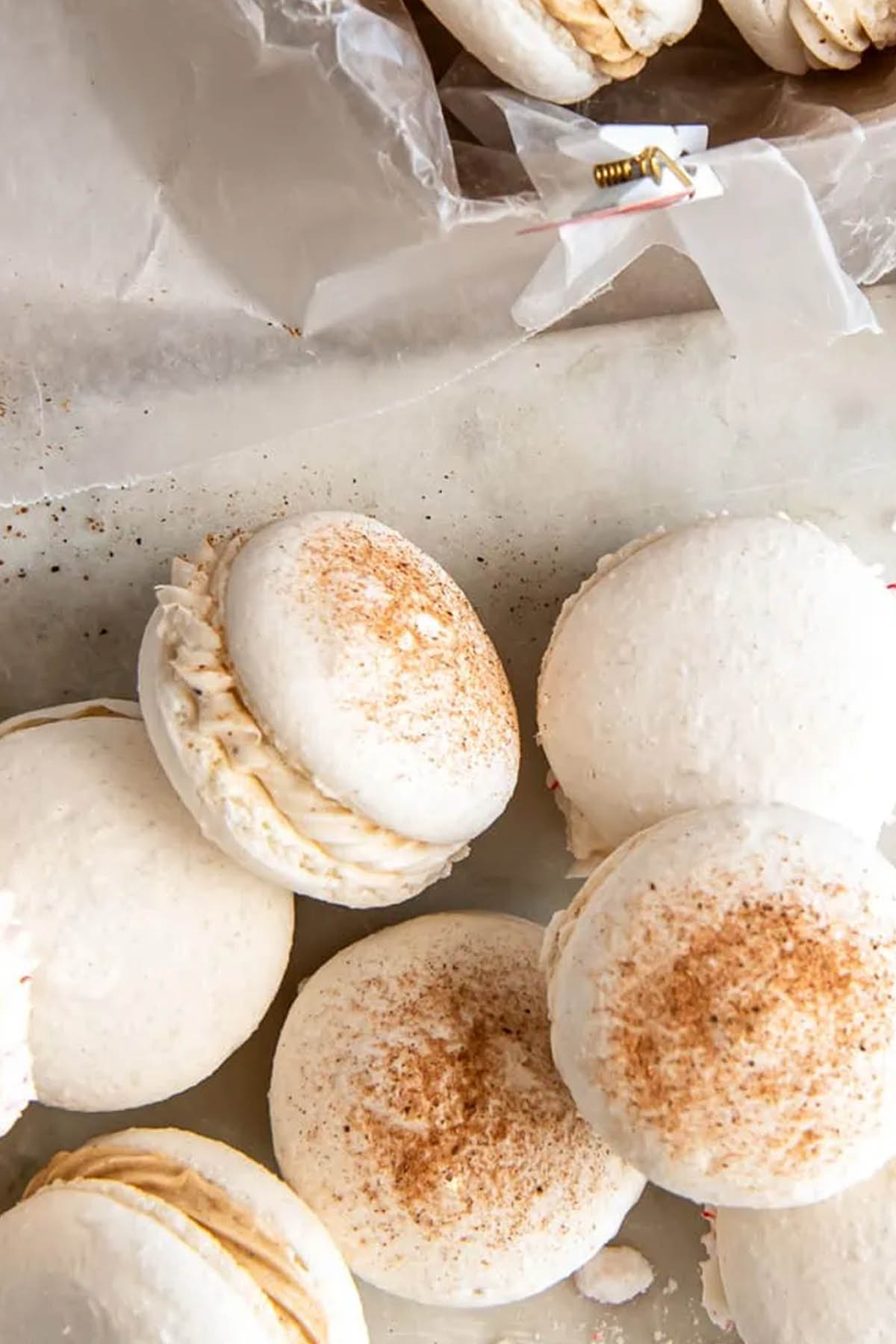 If you're making macarons with a spice-forward flavor, consider garnishing them with an additional sprinkle of spice.
You can dust either the macaron shell or the filling for an easy decoration and flavor enhancer.
Be sure to think through your flavor profile to ensure the additional spice doesn't throw anything off. I like to test one macaron, taste it, and see if the added spice enhances the flavor in a positive manner.
13. Freeze Dried Fruit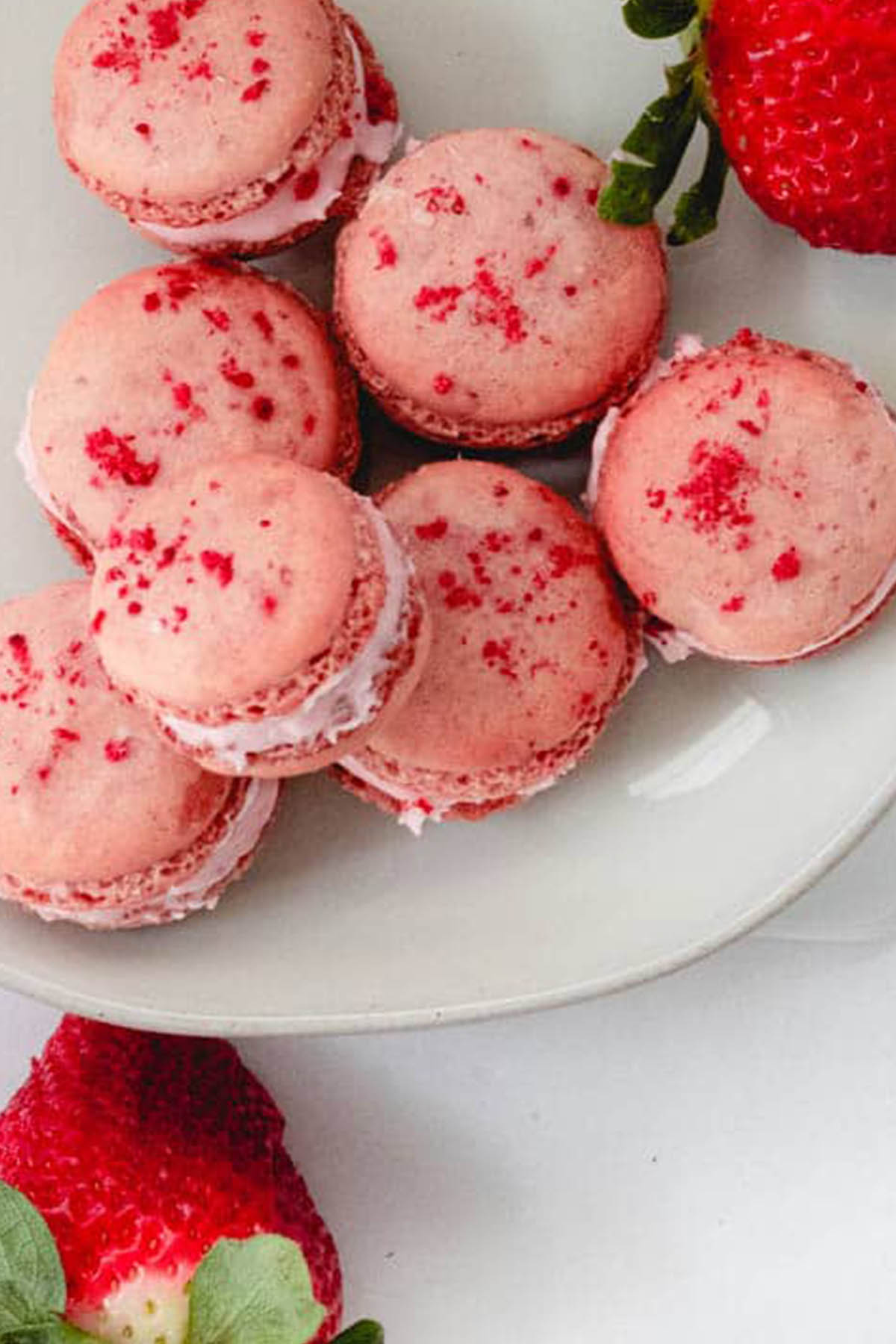 An easy decoration for fruit-flavored macarons is freeze dried fruit. Place the freeze dried fruit in a food processor and pulse until finely ground.
Then, sprinkle the finely ground freeze dried fruit on top of the macaron shells after they've been piped and the air bubbles have been released. The macarons can then bake according to your recipe.
This technique can work for a variety of macaron flavors. Plus, it adds the perfect pop of color on top of your macarons.
Expert Tips
If you're an avid macaron baker, here are some of my favorite go-to supplies to have on hand for easy decorating:
FAQs
Can I decorate macarons before baking?
Yes, there are many ways to decorate macarons before they bake. Here are a few of my favorite pre-baking decoration ideas:

- Use three different colored food dyes to create a tie dye macaron shell.
- Pipe the macaron batter into a fun shape.
- Dust cinnamon and sugar, cookie crumbs, or sprinkles on top of the macarons after piping the batter and releasing any air bubbles.
What's the easiest way to decorate macarons?
The easiest way, in my opinion, to decorate macaron shells is with a fancy piping tip. Using a unique piping tip will allow you to creatively fill the macaron shells.

Be sure to check out my favorite macaron piping tips to see photos of some of my favorite designs and techniques for decorating macarons with their fillings.
Can I add decorations to my macaron filling?
Yes, adding decorations to your macaron filling is an easy and fun way to decorate the macarons. Here are some of my favorite ingredients to roll the macaron filling in after it's piped:

- Cookie crumbles
- Graham crackers
- Candies or mints
- Chocolate chips or cacao nibs
- Pretzel crumbs
More Macaron Articles You'll Love
Love this guide? Please leave a comment below. Don't forget to follow along on Instagram, Facebook, YouTube, and Pinterest for more recipes.