Learn how to add flavor to macarons. These ideas include unique fillings, flavoring macaron shells, and flavor-enhancing decorations.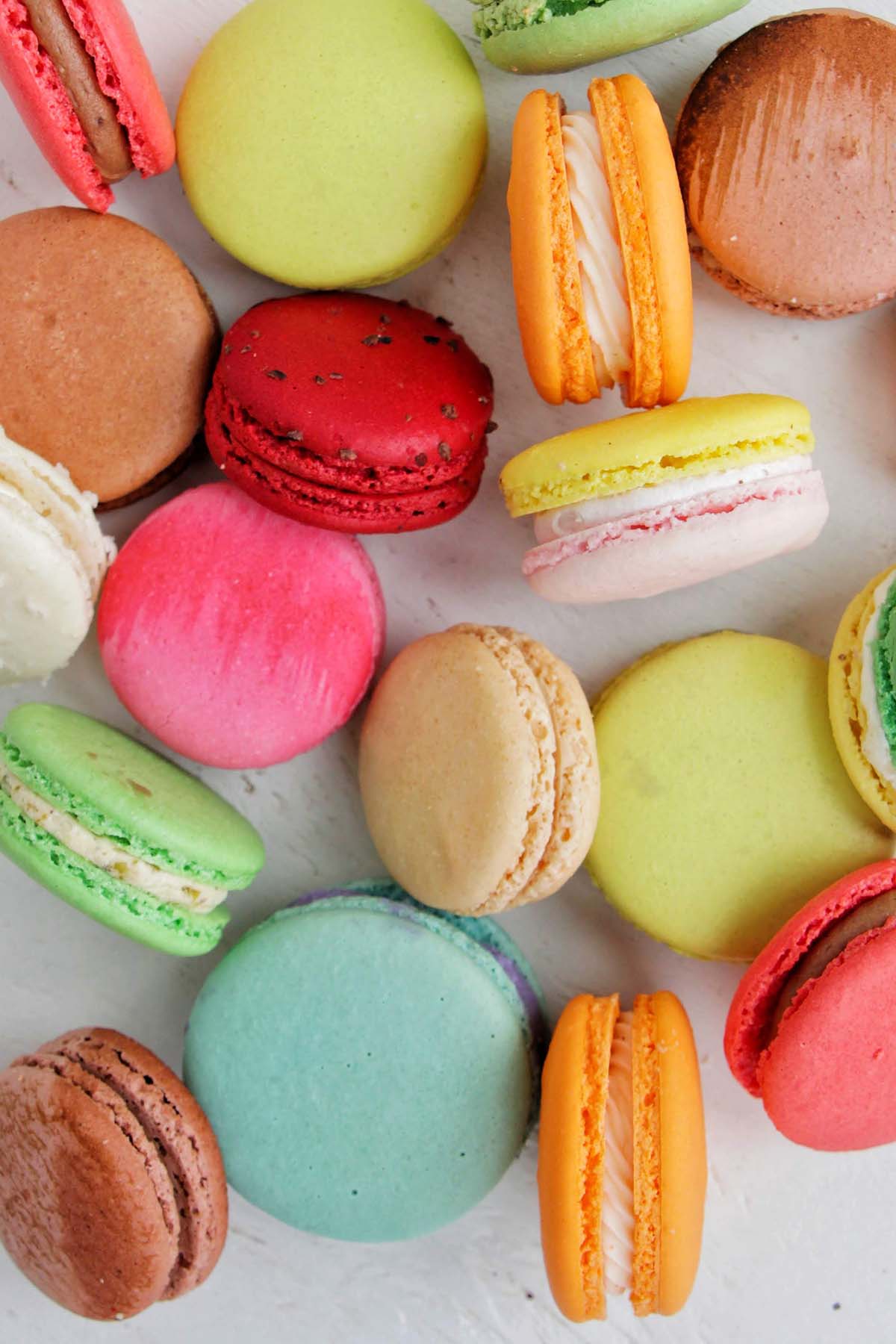 Jump to:
Macarons are known for their almond-flavored shells paired with a delicious filling between them. This basic combination allows for lots of creativity when it comes to flavoring macarons.
There are endless ways to impart flavor to this beloved dessert.
If you're a macaron baker who's looking to get creative with your flavor combinations, I'm here to share my favorite ways to add flavor to macarons.
Whether it's through the macaron filling, shell, or decorations, there are plenty of ways to impart flavor and bake your own unique-tasting macarons.
If you enjoy baking macarons, don't forget to sign up for a free e-book with my top five macaron filling recipes of all time!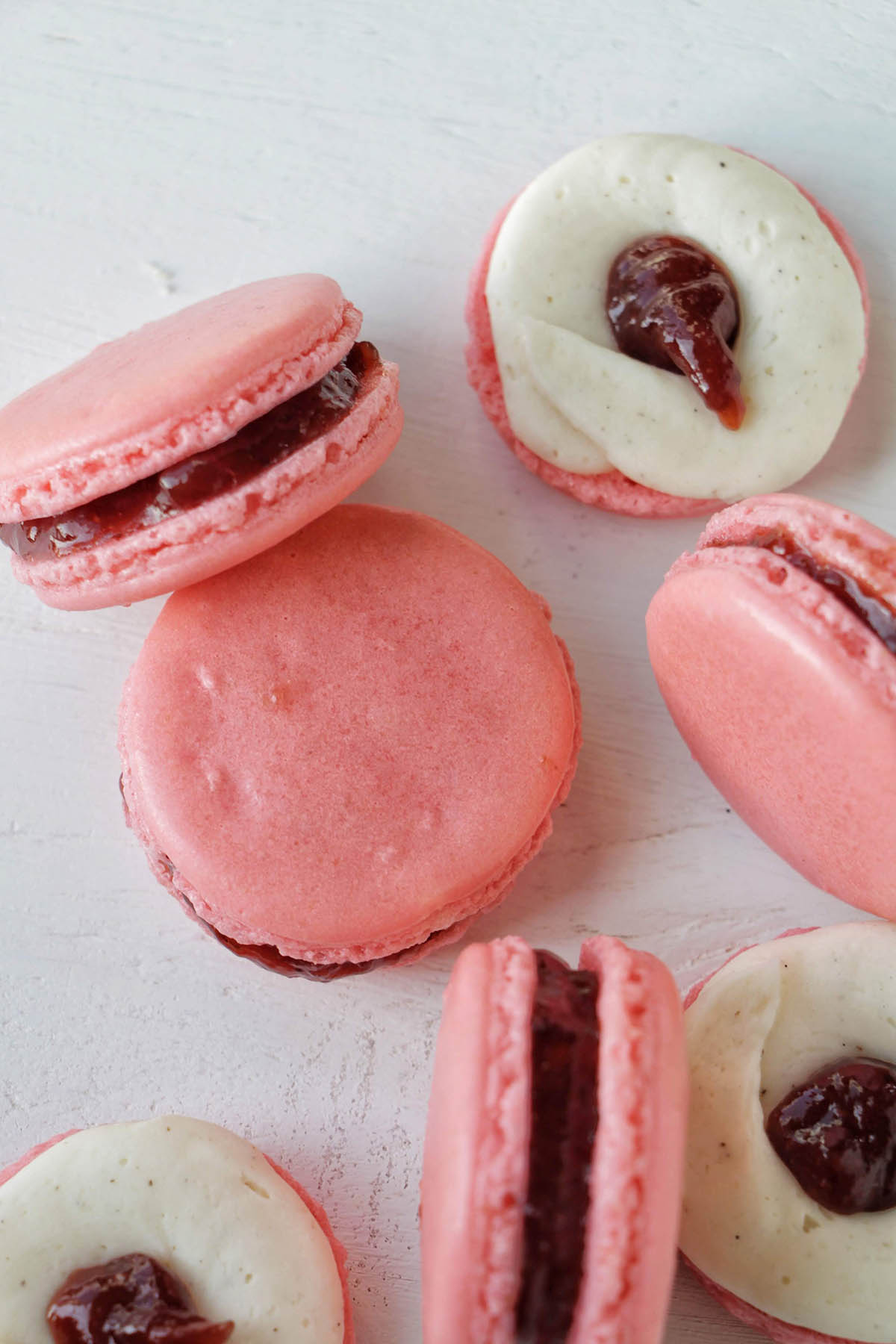 Macaron Fillings
One of the easiest and most obvious ways to flavor macarons is through the filling. Macaron fillings can be almost any flavor you can imagine. Here are just a few of my favorite ideas for macaron fillings.
Don't forget you can also layer fillings together by piping one filling on the outer edge of the macaron and piping another filling in the middle.
1. Buttercream: A buttercream based filling is a great option, especially if you're looking for macarons that can be stored for a longer time period. Buttercream filled macarons can last up to 1 week in the refrigerator or up to 1 month in the freezer.
A buttercream filling can be very simple, like this 5 ingredient vanilla buttercream, or very sophisticated, like a meringue based buttercream.
Don't forget you can add ingredients like cream cheese, mascarpone, or booze into your buttercream recipe to spice things up.
2. Ganache: Ganache is a rich and decadent filling option made with heavy cream and chocolate. You can make ganache macaron filling from a variety of chocolate including dark, milk, or white chocolate.
Don't forget you can add herbs, spices, citrus zest, or liqueurs to enhance the flavor of your ganache. This was the technique I used with my raspberry chocolate ganache macarons.
3. Caramel: Caramel, made by cooking sugar, is another classic flavor in the baking world. It also happens to make a delicious filling for macarons.
Caramel can be solely piped into the macaron shell, or it can be mixed with a buttercream base for a thicker filling. I also love layering a caramel filling with some chocolate ganache.
Similarly to ganache, you can also enhance the caramel flavor with things like vanilla, spices, orange zest, or fleur de sel.
4. Jam or Marmalade: Adding jam or marmalade is a great way to infuse a fruit-based flavor into your macarons.
While jams are more fruit based and marmalades are citrus based, they have very similar qualities. You can easily change up the flavor profile of a macaron by selecting a new flavor of jam or marmalade.
Try also using jam or marmalade paired with a buttercream filling. The two textures combined with the slightly crunchy macaron shell pair beautifully together.
5. Curd: Curd is another great option for anyone who loves citrus or tart flavors. You can make a rich, buttery curd with a variety of fruits and citrus.
The only downside to curd, in my opinion, is the short storage time. Curd is best when piped and eaten on the same day.
Don't forget you can also pair curd with buttercream fillings.
6. Savory Fillings: Have you ever considered creating a savory filling for your macarons? There are many savory flavors that pair nicely with the almond-based shells.
Consider a cheese flavored filling or something salty, like olives, to balance the sugar in the macarons. These could be served as hors d'oeuvres at a fancy party.
7. Dulce de leche: This toffee-like flavored treat is made from simmering milk and sugar. The browning of the milk provides a caramelized flavor that's unmatched.
While making dulce de leche from scratch can be intensive, many bakers prefer to simmer sweetened condensed milk.
No matter how you decide to make your dulce de leche, it's a delicious filling that could be piped exclusively by itself, or paired with your other favorite filling flavors.
8. Pastry cream: Pastry cream is a rich and thick custard based cream. It's made by heating a mixture of eggs, milk, sugar, and starch. Using this base, you can flavor the pastry cream in any way you'd like.
Traditionally, pastry cream is paired with cream puffs, mille-feuille, and éclairs. However, it's the perfect rich filling to add between macaron shells.
9. Boozy fillings: When it comes to imparting flavor, we can't forget about adding a boozy touch. You can infuse a variety of liquors and liqueurs into a buttercream or ganache based filling.
Some of my favorites include Baileys, Kahlúa, and Guinness. You can also use things like tequila and gin to make a riff on your favorite cocktail recipe.
10. Ice cream: This is definitely a non-traditional take on a macaron filling, but delicious nonetheless. If you enjoy eating macarons straight out of the freezer, consider using ice cream or gelato as your filling.
I like to think of this idea as a sophisticated ice cream sandwich.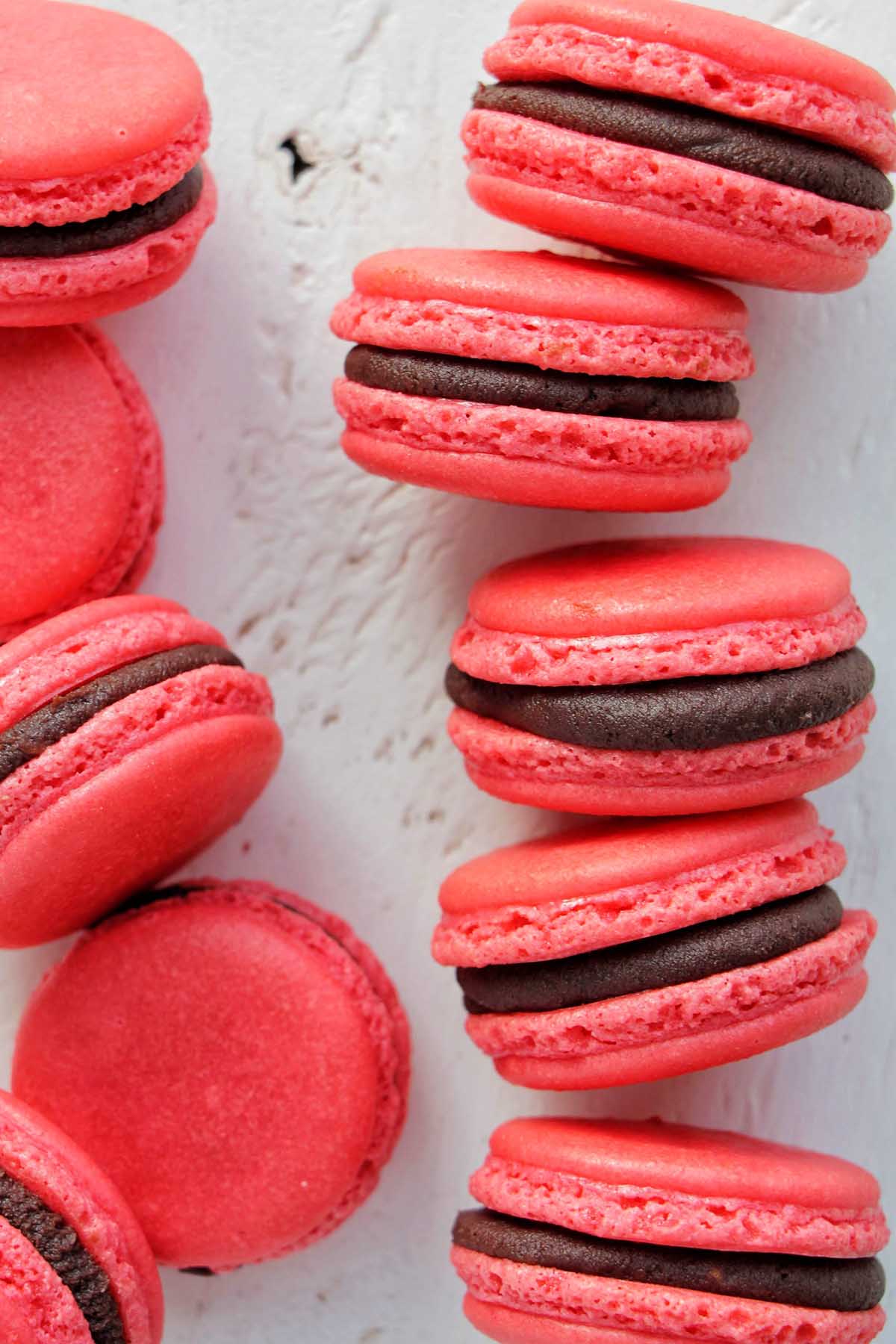 Flavored Macaron Shells
Another great way you can flavor macarons is by adding flavor enhancers to the shell.
To do this, you can add certain ingredients while making the macaron batter. Be careful though! Ingredients that are too liquidy can ruin the macarons.
1. Other nut flours: Don't limit yourself to only baking macarons with almond flour. While almond flour is the traditional nut flour used in macaron baking recipes, you can substitute it for other flours such as pistachio, cashews, macadamia nut, or pecans.
If you're interested in this technique, I'd definitely recommend purchasing Les Petits Macarons cookbook. Author Kathryn Gordon provides the exact formula you need for substituting various nut flours.
2. Simple spices: Almost every macaron shell could benefit from the addition of some dried spices. These spices can be anything from lavender to espresso, or even nutmeg and cinnamon.
Spices can generally be added along with your other dry macaron ingredients (almond flour and confectioners' sugar). These spices can impart lots of flavors, and you won't have to worry about messing up the macaron batter with excess liquid.
Don't forget, you can also add savory spices.
3. Cocoa powder: Chocolate macaron shells are one of my all-time favorites, especially when paired with a chocolate ganache filling. Cocoa powder should be added to the macaron batter at the same time as your almond flour and confectioners' sugar.
Be careful with the amount and type of cocoa powder you add. Cocoa powders have fat from cocoa butter. Different brands can have different amounts of fat, depending on how much cocoa butter has been added.
Too much fat (oil), can affect the final texture of the macarons. If you're making a chocolate-based macaron with too much cocoa powder, this could be causing a wrinkly or cracked top.
4. Citrus zest: Citrus zest is a powerful ingredient. With only a little zest, you can impart lots of delicious flavor. Lime, orange, lemon, and grapefruit zest are all great options.
For this technique, add zest to the meringue. Don't forget, you can also enhance this flavor profile by adding some additional citrus zest to the macaron filling you pair with it.
5. Matcha powder or other flavored tea: Finely ground tea leaves like Earl Grey, chamomile, or matcha powder are a fun addition to macaron shells.
Not only does matcha powder provide a fun flavor profile, but it also acts a natural food coloring.
I'd suggest adding these ingredients in along with the almond flour and confectioners' sugar. Make sure your tea has been pulsed into a fine powder.
6. Vanilla bean: If you're looking for a subtle yet classic macaron shell flavor, try using a vanilla bean. The vanilla bean seeds add flavor and an elegant look to the shell.
Combine the vanilla bean with the granulated sugar before mixing it with eggs to make the meringue.
7. Cinnamon and sugar: If you're making a snickerdoodle, churro, or Christmas inspired macaron, try decorating the macaron shells with a sprinkle of cinnamon and sugar.
You can sprinkle this mixture directly over the macarons after they've been piped and tapped on the counter to release air bubbles. Then, once baked, the cinnamon and sugar will meld into the macaron shells.
8. Espresso: If you're a coffee lover, try adding ground espresso powder to flavor the macaron shells. Since this is a dry ingredient, it can be added in along with the almond flour and confectioners' sugar.
Be sure the espresso powder is finely ground so it doesn't cause bumpy shells.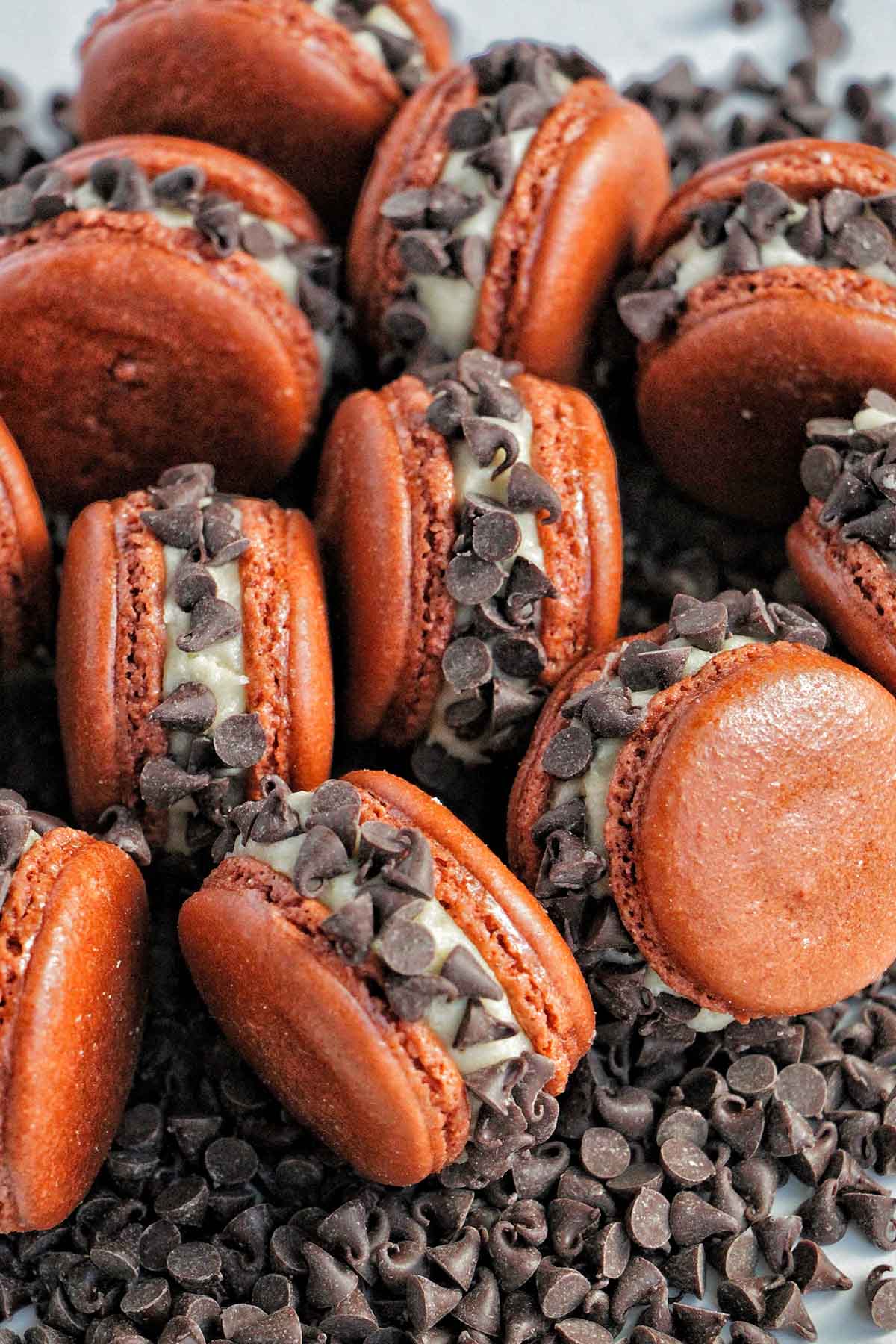 Add Flavor With Decorations
Macarons are meant to be enjoyed visually just as much as they are to be enjoyed when eaten.
An easy and fun way to flavor macarons is by decorating the macaron shells. Once the macarons have been filled, you can add a variety of decorations that add color, texture, and visually enhances the macarons.
1. Chocolate chips or cacao nibs: Roll the outside of the macarons in mini chocolate chips or cacao nibs. This adds a unique flavor, texture, and look to the macarons.
2. Rose petals: Freshly dried rose petals provide a floral and dainty taste. Try placing a fresh petal on top of the macaron shell or along the outside of the filling.
3. Candies or mints: Crush up your favorite candies or mints to cover the edges of the macarons. Any exposed macaron filling should catch pieces of the crushed-up candies.
4. Chocolate top: Dip the tops of the macaron shell into tempered, melted chocolate. After you've dipped the top you can add additional sprinkles, candies, or nuts.
5. Marshmallows: Adding a torched marshmallow on top of your macaron shell would make a beautiful visual statement.
6. Fleur de sel: Almost all macaron fillings could benefit from a sprinkle of finishing salt for an extra kick. I especially love this idea for chocolate, caramel, or dulce de leche fillings.
7. Coconut flakes: Toasted coconut flakes are the perfect addition for both decoration and some crunch.
8. Freeze dried fruit: If you're looking to add a pop of color to your macarons, sprinkle some finely ground freeze dried fruit on top of the macaron shells or filling. I personally love to use strawberries for a bright pink color.
9. Nuts: This is another simple decoration idea. All you need to do is crush up your favorite variety of nuts, and allow them to stick to your filling. My personal favorites include peanuts, hazelnuts, and pecans.
10. Cookie crumbles: No matter your favorite type of cookie, grind it into a fine powder and dip the edges of the macarons to catch the crumbs and decorate the outside.
Also, be sure to check out my favorite ways to decorate macarons for even more ideas.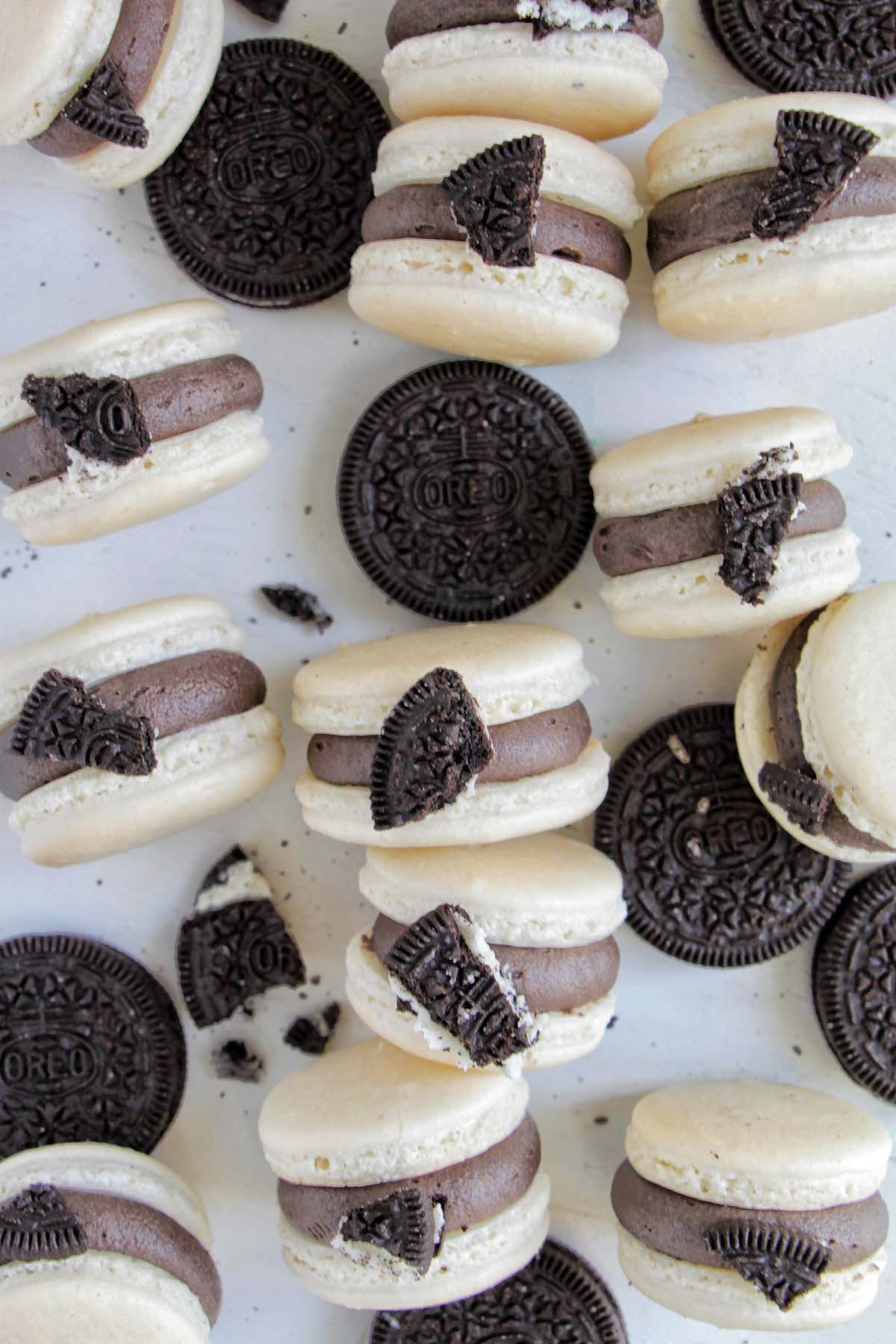 Expert Tips
Never flavor your macaron shells using liquid extracts. The added moisture will ruin your macaron batter.
Be aware that your macaron recipe may need to be slightly changed if you decide to add flavor enhancers to the macaron shells. Ingredients such as cocoa powder, for example, can cause the macaron shells to wrinkle if you add too much. It will take some trial and error to achieve the perfect results when adding additional ingredients to your macaron shells.
Don't be afraid to play around with your macaron flavors. There are an endless amount of delicious and fun flavor combinations. Have fun creating new takes on this classic dessert.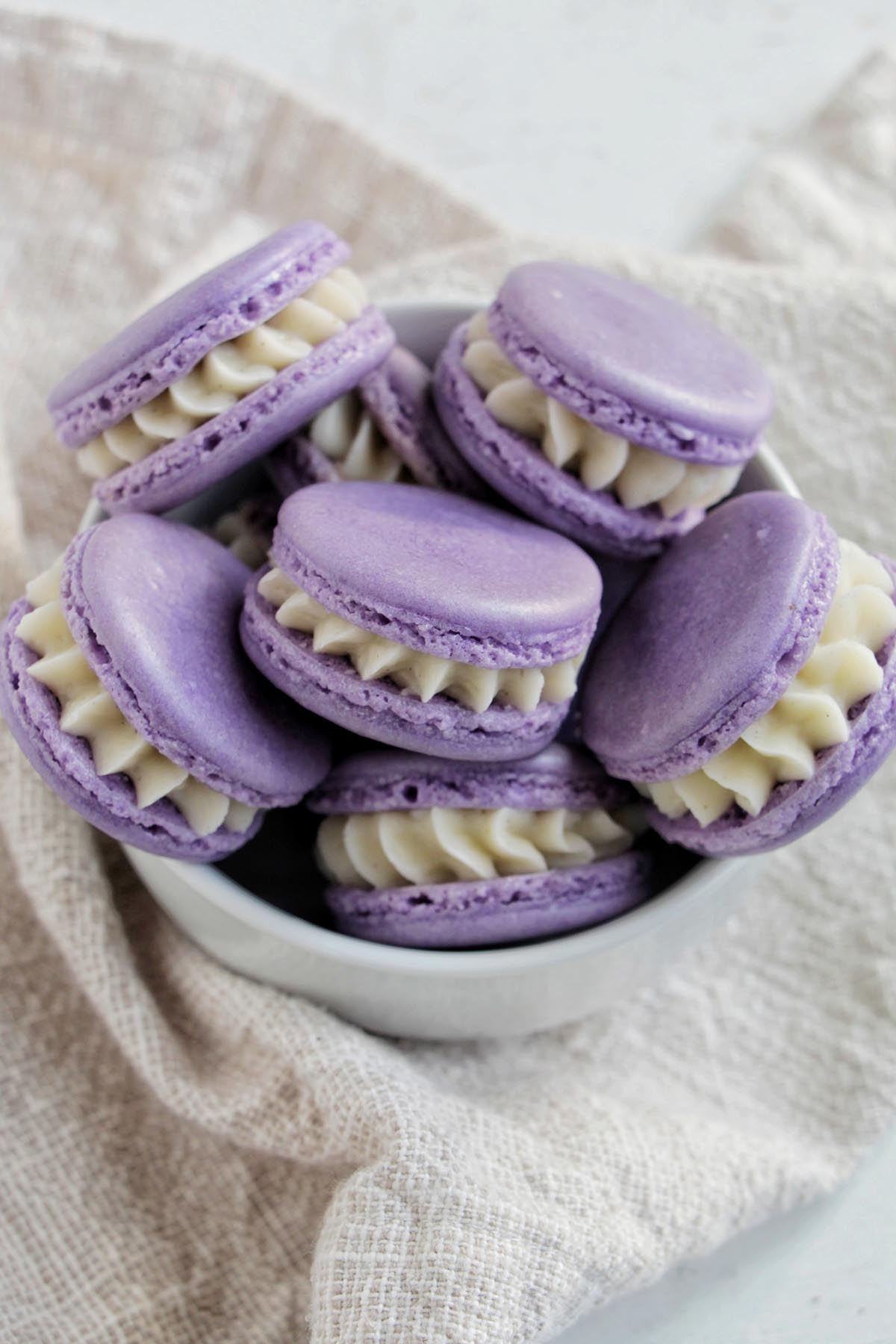 FAQs
Can you flavor macaron shells?
Yes, you can flavor macaron shells by adding a variety of dry-based ingredients such as crushed tea leaves, spices, citrus zest, or cocoa powder. These help impart flavor to the macaron shells without ruining the batter.
How do I add flavor to macarons?
You can impart flavor into macarons in various ways such as through the macaron filling, by flavoring the macaron shell, or by decorating the macarons with flavor-enhancing ingredients.
Can you add extract to macaron shells?
No, I would not suggest adding any extract to your macaron shells. Extracts will add too much liquid to the macaron batter, likely resulting in ruined macarons.

Instead, add dry-based ingredients such as crushed tea leaves, spices, citrus zest, or cocoa powder.
What's the best macaron filling flavor?
There's no one macaron filling flavor that is the best. It's all up to your personal taste and preference. Most macaron bakers fill the shells with some sort of buttercream, ganache, curd, jam, marmalade, or caramel based filling.

If you need some inspiration, check out my post with over 50+ macaron fillings ideas.
Macaron Recipes You'll Love
If you enjoyed this article about how to flavor macarons, check out some of my all-time favorite macaron recipes:
Love this guide? Please leave a comment below. Don't forget to follow along on Instagram, Facebook, YouTube, and Pinterest for more recipes.