Learn about the best piping tips for macarons. This post includes recommendations (with photos) for the best macaron piping tips for batter and a variety of fillings.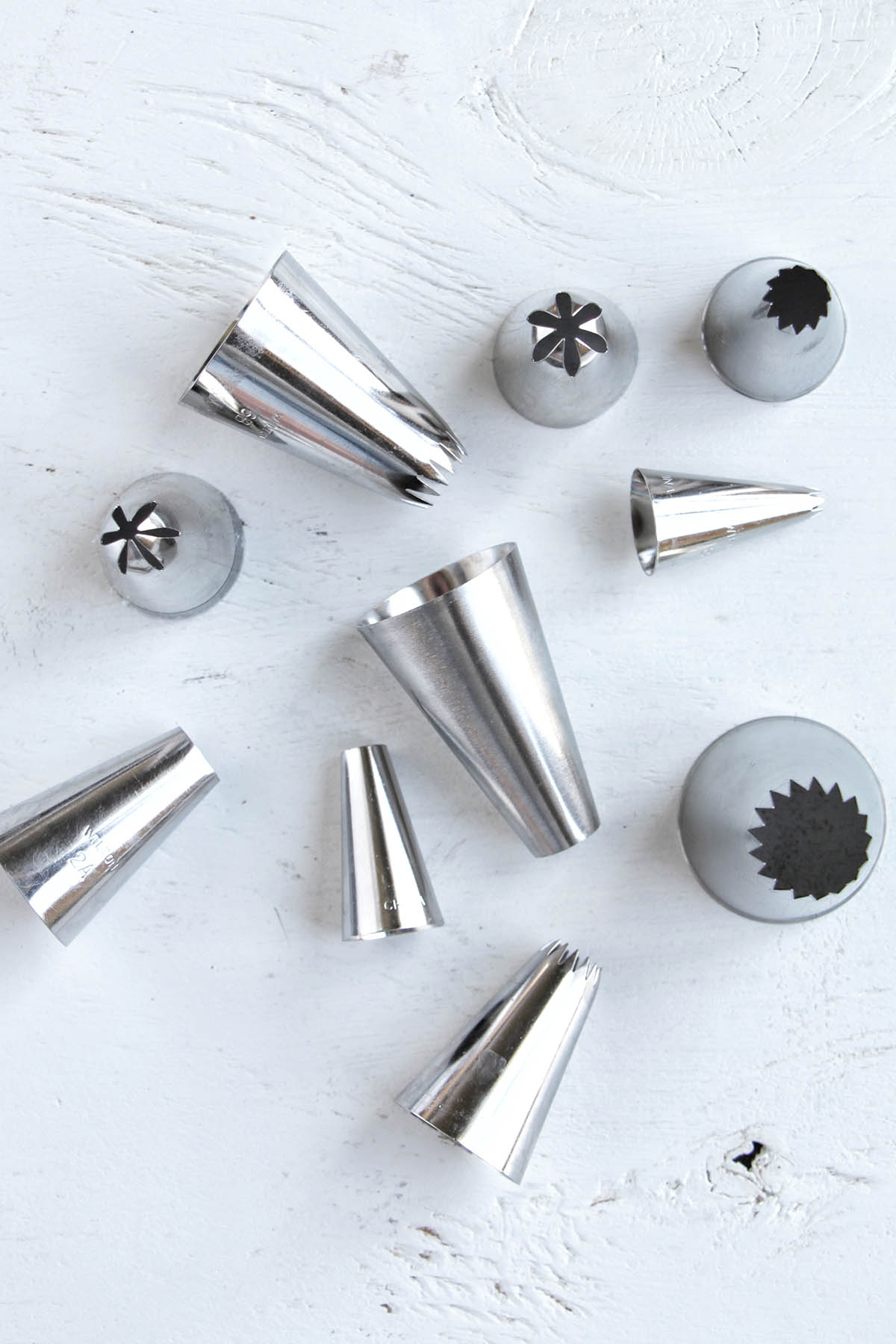 If you enjoy baking macarons, it's important to have the right tools for the job. This includes piping tips for piping macaron shell batter, as well as piping tips for macaron fillings.
Part of the fun of baking macarons is decorating the shells. Using fun piping tips is an easy way to dress up your macarons with minimal effort.
I'll walk you through the most popular and best piping tips to use when baking macarons, as well as show you examples of how you can use the piping tip for macaron filling designs.
If you enjoy learning tips about making macarons, don't forget to sign up for my free macaron template and email series. You'll learn my favorite tricks for achieving perfect macarons.
Macaron Batter Piping Tips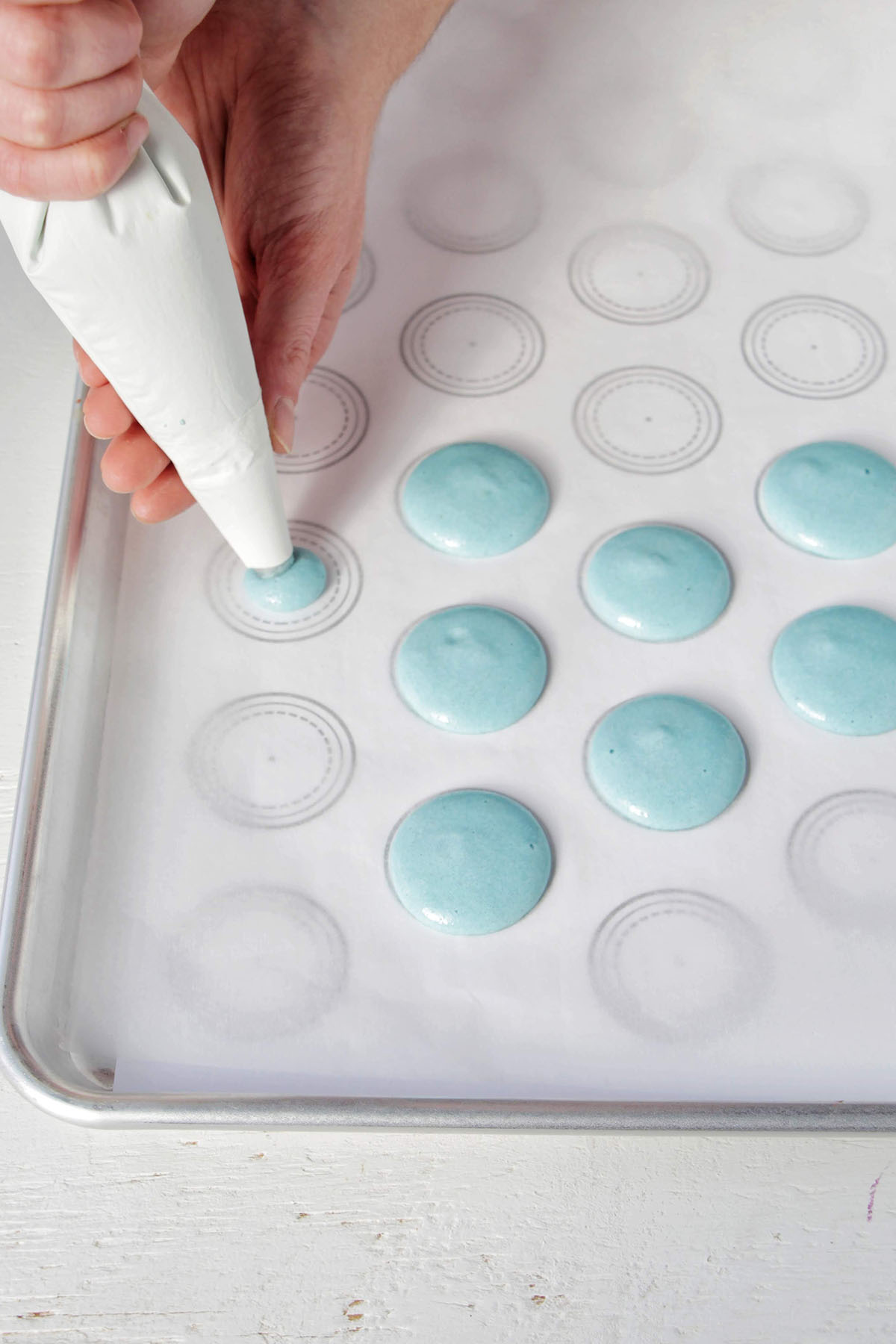 To pipe the macaron batter, you really only need one piping tip that you can use over and over again.
Personally, I like to use a large reusable piping bag with a ½ piping tip or something a little smaller if you want more control. The smaller piping tip is also useful if your batter is a little runny.
For best results, always pipe onto a light colored sheet pan. You can read more about why this is important in my cracked macaron troubleshooting guide.
You'll also want to download my free printable macaron piping template to ensure you're always piping perfectly circluar macarons.
Macaron Filling Piping Tips
Now let's talk about piping tips for macaron fillings. This is fun because you can purchase various sizes and shapes of piping tips to achieve unique designs.
I'll offer my favorite piping tips for each kind of filling, since some of the piping tips work best certain types.
Don't forget to purchase a large reusable piping bag to go along with your macaron piping tips. This piping bag will hold a large quantity of filling, making your life easier when it comes to filling the macarons.
I use all of these tips by placing them directly into the piping tip. The reusable piping bag is durable enough that no coupler is needed.
1. Wilton 6B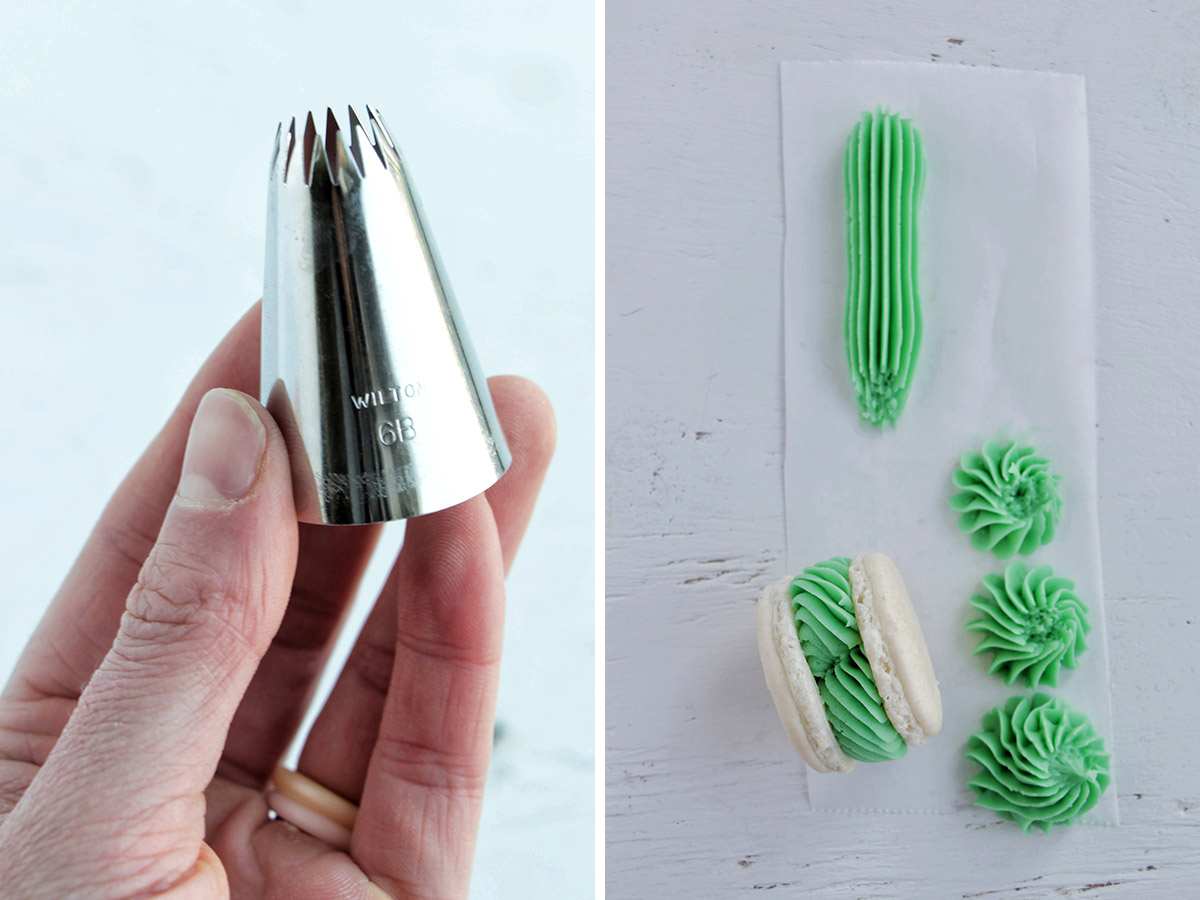 The Wilton 6B piping tip is a larger tip that really makes an impact on macarons. This tip can be piped in a straight line, vertically, or at an angle to create different line patterns.
This tip is one of my favorites because you can easily transform your macarons by piping different line styles with a variety of colorful fillings.
I'd recommend using a buttercream macaron filling with this tip in order to really highlight the beauty of the lines that are created with this piping tip.
2. Wilton 1M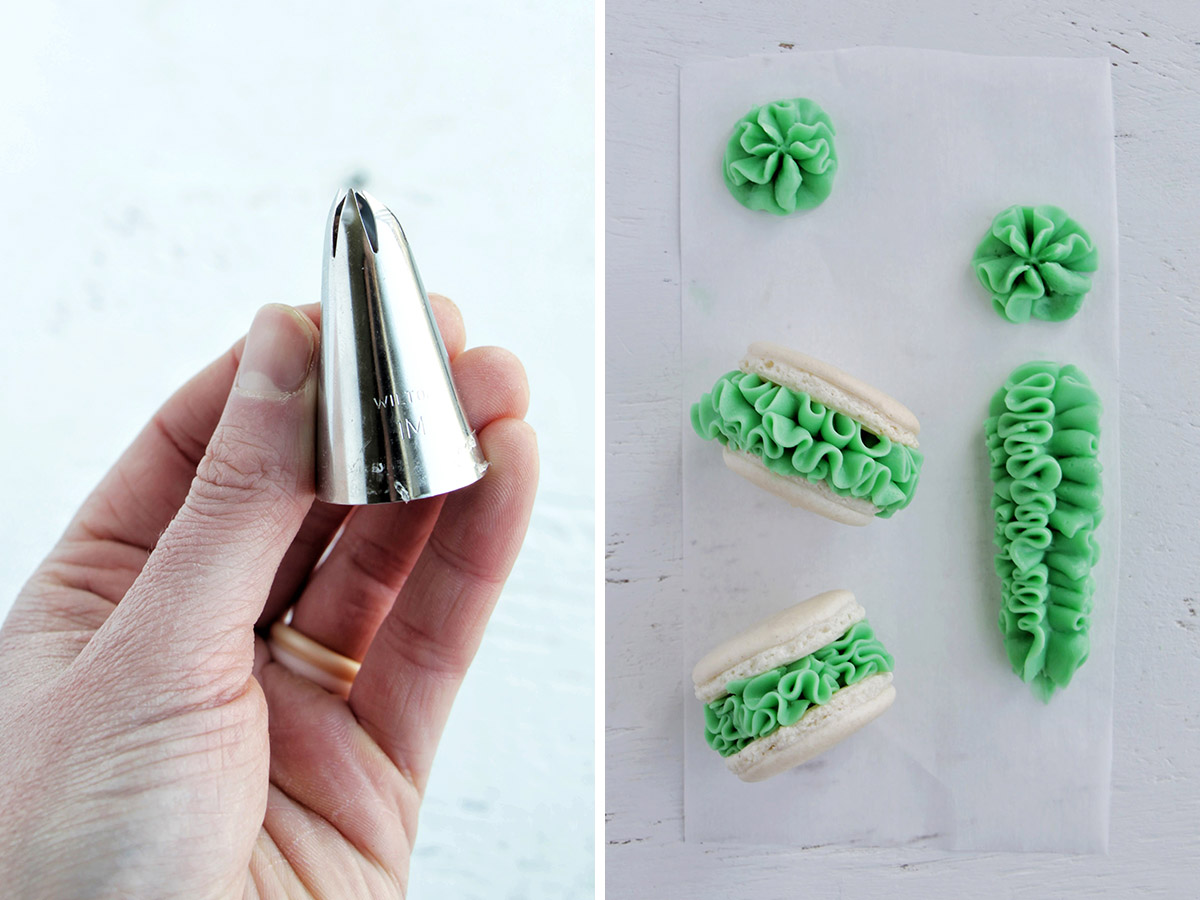 The Wilton 1M piping tip is perfect if you're a fan of a ribbon-like texture. This tip creates an elegant and frilly looking texture.
I think this tip would be perfect for an upscale macaron, especially if it's themed around Valentine's Day, or if it's used for a bridal shower or a birthday party.
This tip works best with a buttercream filling.
3. Wilton 2A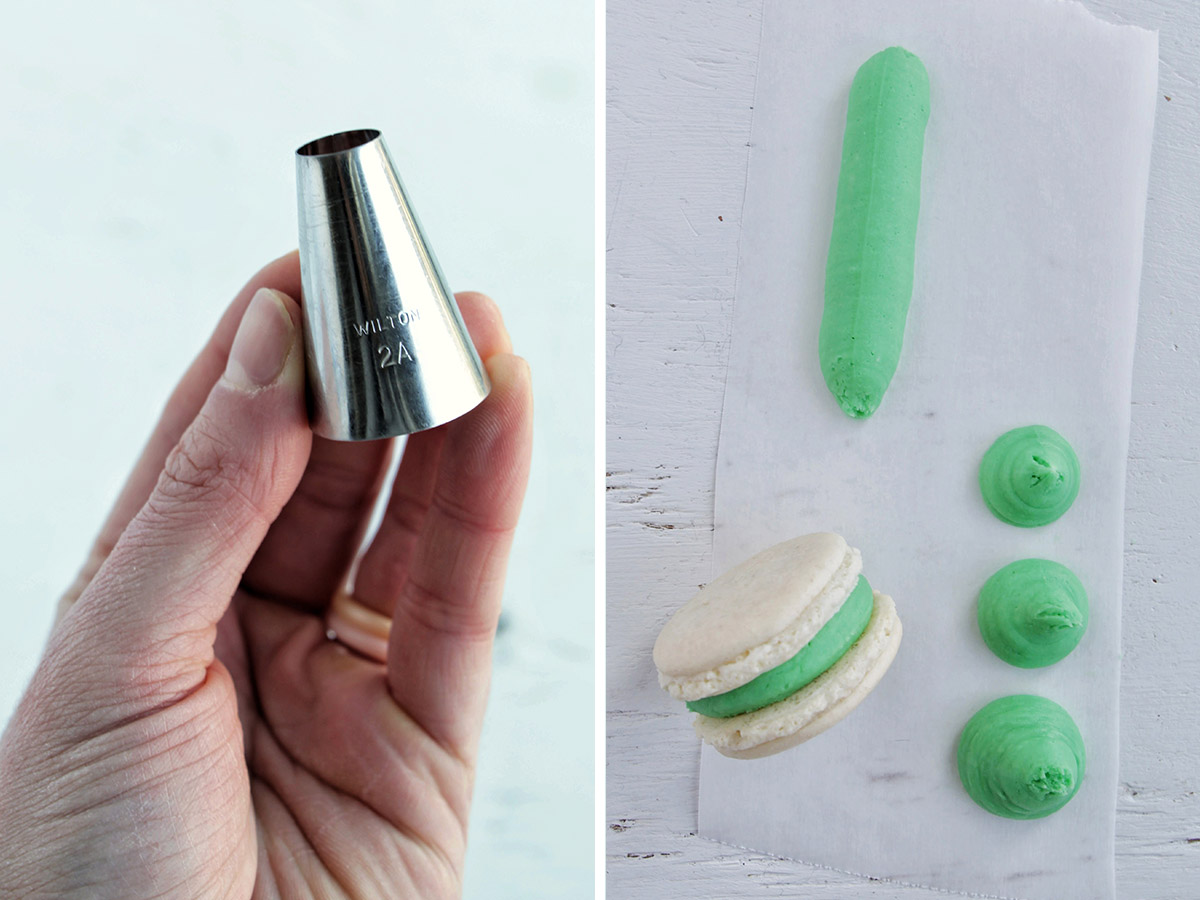 The Wilton 2A piping tip is non-negtiable tip for me to have in my macaron baking toolkit. It can be used for a variety of fillings. If you're a fan of a simple, clean look, I'd definitely recommend this piping tip.
It works great with buttercream, chocolate ganache, curd, jam, or marmalade fillings. I also use it to pipe an outer layer of buttercream, then fill the inside with a bit of curd, jam, or marmalade.
4. Wilton 2D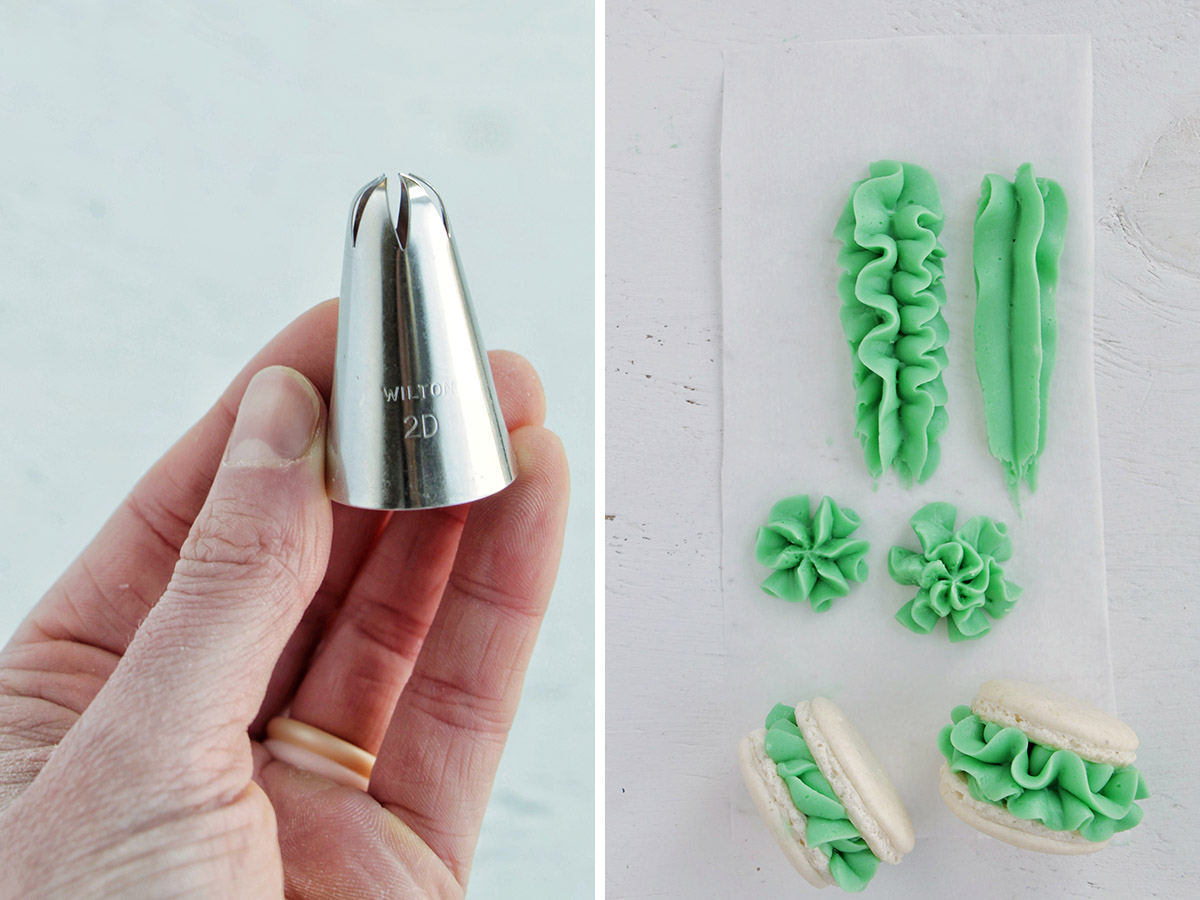 The Wilton 2D piping tip creates a variety of textures with just one singular tip. Depending on the direction you pipe, this tip can create a ribbon-like texture or a unique criss-cross line design.
I found that a buttercream based filling works best to highlight the design of this piping tip.
5. Ateco 868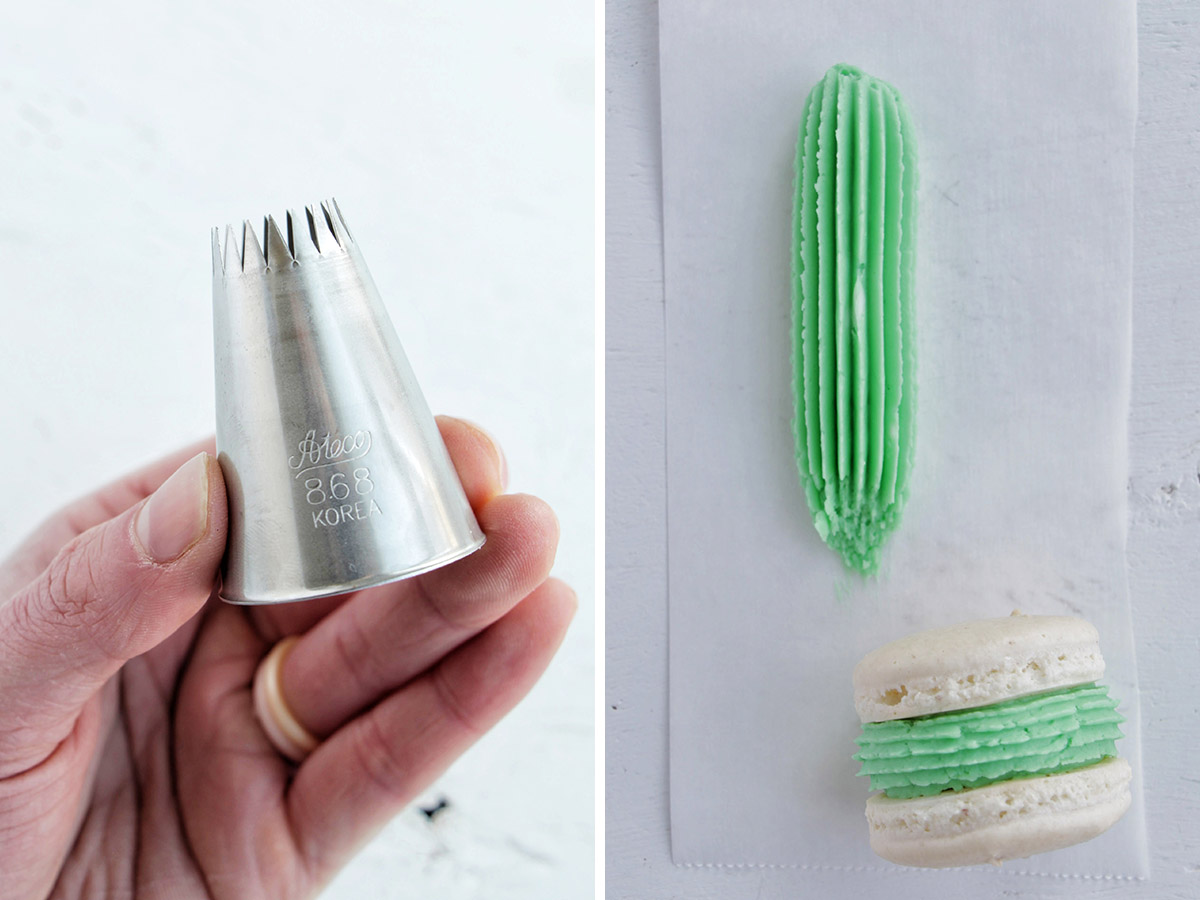 The Ateco 868 French star piping tip is another one of my favorites. This is a family of piping tips that comes in a variety of sizes. This is perfect if you're creating a variety of macaron sizes.
Depending on how you hold your piping bag, this tip can create straight horizontal lines, or you can swirl it for a more dynamic looking macaron.
Since this is a large-sized piping tip, it's great for heavy-duty fillings.
6. Wilton 12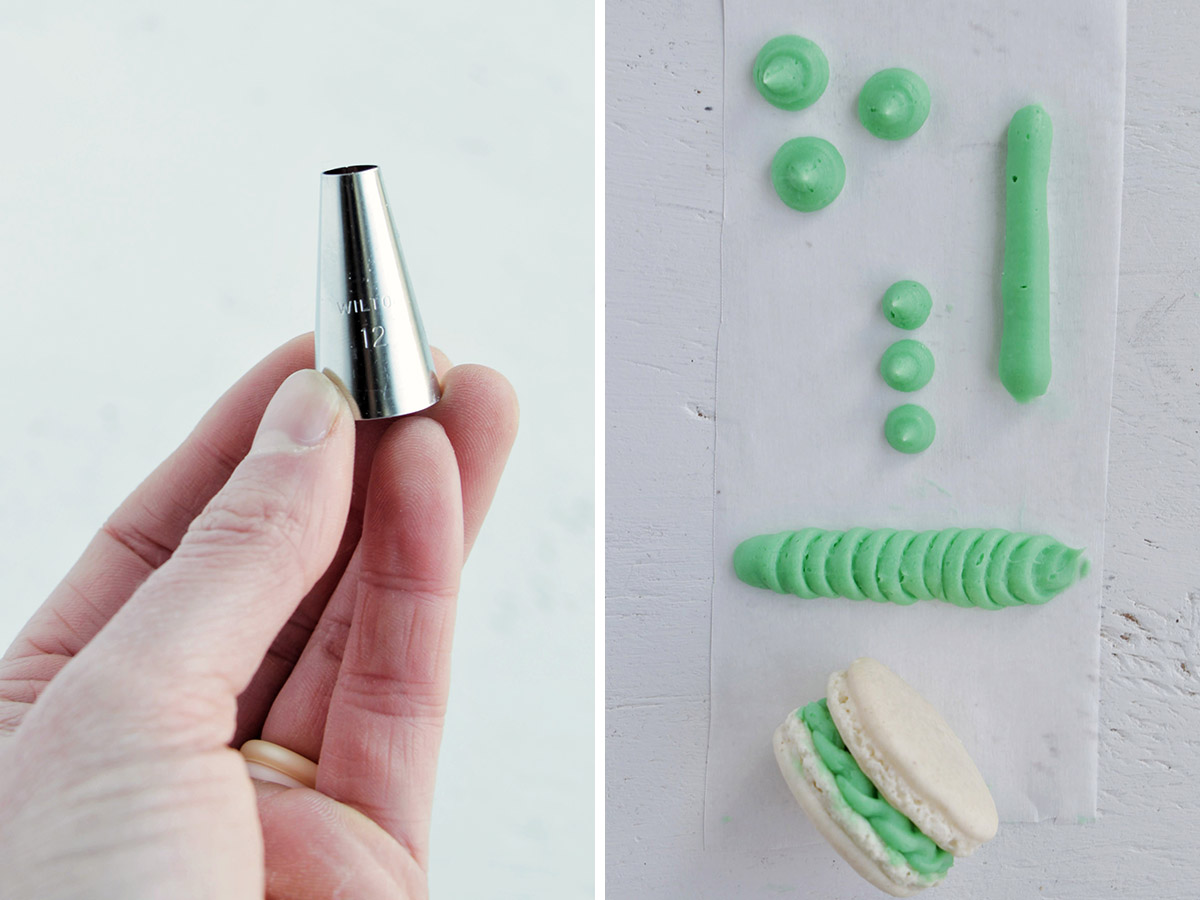 This Wilton 12 piping tip is a smaller, but very useful piping tip. This is great for detailed work.
While this tip works for every filling type, I like to use it to fill the center of macarons with small amounts of jam, curd, or marmalade.
Since this is a simple round piping tip, you can manipulate it to make a variety of creative piped designs.
7. Wilton 4B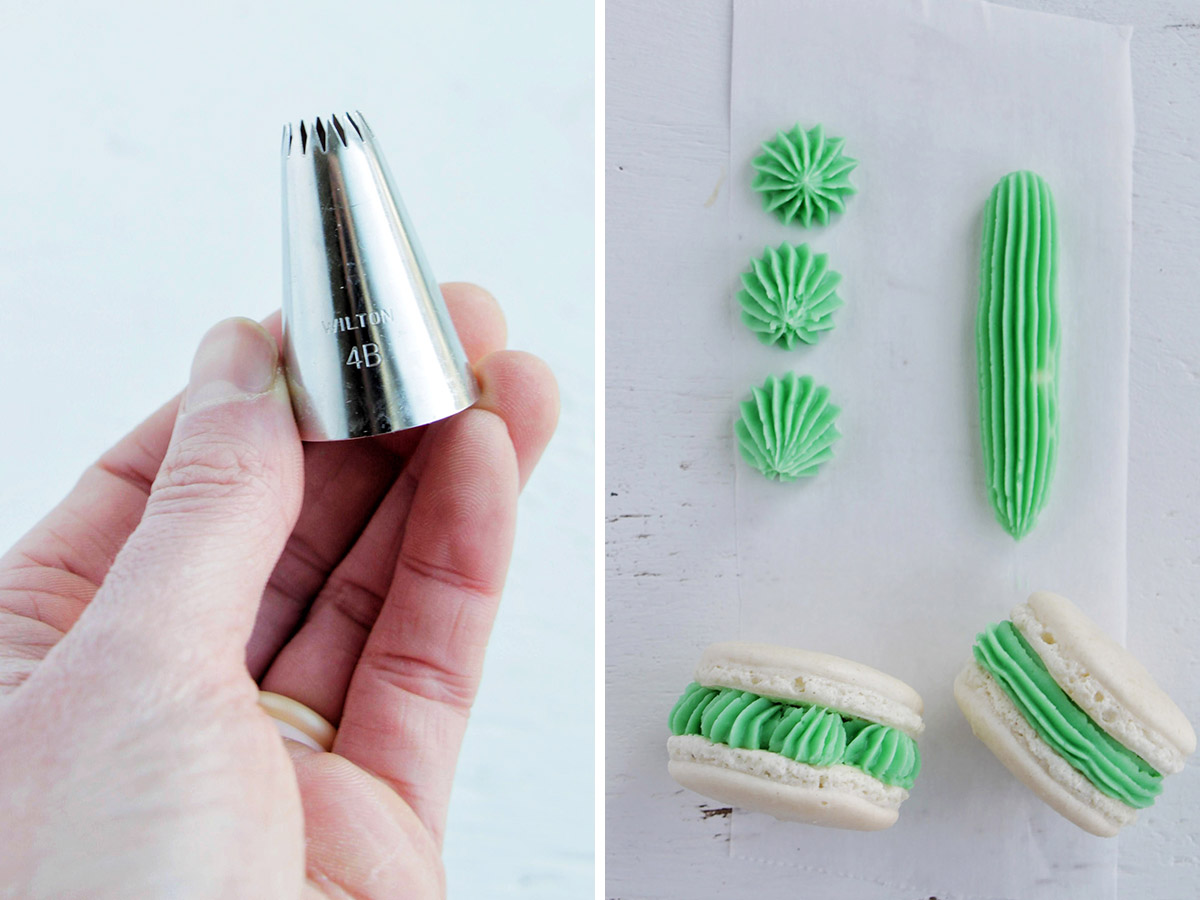 This Wilton 4B piping tip is another star piping tip, similar to the Ateco piping tips or the Wilton 6B tip in this post.
This piping tip is a little bit smaller, making it the perfect option for someone who's new to piping. The smaller tip gives you more control to manipulate the filling into the design you want.
I'd recommend working with a buttercream filling for this piping tip.
8. Wilton 18
The Wilton 18 piping tip is perfect for small, detailed designs on macarons. This dainty tip easily pipes a star-like design around the exterior of the macaron shell.
Typically, if I'm piping a design like this, I'll use the Wilton 12 piping tip to pipe a small border of filling around the outer edge of the macaron. Then, I'll follow up by piping the small stars on top of the border.
I'd use buttercream filing for this detailed tip so you can easily see the beautiful design.
9. Ateco 863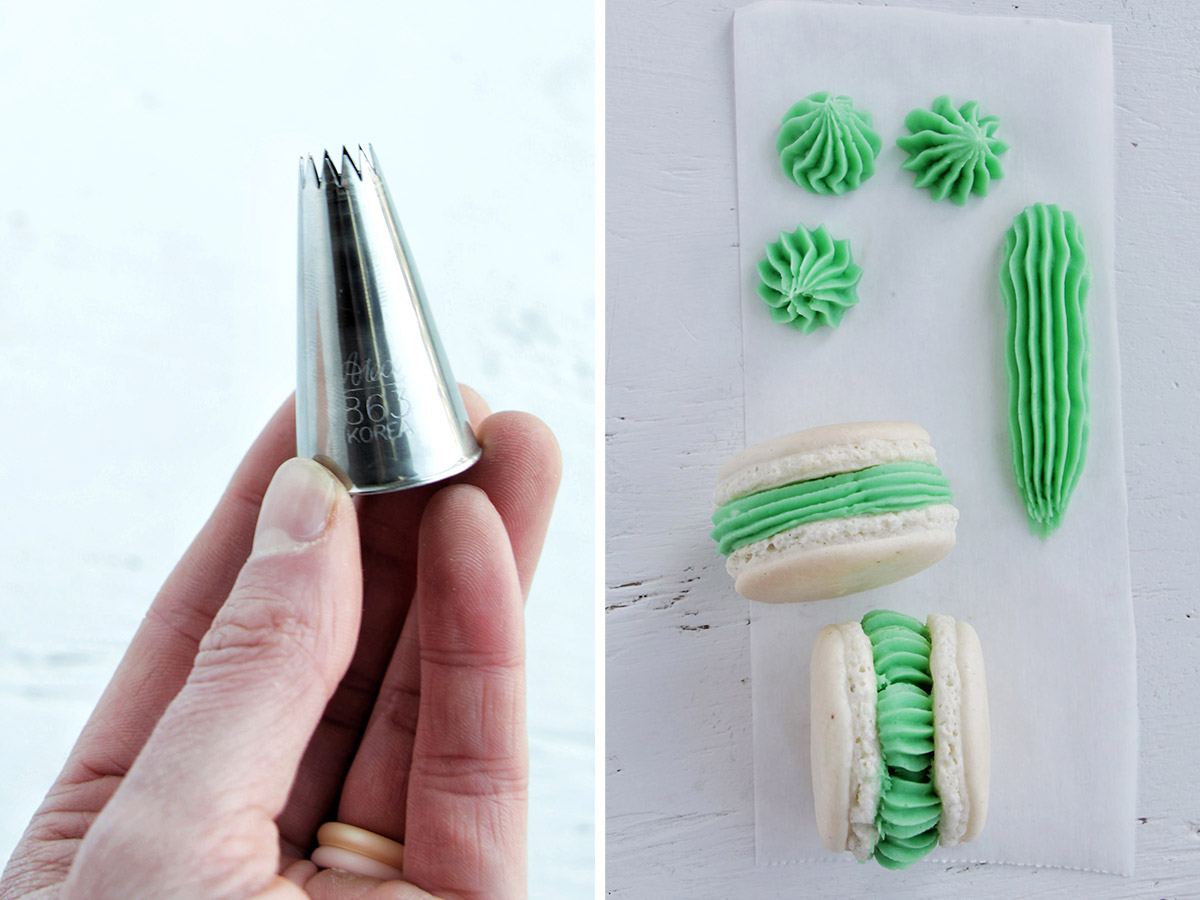 The Ateco 863 French star piping tip is a smaller version of the Ateco 868 tip shown above. This piping tip is part of a larger French star tip family, making it a great option if you want to have a variety of sizes.
Similar to other star tips, you can pipe a variety of designs. You can even use this tip to pipe a buttercream border, then fill the inside with a jam, curd, or marmalade filling.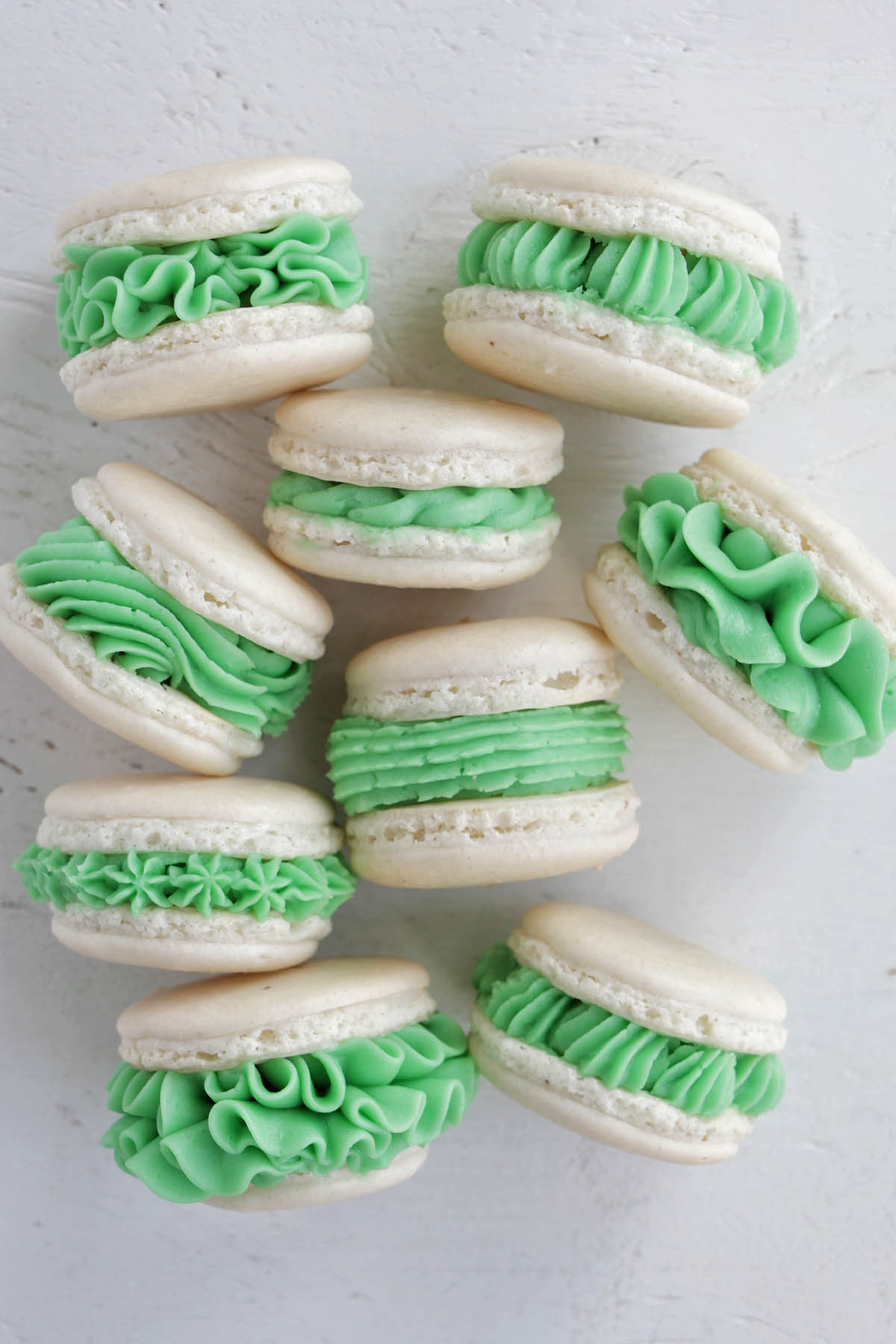 FAQs
What size piping tip should I use for macarons?
The piping tip size you use for macarons depends on the size of your macaron shell and the type of filling. Generally, for larger macaron shells you'll want a larger piping tip. A bigger piping tip is also good for thicker fillings such as buttercream or ganache.

On the other hand, it's best to use a smaller piping tip for mini sized macarons. A small tip is also best for runny or thin fillings such as curd, marmalade, and jam since it allows you to have more control.

It takes some practice piping to learn what size piping tip works best. I'd recommend starting out with the Wilton 2A piping tip (a bigger option) and the Wilton 12 piping tip (a smaller option).
What's the best piping tip for macaron filling?
The best piping tip for macaron filling depends on the type of filling you're using.

For a versatile tip that works for all types of macaron fillings, purchase the Wilton 2A piping tip. If you're piping mainly buttercream and want a family of piping tips that allow you creativity and design freedom, purchase the Ateco French star piping tips.
Macaron Recipes
Need some inspiration for baking macarons? Try out some of the best macaron recipes and unique ways to flavor your macarons:
Love this guide? Please leave a comment below. Don't forget to follow along on Instagram, Facebook, YouTube, and Pinterest for more recipes.