Mix up a cocktail that tastes like a sugar cookie with peanut butter whiskey, Baileys, and vodka. This brown sugar rimmed drink comes together in just 15 minutes, making it the perfect quick and easy cocktail recipe.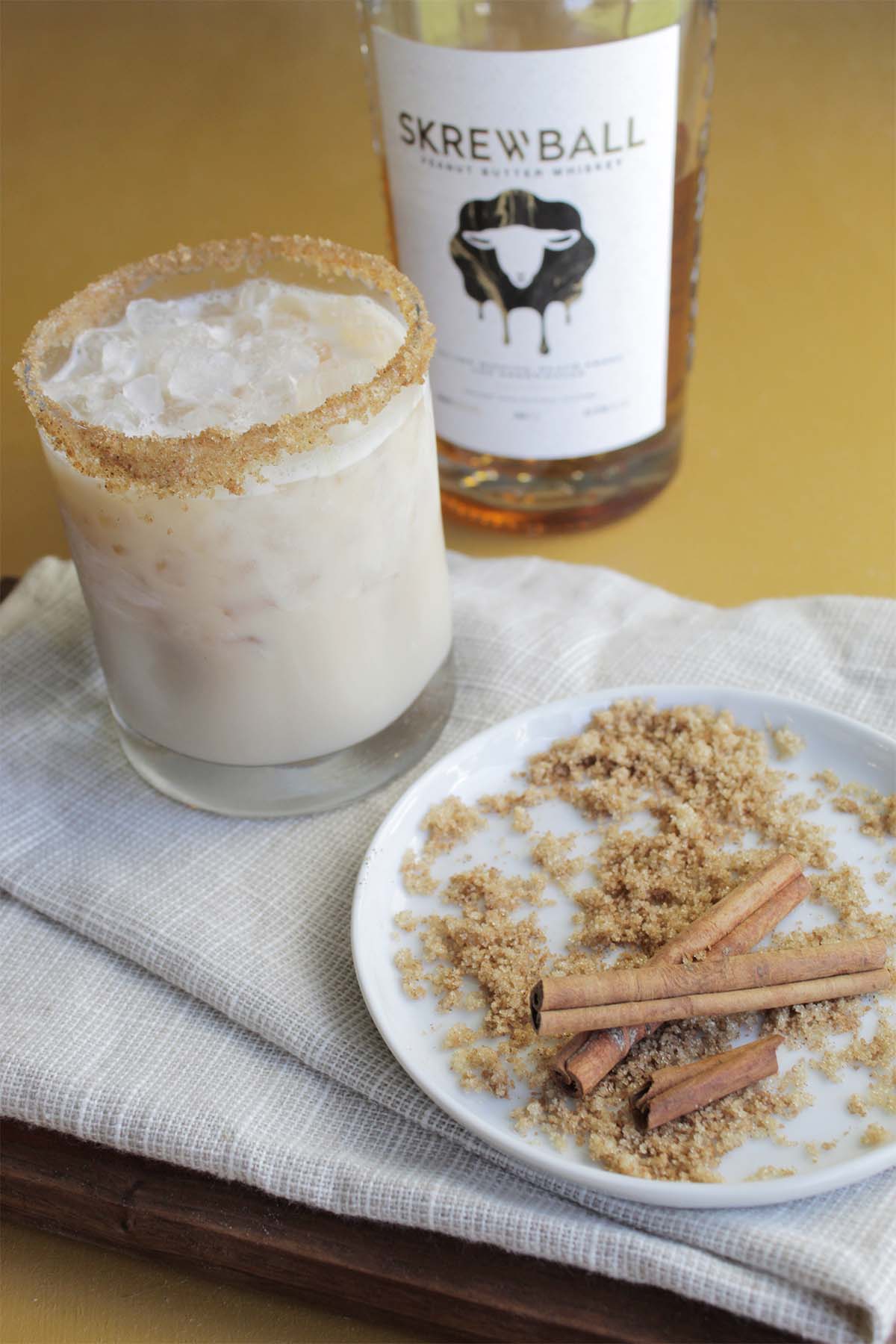 Sometimes you just need a cocktail that's sweet and tastes like a dessert! This Skrewball cocktail is just that. Vodka, peanut butter whiskey, and Baileys Irish cream combine together perfectly for this holiday inspired cocktail.
If you're new to peanut butter whiskey and want to gently ease into mixing cocktails with it, this is a great first drink. The peanut flavor is there, but not overly pronounced.
I also have many other peanut butter whiskey recipes that you'll want to check out, including Reese's peanut butter cup shots.
Jump to:
What You'll Learn In This Recipe
What flavors are good to mix with Baileys Irish cream.
How to make a brown sugar simple syrup flavored with vanilla.
An easy and cheap way to get the perfect ice for cocktails.
How bitters can help balance almost any cocktail.
Enjoy learning how to make cocktails at home? Sign up for my free bartender cheat sheet to learn how to mix up 45 classic cocktail recipes.
Ingredients You Need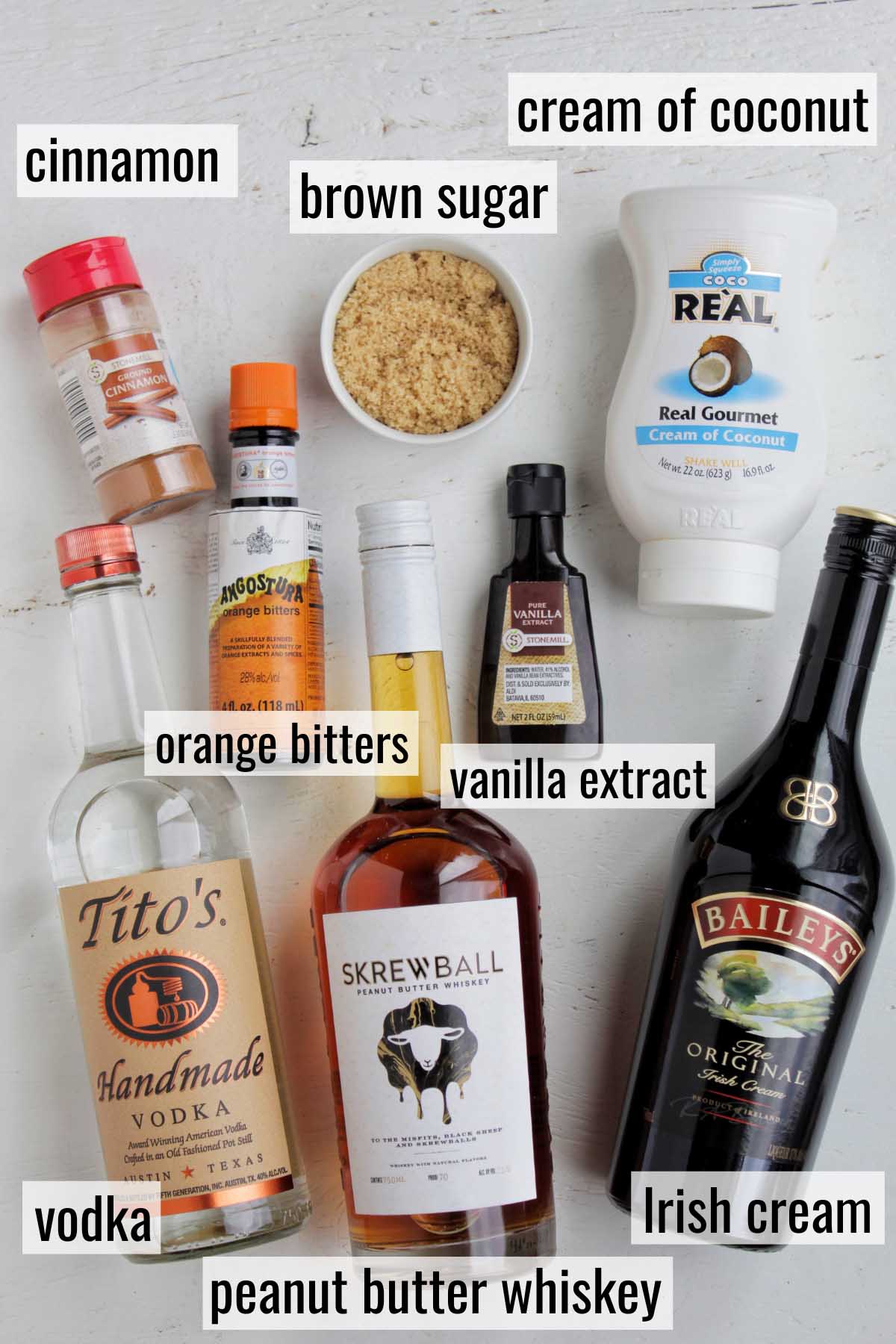 Here are the ingredients you'll need for the sugar cookie cocktail:
Brown sugar: We'll be making homemade simple syrup with a bit of brown sugar and vanilla extract. Simple syrup is a one-to-one ratio of sugar and water. It's an easy recipe you can use in either a cocktail or iced coffee!
Ground cinnamon: For the rim of the cocktail, we're mixing up a quick cinnamon and sugar mixture.
Baileys Irish cream: Irish cream adds notes of milk, vanilla, and even a hint of chocolate to this cocktail.
Skrewball peanut butter whiskey: I really love using Skrewball in this recipe. The peanut butter flavor is unmatched. It's rich and doesn't taste artificial. Other popular brands include Hard Truth, Bird Dog, Skatterbrain, and Sheep Dog.
Vodka: Feel free to use any unflavored vodka of your choice. I have an entire guide teaching you how to pick the perfect bottle of vodka.
Cream of coconut: This ingredient adds some additonal creaminess to the cocktail.
Orange bitters: Bitters are an essential part of any cocktail as they help round out the flavor of the drink. It's especially important in sweet cocktails to have a bitter note so the drink isn't cloyingly sweet. Think of bitters almost like salt for your cocktails. A few dashes are (almost) always helpful.
How To Make This Recipe
Make the Brown Sugar Syrup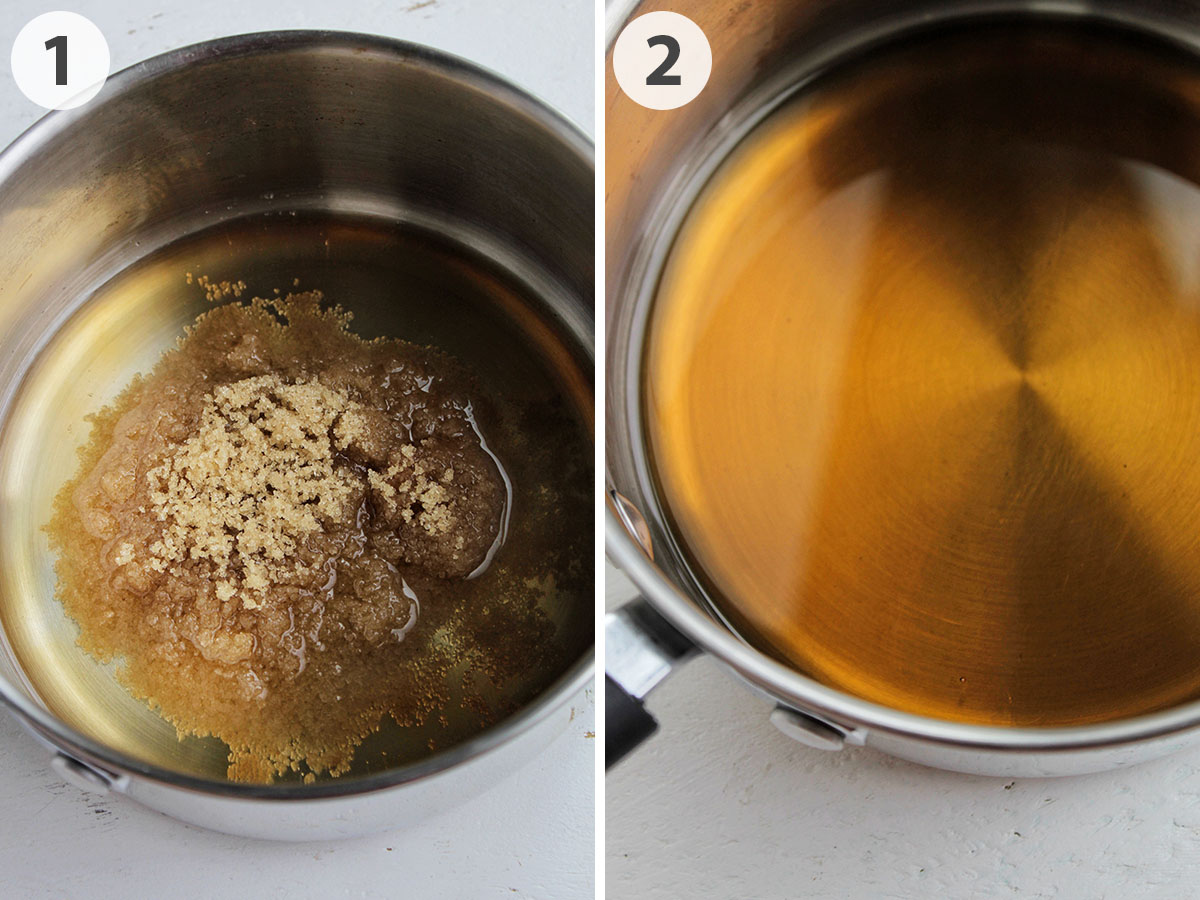 Making simple syrup at home is a very easy process. First add brown sugar, vanilla extract, and water to a small saucepan.
From here, allow the mixture to cook over medium heat just until the sugar has dissolved, about 1 - 2 minutes.
Then, allow the mixture to cool and transfer to a clean reusable jar.
Rim the Cocktail Glass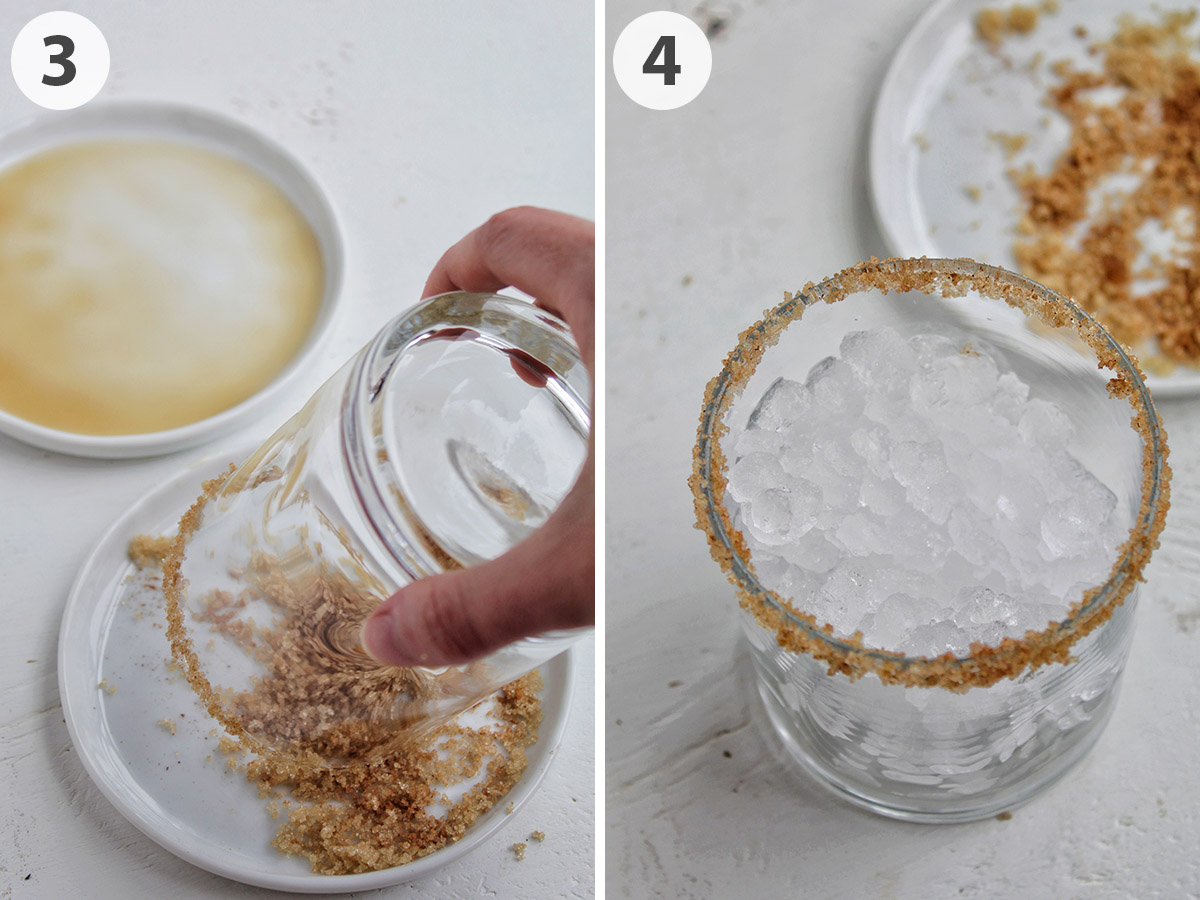 Next, prepare a lowball cocktail glass. To a shallow plate add 2 teaspoons of the brown sugar simple syrup. On another plate mix together brown sugar and cinnamon.
Dip the rim of a low ball glass in simple syrup, then coat with the cinnamon sugar mixture. Make sure the entire rim is evenly coated. Finally, fill the prepared glass with pebble ice and set it aside.
Shake Up the Cocktail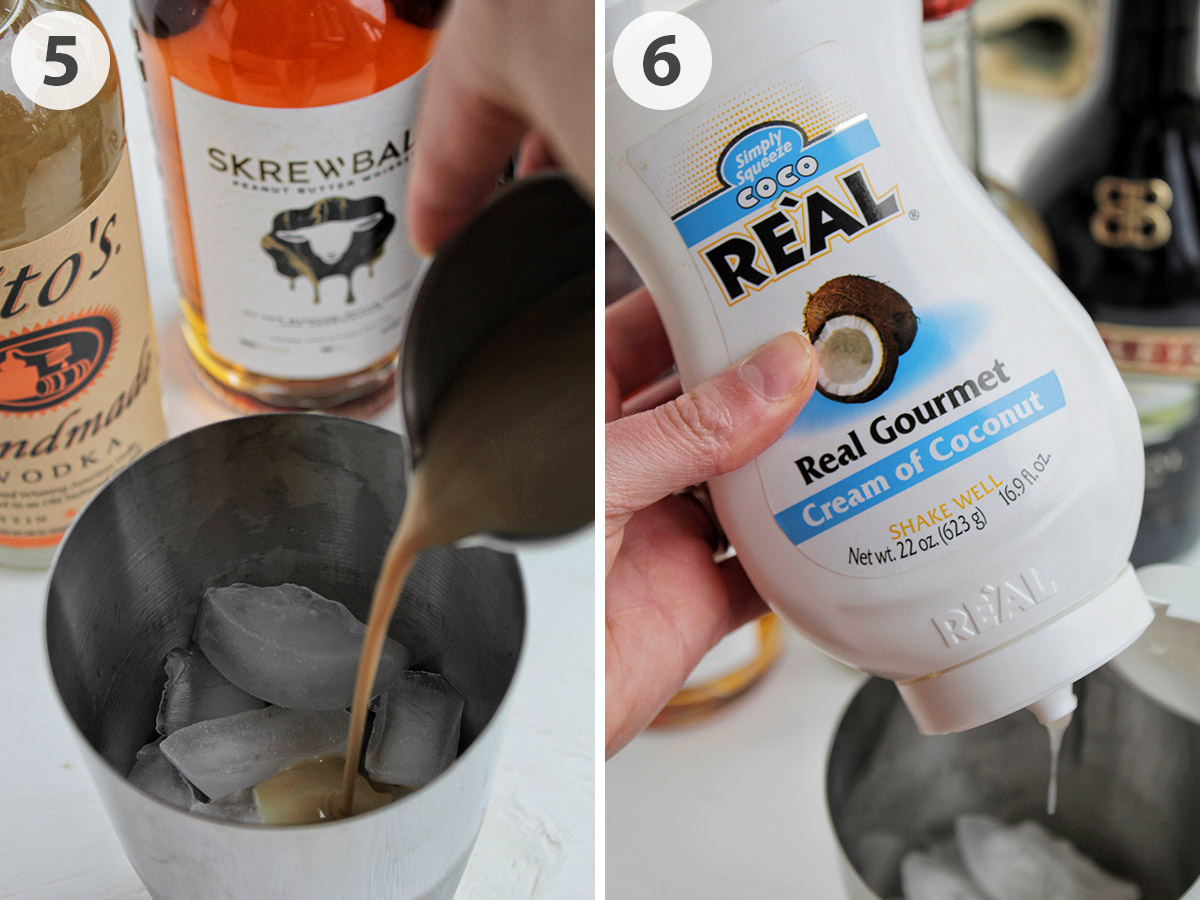 To make this Bailey's sugar cookie drink, add the Irish cream, peanut butter whiskey, 1 ounce of brown sugar simple syrup, cream of coconut, and orange bitters to a cocktail shaker. Throw in a handful of ice and then shake for about 30 seconds until the cocktail is chilled.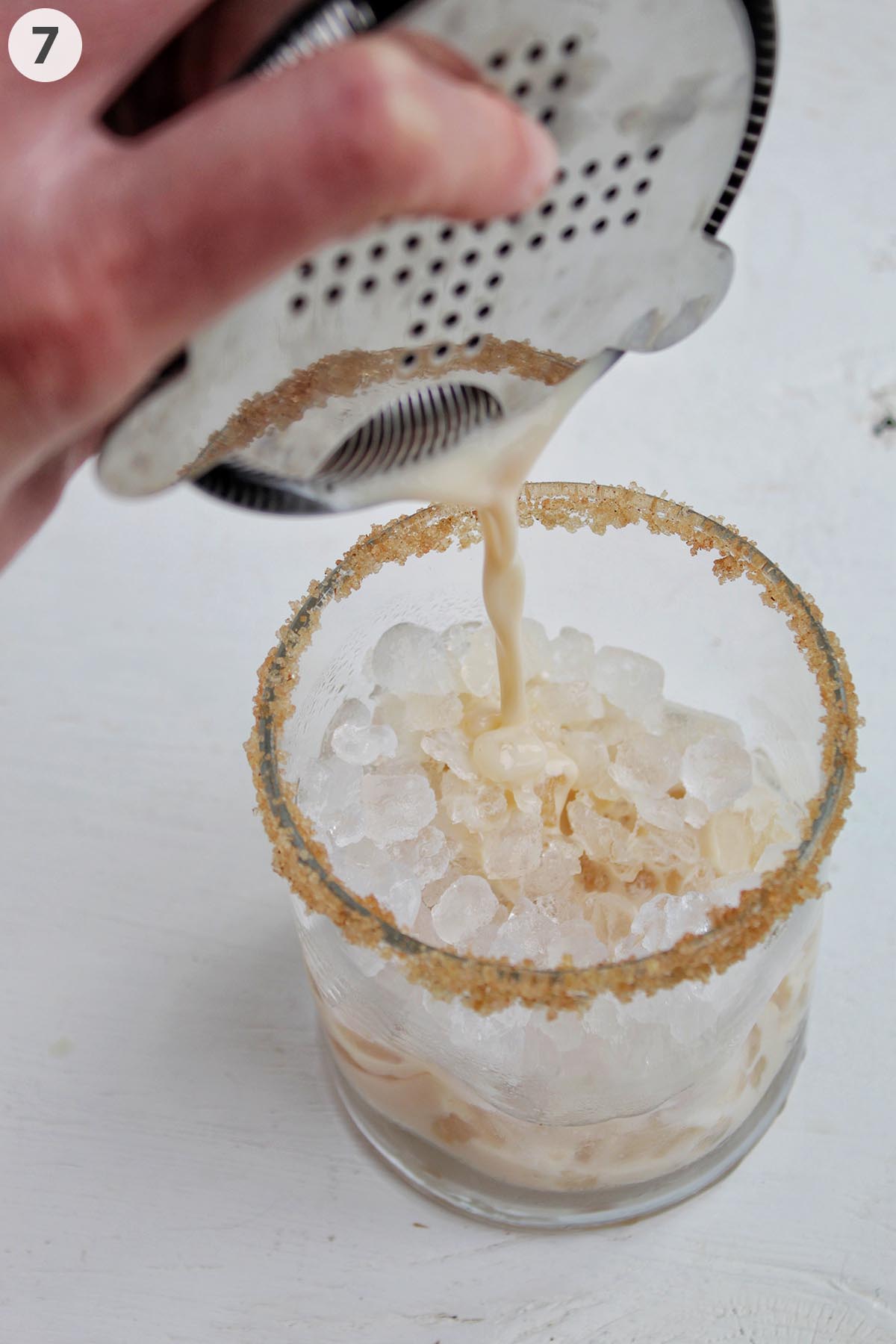 Finally, use a Hawthorne strainer to pour the cocktail into the prepared glass. Then, you're ready to drink and enjoy.
Expert Tips
For a cocktail that stays extra cold, chill the serving glass in the freezer for 30 - 45 minutes before mixing up the drink.
If you enjoy this cocktail, you can make additional brown sugar syrup to use in future cocktails. This syrup with last 1 - 2 months in a sealed container stored in the refrigerator.
Wondering where to buy pebble ice? I love grabbing a bag of pebble ice from Sonic. You can get multiple gallons of the best pebble ice for around $3.00.
Recipe FAQs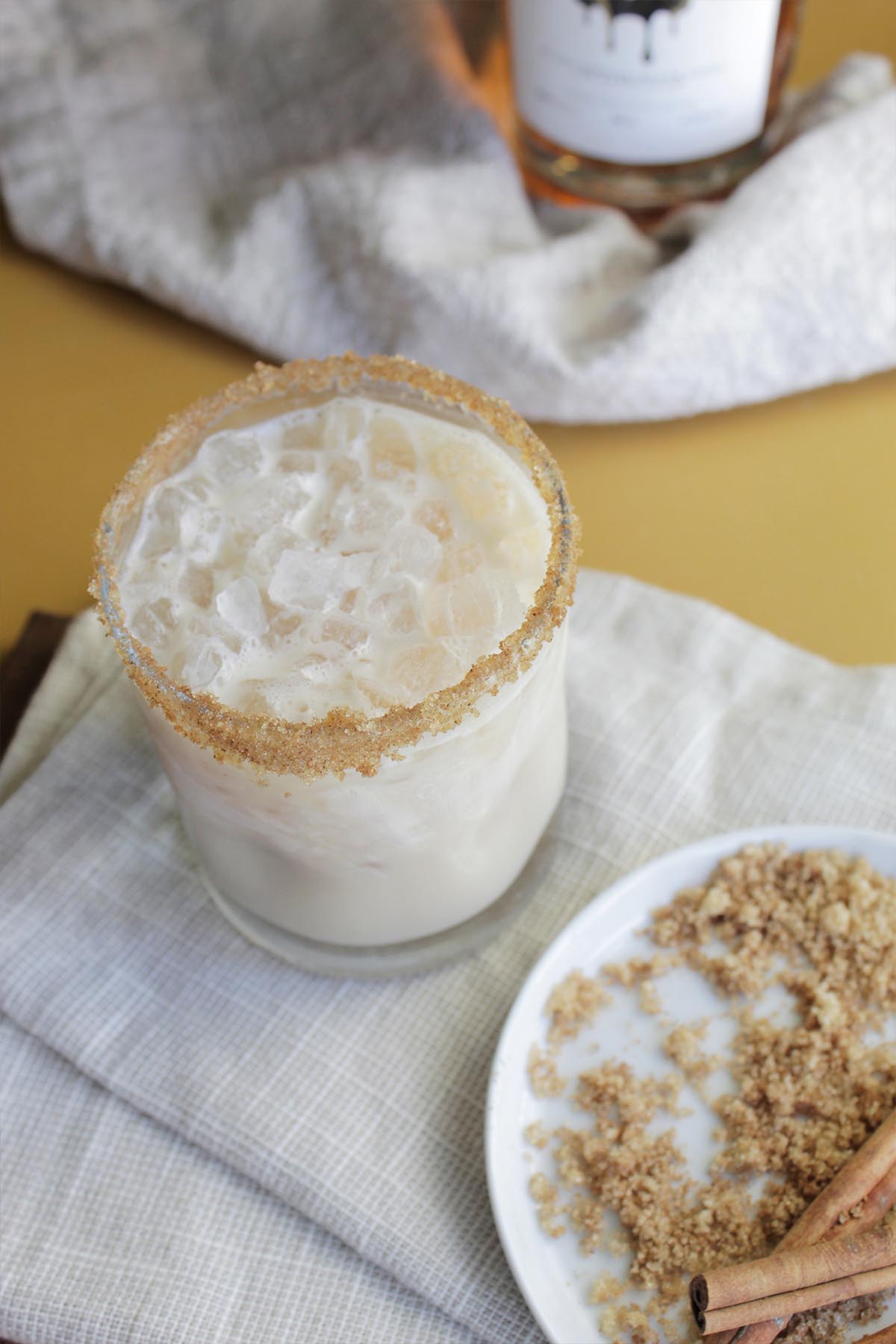 More Cocktail Recipes
If you enjoy cocktails made with Skrewball peanut butter whiskey, try these other drink recipes:
Plus, I have even more ideas for what to mix with peanut butter whiskey.
Love this recipe? Please leave a 5-star ⭐⭐⭐⭐⭐rating in the recipe card below. Don't forget to follow along on Instagram, Facebook, YouTube, and Pinterest for more recipes.