The ultimate vodka guide that will teach you all the basics about this spirit, including how vodka is made, and what makes it unique. You'll learn about the best types of vodka, so you'll have the confidence to walk into a liquor store and pick out a bottle of vodka you'll love.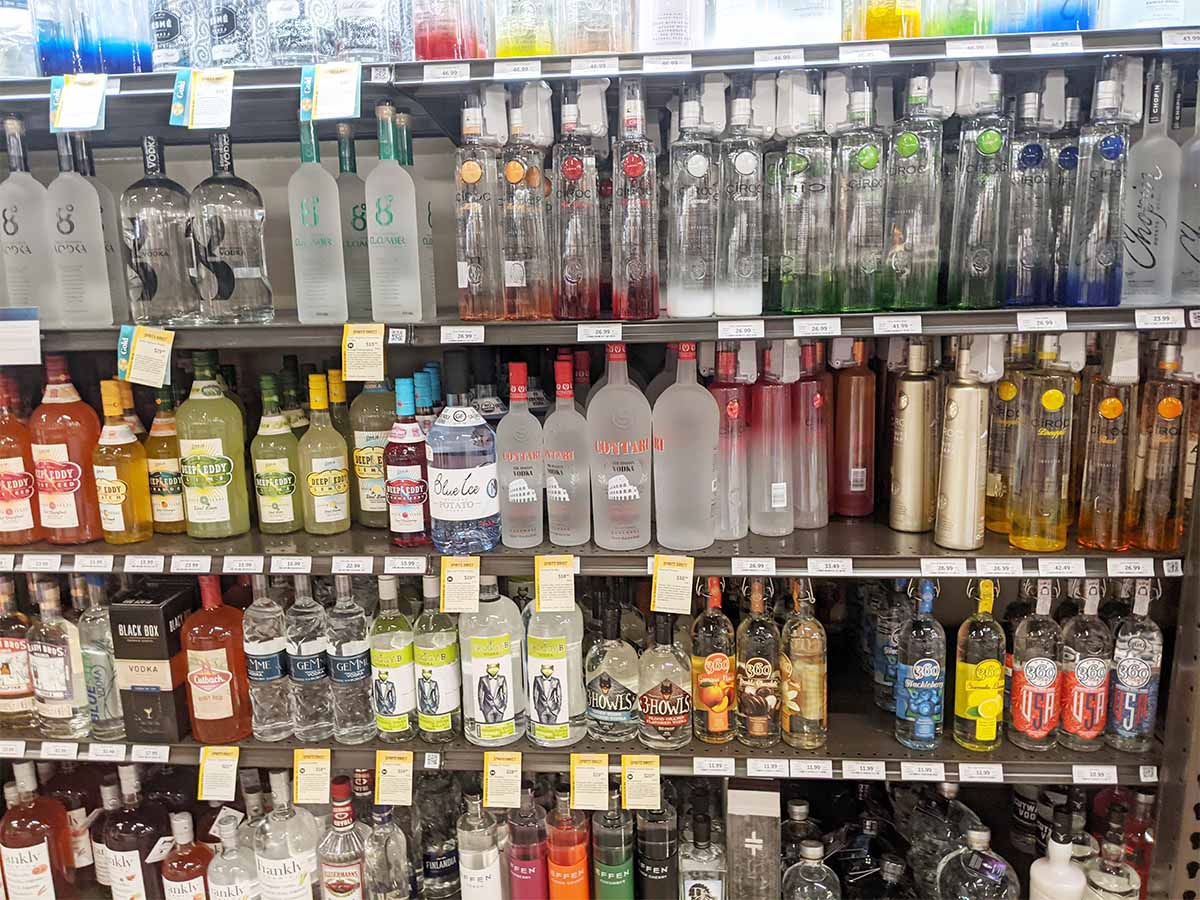 Vodka, although touted as the liquor choice of college students, is actually a more complex spirit than you might think! This vodka guide for beginners is an overview of the important pieces of vodka you need to know.
You'll learn how vodka is made, the different types of vodkas, plus popular vodka cocktails and brands.
My goal in this post is to help you feel confident when you walk into a liquor store to pick out a bottle of vodka to try.
Jump to:
Vodka Basics
Vodka is a great liquor option for mixed drinks as it's known for its neutral flavor without distinct color, taste, aroma, or character (although recently the U.S. Alcohol and Tobacco Tax and Trade Bureau lifted this requirement).
Vodka is typically made with a base of grain or potatoes. Small amounts of sugar and citric acid are also sometimes added.
Many countries around the world produce vodka (U.S., Poland, Russia, France, etc.), and there are slightly different regulations depending on where the spirit is produced.
One thing that's always the same - vodka is not an aged spirit. It's ready to drink immediately!
How Vodka Is Made
Vodka is fermented from grain, wheat, rye, corn, barley, potato, grape, or really almost any raw material.
It's then distilled multiple times, traditionally in a column still. It's really up to the distiller to decide the exact number of times to distill the vodka, but it needs to be at least 95% ABV.
Water is then added to dilute the mixture. The type of water that's added will affect the final product. Different water sources, their purity level, and if they have been filtered all help determine the taste and mouthfeel.
From there, the vodka is filtered, usually through activated charcoal. This process helps to remove any impurities or unwanted flavor. In this process, the type of filter and the number of times it's filtered can vary slightly depending on the brand of vodka.
Some experts argue that the extra filtration step seems useless. However, just know that more filtration does not necessarily equal a better quality of vodka.
As for flavored vodkas, they are either steeped with flavor enhancements after distillation, or artificial flavor/extracts are added to the finished vodka.
Types of Vodka
Many different spirits, like whiskey, have a wide variety of styles. Vodka is unique in the fact that there are really only two types - unflavored and flavored.
Let's learn a little bit more about each of these.
Unflavored Vodka
Unflavored vodka is exactly what it sounds like. No additional flavors have been added after the distillation process.
While vodka at its core really doesn't have much distinct flavor, smell, or color, there are slight differences in the ingredients and distillation process that affect the final taste.
Here are some of the ingredients used in vodka and how they can change the flavor of it: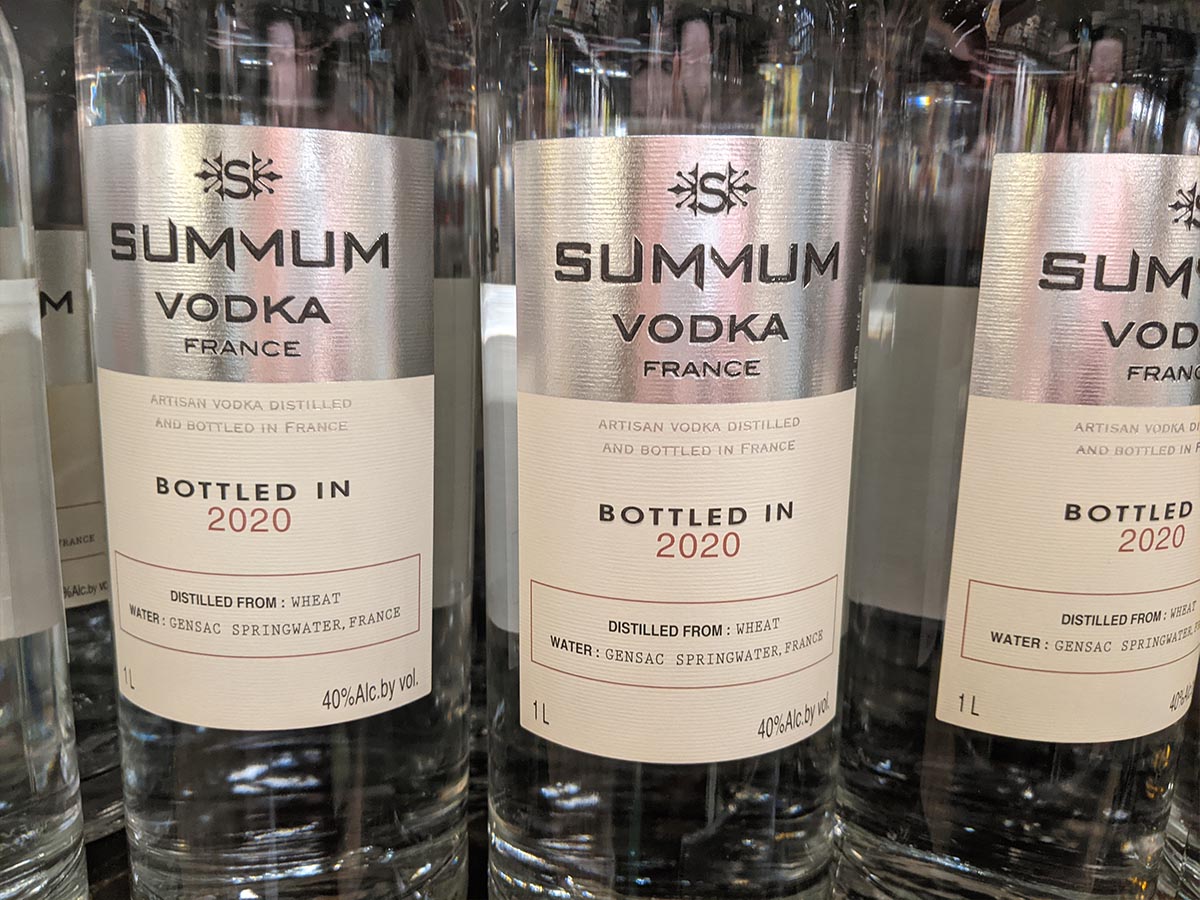 Flavored Vodka
Flavored vodka uses unflavored vodka, then adds a flavor enhancement.
There are so many flavors of vodka ranging from citrus to summer fruits or even spicy vodka. There are some cocktails, like a Cosmopolitan, that call for flavored vodka in the recipe.
Many brands of vodka also make flavored options. Citrus-flavored vodka is a good option to keep on hand for a variety of cocktails.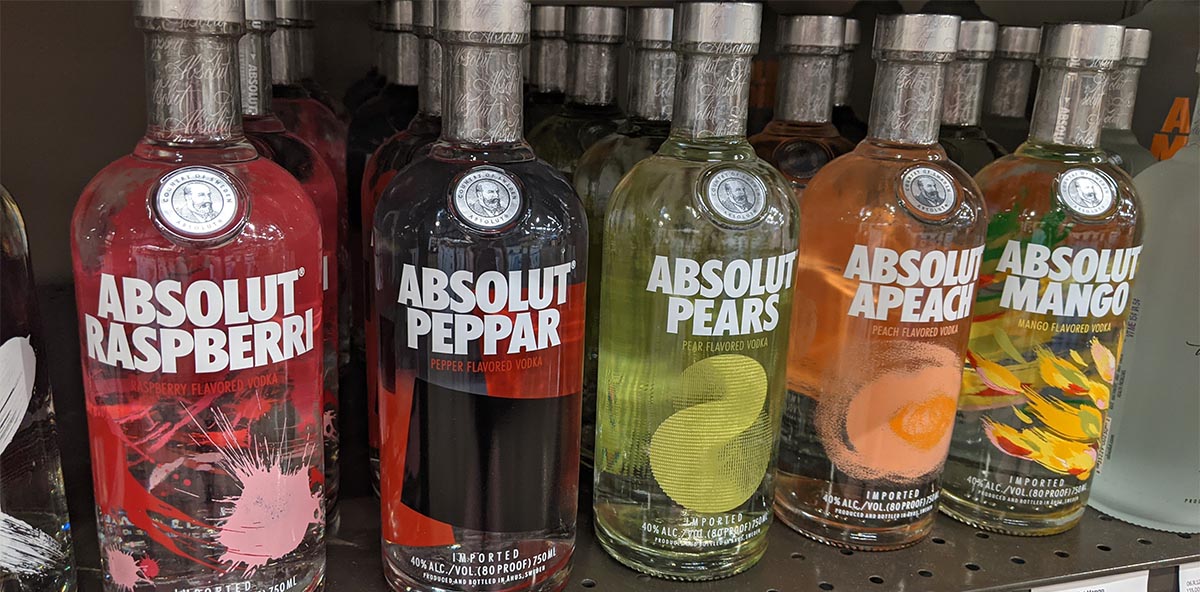 How to Pick A Bottle of Vodka
If you're looking to make cocktails or mixed drinks with other flavor profiles (like a bloody Mary or Moscow mule), then you'll want to grab a bottle of unflavored vodka.
Since most vodka has a neutral flavor, you probably won't taste too much of a difference from brand to brand if you're making a mixed drink. That being said, it's fun to try new brands and see if you prefer a certain base of vodka.
You'll likely use flavored vodkas if you want to use a neutral mixer (like soda water) or if you want to amp up the flavor of a drink (like citrus vodka in a Cosmopolitan).
Be careful when purchasing flavored vodka. Some brands and flavors can taste very artificial.
Vodka isn't often sipped, but if you're looking to get into higher quality vodka meant for that, do some research on distillers who produce sipping vodka.
In general, vodka is meant to be a very neutral flavor, so you'll want to find distillers who are creating vodka with some body and mouthfeel that is meant to be drunk by itself.
Common Vodka Brands
Here are a few popular vodka brands you might see on your liquor store shelves:
Absolut: This is a popular vodka brand that's distilled in Åhus, Sweden. This variety of vodka is made from winter wheat. Plus, Absolut has a distinctively shaped bottle that was inspired by an 18th century apothecary bottle.
Belvedere: This is a Polish brand that has been distilling vodka since 1910. Belvedere is a rye based vodka that's rooted in the old-school vodka making traditions.
Cîroc: This French-made vodka is unique because they use grapes that are distilled four times. The grapes give the vodka a distinct fruity taste.
Grey Goose: Known for its high price tag, this wheat-based vodka was created by Sidney Frank in 1997.
As a marketing strategy, this vodka was priced higher than other vodka brands. Does the quality actually reflect the high price? That's something you'll have to decide for yourself.
Marketing, along with the Beverage Testing Institute, ranking Grey Goose as the best-tasting vodka in the world, helped with the success of this brand.
Ketel One: This wheat-based vodka is made by a Dutch distiller with a copper pot still. Ketel One boasts about its crisp, clear vodka that has a long finish.
Skyy: There are a few things that make Skyy vodka stand out including their quadruple-distilled, triple-filtered product. Plus, they use mineral-enriched water from California that they believe reduces the bitterness of the vodka.
Smirnoff: According to The Oxford Companion to Spirits & Cocktails, Smirnoff is the number one selling vodka brand as of 2021. This brand has origins that date back to 1867. Originally distilled in Russia, Smirnoff was then purchased by a multitude of American-based companies throughout the years.
Smirnoff is also the original vodka used in the Moscow Mule cocktail created by mixing a house-made ginger beer from the Cock 'n' Bull pub.
Tito's: Made from corn, Tito's brags about being a certified gluten-free vodka since they don't add any additional mash back into the spirit after distillation. Tito's also boasts that their vodka is "so smooth you could drink it straight."
There are many different vodka brands on the market. This is just a sampling of the top sellers.
Remember that the most commonly known vodka brands typically become popular because of large marketing campaigns.
If you see a new, up-and-coming brand, give it a try and see what you think. There are many delicious tasting vodkas that aren't popular simply because their marketing hasn't had as much success as other brands.
Types of Vodka Drinks
Surprisingly, there are many popular cocktails that have vodka as the base spirit. Here are some common vodka drinks you should know about:
Black/White Russian: Both of these cocktails include vodka and a coffee liqueur. A white Russian is generally also served with a splash of cream, however.
Bloody Mary: At its core, a bloody Mary is made up of vodka and tomato juice, along with additional spices and flavorings such as Worcestershire, hot sauce, and black pepper.
Cosmopolitan: This is a sour style cocktail made by mixing lemon flavored vodka, lime juice, Cointreau, and cranberry juice.
Greyhound: You'll only need two ingredients for this vodka-based drink including vodka and grapefruit juice.
Kamikaze: Made as either a shot or a cocktail, this drink is made with vodka, curaçao or triple sec, and lime juice.
Moscow Mule: Served in the iconic copper mug, this drink is made from vodka, ginger beer, and lime juice.
Screwdriver: This is a simple cocktail made with vodka and orange juice.
Sea Breeze: Fill your glass with ice along with vodka, cranberry juice, and grapefruit juice for this refreshing cocktail.
Sex on the Beach: While there are many variations of this cocktail, this highball style drink is made from vodka and juices like cranberry, orange, pineapple, or a mixture of both. Typically, there is also a small portion of liqueur such as peach schnapps.
Vesper: A cocktail made up of gin, vodka, and Lillet (a French aperitif).
Vodka Martini: This is a twist on the classic gin martini that uses a mix of vodka (instead of gin) and vermouth.
Vodka Tonic: A shot of vodka along with ice and tonic water are all you need for this simple vodka drink.
For more ideas on how to drink vodka and a list of other vodka-based cocktail recipes, grab a free copy of my bartender's cheat sheet with over 45 cocktails in one guide.
FAQs
What is the best type of vodka?
The best type of vodka depends on the cocktail you are making. Unflavored vodka is a great option if you're trying to add alcohol without any additional flavor. Unflavored alcohol is common for drinks like the Bloody Mary, Moscow mule, sex on the beach, and vodka martini.

Other types of cocktails, like the Cosmopolitan, benefit from flavored vodka. A flavored citrus, vanilla, or even an infused spicy vodka is a great option for drinks that need additional flavor from the vodka.
What is the best brand of vodka?
The best brand of vodka is up to you and your personal taste preference. There's no one brand of vodka that's considered the best.

Choose a vodka that you enjoy the taste of and that mixes well with the cocktails and mixed drinks you love to make.
What is the best vodka for mixed drinks?
For most mixed drinks that include your favorite mixer, such as Coke, lemonade, ginger beer, or Red Bull, I'd suggest using an unflavored vodka so the flavor of the mixer shines.
Vodka Recipes You'll Love
Check out some of my favorite vodka based cocktails and two ingredient mixed drinks.
Sources
If you're interested in learning even more about vodka, check out these resources:
Love this guide? Please leave a comment below. Don't forget to follow along on Instagram, Facebook, YouTube, and Pinterest for more recipes.