Make a riff off of the classic Moscow mule with peanut butter whiskey, ginger beer, and orange juice. This four-ingredient Skrewball drink is the perfect combination for a beautifully balanced cocktail.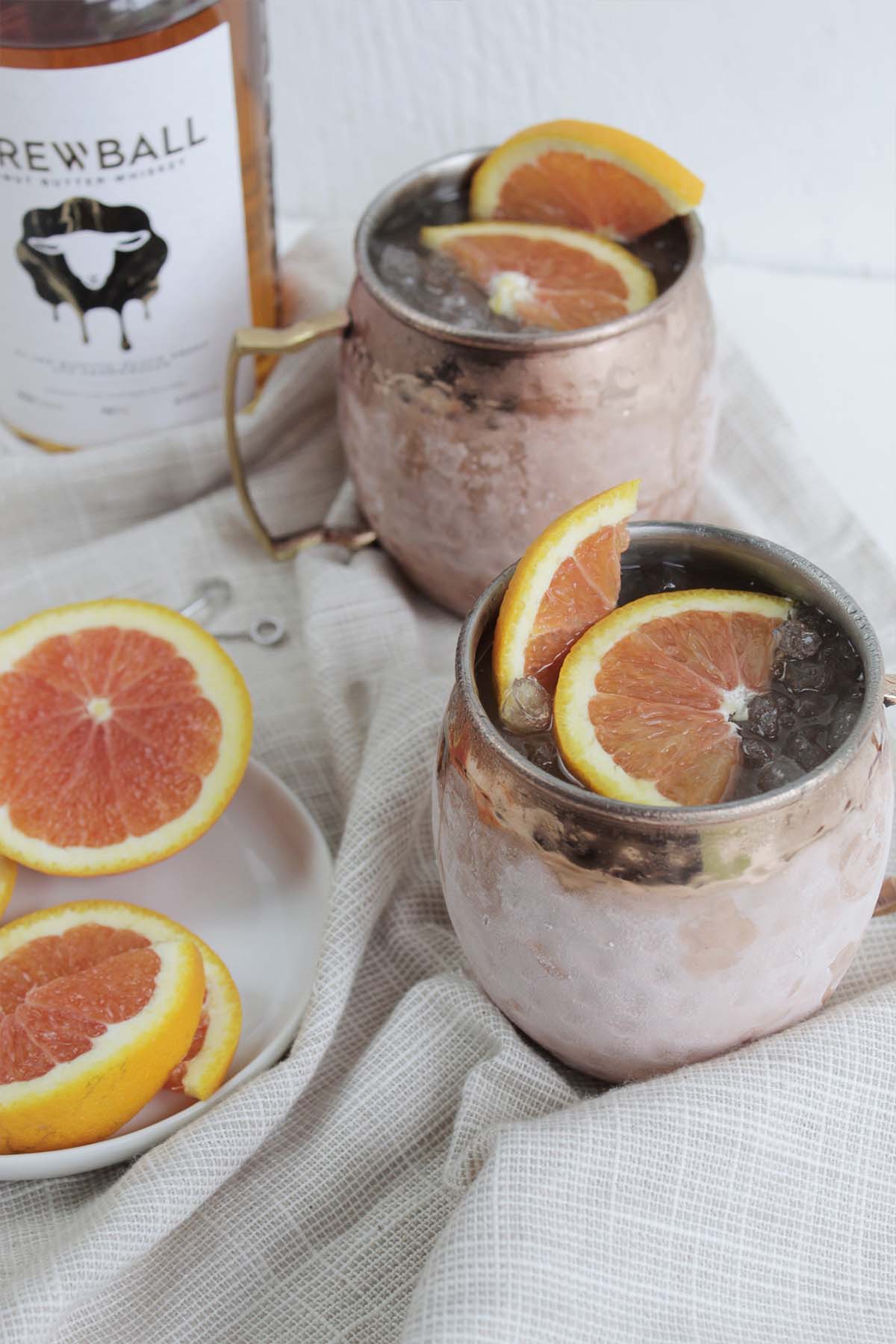 I'm a huge fan of mixing up peanut butter whiskey drink recipes. Skrewball whiskey has quickly become a favorite of mine because of the unique and rich peanut butter flavor it adds to cocktails.
This Skrewball mixed drink is no exception! It's filled with flavor and balance, making it a great cocktail if you're looking for different types of mule drinks to mix up.
All this recipe requires is pouring the flavored whiskey, orange juice, and ginger beer (or ginger ale) into a copper mug. Stir it up with a spoon and you're ready to enjoy. It's so simple!
Jump to:
What You'll Learn In This Recipe
By making this Skrewball flavored Moscow mule, you'll learn about:
The interesting history of how moscow mule cocktails came to be.
My favorite way to serve & garnish this cocktail.
Be sure to watch my liquor 101 series on YouTube to learn even more about popular spirits!
If you enjoy learning about making cocktails at home, sign up for my bartender cheat sheet. You'll gain access to 45 classic cocktail recipes.
What Is A Moscow Mule
Moscow mule is a cocktail that was created by accident around 1940. There are a few different stories about the history of this drink.
One story attributes the creation to a distributor of Smirnoff vodka and the bar owner of Cock'n'Bull. The bar owner was trying to launch his own brand of ginger beer (without much success) and decided to combine it with his friend's Smirnoff vodka and a squeeze a lime.
Other sources claim that the head bartender at Cock'n'Bull invented the drink out of all the backstock of ginger beer the bar had stored in the basement.
However the story goes, a well-deserved thank you needs to be given to the proper creator. This vodka, ginger beer, and lime cocktail is a classic everyone needs to enjoy!
Don't think that you can't make a twist on this classic recipe. There are also many popular Moscow mule riffs, including this peanut butter mule version.
Ingredients You Need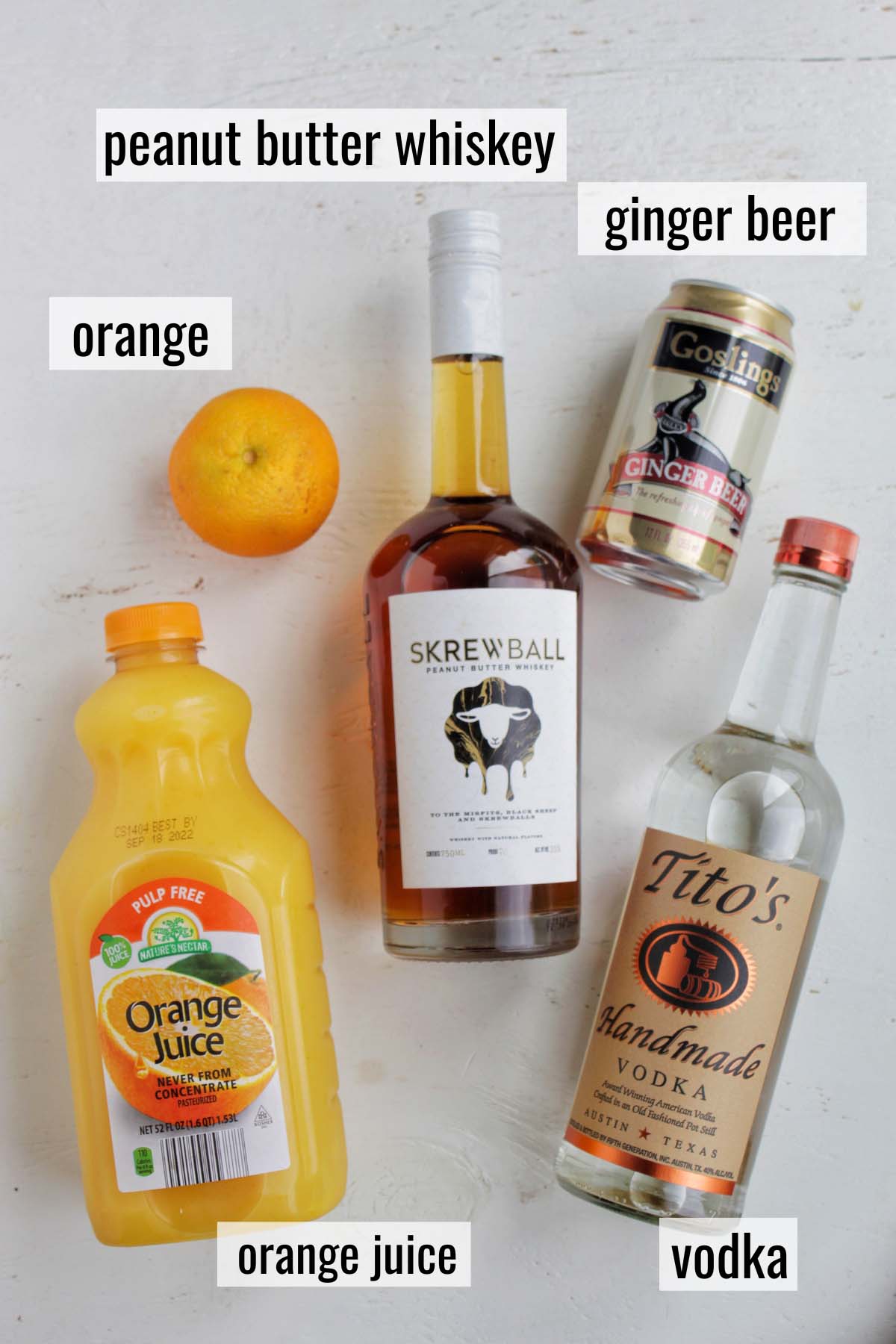 You'll only need 4 ingredients (plus a garnish) for this Skrewball drink. Here's a breakdown of what we're using for the recipe:
Peanut butter whiskey: This is the part of the moscow mule recipe that makes things so unique. I personally love to use Skrewball for my PB whiskey of choice.
Vodka: Feel free to use any unflavored vodka that you love! If you're interested in learning about the different types of vodka, check out my vodka 101 guide.
Orange juice: You're welcome to use bottled orange juice or freshly squeezed!
Ginger beer: The type of ginger beer you purchase can really change the flavor of the Moscow mule. The spicer the ginger beer, the more intense the cocktail will be. I prefer to use Goslings ginger beer for my drinks. You could substitute ginger beer for ginger ale if you'd prefer.
Pebble Ice: My secret for the perfect cocktail ice is pebble ice. You can get a whole bag of this stuff at Sonic for around $3.00. This ice definitely elevates the Moscow mule presentation!
Orange slice: If you have it, add an orange slice for a simple cocktail garnish.
How To Make This Recipe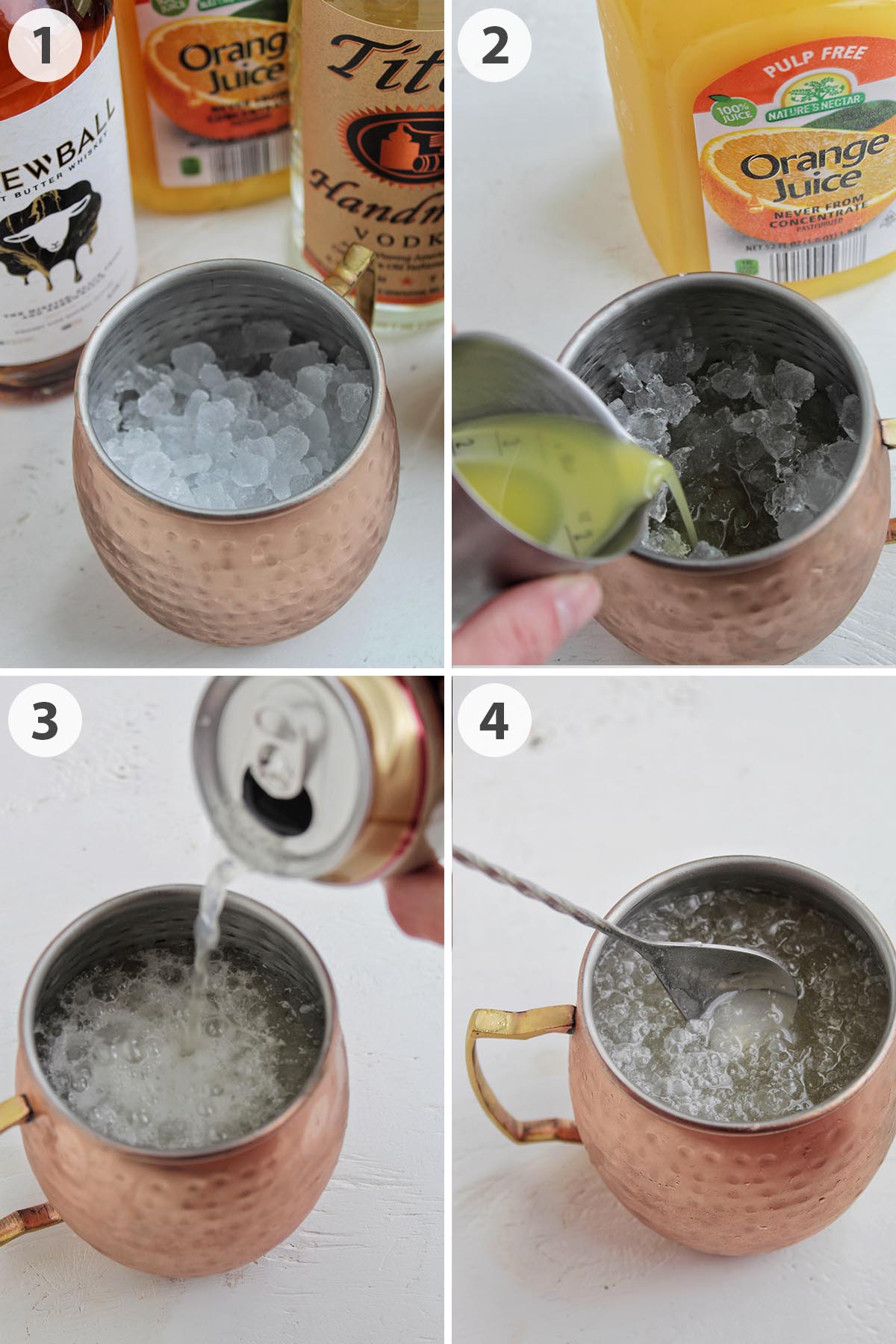 You can whip up this whiskey mule in no time. Here's how:
Fill a copper mug with ice. If you don't have a copper mug, opt for a high ball glass.
Next, measure out and pour the peanut butter whiskey, vodka, and orange juice directly into the copper mug.
Top with 3 ounces of ginger beer. If you prefer a more diluted cocktail, feel free to add additional ginger beer.
Finally, stir everything together and garnish with an orange slice.
This cocktail comes together so quickly, which is why it's one of my favorites to make.
Recipe Frequently Asked Questions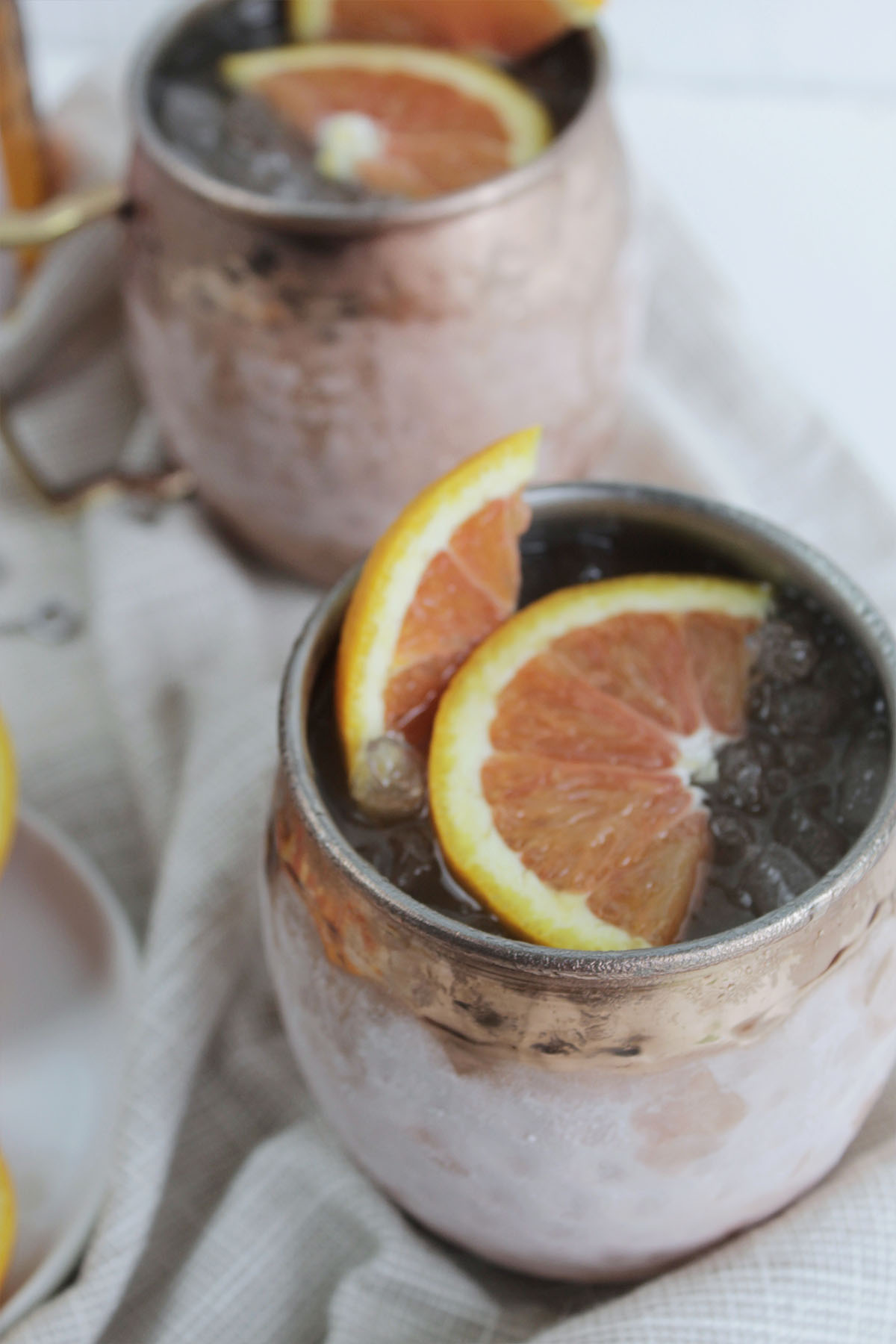 More Skrewball Drink Recipes
If you love mixing up drinks using peanut butter whiskey, try these other recipes:
Love this recipe? Please leave a 5-star ⭐⭐⭐⭐⭐rating in the recipe card below. Don't forget to follow along on Instagram, Facebook, YouTube, and Pinterest for more recipes.