Mix together a peanut butter old fashioned cocktail with this Skrewball whiskey drink recipe. With only 5 ingredients, you can create this classic cocktail with a twist.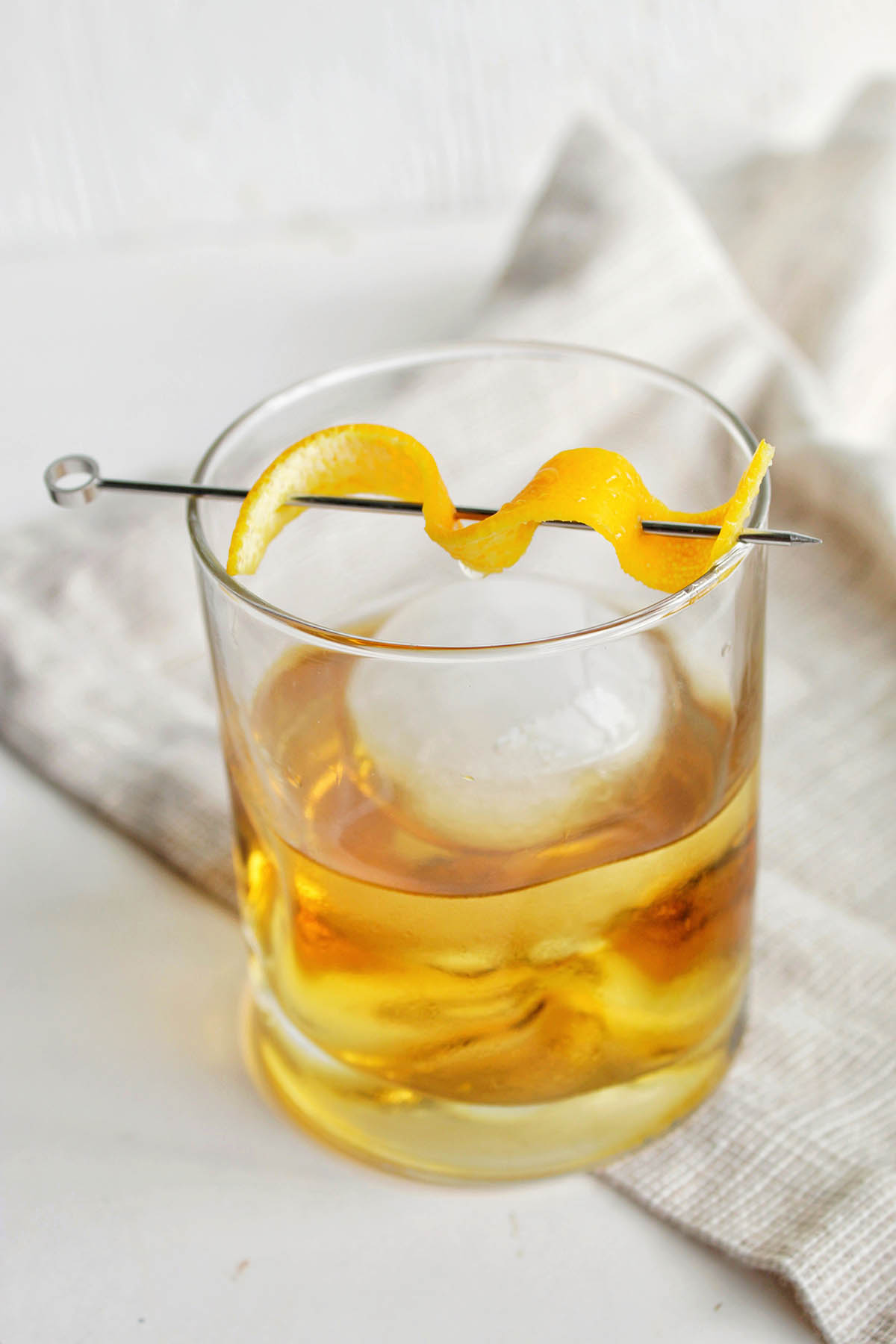 If you're a fan of the classic old fashioned cocktail, you have to try this modern version.
With flavors of peanut butter, cinnamon, and bourbon, this is the perfect cocktail during the cold months of fall and winter.
This Skrewball whiskey recipe stretches your imagination about how peanut butter whiskey can be used in a cocktail. You have to try sipping on this unique old fashioned recipe. You won't be disappointed!
Jump to:
What You'll Learn In This Recipe
By making this Skrewball whiskey old fashioned, you'll learn a few bartender tips such as:
The benefit of using large ice cubes in spirit-forward cocktails.
How to express an orange peel.
A simple recipe for making homemade cinnamon simple syrup.
Ingredients You Need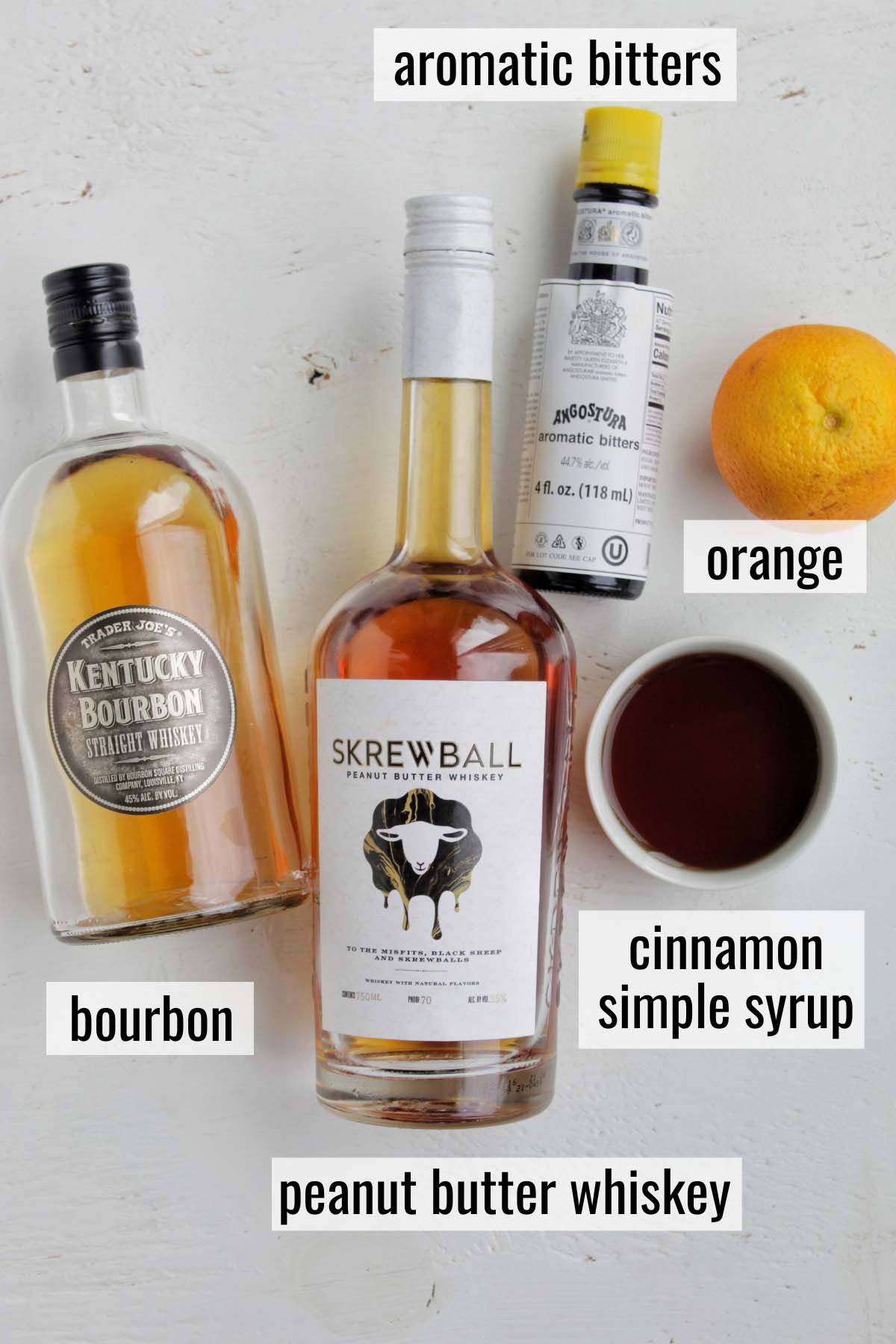 You'll notice in this Skrewball whiskey recipe that some elements of the old fashioned are traditional while others are unique.
Bourbon: Bourbon is a type of U.S. whiskey made mainly from corn. If you're interesting in learning more about bourbon and other types of whiskey, check out my whiskey 101 post. For this recipe, you're welcome to use your favorite brand of Bourbon.
Peanut butter whiskey: There are many brands of peanut butter whiskey available including Bird Dog, Sqrrl, Skatter Brain, Honest Truth, and more. However, my personal favorite is Skrewball.
Cinnamon simple syrup: Rather than using a sugar cube like is traditional in most old fashioned recipes, I've opted for cinnamon simple syrup. I think it pairs nicely with the peanut butter whiskey, and it adds a perfect touch of spice. If you're interested in making a homemade version of this simple syrup, check out the recipe notes below.
Aromatic bitters: We're keeping this traditional element in order to balance out the flavor of the cocktail.
Orange peel: Don't forget to express and garnish with an orange peel. It really helps finish off the drink in an elegant way.
How To Make This Recipe
Part of the reason I love this peanut butter whiskey old fashioned is the simplicity of the drink. Here's how to make this cocktail:
1. Add a large ice cube to a lowball glass. Pour bourbon, peanut butter whiskey, and cinnamon simple syrup into the glass.
2. Add in two dashes of aromatic bitters. You can think of bitters like salt for your cocktail. They help round out the flavors and give balance to the drink.
3. Using a bar spoon, stir the cocktail together.
Expert Tips
Ever wondered why you stir an old fashioned instead of shake it? Cocktails composed fully of spirits should generally be stirred to minimize the amount of dilution. You want the liquor to be the pronounced flavor in the cocktail, rather than having it diluted from ice.
Make sure to use a large ice cube in this Skrewball old fashioned. This prevents too much water from diluting the drink.
Feel free to adjust the sweetness of the cocktail by adding more or less simple syrup depending on your preference.
Recipe FAQs
More Peanut Butter Whiskey Recipes
If you loved this peanut butter whiskey old fashioned, try some of my other favorite Skrewball drink recipes.
Love this recipe? Please leave a 5-star ⭐⭐⭐⭐⭐rating in the recipe card below. Don't forget to follow along on Instagram, Facebook, YouTube, and Pinterest for more recipes.