Shake up a fun and simple 4 ingredient mixed drink with Sprite and tequila. This colorful pink Patrón tequila cocktail is mixed with hibiscus tea and topped with Sprite (or 7UP).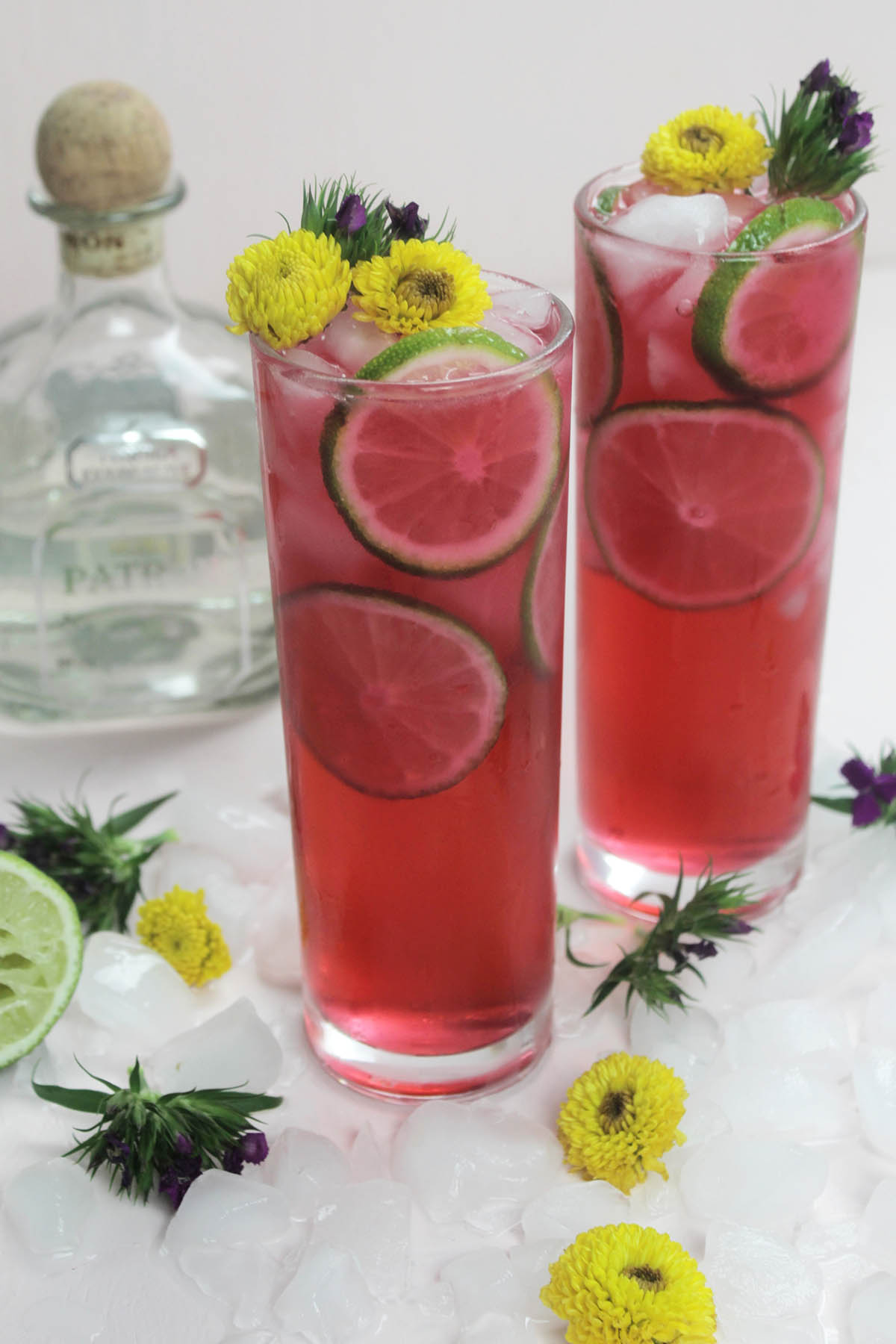 Tequila and Sprite just so happens to be one of my favorite, go-to cocktail combinations. It's a simple, light, and low-calorie option that tastes great.
This Sprite tequila cocktail is getting a color makeover by adding hibiscus tea to give the entire drink a pink tint.
This cocktail is really a show-stopper. It is garnished with some lime slices and edible flowers, which will really impress whoever you're making this for!
If you're looking for other Patrón silver mixed drinks, check out my other favorite Patrón cocktail and mixer ideas.
Jump to:
What You'll Learn In This Recipe
You'll learn a few bartending tips and tricks by making this recipe including:
How to pick out a good quality tequila that you'll love.
Ways to change up this recipe to slightly tweak the flavor using different types of soda.
How to use edible flowers to garnish a cocktail.
Be sure to sign up for my free bartender cheat sheet to receive even more cocktail recipes in your email. This guide includes 45 classic cocktail recipes that you can mix up at your home bar.
Ingredients You Need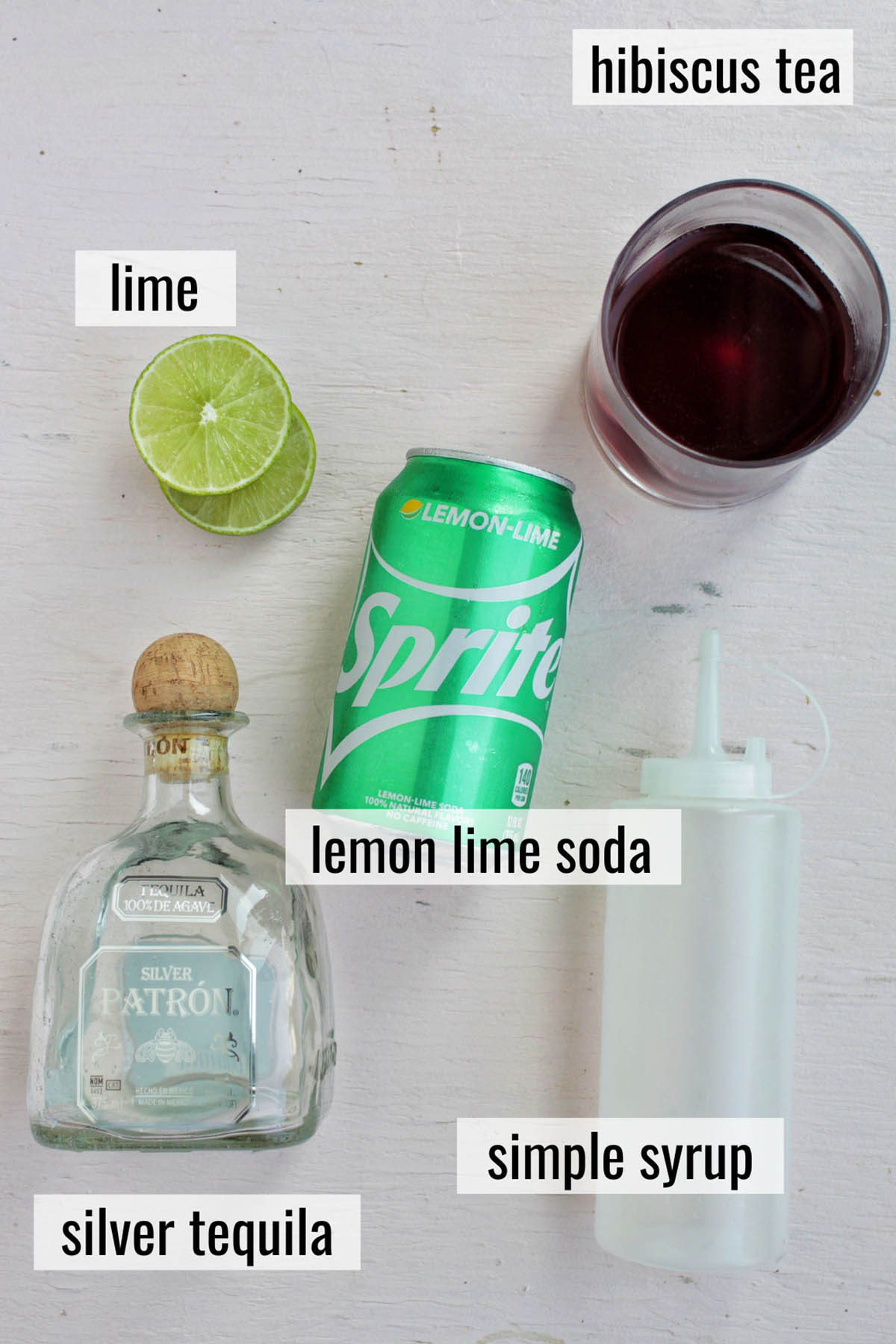 This simple cocktail only requires a few ingredients:
Hibiscus tea: The tea adds a floral, light taste to the cocktail. Plus, it makes the drink a pretty pink color. Make sure to steep and cool the tea prior to using it in the cocktail.
Patrón silver tequila: In my opinion, tequila is one of the best liquors with Sprite! The tequila really shines through in this cocktail, which means it's important to select high-quality tequila. Always make sure the bottle of tequila you purchase says 100% agave. Learn more about the best types of tequila for mixed drinks.
Lime juice: I prefer to use freshly squeezed lime juice. It adds a tart, bitter taste to the cocktail. However, in a pinch, you can substitute it for bottled lime juice.
Simple syrup (optional): This ingredient is completely optional but can add in a touch of sweetness if you prefer a sweet cocktail. Feel free to adjust the amount of simple syrup according to taste.
Sprite lemon-lime soda: I love a cocktail that has a little bit of fizz. The Sprite adds in some carbonation and extra flavor. Feel free to also use 7UP, Fresca, or diet soda in place of Sprite.
Don't forget to grab some crushed ice for serving and optionally edible flowers and lime wheels for garnish.
How To Make This Recipe
Here's how to make the pink Patrón and sprite cocktail.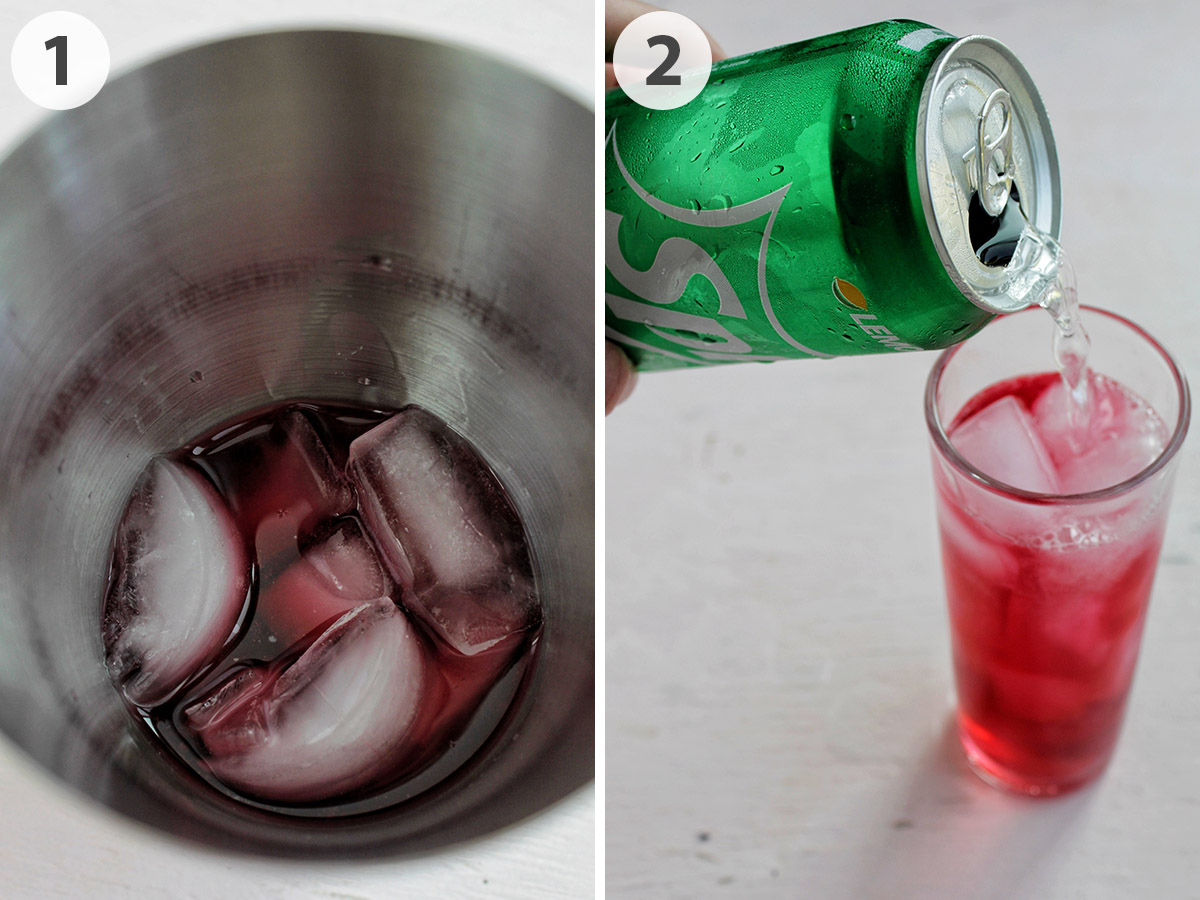 3. A cocktail isn't complete without a beautiful garnish. Slide a few lime wheels into the glass and then optionally top with some edible flowers.
Expert Tips for Purchasing Tequila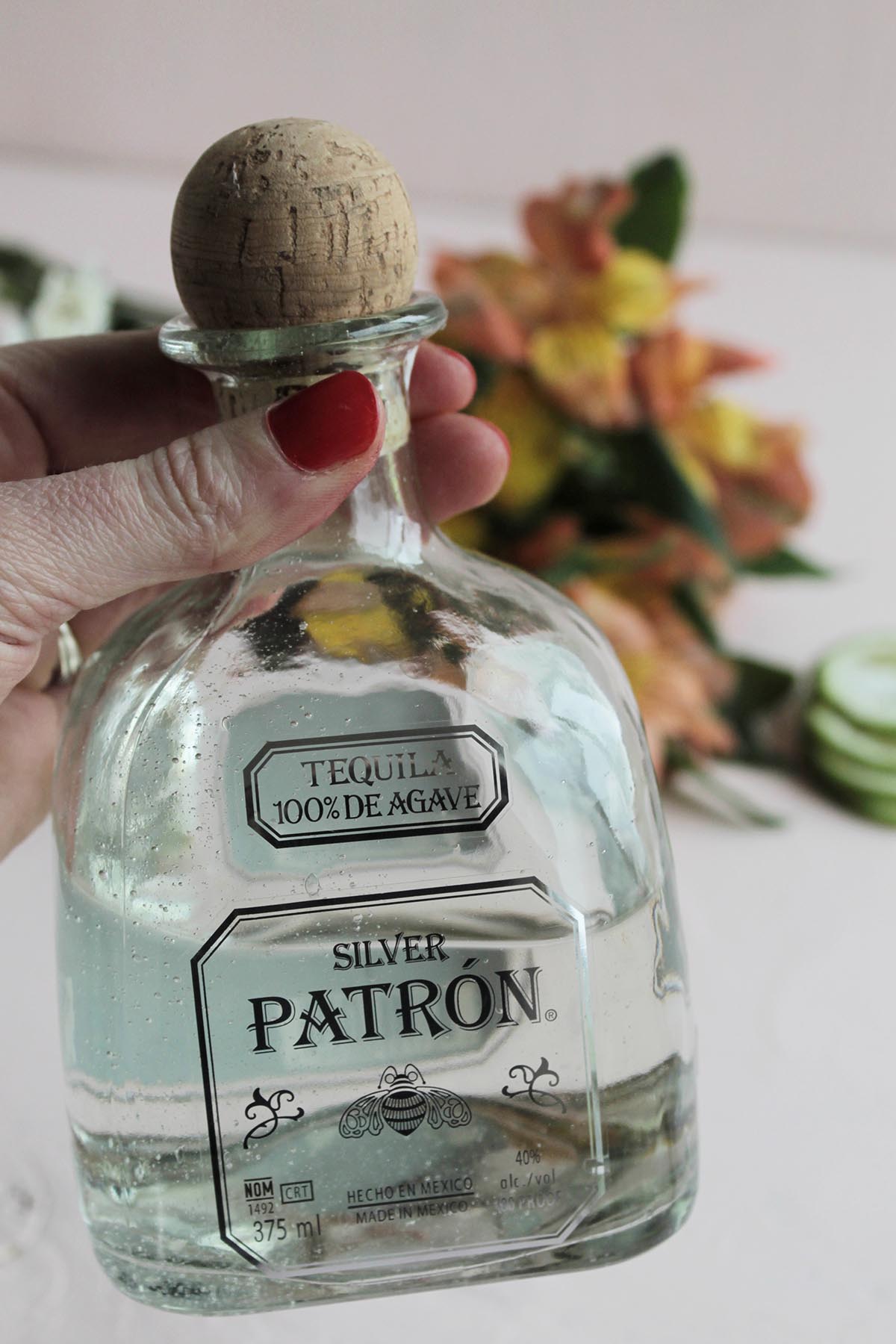 Because you can really taste the flavor of the alcohol in the Sprite tequila cocktail, it's important that you're selecting a high-quality bottle of tequila. Here are some tips when shopping for tequila:
Most importantly, be sure the bottle of tequila mentions 100% agave somewhere on the bottle. This means that all of the sugar is made from blue agave and not other fillers or additives.
Higher-end bottles usually list where the tequila was made. Legally, tequila can be produced in these five regions in Mexico: Jalisco, Guanajuato, Michoacán, Nayarit, or Tamaulipas.
If you're looking for tequila with a richer, woody taste, try a reposado tequila instead of silver/blanco tequila.
Learn more about tequila including how it's made and the different types of tequila available to purchase.
Recipe FAQs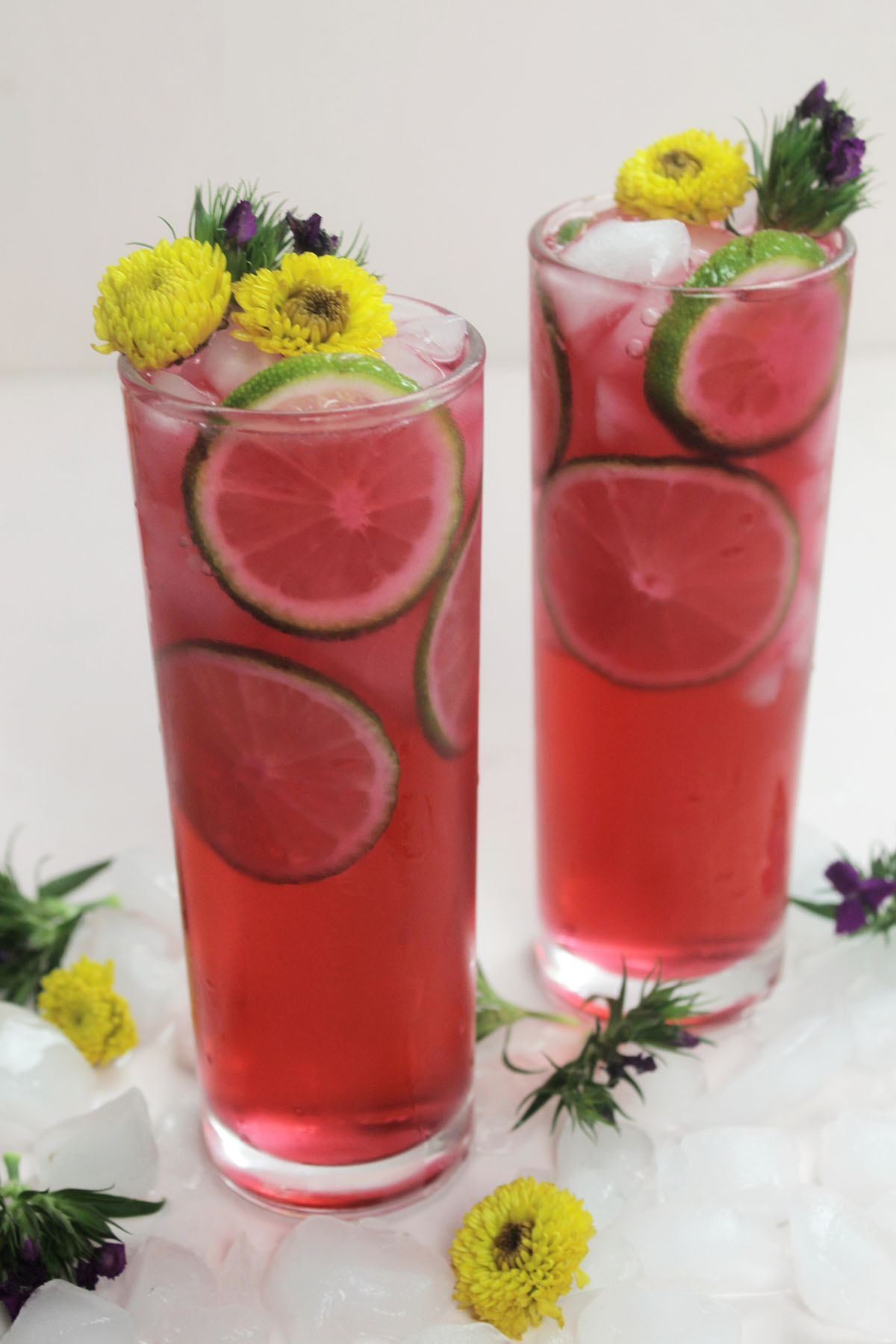 More Tequila Cocktails
Here are some other tequila-based cocktails you may enjoy. Plus, check out my favorite two-ingredient mixed drinks.
Love this recipe? Please leave a 5-star ⭐⭐⭐⭐⭐rating in the recipe card below. Don't forget to follow along on Instagram, Facebook, YouTube, and Pinterest for more recipes.