Learn some beginner basics all about the most popular types of whiskey
This guide will teach you all the whiskey 101 basics you need to know to start drinking whiskey. Beginners who are new to drinking whiskey will learn the factors that effect the flavors of whiskey, five popular types of whiskey, and how to pick out a bottle of whiskey you'll love.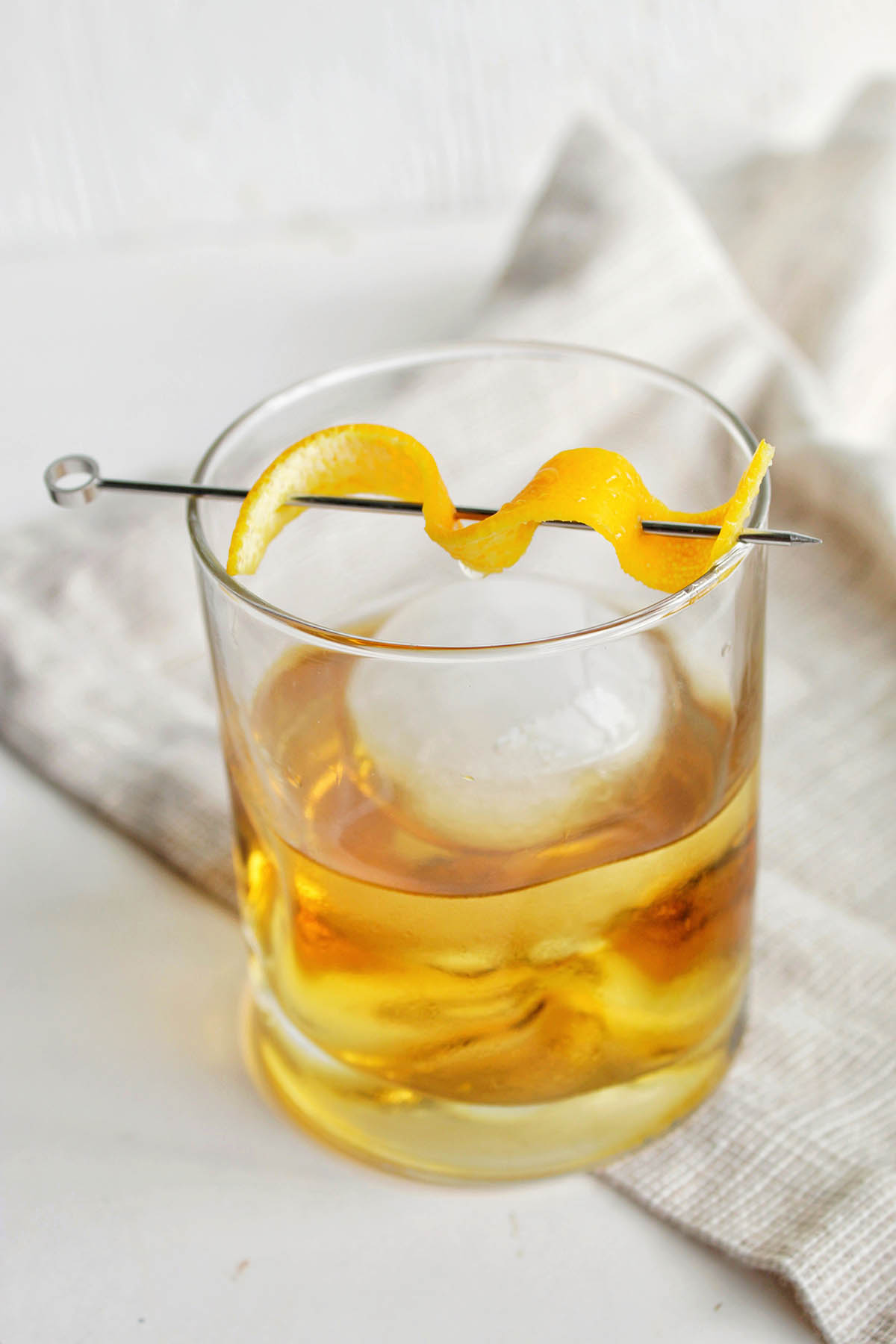 Let me start out by saying there is SO MUCH to know about whiskey! Whiskey is one of the more complicated spirits. As I continue to learn about whiskey, I find myself having more and more questions.
The is not meant to be the end-all, be-all expert guide to whiskey. Rather, this post is a roadmap for people who are at the very beginning of their journey into discovering whiskey and want to learn the basics.
My goal of this post is to help you feel confident when you walk into a liquor store to pick out a bottle of whiskey to try.
Whiskey Basics
One of the most important things you need to know, is the differences between all whiskeys rely upon these three factors:
Where it's made.
What it's made from.
What it tastes like.
Let's break it down a bit more. When we talk about what whiskey is made from, we're talking about its mash bill. The mash bill is the mix of grains used to make whiskey - like corn, rye, barley, and wheat.
Depending on the type of whiskey, there are certain requirements for the mash bill. For example, a rye whiskey's mash bill must, by law, consist of a minimum of 51% rye grains. If the specific mash bill guidelines are not followed, the bottles cannot legally be labeled as that type of whiskey.
Keep these factors in mind, as they will be very evident as we continue to discuss the main types of whiskey every beginner needs to know about.
P.S. - you'll notice whiskey/whisky is spelled differently throughout this post. If the spirit is made in Scotland, Canada, or Japan, we spell whisky without the 'e.' If it's made in the United States or Ireland, whiskey uses the 'e.'
Whiskey 101 Video Guide

The Types of Whiskey You Need to Know
There is a very extensive list of types of whiskey from around the world. We are going to be focusing on the main types of whiskey for beginners, not a complete list.
Bourbon
By law, bourbon must be made in the United States. While Kentucky is a large producer of bourbon (I'm guessing you've heard of Kentucky bourbon) it's not the only place bourbon can be produced.
Bourbon is made from a mash bill of at least 51% corn. There are no requirements on how long it has to be aged, just that it must be aged in a new, never before used, charred oak barrel. As you get into more specific types of bourbons, there are additional restrictions that come into play. For example, straight bourbon must be aged for a minimum of two years and contain no additives.
The taste of bourbon tends to be a mix of sweetness (from the corn) and smokiness (from the charred oak barrels). It usually has notes of vanilla, honey, or maple!
Rye
Rye whiskey is mainly made in the United States and Canada.
Rye whiskey is made from a mash of at least 51% rye grains. Aside from the mash bill, the requirements for rye whiskey are the same as bourbon.
While there are many similarities to the distillation process, rye whiskey has a very unique taste compared to bourbon. It has a spicy, peppery taste that tends to be stronger than other types of whiskey.
Scotch
As you may guess by the name, scotch is made in the country of Scotland. More specifically, there are five main regions in Scotland that produce scotch, all with very distinct flavor differences.
Scotch is made from a mash of malted barley or grain typically, and caramel coloring. Scotch is required to age for at least three years. Scotch is a bit more complicated than bourbon. As you start to explore scotch, you'll learn about malt whisky (made entirely from malted barley), grain whisky (made from wheat, corn, and barley), and blended whisky (various combinations of malted barley and grain whiskies).
The taste of scotch tends to be a little earthy and a lot of smokiness. Taste will also vary depending on the mash and age.
Irish
Irish whiskey is named according to its origin. It's made in the country of Ireland.
Irish whiskey is made from malted barley, as well as other unmalted grains. Irish whiskey varies from scotch as it tends to more often use unmalted barley. It breaks down to about four main types of Irish whiskey: Malt whiskey, pot still whiskey, grain whiskey, and blended whiskey. They all vary by the different grains used in the mash bill.
Each type must be aged for a minimum of three years, and cannot contain additives other than water and caramel coloring.
As for the taste, Irish whiskey tends to fare on the lighter, smoothie side of whiskeys. Some people also say it has characteristics of vanilla.
Japanese
Although the name implies that this whisky is made in Japan, this is not actually a requirement for Japanese whisky.
When it comes to the requirements of Japanese whisky, they are a lot less restrictive than other types. In fact, oftentimes Japanese whisky is made from or mixed with imported whisky from other countries, usually made with a malted barley mash.
The taste of Japanese whisky varies and is hard to pinpoint due to the loose regulations. Generally, this is a sipping whisky and is higher in price due to the innovative and unique style of this whisky. Make sure to do your research before purchasing a bottle for a specific taste profile.
How to Pick A Bottle Of Whiskey
When it comes to selecting a bottle of whiskey you'll like, it's really all about personal preference & taste. Don't be shy, if you're new to whiskey, to start out with safe choices. You don't need to feel pressure to spend hundreds of dollars on a "fancy" bottle of scotch when you're first beginning your journey into whiskey.
If you're making mixed drinks, keep your bottle of whiskey on the less expensive side. Because it's going to be combined with mixers, there's no reason to spend ungodly amounts of money on a bottle. Blended whiskey tends to be your best bet for mixed drinks, so you can look for that information on the label.
As for sipping whiskey, you'll likely want to look into single malt options, as well as Japanese style whisky or other pricier bottles (although price alone does not determine the quality).
As you start to drink more whiskey, you'll be able to develop a flavor profile for the different types of mash (corn, rye, barley, and wheat) used in the whiskey. Like we talked about above, each type of whiskey has its own unique taste, and that's due to the mash bill used to make the whiskey. I suggest trying the mini bottles you can find at Total Wine so you can taste different types of whiskey without committing to a whole bottle.
If you're at a liquor store, you can also read the description on the label to see if any flavor notes are listed.
Common Whiskey Drinks
There are lots of delicious drinks you can make with whiskey including:
Old-Fashioned
Whiskey Sour
Sazerac
Manhattan
Rob Roy
Rusty Nail
Mint Julep
John Collins
Highball
For a list of whiskey-based cocktail recipes and many more, grab a free copy of my bartender's cheat sheet. Over 45 cocktails in one guide.
Still Want To Learn More?

These are some of my favorite resources if want to dive deeper into the wide world of whiskey:
Thrillist put together the most popular Expert Whiskey Terms to know.
You may want to learn How to Order Whiskey like a Boss for the next time you're out at a bar.
Check out How to Taste Bourbon so you can learn the different notes & flavors to look for.
If you prefer more of a peek into behind the scenes, check out this article on How Different Grains Affect the Taste of your Whiskey.
A video guide to the various styles of whiskey.
Instant Whisky Expert articles from Whiskey Advocate.