Looking for fun and delicious drinks to make with peanut butter whiskey? Here are 20 easy cocktail and shot recipes to shake up at your home bar.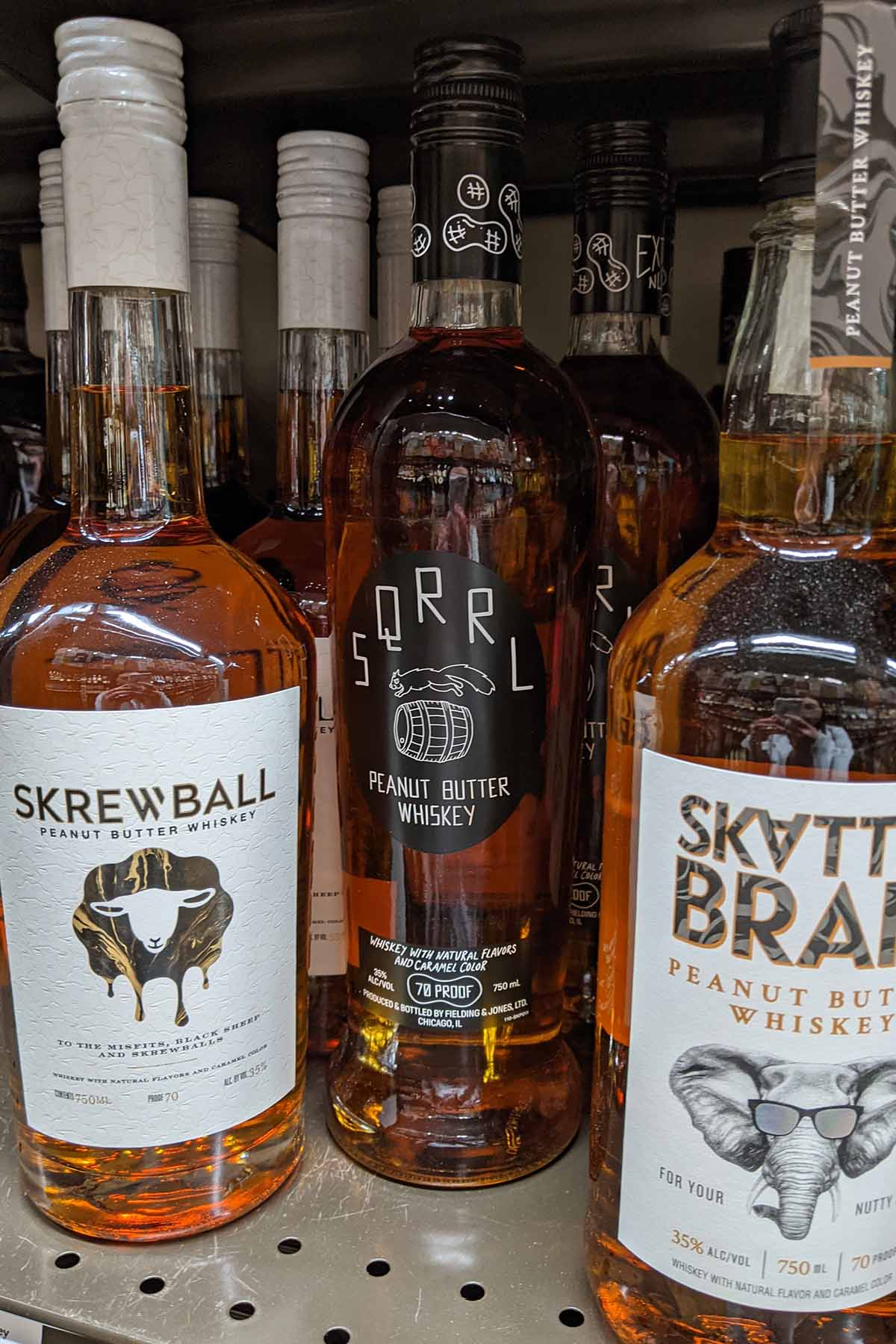 If you're obsessed with peanut butter whiskeys, like Skrewball, Bird Dog, Sqrrl, or SkatterBrain, you have to try these recipes.
This list includes the best peanut butter whiskey drink recipes from cocktails to boozy drinks and shots.
These recipes are perfect to serve at your next game day, weekend get-together, or happy hour. You'll be asking for another round of these incredible drinks.
There are many popular brands that make peanut butter-flavored spirits, but my go-to is always Skrewball. Whichever brand you choose, you'll love mixing up these recipes.
1. Tropical Paradise Tiki Cocktail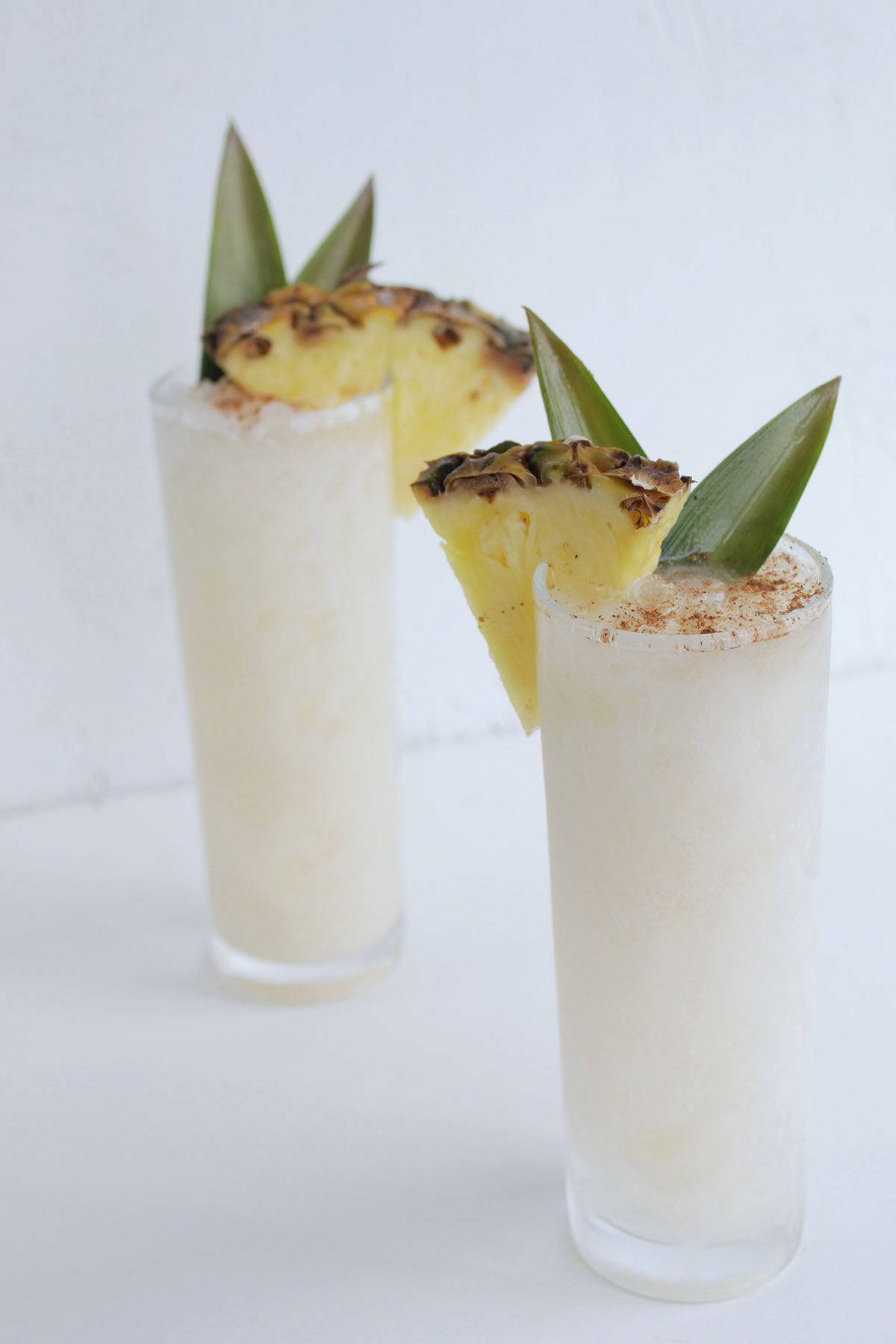 Looking for an escape from reality? Enjoy this tropical tiki cocktail to immediately be transported to paradise. This cocktail is loaded with the flavors of summer including rum, coconut, and pineapple.
At the first sip, you'll experience a sweet, coconut flavor with a peanut butter note at the end. Don't forget to garnish with a sprinkle of cinnamon and some pineapple fronds.
2. Peanut Butter & Orange Moscow Mule
Peanut butter whiskey adds a unique flair to the classic Moscow mule cocktail. Using only four ingredients, this cocktail pairs peanut butter with orange and spicy ginger beer.
This is a great drink recipe to make for parties since Moscow mules require very little effort. Your friends will be asking you for the secret ingredient that makes this cocktail so delicious!
3. PayDay Candy Bar Shot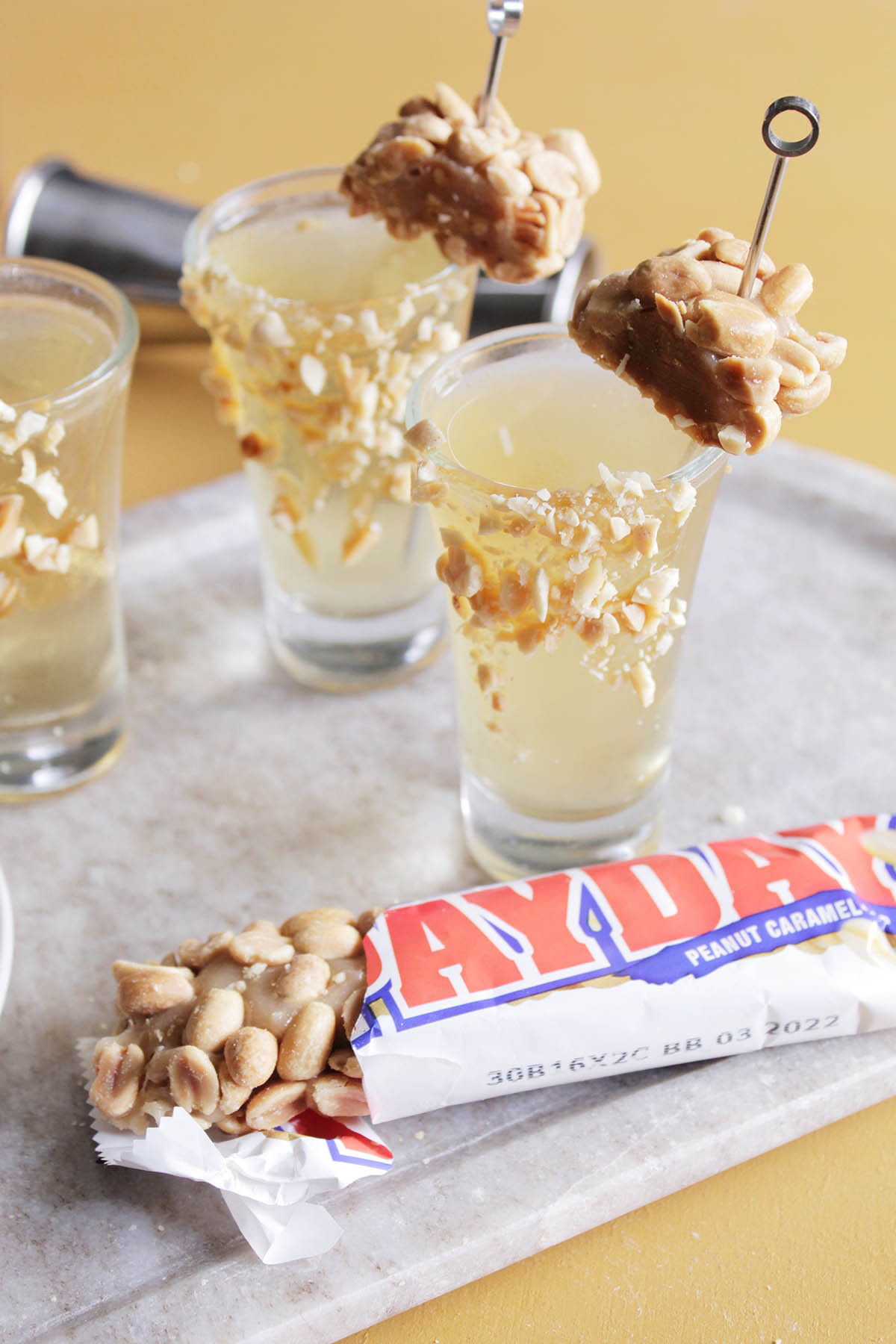 If you love eating a PayDay candy bar, this is the perfect alcoholic shot for you! With the help of some butterscotch liqueur and caramel vodka, you'll be throwing back this delicious shot recipe.
Of course, if you have time, spend an extra second on a garnish using caramel and salted peanuts.
4. Reese's Pudding Shots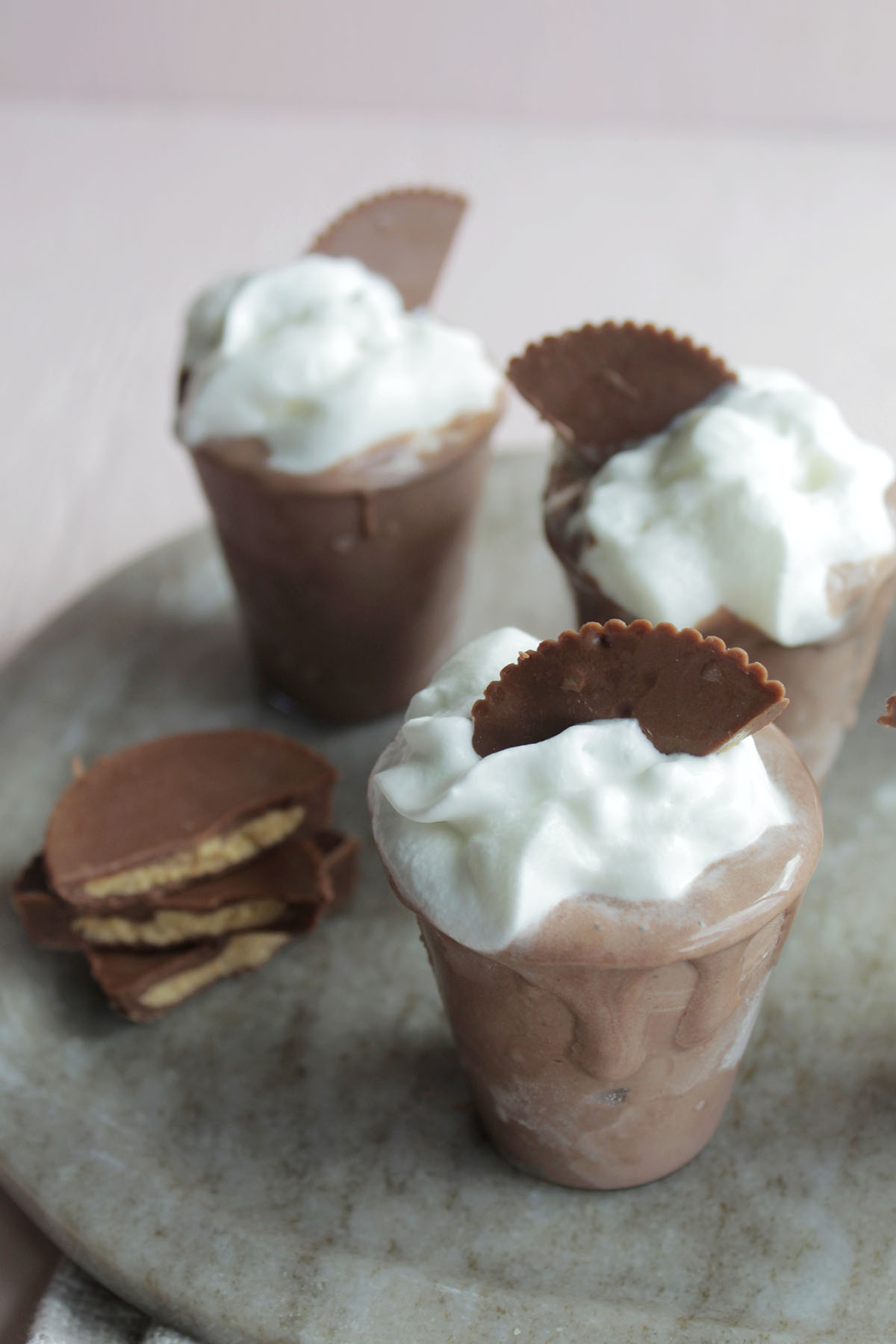 Looking for a fun and unique shot recipe? Try alcoholic chocolate & peanut butter pudding shots. It's a super easy recipe that uses chocolate pudding, Skrewball whiskey, and chocolate liqueur.
This recipe would be perfect for a tailgate, adult birthday party, or weekend hang out. Don't be fooled! Just because there's pudding in these shots doesn't mean they aren't boozy.
5. Peanut Butter Old Fashioned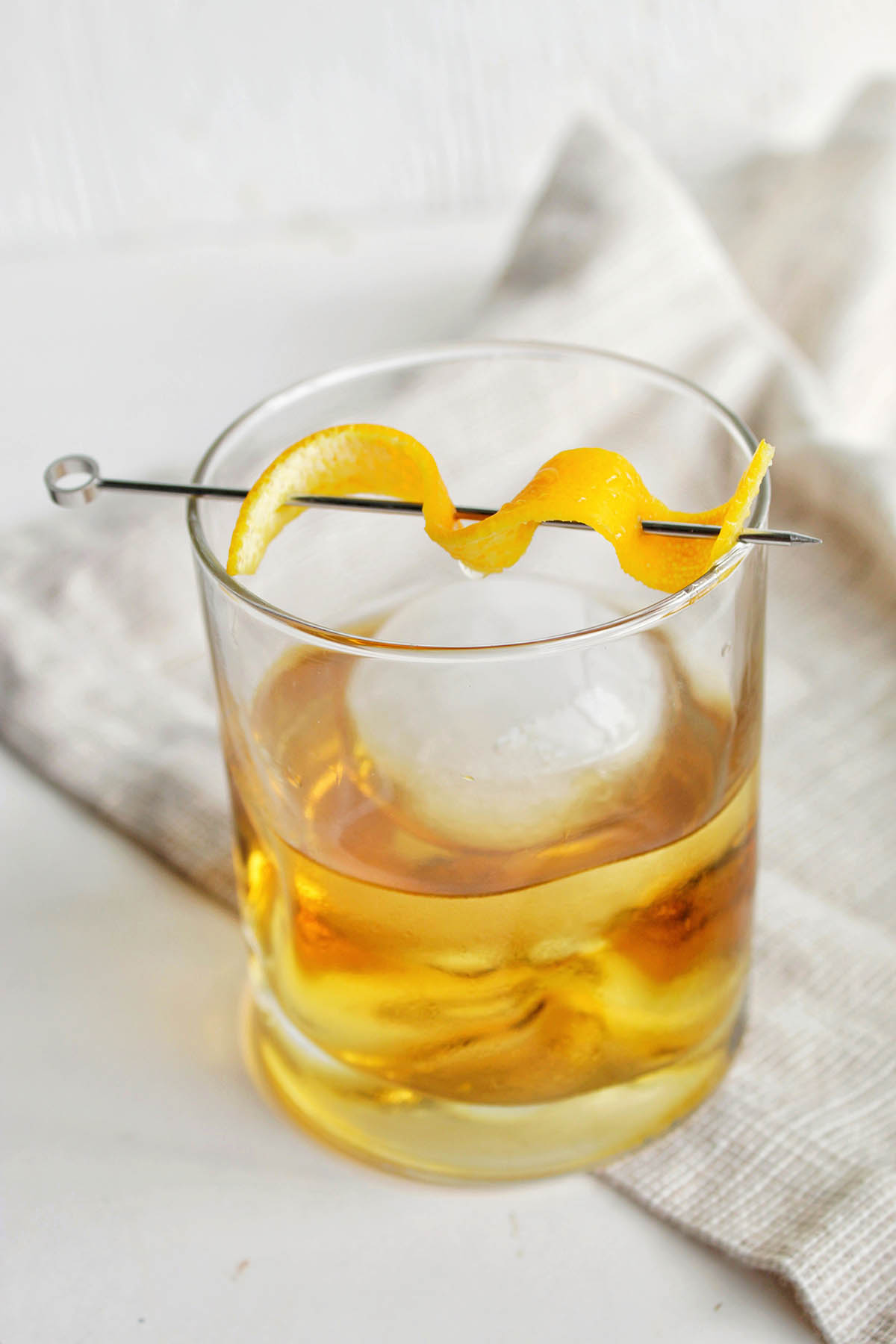 If you're looking for a unique take on the old fashioned cocktail, you have to try this recipe. It incorporates peanut butter whiskey, along with bourbon.
This classic cocktail has been reinvented with new flavor combinations. Enjoy on the rocks with a twist of orange.
6. Nostalgic PB&J Shots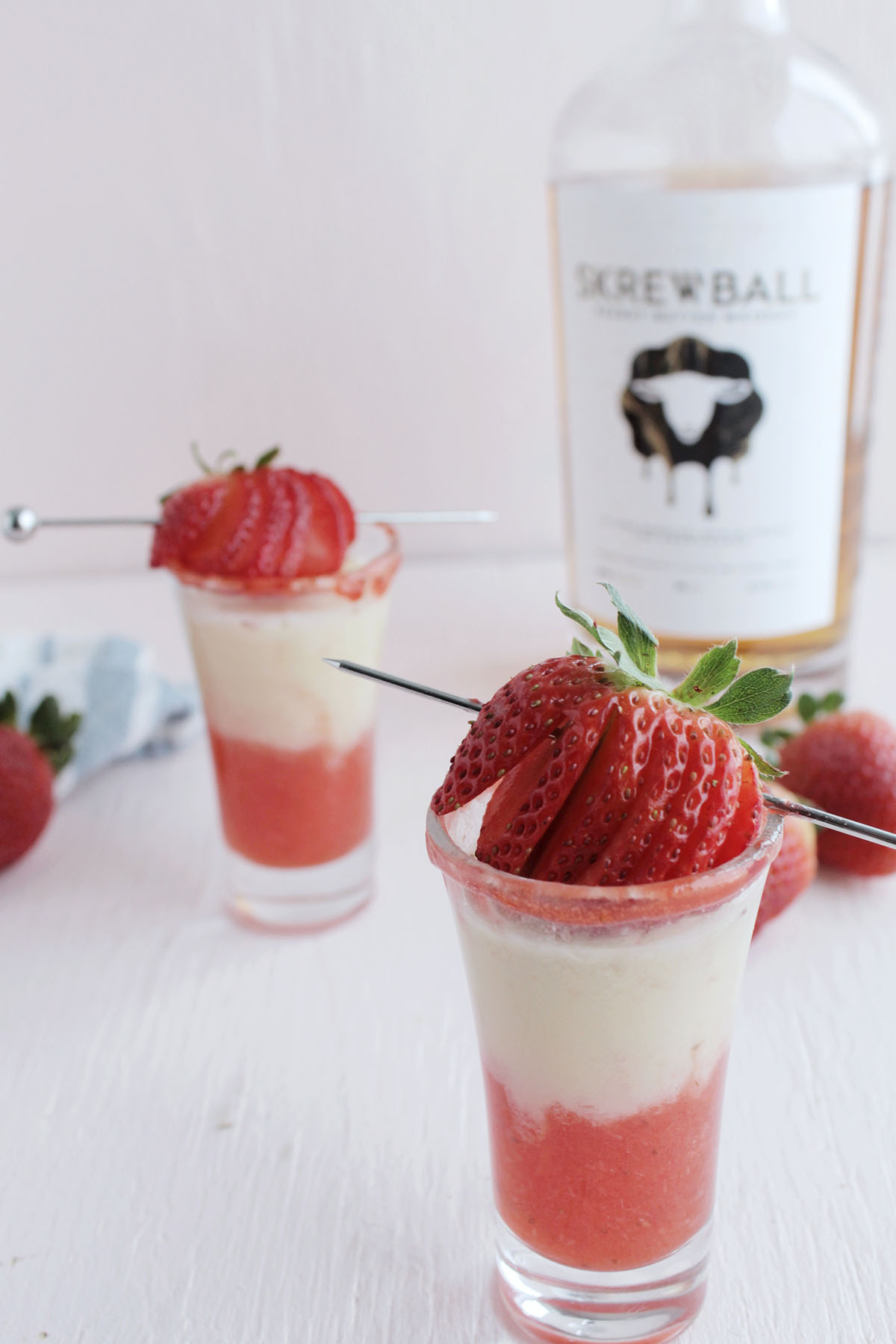 Transport yourself back to a childhood flavor with these peanut butter and jelly shots. This recipe incorporates a homemade strawberry coulis (don't worry, it's easy to make), along with a few other ingredients.
You won't believe how much an alcoholic shot can resemble a rich, nostalgic PB&J.
7. Boozy Peanut Butter Milkshake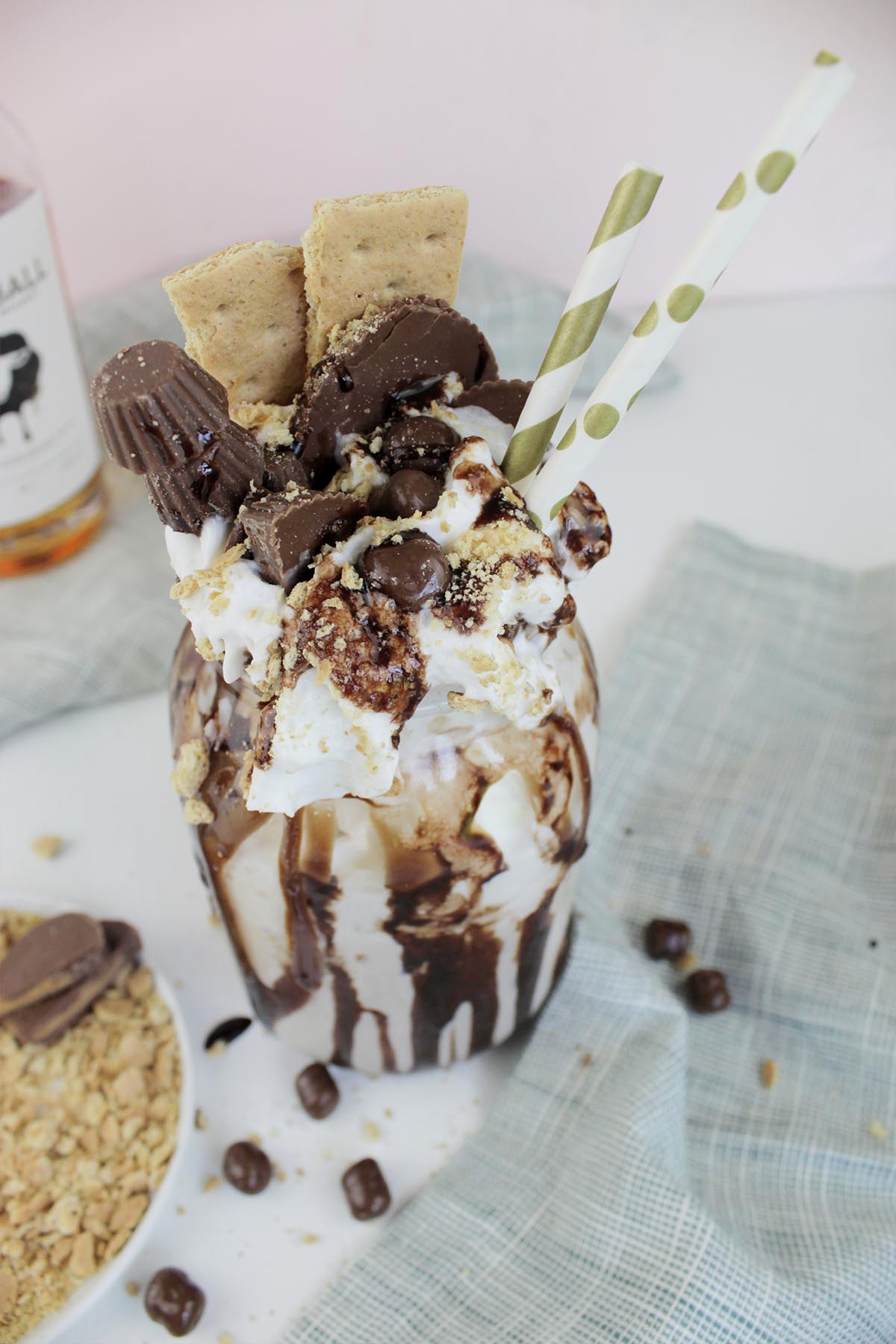 This boozy, over-the-top milkshake is the perfect treat to cool down on a hot summer day. Bursting with crazy toppings, this milkshake is ridiculously thick, thanks to the help of malted milk powder.
You have to try out this boozy treat when you're in the mood for a bit of indulgence.
8. Sugar Cookie Baileys Cocktail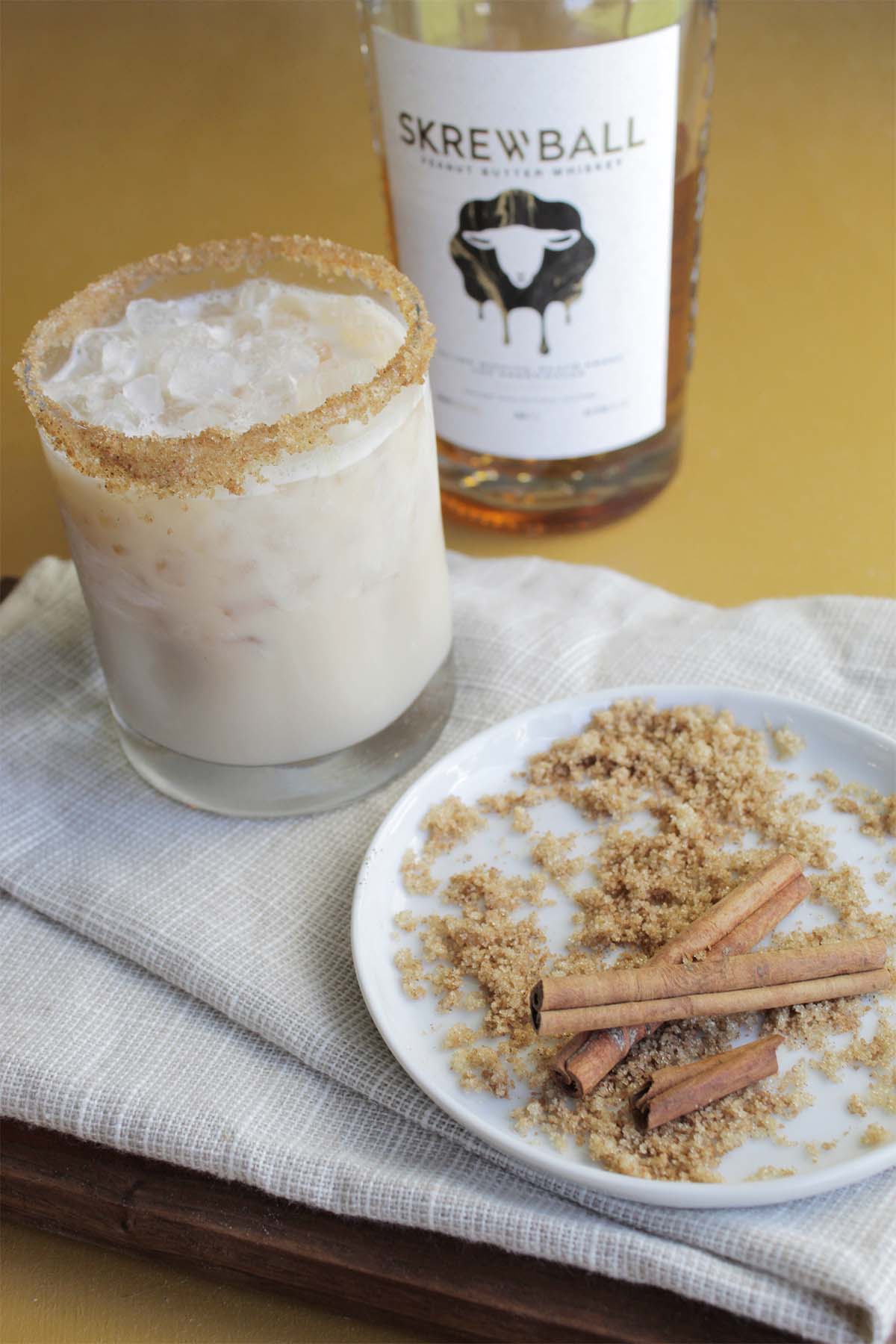 This creamy cocktail is bursting with sweetness. If you're looking for a cocktail that embodies some warmth and richness, this one is for you.
Don't forget the cinnamon-sugar rim. It adds a pretty touch and a delicious taste with every sip.
9. PB Espresso Martini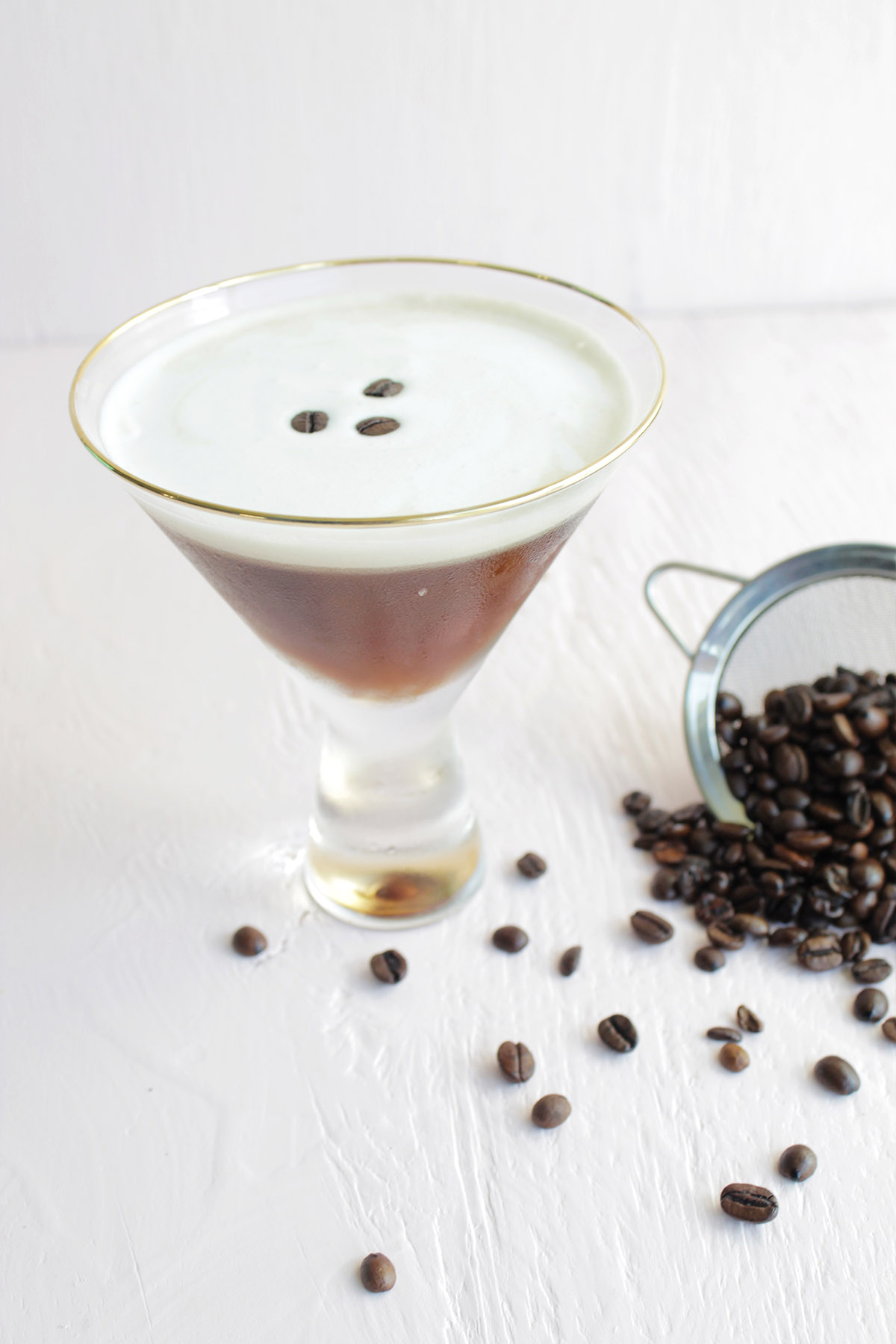 There's nothing better than an energizing espresso martini topped with cold foam. This cocktail mixes cold brew, peanut butter whiskey, and Kahlúa. This cocktail's sweetness can easily be adjusted depending on your personal preference.
Don't forget to top it with coffee beans as your garnish!
10. Peanut Butter Cup Shots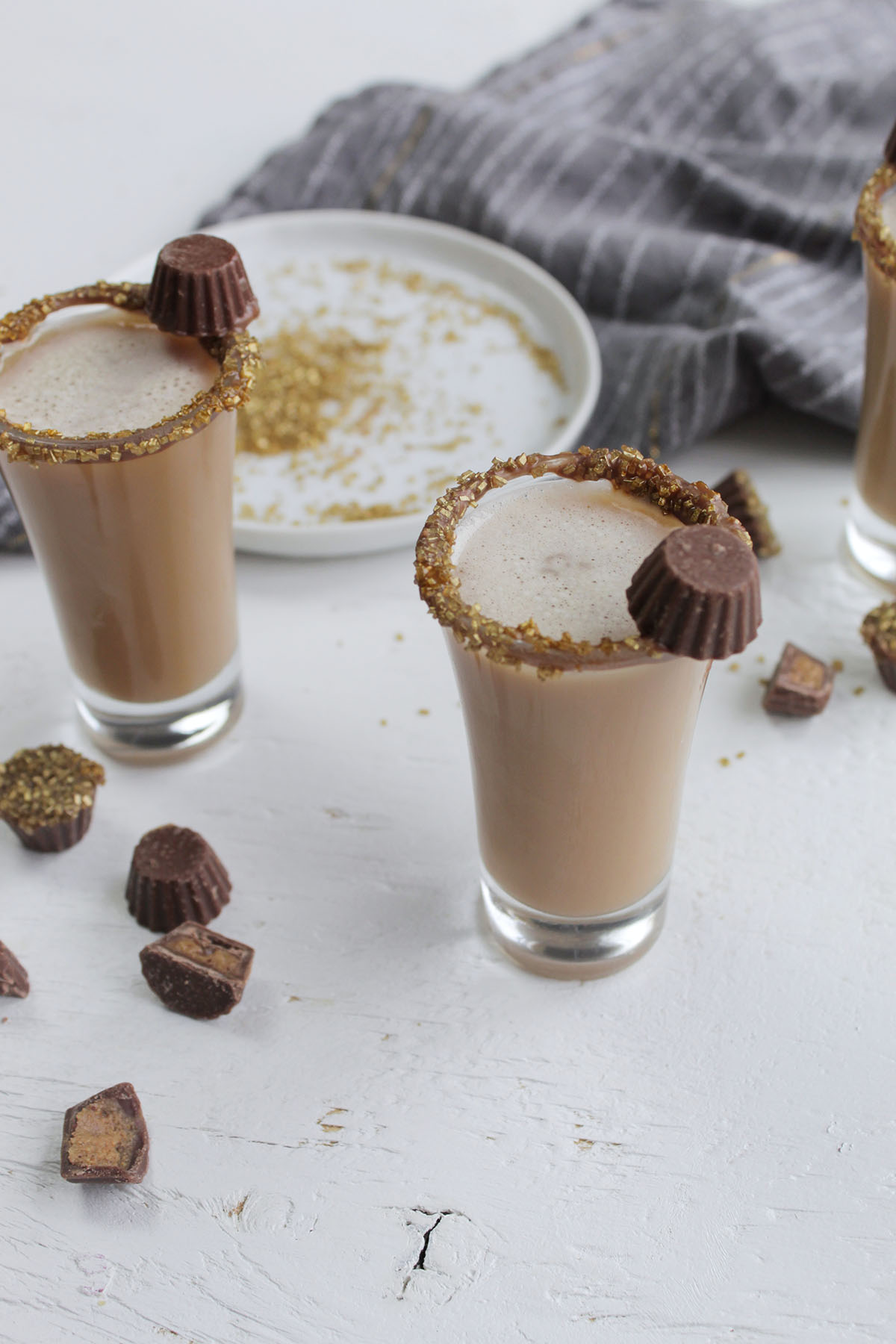 Love Reese's candy? This 3 ingredient shot recipe tastes like a peanut butter cup with a hint of coffee.
If you're not much of a shot person, don't worry! This recipe can easily be turned into a regular-sized drink.
11. Classic PB&J Cocktail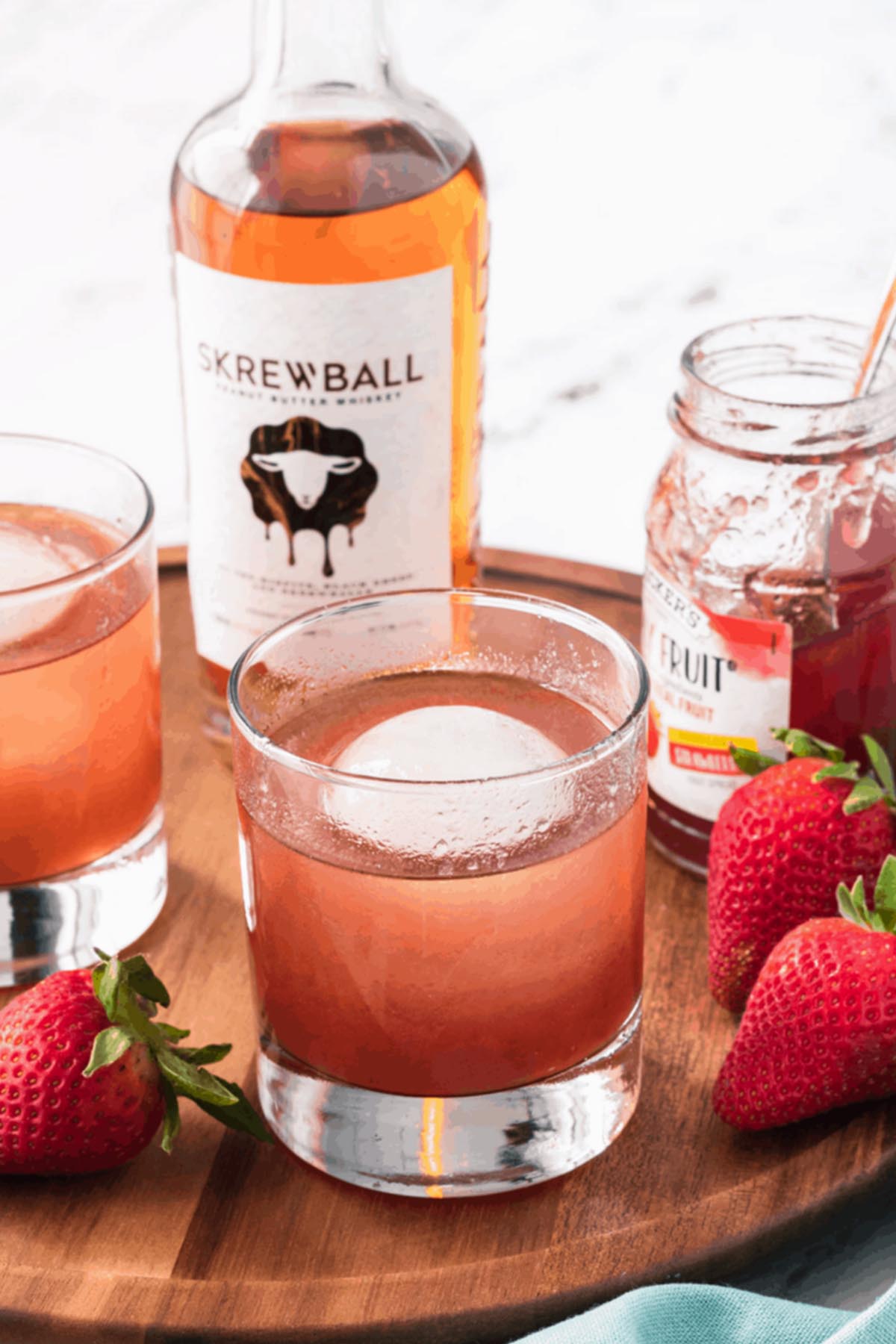 Turn the classic flavors of a peanut butter and jelly sandwich into a delicious cocktail. Skrewball whiskey and strawberry jelly combine beautifully with the help of a cocktail shaker.
Feel free to substitute the jelly for your favorite PB&J combinations of grape, raspberry, or blueberry jam.
12. Snickers White Russian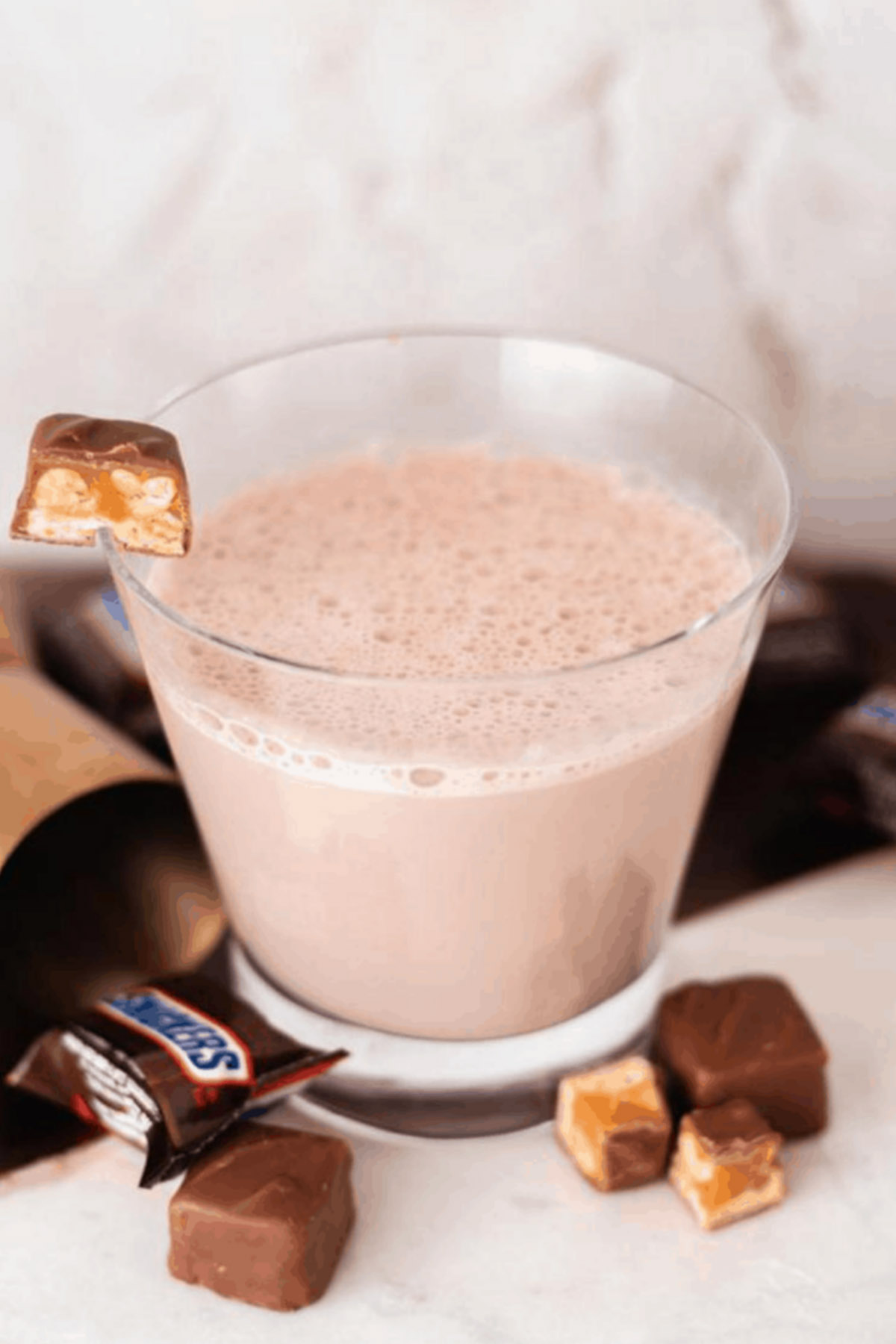 There are so many recipes for peanut butter candy bar cocktails, including this Snickers inspired drink. This recipe riffs off of a classic white Russian. You will almost feel like you're drinking a dessert with this cocktail.
13. Salted Peanut Butter Hot Chocolate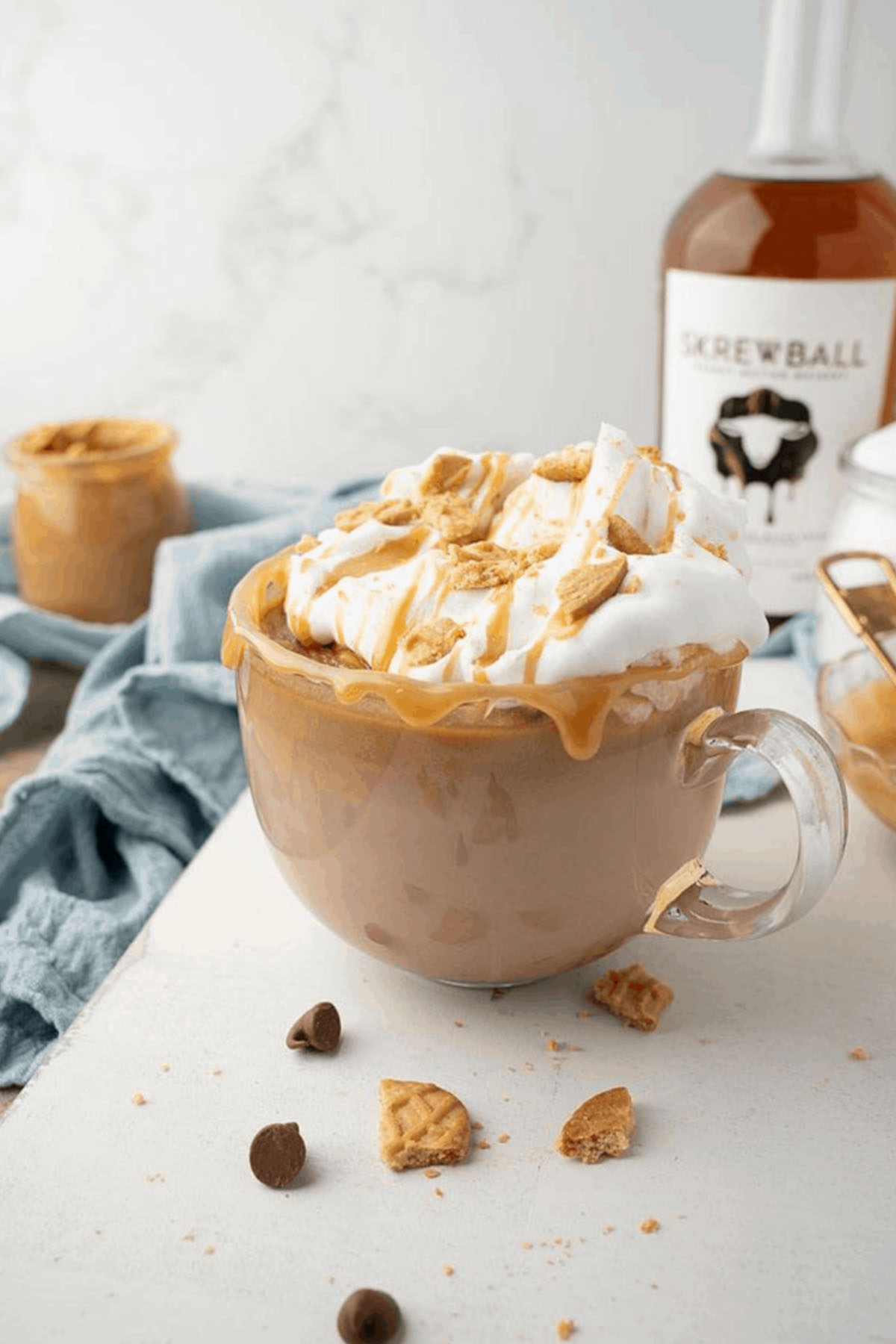 What's better than a cup of hot chocolate filled with salted peanut butter? This boozy treat is perfect for the cold winter months.
Don't forget to top your steaming mug with whipped cream, peanut butter sauce, and crumbled cookies.
14. PB&J Jello Shots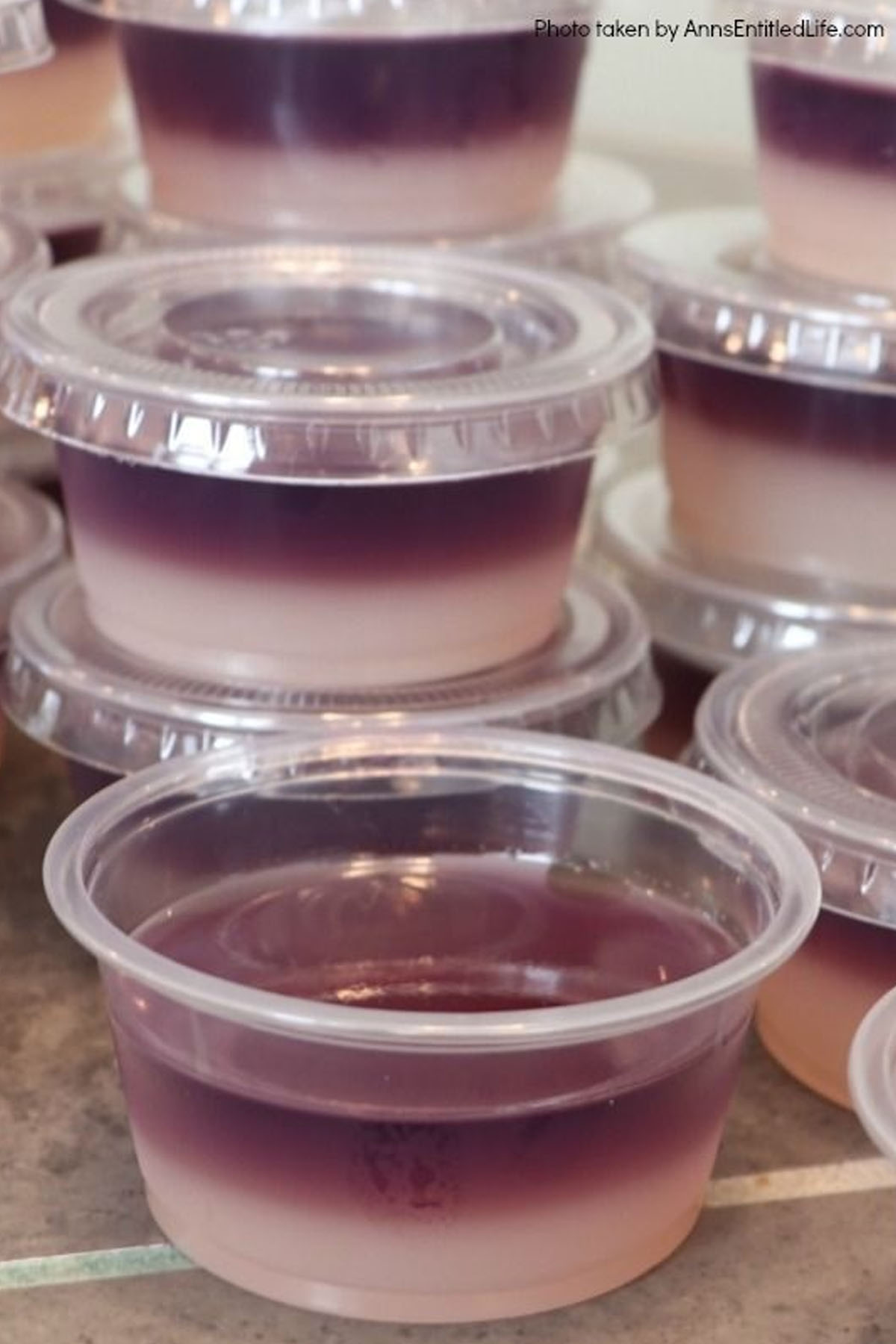 PB&J comes in all shapes and sizes, including these jello shots. Peanut butter whiskey paired with grape gelatin creates a surprisingly delicious treat.
These would be the perfect addition to game day because this jello shot recipe is easy to make in large quantities.
15. Strawberry Peanut Butter Cocktail
Once summer hits and you have access to tasty strawberries, you have to make this strawberry and peanut butter cocktail. Similar to a PB&J sandwich, this cocktail has a hint of sweetness, plus a nuttiness from the whiskey.
You'll only need three ingredients for this simple yet delicious cocktail.
16. Fluffernutter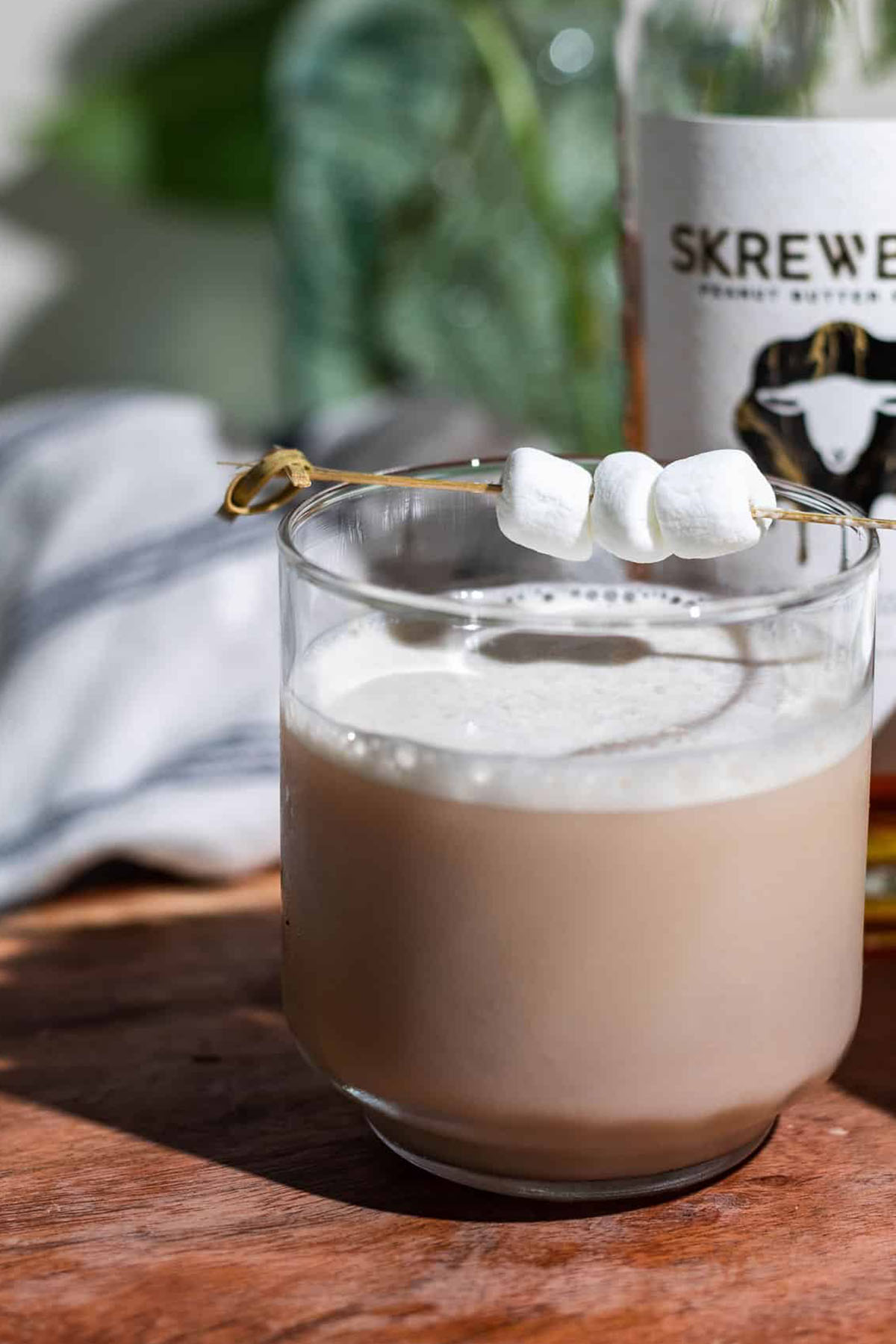 Do you love the classic fluffernutter sandwich filled with peanut butter and marshmallow fluff? This cocktail has all the same flavors with the added booze!
This egg white style cocktail has a silky smooth mouthfeel and an egg white foam on top.
There are many delicious flavors in this cocktail including Baileys Irish Cream, peanut butter, and toasted marshmallow syrup. You're going to love this nostalgic flavor.
17. Honey Butter Shots
Honey and peanut butter are the perfect combination, especially in this easy shot recipe.
This recipe combines Honey Tennessee whiskey along with a homemade honey simple syrup.
Whether you're hosting a party or just want a fun shooter to drink, this is the perfect option!
18. Peanut Butter Manhattan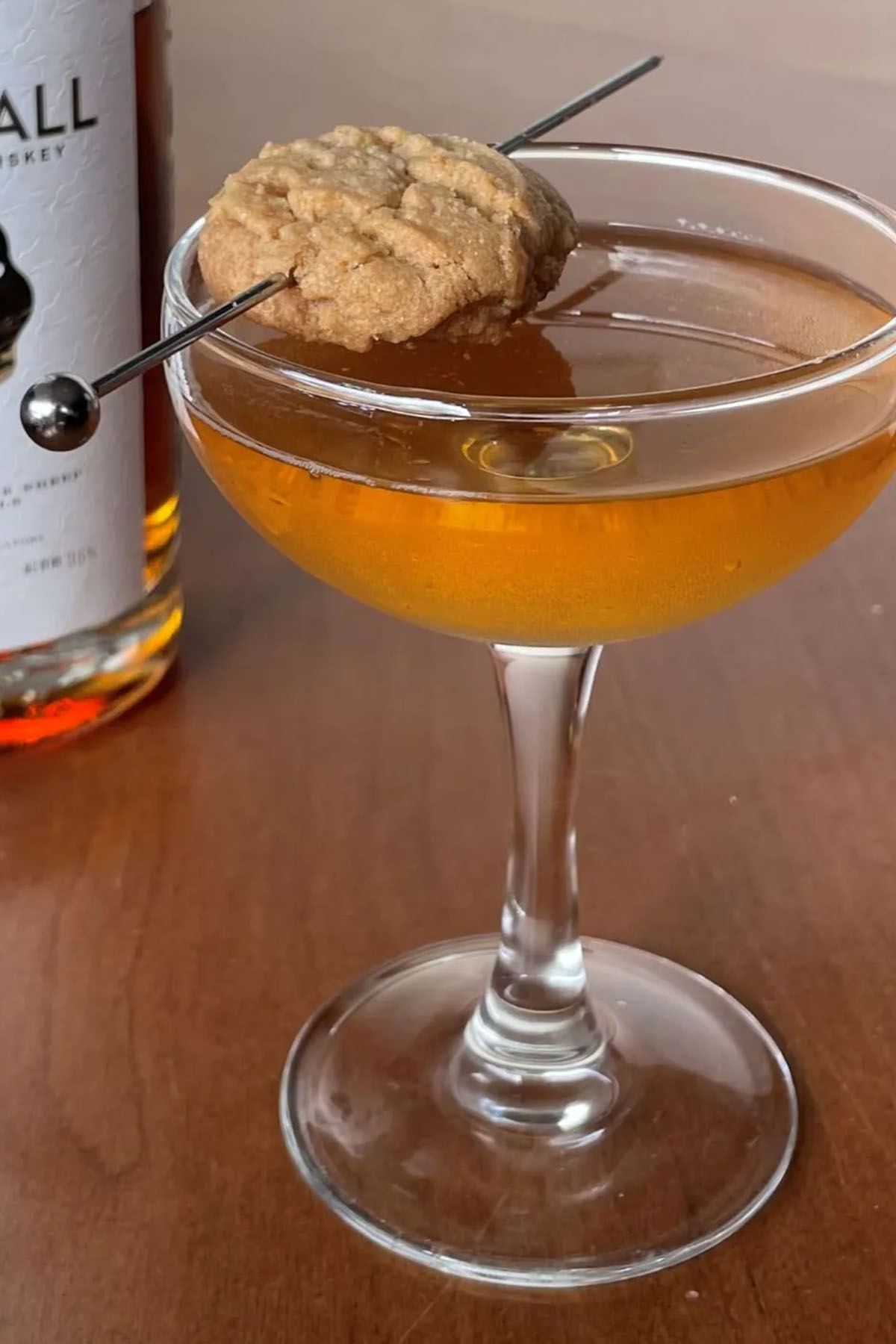 If you love drinking classic cocktails like the Manhattan, this drink is for you.
The dry vermouth and bitters are combined with peanut butter whiskey for a unique twist on this cocktail. Don't forget to garnish with a Luxardo cherry and a peanut butter cookie.
19. Reese's Peanut Butter Martini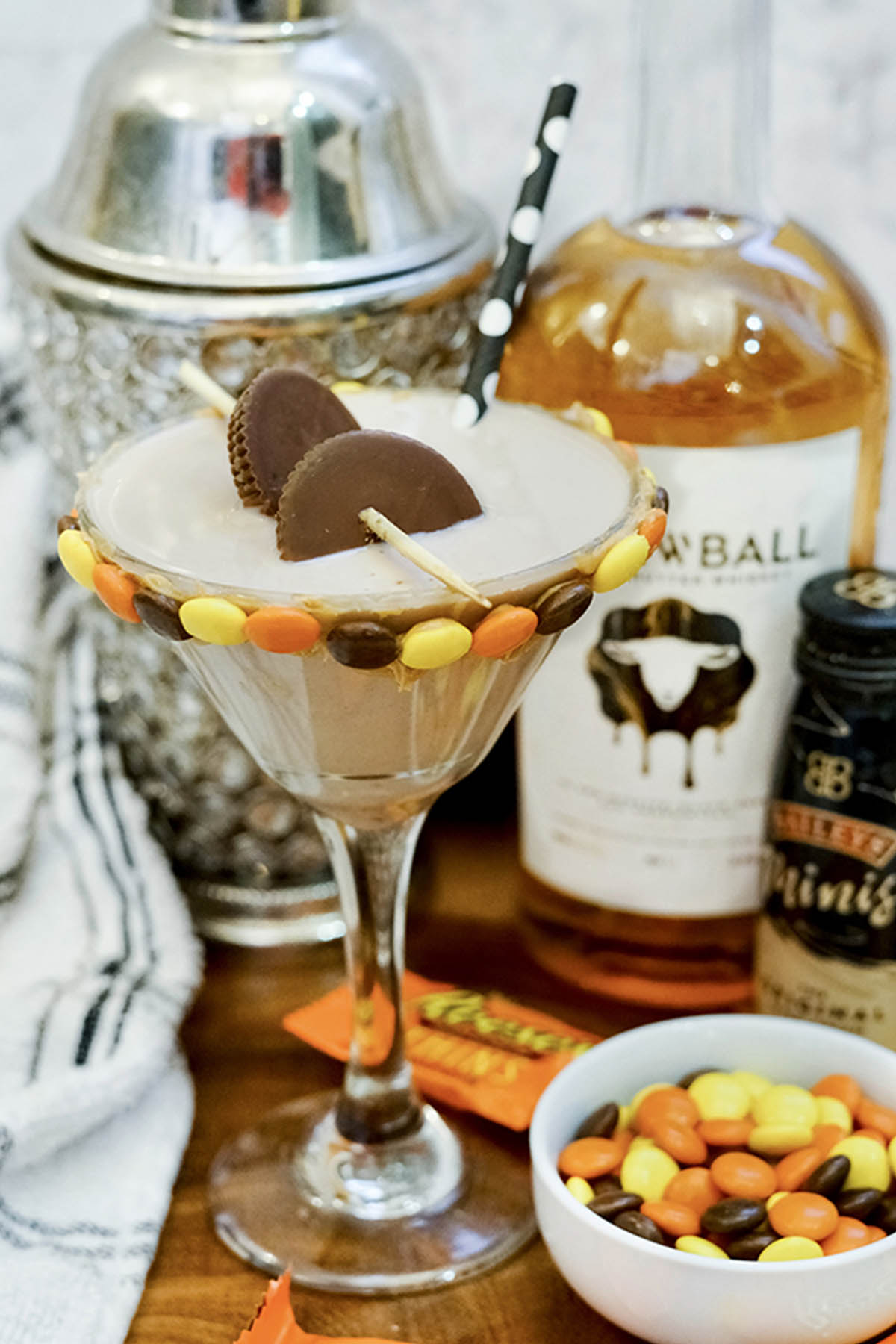 Peanut butter whiskey is the perfect addition to almost any dessert martini, including this Reese's peanut butter cup cocktail.
This creamy and rich martini is garnished with lots of candy, making it a show-stopping drink to serve during dessert at a dinner party. I also love this martini for a holiday party.
20. Raspberry PB&J Shots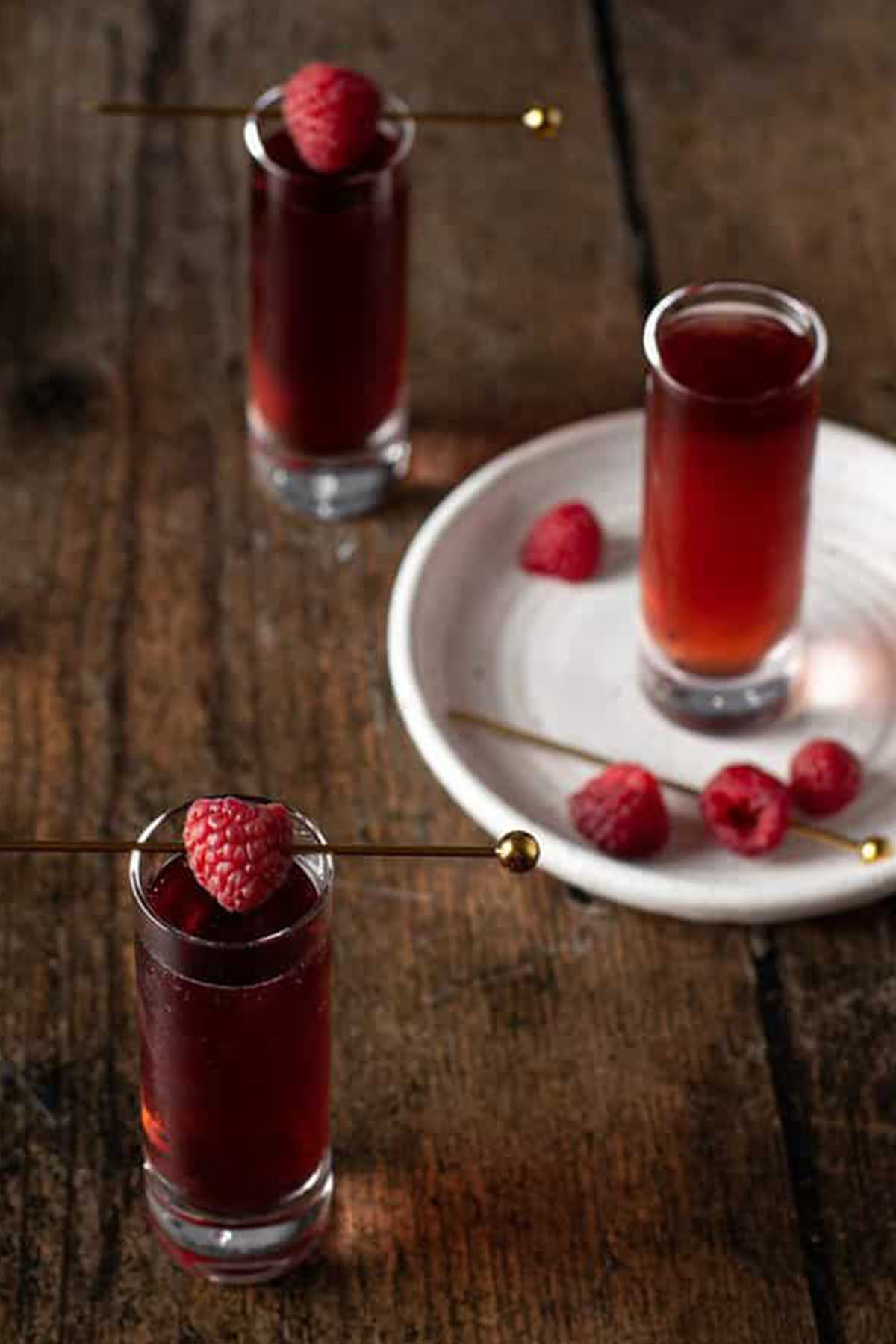 If you're looking for a quick and easy shot recipe, try these raspberry peanut butter and jelly shooters.
These shots only require two main ingredients, including Chambord, a sweet raspberry flavored liqueur.
These shots are easy to mix up in batches, making them a great option for parties or get-togethers.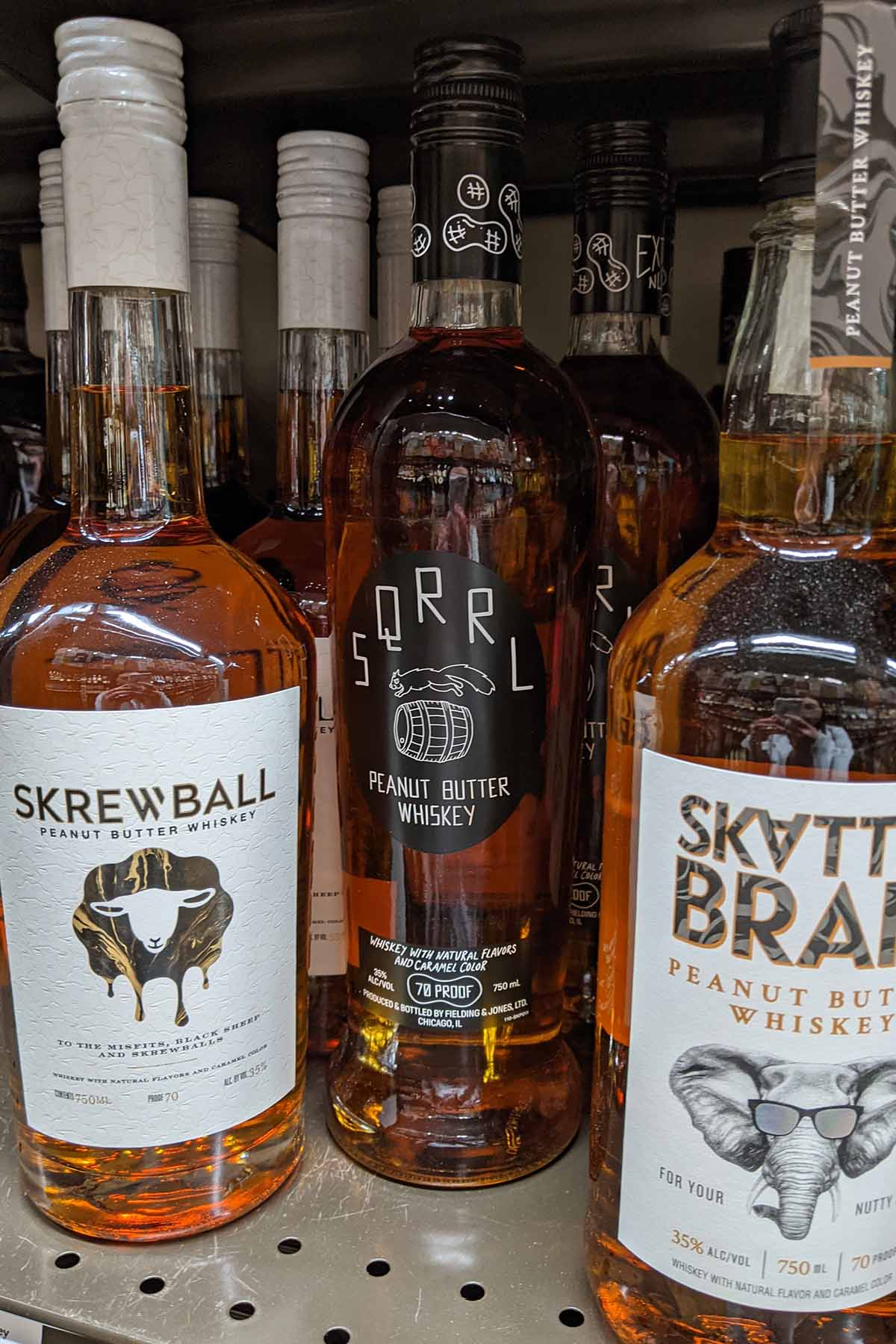 FAQs
What can you make with peanut butter whiskey?
There are many delicious drinks you can make. Here are some of my favorite combinations to mix with peanut butter whiskey:

- Grape soda
- Coca Cola
- Cream soda
- Berry flavored seltzer
- Apple cider
What's the best cocktail to make with peanut butter whiskey?
There are many delicious cocktails that can be made with peanut butter whiskey. One of my favorite tricks is to recreate classic cocktails using peanut butter whiskey.

For example, replace part of the vodka in a Moscow mule or espresso martini with peanut butter whiskey.
How do you drink peanut butter whiskey?
You can drink peanut butter whiskey many different ways. Try placing a bottle of peanut butter whiskey in the freezer for easy and delicious peanut butter shots.

It also tastes great in cocktails and mixed shots. Some of my favorite one-ingredient mixers include cream soda, berry flavored seltzer, and grape soda.
Other Recipes You May Enjoy
Looking for more cocktail recipes? Here are 30+ more easy ideas of to make with peanut butter whiskey.
Love this guide? Please leave a comment below. Don't forget to follow along on Instagram, Facebook, YouTube, and Pinterest for more recipes.