This easy-to-understand guide will teach you about the basics of rum. In addition to learning how rum is made, you'll learn the factors that affect the flavor of rum, and how to pick out a bottle of rum you'll love.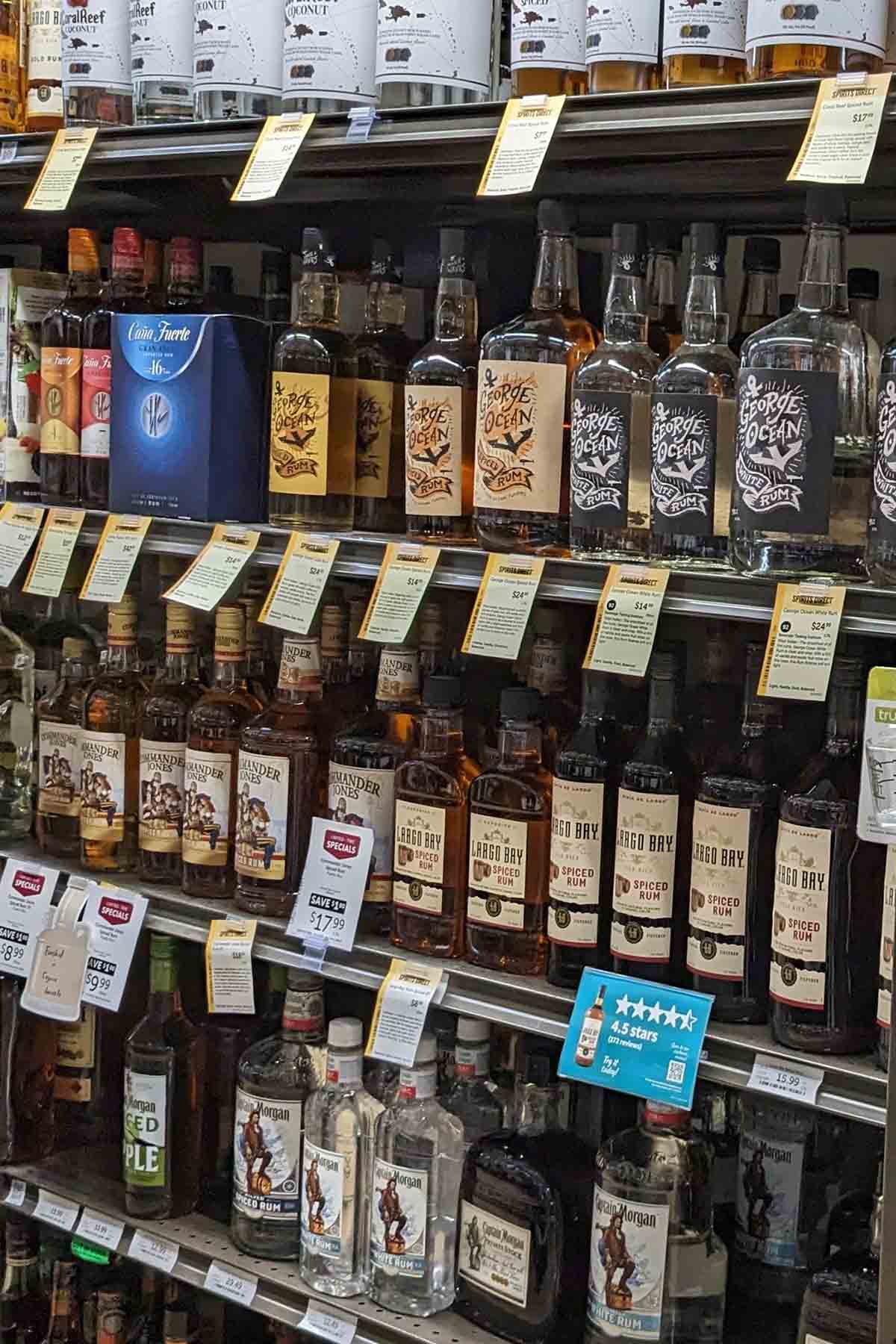 Want To Save This Article?
Enter your email below and we'll send it straight to your inbox. Plus, you'll receive new weekly recipe inspiration.
Rum is a well-loved spirit, especially if you enjoy drinking tropical style cocktails.
This guide is meant to give you an overview of rum, so you feel confident walking into a liquor store and picking out a bottle of rum you love.
We'll talk through a brief history of rum as well as how it's produced.
Then, we'll dive into the different types of rum and what makes each style unique. Don't forget to also check out my full video guide below.
Jump to:
Guide To Rum Video
A Brief History of Rum
When it comes to learning about rum, history really plays a big part in the discovery of this spirit.
As it starts, sugarcane was brought over to the Caribbean through Christopher Columbus' journey to the New World.
Unfortunately, during this dark time in our history, slaves were expected to do the hard work of harvesting all of the sugarcane, so it could be turned into sugar and shipped/sold to Europe.
Slaves were the first to discover that molasses could be fermented into alcohol. Later, people started to distill the mixture, and that's how we have the rum we all know and love today.
Once rum gained popularity in America, the British caught wave of this and began taxing sugar, thus affecting the price of rum.
This, along with the rise of American whiskey led to a short decline of rum. That is until the 1930s when "tiki culture" began to pop up in bars across the U.S., thanks to a popular Polynesian-themed bar in Hollywood.
What's Unique About Rum?
Essentially, rum was born from trash. Let me explain a bit more.
Rum comes from the byproducts of sugarcane. Meaning once the sugar is made from crushing sugarcane, there are leftover sugar juices from this process that, once boiled, turns into the byproduct of molasses.
From there, the molasses is fermented using yeast, then distilled, and allowed to age. This is a very short explanation of how rum is produced.
I should also mention that rum does not only have to be made from molasses (although most rum is). The sugar in rum can also come from sugarcane juice or cane syrup depending on the type of rum.
Another fun fact about rum is that it's produced in almost every developed nation. However, according to Thrillist, these are some of the places where the world's best rum comes from:
Barbados - One of the first places where rum was purchased.
Philippines - Lots of sugar is grown here too. Oftentimes Filipino rum is nicely blended and is good to drink neat or on the rocks.
Guyana - Known for its smoky flavor with hints of vanilla, honey, and spices.
Cuba - Typically rum that's clear, a bit dry, and often with a higher proof.
With so many different countries producing rum, there are various styles, techniques, and traditions when it comes to the production process. In fact, rum is one of the most diverse spirits out there.
Let's talk a little bit about what affects rum's taste.
First off, the type of barrel the rum is aged in affects the final flavor of the spirit. Rum can age in anything from charred oak barrels to previously used whiskey barrels, or even sherry casks.
The climate also affects the taste of rum. With much of our rum being produced in very hot climates, like the Caribbean, the liquor ages a lot quicker.
This is due to the fact that much of the spirit evaporates quickly in the hot heat, leaving the spirit that's left to soak up the flavor of the barrel. The longer the spirit ages in the barrel, the heavier bodied the flavor of the rum will be.
Additionally, the still used in the production of rum as well as the yeast changes the flavor of the rum.
Common Types of Rum
Light Rum
Light rum, sometimes referred to as white or silver rum, is usually clear and has a lighter-bodied flavor. It is sometimes aged in oak barrels and then filtered to remove any color or impurities.
Light rums typically taste less pronounced than other rums due to the filtering of the spirit.
Popular drinks include the mojito, coconut daiquiri, piña colada, and many other tropical inspired drinks.
You can also layer white rum with another stronger flavored rum for a delicious mixed cocktail.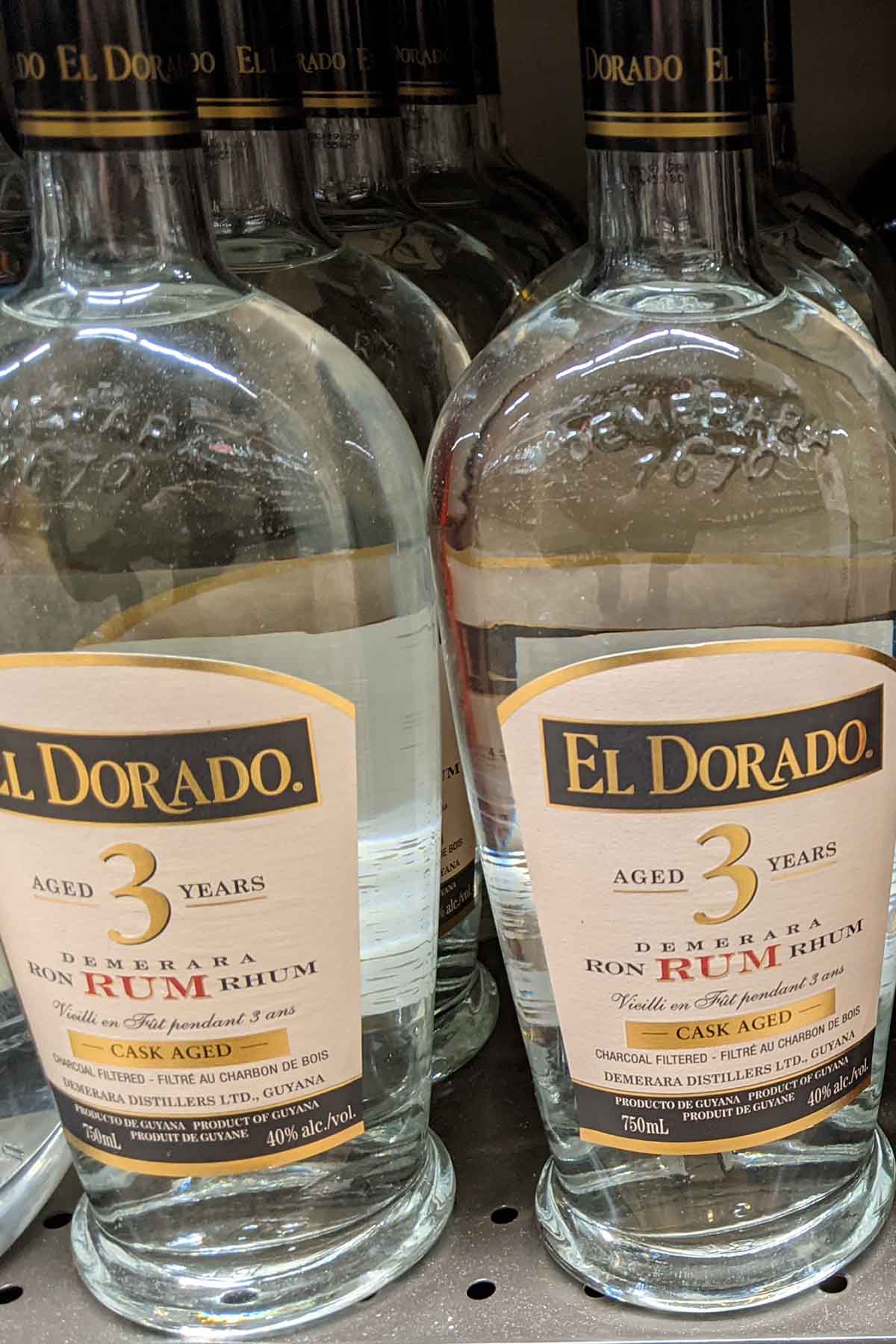 Gold Rum
Gold rum is traditionally aged but doesn't necessarily have to be. If it is aged, the flavor tends to be richer from the barrel it was aged in.
Usually, however, the gold color comes from caramel coloring.
Gold rum usually has a more medium-bodied taste. Since these types of rum are generally not overpowering, gold rum could replace light rum in a cocktail.
Popular drinks include blended drinks similar to the ones made with light rum like mojitos, rum punch, or hurricane.
Dark Rum
Dark rum is known for being full-bodied and well-aged in barrels. These types of rums tend to have more intense flavors.
Black rum could also fall under the dark rum category. Black rum, however, has added molasses that helps darken the final spirit and makes it sweeter.
Dark and black rum tends to have a stronger more intense flavor, most similar to the taste of whiskey.
Popular drinks include the Dark 'n' Stormy as well as simply sipping the rum.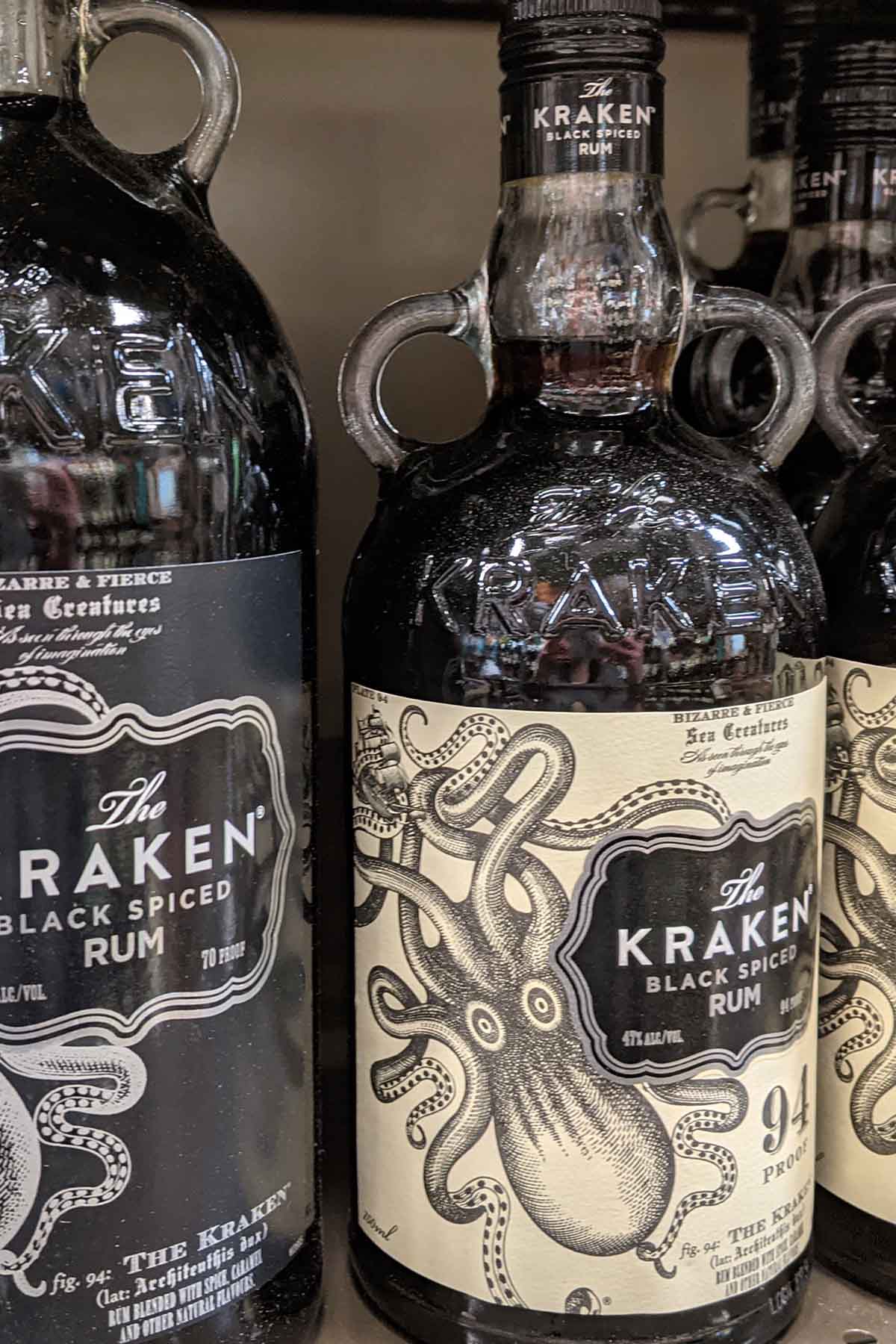 Spiced Rum
You can probably guess from the name that spiced rum is flavored with spices such as cinnamon, cardamom, pepper, cloves, and vanilla. Different combinations of spices are used depending on the brand.
The taste of spiced rum can range from a bit sweeter than normal rums to having a little heat and complexity from the various spice blends.
Popular drinks include rum & Coke or mixed drinks that have a fruity or citrus mixer.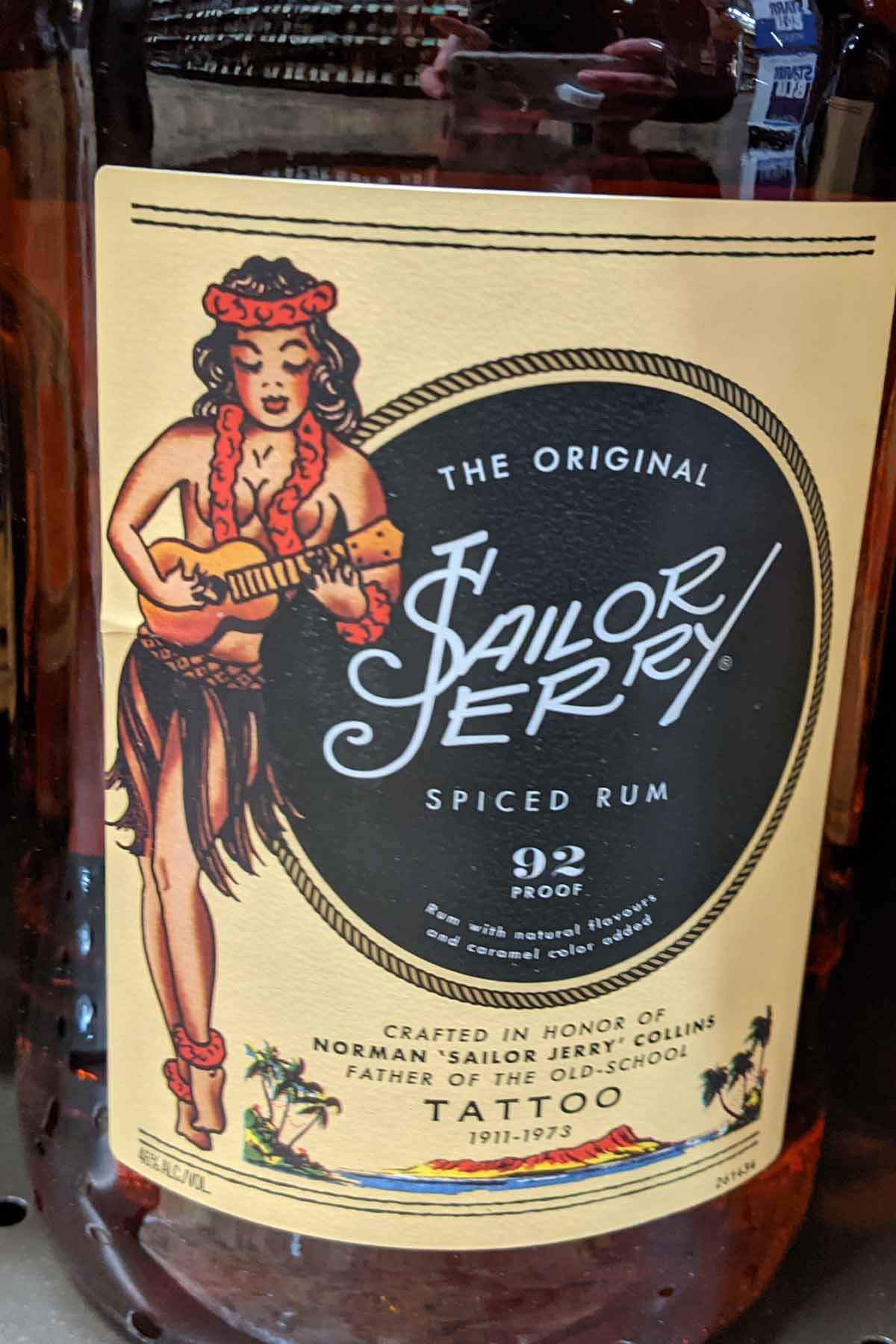 Rhum Agricole
Rhum agricole is the one type of rum that's a little bit more strict when it comes to the production of the spirit.
This type of rum is made only from fresh sugarcane juice (not molasses) and distilled to 70% ABV. This is a specific style of rum from the French Caribbean islands.
The taste of rhum agricole can vary as it comes in a white, gold, and dark flavor variety.
Overproof Rum
Overproof rum refers to any rum with 50% ABV or higher. There are two types of overproof rum. Navy rum, with a 57.5% ABV (the name "navy rum" comes from when a rum ration was given to sailors on Navy ships), and 151 rum with 75.5% ABV.
These types of rums are often used for the flame you see on Tiki drinks, as they are highly flammable.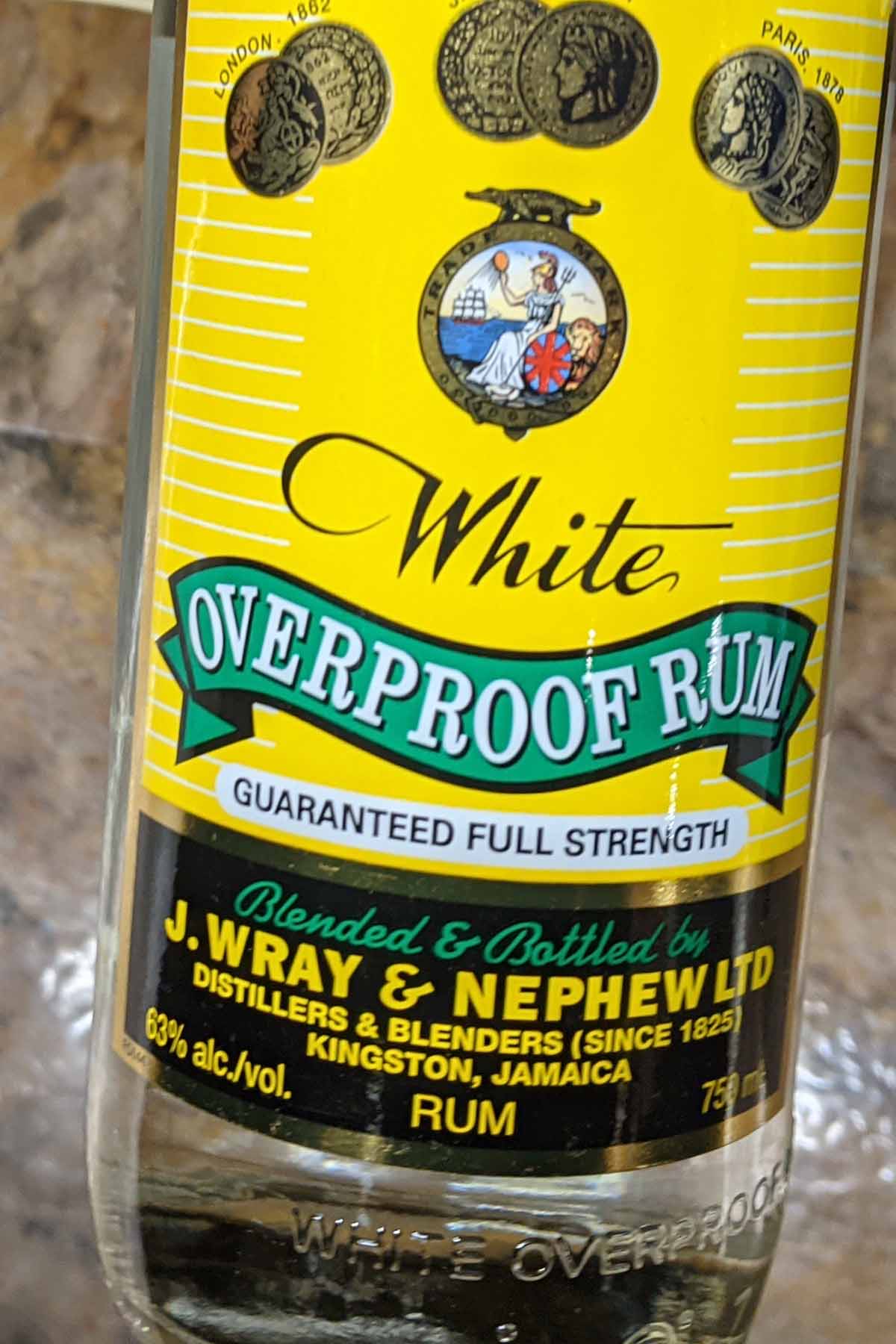 How To Buy Rum
When it comes to finding a bottle of rum you'll love, it can be hard to tell the quality of rum just from the bottle.
That comes from the fact that details aren't always included on the label. For example, it's not always easy to tell where the rum was aged or even how long it was aged.
Let's dig a little deeper. Different aged rums are often blended together to form one bottle. Even if there is an age listed on the bottle, it's always the youngest aged rum that was used in the bottle. Meaning, it's not always the best indicator of how a bottle will taste since it's a blend.
So, here are some general rules to go by when choosing a bottle of rum.
Go by the styles we talked about above as well as the typical flavor profiles of each rum. You can also do research on a specific brand and their process for producing rum.
If you're looking specifically for a bottle of rum from the Caribbean, you can look for an Authentic Caribbean Rum symbol which was created, so customers could identify a true Caribbean rum that was made with consistency and exceptional quality.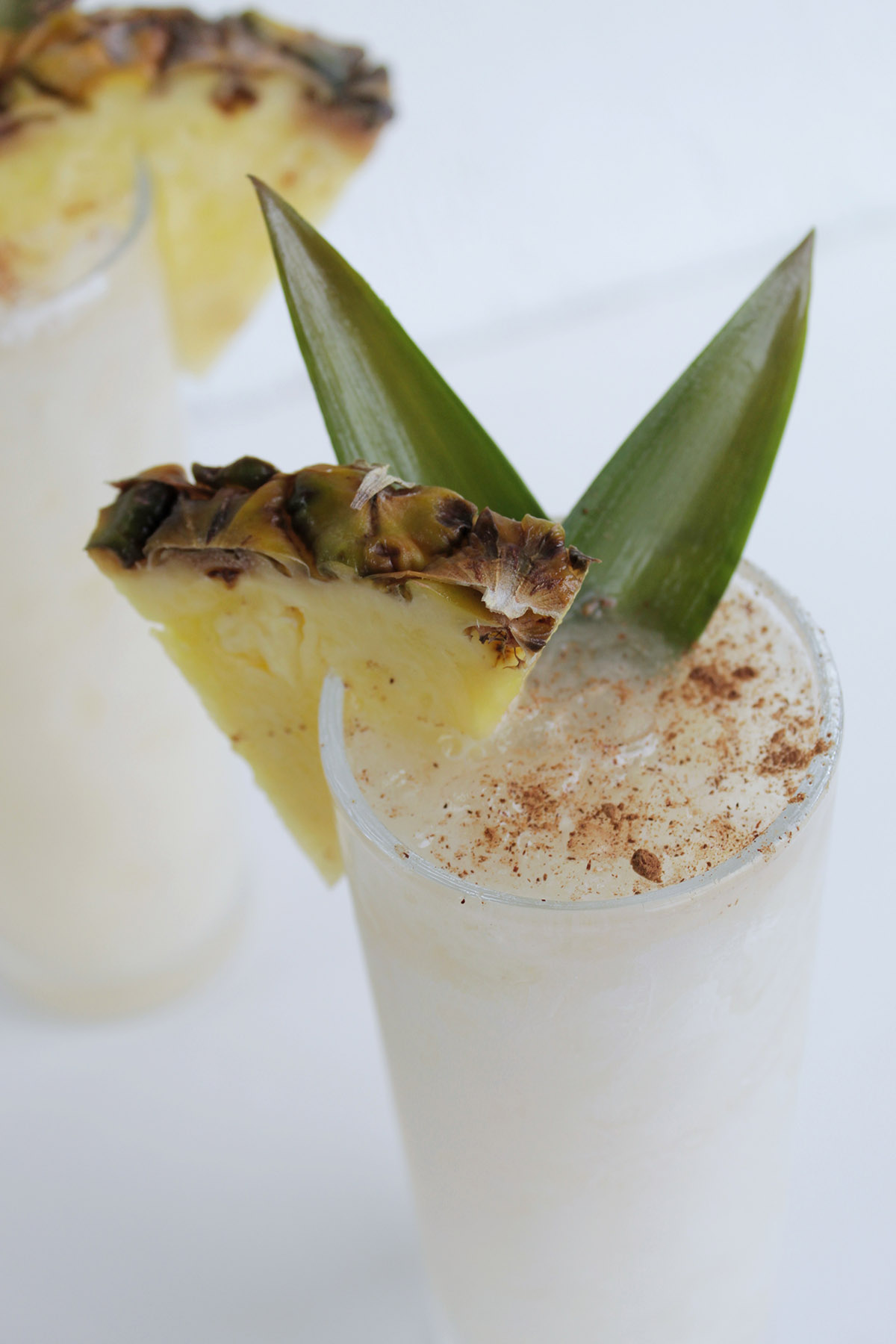 Types of Rum Drinks
If you're looking for some easy and delicious rum-based drinks, here are some great options:
Mojito: A classic Cuban cocktail made with rum, fresh mint leaves, lime juice, sugar, and soda water.
Piña Colada: A tropical delight made with rum, pineapple juice, coconut cream, and crushed ice. It's a creamy and sweet cocktail that instantly transports you to a sandy beach.
Daiquiri: A simple and elegant cocktail made with rum, lime juice, and simple syrup. This drink is served either blended or shaken over ice.
Mai Tai: A Polynesian-inspired cocktail featuring rum, lime juice, orange liqueur, and orgeat syrup.
Rum Punch: A fruity and vibrant cocktail made with rum, various fruit juices (such as orange, pineapple, and cranberry), and a hint of grenadine.
Dark 'n' Stormy: A refreshing combination of dark rum, ginger beer, and a squeeze of lime.
Rum Runner: A tropical cocktail made with dark rum, banana liqueur, blackberry liqueur, orange juice, pineapple juice, and a splash of grenadine. It's a sweet and fruity drink that packs a punch.
Hurricane: A New Orleans classic cocktail made with light and dark rum, passion fruit syrup, lime juice, and orange juice.
Cuba Libre: A simple and refreshing cocktail made with rum, cola, and a squeeze of lime.
Rum Swizzle: A Caribbean cocktail made with rum, lime juice, simple syrup, and bitters, traditionally stirred with a swizzle stick.
For even more delicious rum drinks, check out my favorite mixers to pair with rum. And, grab a free copy of my bartender's cheat sheet for 45 classic cocktail recipes, including many of my favorite rum drinks.
More Helpful Guides
Additional Resources
Love this guide? Please leave a comment below. Don't forget to follow along on Instagram, Facebook, YouTube, and Pinterest for more recipes.