If you're looking for the best macarons to bake at home, check out these 30+ recipes. This macaron flavors list includes classic recipes, unique macaron ideas, and recipes for every season.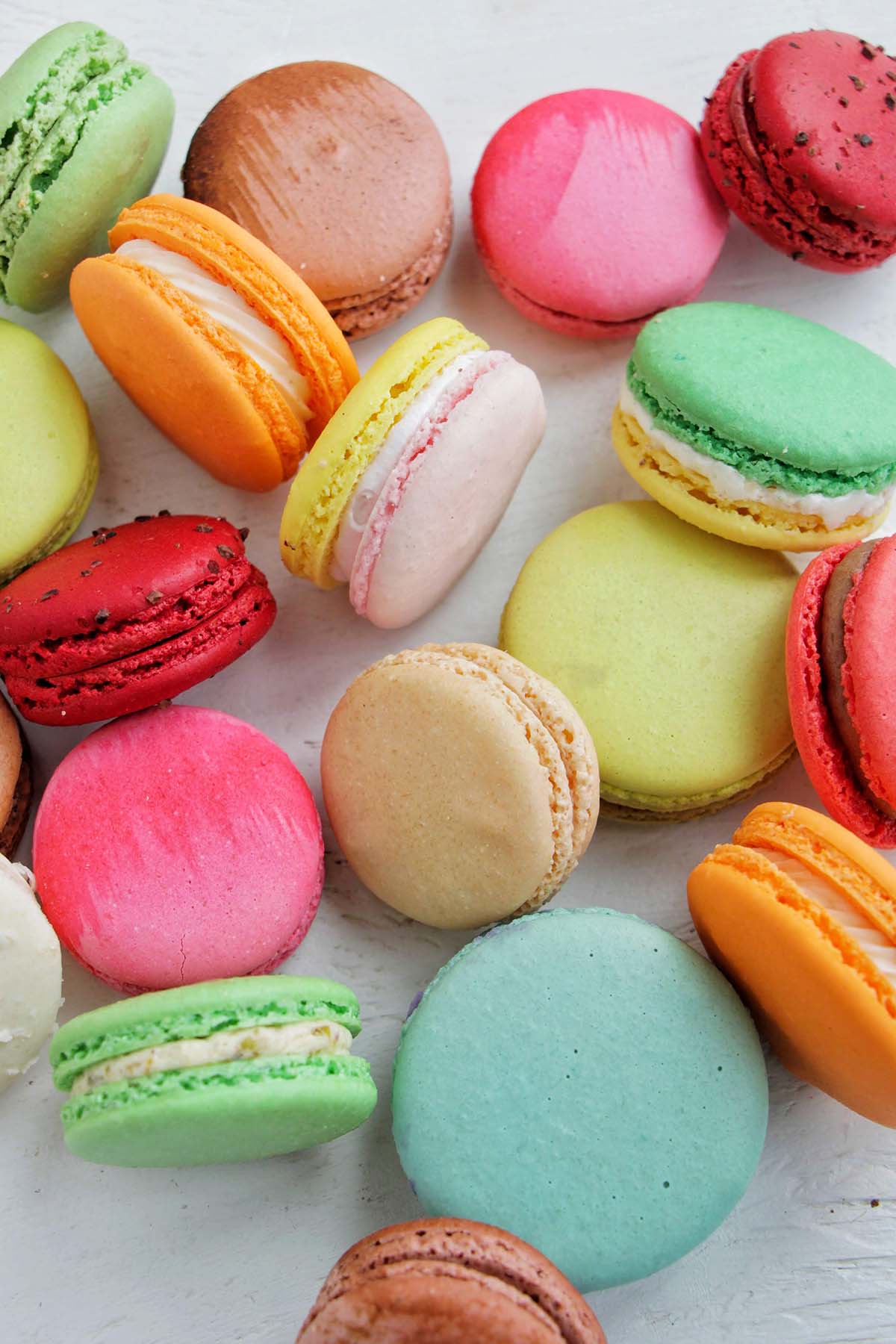 If you're a macaron baker, you're going to love this list of the best macaron recipes.
This macaron flavors list includes countless ideas for your next baking day. From the classic macaron recipes that everyone loves to unique and nostalgic flavors, I promise you'll find something delicious to bake.
If you're new to making macarons, typically the shell is almond-flavored from the almond flour that's used. The macaron shells are then dyed with food coloring to match the flavor of the macaron filling, which holds most of the flavor.
These recipes include a mix of macarons with flavored shells, as well as the standard almond shells stuffed with a flavorful macaron filling.
The beauty is that you get to decide what type of macaron shell and filling to make and pair together.
Be sure to also sign up for my free macaron template for more tips and tricks on perfecting your macarons. You'll receive a piping template, plus an email series with helpful ways to improve your macaron skills.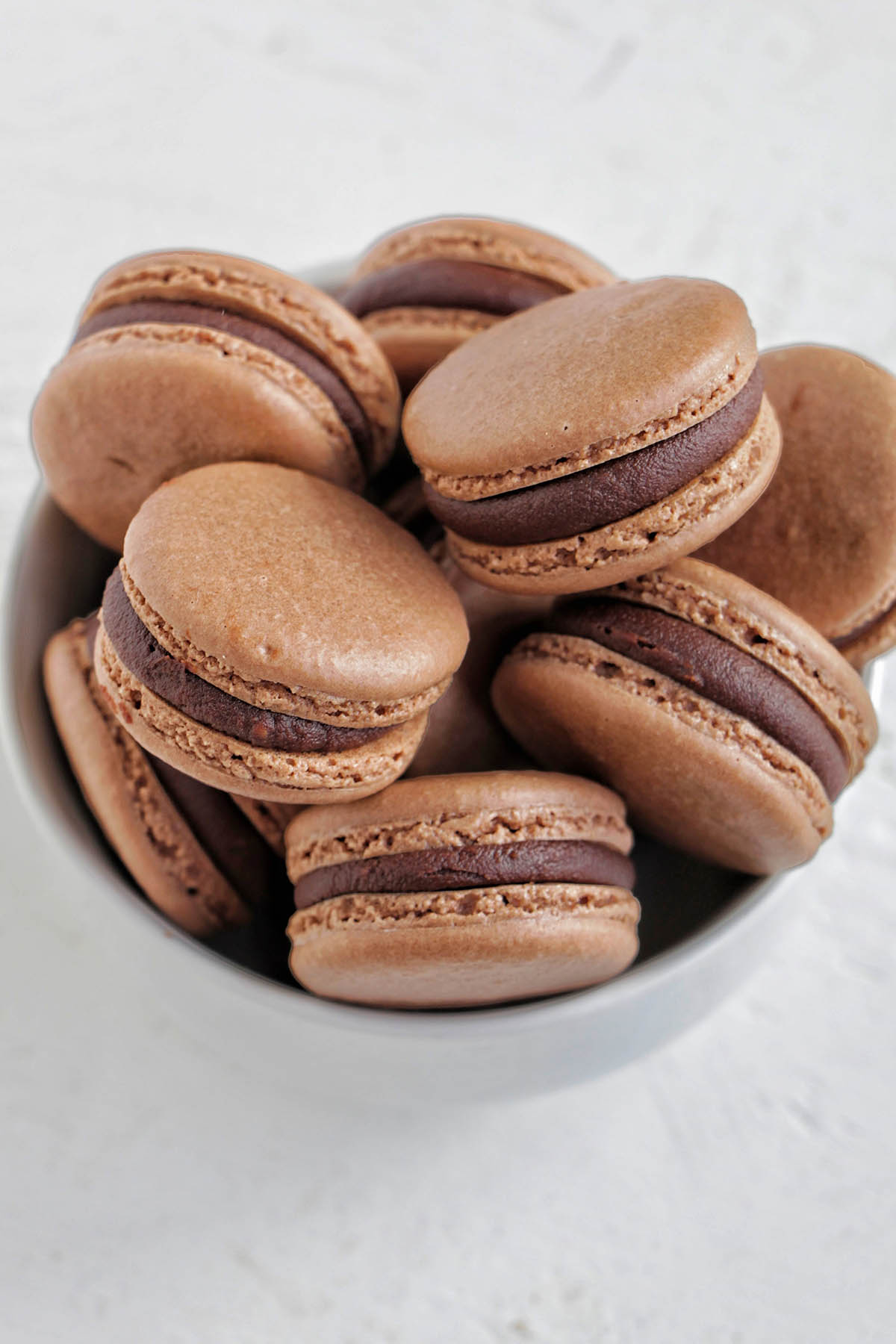 The Classic Recipes
Every macaron baker needs some go-to, classic macaron recipes that are able to be used over and over again. Usually, these are the flavor combinations that everyone loves and always requests to eat.
These popular macaron flavors are good no matter the time of year. Plus, you can switch up how you decorate the macarons to give them a unique feel.
If you're hosting a party or want to share your macarons with a friend, these are the recipes I would suggest.
Check out these ideas:
Cookie Inspired
We all have a cookie-loving friend in our life. These macaron flavor ideas are for anyone who loves snacking on cookies.
While macarons technically aren't the traditional cookie we think of eating, these cookie-flavored macarons might fool some people.
I also love these macaron recipes because of their beautiful presentation. Be sure to take the extra time to garnish your macarons so people are even more excited to eat them.
Check out these ideas:
Nostalgic Flavors
Everyone has nostalgic childhood flavors that they still love to eat as an adult. These macaron flavors are sure to bring back lots of memories.
If you're looking for the best macarons to bake for kids or people who have never tried a macaron, I'd definitely recommend these fun flavors.
These types of macaron flavors, while not traditional, are a modern twist on the classic macarons. Both the filling and the macaron decorating evoke a fun feeling that anyone would be excited about.
Check out these ideas:
Fruit Flavored
Fresh fruits provide amazing flavor and color when used to make macarons.
Depending on what type of macaron filling you prefer, these fruit flavored macarons include recipes for both ganache based fillings and curds.
Each of these fillings lasts for different lengths of time, so be sure to check out my suggested macaron storage tips before deciding which filling is right for you.
Check out these ideas:
Chocolate Based
Chocolate is yet another popular macaron flavor that many people love.
If you're looking for decadent and rich flavored macarons, these are the recipes for you! The deep flavors come from cocoa powder and Nutella.
These macarons would be delicious all on their own or drizzled with some chocolate.
Check out these ideas:
Fun & Whimsical
Every once in a while you need some whimsical and wacky macarons.
Sometimes, this means macarons that have a unique taste, while other times this means having fun with the decorating. These macaron recipes offer a playful twist.
Don't forget that you can get creative with macaron piping tips to make unique designs with the filling. This will also add another layer of fun to your macarons.
Check out these ideas:
Drink Inspired Flavors
These macaron flavors are inspired by our favorite drinks to sip. From wine to tea, and coffee, these macarons are sure to impress.
The flavors in this category are a little more elevated, so they are great options to bake if you're trying to impress.
Check out these ideas:
Bright Summery Flavors
Once the warm months of summer roll around, I'm ready for bright and colorful macaron flavors. I want my macarons to reflect light and delicate flavors.
The best part about fruity summer macarons is the bright macaron shell that accompanies it.
These macaron flavors will be light on your palate and pretty to look at.
Check out these ideas:
Fall Flavors
Many people love the fall season and the flavors that follow along. If you're a fan of comforting and warming tastes, these are the best macaron recipes for you.
These macaron flavors include apple, cinnamon, pumpkin spice, and cardamom. They pair perfectly with the cool and crisp fall air.
As a fun dessert alternative to pie, try making these fall flavored macarons for Thanksgiving.
Check out these ideas:
Holiday Flavors
I enjoy having a few holiday or Christmas-inspired flavors up my sleeve. These are perfect if you're hosting holiday parties or want to bake up a batch as a gift.
Many of these macaron flavors reflect the smells and tastes of the winter season. The bold spices and extracts in these macarons remind us of our favorite holiday recipes and ingredients.
Check out these ideas:
Base Shell Recipes
If you would prefer to make a generic almond-flavored macaron shell and select whatever macaron filling you want inside the shells, here are some base recipes you can use.
All macarons are made starting with a meringue. The meringue style you chose will determine the type of macaron shells you make. There are three common methods:
French method macarons: The granulated sugar is slowly beaten into the egg whites after they've become foamy.
Italian method macarons: The granulated sugar is mixed with water and then heated into a sugar syrup. The hot sugar syrup is slowly poured into the partially whipped egg whites.
Swiss method macarons: This method combines egg whites and granulated sugar. Then, the mixture is heated over a double boiler until the sugar is dissolved.
By using one of these recipes, you'll learn to master a base macaron shell recipe. You can then be creative with how you flavor the macaron shell and filling.
Don't forget to dye the macaron shell a color that reflects the filling so people have an idea of the flavor before biting into the macaron. For example, a blueberry filling should have a blue macaron shell.
Check out these ideas:
Macaron Baking FAQs
More Macaron Guides
Love this guide? Please leave a comment below. Don't forget to follow along on Instagram, Facebook, YouTube, and Pinterest for more recipes.